Madison is a bustling university town that is located on a narrow isthmus between two lakes. The city has miles of waterfront and lots of charming old homes as well as a thriving restaurant and bar scene.
We hadn't planned to stop in Madison at all on this road trip, let alone stay for an extended period of time. Well, apparently the universe had other plans for us.
Luckily, Madison is an amazing city and we really enjoyed our time there.
The Tire Saga Continues, Plus Other Repairs
Daniel and I arrived in Madison on Saturday, August 29 with a cargo full of new tires. We had just picked up the tires from Wal-Mart in the small town of Portage. Unfortunately, the Auto Care Center wouldn't install the tires for us so we had to find a mechanic who would.
Thankfully, Madison is only a 45-minute drive from Portage. As Wisconsin's second-largest city, Madison has significantly more auto repair shops. The local Volkswagen dealership, specifically, has a lift that can handle our Rialta.
Since we arrived on a Saturday, we had to wait until Monday to bring in our motorhome. The shop was fully booked up but they agreed to fit it into their schedule.
While we were there, we had them check out some other mechanical issues. Our biggest concern was vehicle drift. It was getting increasingly hard to stay in the correct lane while driving at high speeds. Also, the brakes had recently begun making a weird noise.
Two days later we got some bad news: our tie rods needed to be replaced. Also we needed new front brakes. The repairs would take two weeks because the parts had to be special ordered.
The Mendota Lake House B&B
I was crushed by the news. By this point, we been living in three different hotels over the past week. Our current suite at La Quinta was the nicest one so far, but the place had no soul.
I couldn't imagine having to stay for two additional weeks. Even the prospect of earning diamond level status in the Wyndham Rewards Program didn't tempt me. The thought was utterly depressing.
So we began searching for a new temporary home. Typically, we book apartments via AirBnB. The options were limited this close to Labor Day, however.
We eventually found an awesome guesthouse right on Mendota Lake surrounded by incredible flower gardens. Daniel and I drove over to check it out and found the owners, Bob and David, sitting on the front porch. They struck up a conversation with us and offered a great deal on a two-week rental.
After a tour of the house we were hooked. The historic building has been lovingly restored and was absolutely gorgeous. There was plenty of room to spread out and distance from the other guests. We also had full run of the kitchen and cooked many of our meals there.
We moved in after Labor Day and it was the best decision we made during our stay in Madison. I felt right at home and loved every minute of our time there. I can't recommend the Mendota Lake House B&B enough to anyone who happens to be traveling that way.
City Life
It was nice to be in a city again. Daniel and I had been largely avoiding cities because they are hard to navigate in a motorhome. Now we were only minutes away from the downtown area and could walk everywhere.
We took advantage of the situation and ate out a lot. Many restaurants had expanded their outdoor seating capacity and there were lots to choose from.
My favorite meal, however, was from L'Etoile. Daniel and I celebrated our 10-year dating anniversary in September and wanted to do something special.
Normally dinner at E'Toile is quite expensive as it is one of the nicest restaurants in town. However, right now the menu is available for take-out only and has been changed to a family-style meal. Our fancy yet homey dinner for 2 was under $50. And it was incredible.
Madison Arboretum
Madison is home to some great outdoor spaces, one of which is the University of Wisconsin-Madison Arboretum. Primarily used as a teaching and research facility, the Arboretum also offers miles of hiking trails and open open spaces.
Daniel and I spent a lovely afternoon there wandering through the restored tall grass prairies and woodlands.
Olbrich Botanical Gardens
Located on the north shore of Lake Monona, the Olbrich Botanical Gardens is another lovely place to visit in Madison. Daniel and I particularly enjoyed the Thai Pavilion – the only one of its kind in the contiguous United States.
University of Wisconsin-Madison
One of the reasons why we liked Madison so much is due to the University. College towns have a certain bustling energy which we both enjoy. The University of Wisconsin campus is enormous and takes up a significant portion of Madison's downtown area.
Classes had just started when we arrived in town. The University was allowing students to return to campus in person this year, despite the pandemic. Daniel and I strolled through campus and noticed that most students were wearing masks, even outdoors.
By the time we left Madison three weeks later, cases of Coronavirus on campus had spiked to 7% of the entire college population. Not a huge surprise but still a bummer.
State Street Murals
Street Street is a bustling pedestrian-only thoroughfare connecting the State Capitol building to the University of Wisconsin-Madison. The area saw a lot of social unrest after the brutal murder of George Floyd earlier this year. Many stores covered their windows with plywood to protect against property damage.
In response, the city of Madison launched a public arts program to support local artists who have lost income due to the pandemic. The city commissioned over 70 murals to brighten the plywood covering the State Street corridor.
The artistry and talent evident on these murals is really impressive. What a great way to respond to an unique situation.
More information about the project is available here: PBS Wisconsin – State Street Mural Project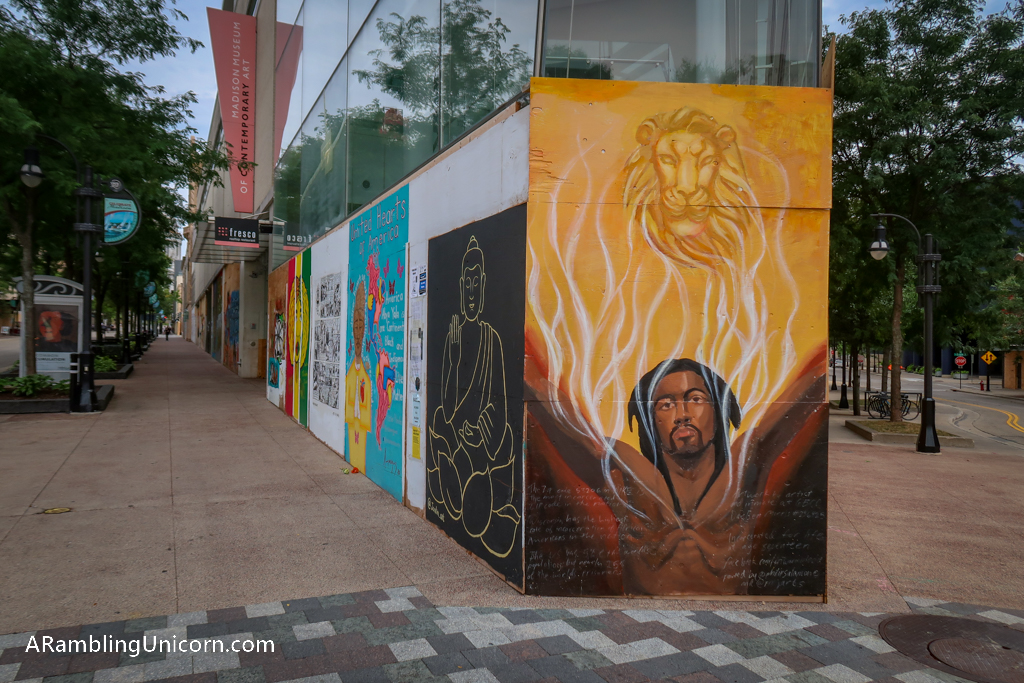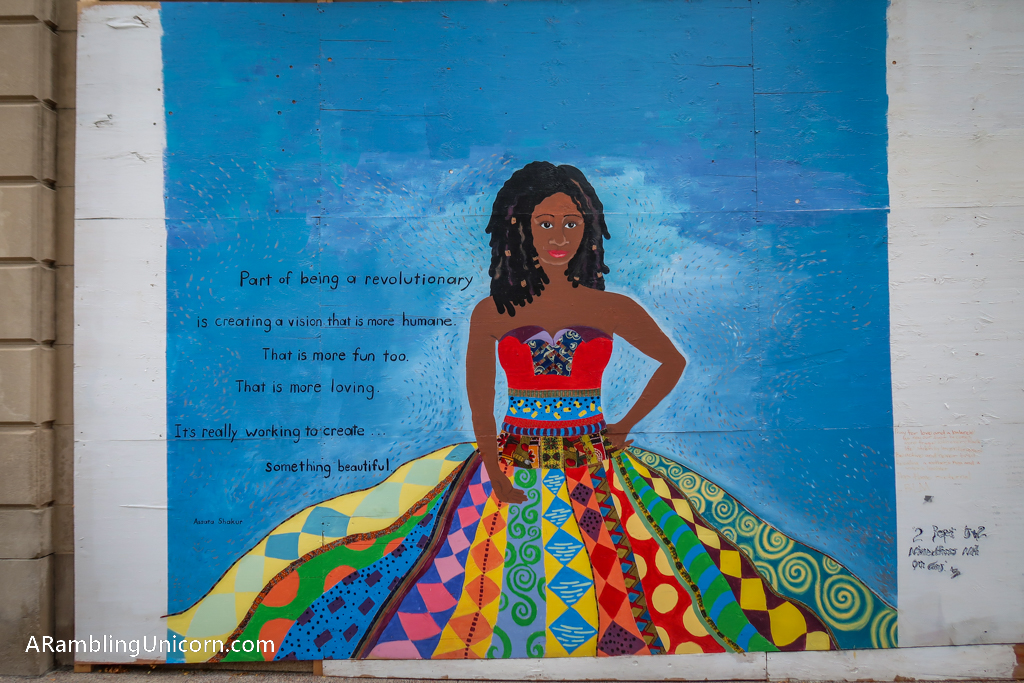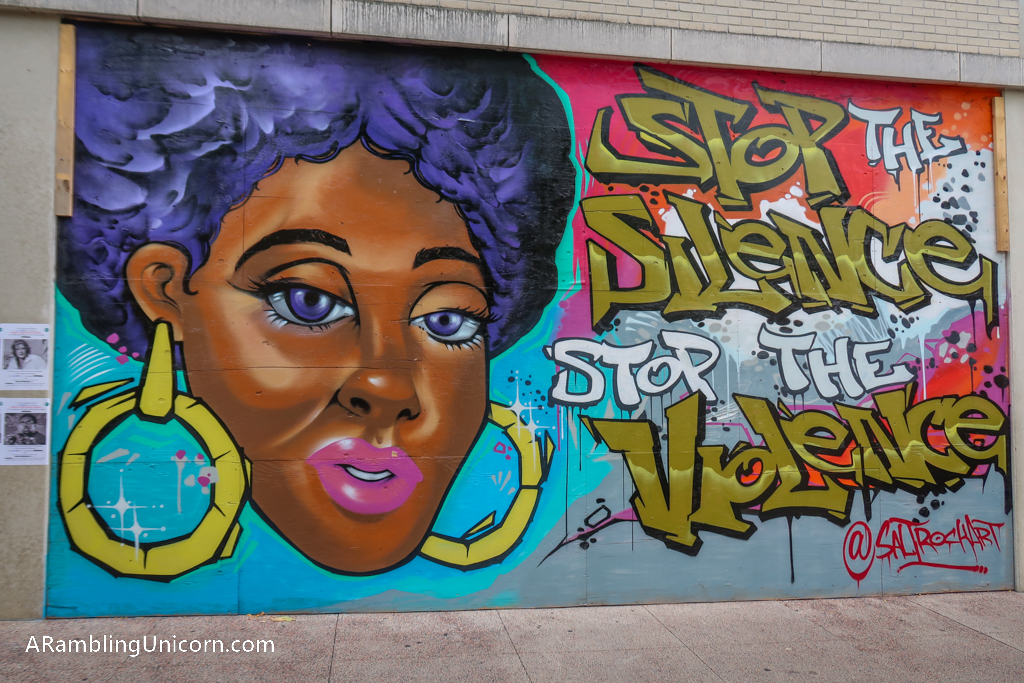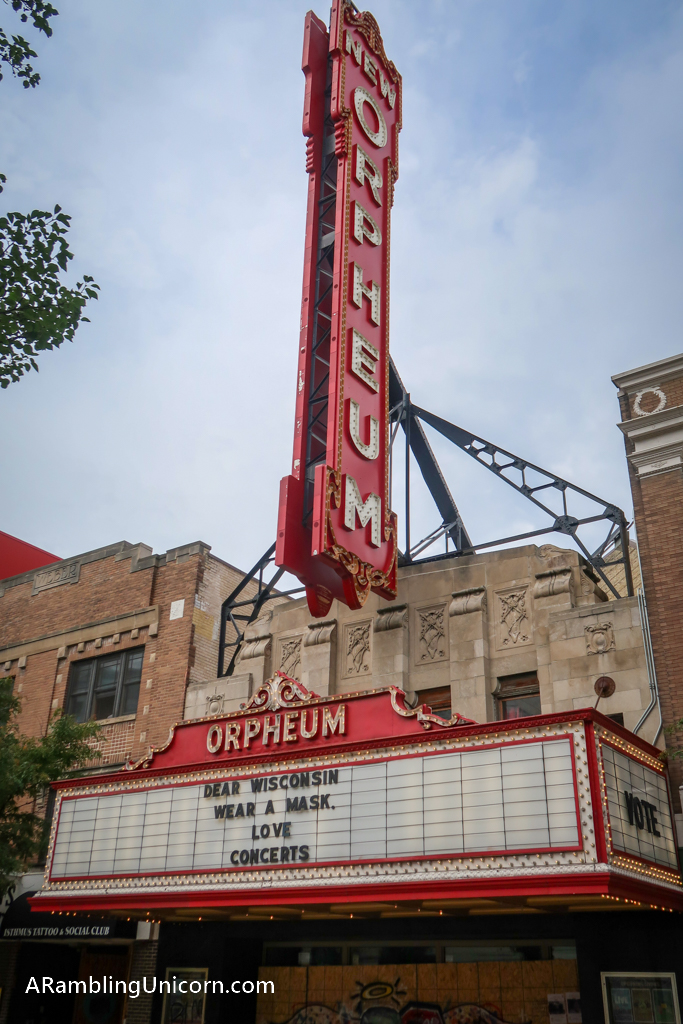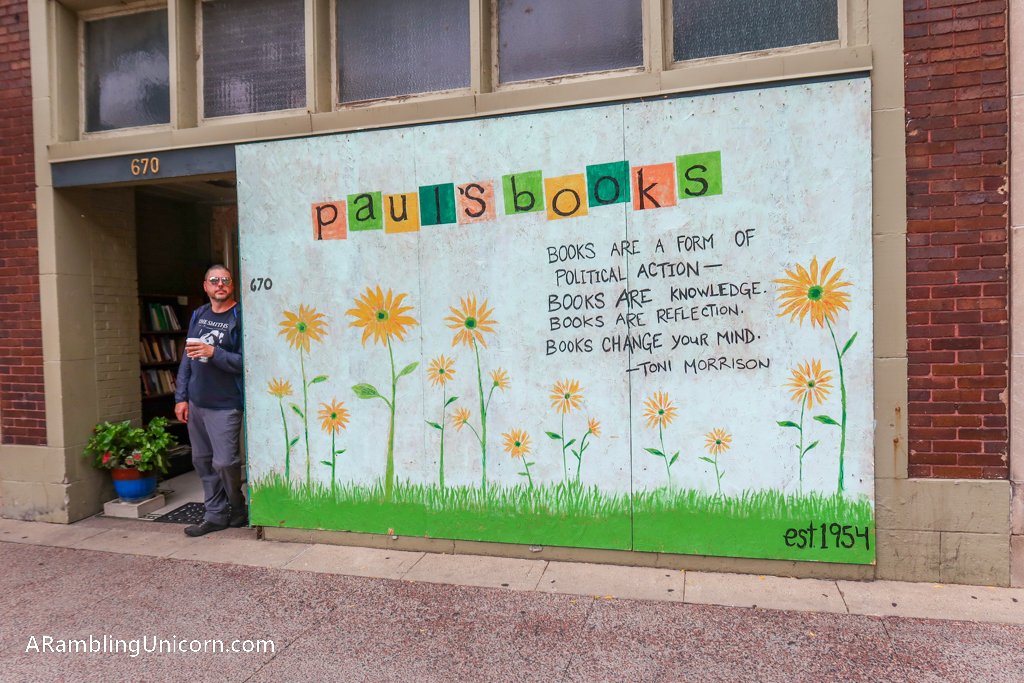 Where are we now?

Dates: August 29-September 20, 2020
Great American Road Trip Status: Days 55-77
Starting Location: Portage, WI
Ending Location: Madison, WI
Miles Traveled: 54.6
Total Trip Mileage: 4641.1
For more details on our Great America (Socially Distanced) Road Trip, see my previous posts: