Austin, Texas is one of those places that stays with you long after you leave. It's a hip, vibrant city with a thriving nightlife and an impressive art scene. There are plenty of fun things to do in Austin to delight visitors from all walks of life – and especially those on a budget.
Known as the live music capital of the world, Austin is particularly famous for its eclectic music scene. Live music venues are located all over the city which cater to music lovers of all types. You can learn the Texas two-step in a honkey-tonk bar and then dance the night away at a club across the street.
Another one of Austin's distinguishing features is its impressive street art. Giant murals cover the sides of many buildings across the city. It's as if the various business owners are competing with eachother to lure in the most customers.
And don't get me started on the cuisine! Food trucks are a popular fixture in Austin and can be found across the city. For the best experience, look for a gathering of trucks clustered together in a food truck park. This way, you can sample a variety of foods all in the same place.
Keep reading to learn about all the fun things to do in Austin – with a focus on the best free and cheap activities.
12 Fun Things to Do in Austin
1. Go on a Tour of Austin's Murals
Cost: Free
The street art scene in Austin is next level. You can't go very far in Austin without encountering colorful murals and impressive graffiti.
While some of the paintings are small, many cover the sides of giant buildings.
Perhaps the city's most famous mural is the Greetings from Austin painting in the South Austin neighborhood. Other popular murals include the historic 6th Street Mural (paying homage to the Live Music Capital of the world) and the I Love You So Much painting.
There are murals all over the city, however, and you pretty much can't go wrong with simply walking down the street.
Here are a couple of my favorites:
2. Eat at as Many Food Trucks as Possible
Cost: Cheap
One of the first things that I noticed in Austin was the proliferation of food trucks. They really are pretty much everywhere.
The trucks are often grouped together in little parks so that it is easy to grab some cheap and yummy food on the go. This dining style is particularly well-suited for the pandemic as it take place completely out-of-doors.
I love eating at food trucks because they are generally super cheap and typically provide a wide arrange of cuisines to choose from.
3. Hang out in the South Congress Neighborhood
Cost: Free
Austin's South Congress neighborhood is a particularly fun part of town for both locals and visitors alike. The area is full of trendy shops and quirky stores along with lots of bars and restaurants.
This is a great area to go bar-hopping or to see some live music.
Must-see attractions in the South Congress neighborhood include the Museum of Junk, Big Top Candy Shop and the quirky costume shop Lucy in Disguise with Diamonds.
4. Listen to Some Live Music
Cost: Varies
It's hard to go very far in Austin without running into a venue with live music. Whatever style of music you're into, you can usually find it in Austin.
That being said, there are a lot of honkey-tonk bars with country music and blues if that's what you're into.
During my last visit to Austin, my husband Daniel caught a few shows. My favorite one was a performance by the Buffalo Gals at the Sagebrush. It was a fun show and we had a blast watching them perform.
Most shows at the Sagebrush charge a $5 cover fee which goes to the bands. On Fridays and Saturdays bands play on the outdoor stage.
Pro tip: look for a venue with lots of food trucks parked out front (or nearby). That way you can soak up the booze with some post-show grub before heading home.
5. Go Shopping for Cowboy Boots
Cost: Looking is free!
Lest you forget that you're in Texas, Austin provides plenty of places to spruce up your wardrobe with some western wear.
Allen's Boots is one of the best places to shop for cowboy boots, western wear, and other sundry western accessories. Even if you don't plan to buy any boots, it's still a great place to browse and hang out.
They even carry a full line of bridal boots to complete your special day!
6. Grab a Drink at the Mean-Eyed Cat Bar
Cost: Depends on how much you drink!
If you're a Johnny Cash fan (or if you just like dive bars), then be sure to visit the Mean-Eyed Cat Bar.
This watering hole pays tribute to the late great Johnny Cash with a selection of photos, pictures and various Johnny Cash-themed memorabilia. The bar has a selection of local and craft beers as well as a creative cocktail list and barbecue available to order.
If the name sounds familiar, it's because the bar is named after one of Cash's famous songs – "Mean-Eyed Cat".
7. Ride an Electric Scooter around Austin
Cost: Cheap! Lime scooters cost $1 to unlock and $.29 cents per minute after that.
Electric scooters and bikes are commonplace across Austin these days. They are easy and cheap to rent for a few hours and a great way to get across town.
Riding an electric scooter is not just a great form of transportation, it's one of the most fun things to do in Austin – especially at night! Just start slow your first time and pay careful attention for traffic as you go. And remember that pedestrians have the right-of-way!
Lime and Bird are the two major providers of e-scooters in Austin. You can learn more about scooters on the Get There ATX web site.
8. Treat Yourself to some Franklin Barbecue
Cost: Sandwiches range from $12 to $17
Franklin Barbecue is widely recognized as one of the best barbecue joints not only in Austin but in all of Texas. While not the cheapest restaurant in town, the food is incredible and stopping by Franklin's is definitely worthwhile
Franklin's is an extremely popular restaurant so going there typically requires a bit of advanced planning. The line can get *really* long so get there early.
In fact, if you don't get in line early, you may not get any food at all.
An average wait time (before the pandemic) was typically 2 hours. They open at 11:00 am and close when they sell out – which tends to happen around 2:00 to 3:00 pm.
9. Tuck into some Torchy's Tacos
Cost: Cheap!
Although not as famous as Franklin Barbecue, Torchy's Tacos is another well-known Austin institution. There's nothing quite like eating some tacos at Torchy's after a night of drinking. Plus, they are super cheap.
The white trash taco with fried chicken is a particular favorite. Yum!
10. Watch the Bats under Congress Avenue Bridge
Cost: Free
One of the more unusual free things to do in Austin is watching the bats under the Congress Avenue bridge. Thousands of bats live under the bridge and sleep there during the day. At night, however, the bats leave the bridge and fly over Lady Bird Lake to look for food.
The bats typically start their night flights around sunset. Just after the sun sets, thousands of bats pour out all at once. It's really quite spectacular!
The best time to view the bats is from March to early fall.
11. Pay Homage to the Movie Office Space
Cost: Free
Did you know that the movie Office Space was filmed in Austin? It is possible to find the location where the exterior office building scenes were shot.
For your own Office Space experience, head to an office park at 4120 Freidrich Lane. Here you can find the building that was used as the exterior for Initech, the firm the engineers worked for in the movie.
Ok to be honest there's not much going on at the office park today. For a better photo op, look for the Case of the Mondays mural in the South Congress neighborhood.
12. Stroll along the Shores of Ladybird Lake
Ladybird lake is a river-like reservoir which runs directly through the city of Austin. Trails along the lake provide ample opportunities for walking and biking.
Daniel and I spent one of our last evenings in Austin watching the sun set over the lake. It was a fitting farewell for our time in the city.
More Resources on the Fun Things to do in Austin
Planning to visit Austin? Check out the following books for more inspiration:
Like this blog post? Pin it!
Click on the image below to save it to your board on Pinterest.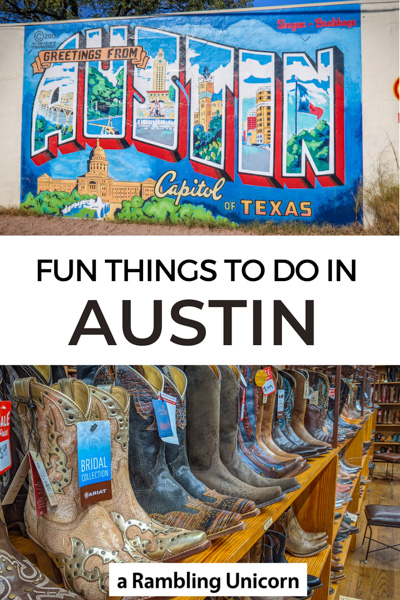 Note: This post contains affiliate links, which means I may receive a commission if you click a link and purchase something. While clicking these links won't cost you anything, they will help me to keep this site up and running!