Huntington, West Virginia is an up-and-coming city on the Ohio River with a charming historic downtown and a fascinating history.
While it is a destination that is typically overlooked by many travelers, there are countless interesting things to do in Huntington WV that will acquaint visitors with the city and the area's natural beauty.
It is also a great place from which to begin a West Virginia road trip.
Originally founded in 1871 by railroad tycoon Collis P. Huntington, the city served as an important connection point between the Chesapeake and Ohio Railway and the Ohio River. Huntington quickly became an important industrial hub that specialized in coal, steel, oil and chemicals.
Like many cities in the rust belt, Huntington came on hard times after the 1950s with the decline of the manufacturing industry. Huntington's population has reduced by almost half since then.
The city was also hit hard by the opioid epidemic and named the fattest city in America in 2008.
Fortunately, things are turning around for Huntington these days as the city is undergoing a renaissance. The construction of Pullman Square in 2005 created a welcome gathering place for residents in the town's center.
Beloved podcasters The McElroy Brothers put Huntington on the map in the podcast community. Marshall University is a notable public research institution in the town's center that continues to draw students from around the world.
Huntington is healthier now too and features a couple of farmers markets along with plenty of gorgeous parks.
Ready to learn more about this city on the rise? Then stay tuned to learn about the best things to do in Huntington West Virginia!
Map of Huntington, West Virginia
Best Things to do in Huntington WV – Historic Downtown Area
Huntington's downtown area is filled with beautiful old buildings that are reminders of a bygone era. The downtown Huntington historic district was added to the National Register of Historic Places in 1986.
1. Browse the Local Shops at Heritage Station
Heritage Station is the perfect place to begin your tour of this historic railroad town. The former home of the B & O Railroad, Heritage Station features a Visitor Center along with several local businesses and restaurants.
The Elk River Coal and Lumber #10 Steam Locomotive is on display at the station to remind visitors of the building's storied past. The locomotive used to haul mine waste from Rich Run Mine and was placed on the National Register of Historic Places in 2006.
2. Catch the Sunset at Harris Riverfront Park
After stopping by the Visitors Center, head across the street and past the flood wall to Harris Riverfront Park. The park features incredible views of the Ohio River and is one of the best things to do in Huntington WV.
Other amenities at the park include walking trails and a playground. An amphitheater is also available which is used for plays and local concerts in the summertime.
3. Go on a Huntington Hot Dog Tour
You can't visit Huntington without sampling a classic West Virginia hot dog. Hot dogs in West Virginia are different from other parts of the country and are worth seeking out if you've never had one before.
A typical dog is served on a steamed bun and features mustard, onions, slaw, and sauce (a beanless meat sauce). These hot dogs are on the small side so plan to eat at least two for your meal.
Or better yet – go on a Huntington hot dog tour. For the best traditional hot dogs, be sure to visit Stewarts Original Hot Dogs, Sam's Hot Dog Stand, Frosthop Drive-In and the Midway Drive-In.
For a *really* unique hot dog experience, drive to Hillbilly Hot Dogs in Lesage, WV (more about that below).
4. Watch a Show at Keith-Albee Performing Arts Center
The Keith-Albee is a beautifully preserved theater with a lavish interior and opulent decorations. Originally constructed in 1928, the theater is meant to embody an "atmospheric style" and features a domed ceiling with twinkling stars along with faux facades.
The theater was designed for the vaudeville circuit and initially hosted vaudevillian performances. However, after the decline of these lively variety shows in the 1930s, it began showing motion pictures. Today the theater is owned by the Keith-Albee Performing Arts Center Foundation and serves as a venue for events put on by Marshall University.
5. Go Shopping at Pullman Square
Pullman Square is a shopping center in the heart of downtown that serves as an inviting gathering place. The building includes a movie theater along with a handful of restaurants and businesses such as The Inner Geek bookstore.
The property features a shaded square lined with park benches and a stage. It is a central location for events such as the Farmer's Market and the Summer Concert Series.
6. Join the Party at 9th Street Live
If you're looking for a fun outdoor party this summer, be sure to check out 9th Street Live. This summer concert series features local bands on an outdoor stage every Friday night.
During the event, 9th Street is shut to vehicle traffic and the entire street transforms into a giant block party. Food and beverages are also available from local businesses such as The Goods, Marshall Hall of Fame Cafe, Sip Downtown Brasserie and Summit Beer Station.
Be sure to arrive early and bring a lawn chair for the best view of the stage!
7. Pay Your Respects at Marshall University's Memorial Fountain
In 1970, a plane crashed killing 75 people – including the entire Marshall University football team.
Southern Airways Flight 932 was a chartered flight carrying members of the football team home from an away game in North Carolina. It is the deadliest tragedy to have affected any sports team in US history.
The impact of the crash on the local community was far reaching – and was later dramatized in the movie We Are Marshall starring Matthew McConaughey and Matthew Fox.
Memorial Fountain is dedicated to those who lost their lives in the crash. It is also a good place to begin your tour of the Marshall University campus if you'd like to see the home of the famous Thundering Herd.
8. Take a Cooking Class at Huntington's Kitchen
If you're interested in cooking – no matter your skill level – consider taking a class at Huntington's Kitchen. An extension of Marshall University's Dietetics Program, the facility functions as a community food center where people come to learn, cook and experience well-prepared food.
The kitchen was originally established as "Jamie's Kitchen" during the production of the television series Food Revolution. The show featured British chef Jamie Oliver who came to Huntington after the CDC named it the fattest city in America.
Jamie created the kitchen as a part of his initiative to transform the community's relationship with food. After the show ended, the kitchen changed hands a few times before finding a permanent home with Marshall University's Dietetics Program.
Today, Huntington Kitchen continues to teach and inspire students to prepare healthy food in their homes.
9. Sample the Spaghetti at Jim's Steak and Spaghetti House
Take a step back in time at Jim's Steak and Spaghetti House, a family-run business which goes all the way back to 1944.
While there are many dishes on the menu at Jim's, the favorite by far is the spaghetti with meat sauce. You also won't be able to resist the restaurant's famous homemade pie (I know I couldn't!).
The restaurant has served many famous guests over the years including John F. Kennedy, Muhammed Ali and Billy Joel. Be sure to take a moment to browse the many photos of celebrities lining the walls of this beloved Huntington institution.
10. Visit the Collis P. Huntington Statue
No trip to Huntington is complete without a visit to the famous Collis P. Huntington statue. This 8-foot bronze statue stands in front of CSX Transportation – formerly the home of the Chesapeake & Ohio Railway Depot.
This monument to the city's founder was sculpted by artist Gutzon Borglum, who later went on to create the Mount Rushmore installation.
11. Get Your Groove On at Roll-A-Rama or Skateland
If you're looking for a fun activity for the whole family, head to the Roll-A-Rama Skate Center on 7th Avenue.
Family-owned and operated since 1962, the skating rink is a great place for a kid's birthday party or just to have some fun. Open skating sessions are available on Wednesday, Friday, Saturday and Sunday.
If you thought that it was the only skating rink in town, then you'd be sadly mistaken. Huntington is happily blessed with two roller skating rinks.
Located in East Huntington, Skateland is another great place to go rollerskating. You may also run into the Chemical Valley Rollergirls at Skateland!
Ritter Park and Park Hills Area
12. Go for a Stroll in Ritter Park
After exploring Huntington's historic downtown area, head to Ritter Park for a breath of fresh air. This 75-acre park boasts numerous amenities including walking trails, a dog park, two playgrounds, tennis courts, an amphitheater and more.
The rose garden is a particular favorite and features over 3300 roses along with an accompanying "Room with a View" event venue.
In 2012, Ritter Park was named as one of the top 10 Best Public Spaces in America by the American Planning Association.
13. Admire the Artwork at the Huntington Museum of Art
Established in 1952, the Huntington Museum of Art boasts a collection of over 17,000 pieces, making it the largest art museum in the state of West Virginia. The collection includes sculptures, prints, American and European paintings, drawings, glass pieces and more.
Located in Park Hills neighborhood above Ritter Park, the property also features a conservancy with tropical and sub-tropical plants along with several inviting nature trails.
West Huntington
14. Learn about Traffic Safety at Safety Town
Safety Town teaches traffic safety to elementary school-aged children the fun way – by letting them drive around a miniature city in tiny cars.
Located in West Huntington, the program instructs children on traffic basics such as crossing roadways and bicycle safety, along with fire, home and stranger danger.
Safety Town is one of many similar facilities that sprang up around the United States in the 20th century. The program was founded by a police officer in 1937 after a child was struck and killed by a car on his way to school.
While the facility doesn't appear to be open to the public, it is fun to observe this adorable miniature town from the road.
15. Tour the Huntington Railroad Museum
While you're at Safety Town, be sure to check out the Huntington Railroad Museum which is conveniently located right next door. This outdoor museum, owned and operated  by the local chapter of the Collis P. Huntington Railroad Historical Society, also features an indoor museum and archives along with a historical library.
Of particular note is the 1308, which is one of the last working steam locomotives built by Baldwin Locomotive Works for a Class 1 Railroad in the United States.
The museum is open every Sunday afternoon from Memorial Day to September 30th or by appointment.
16. Go Shopping at the Wild Ramp & Central City Farmer's Market
The Wild Ramp is an indoor year-round farmer's market located in historic West Huntington across from the Central City gazebo. Originally started as a capstone project by 3 students at Marshall University, the market only sources products from within 250 miles of Huntington.
Just behind Wild Ramp is an open-air space that hosts the seasonal Central City Farmer's Market. This locally home grown outdoor market is open summers on Tuesdays, Thursdays and Saturdays.
17. Visit the Historic Central City Area
While you're at the Wild Ramp, be sure to spend some time exploring the other businesses of the historic Central City area.
Before becoming part of Huntington, Central City was an independent city in the late 1800's and early 1900's. Now the former Central City downtown area features historic storefronts and loads of antique shops along with the Old Central City Gazebo and Park.
18. Learn about Antique Radios at the Museum of Radio & Technology
Located in West Huntington, the Museum of Radio & Technology is a must-see for those interested in antique radios or broadcasting in general. The museum has an impressive collection of antique radios along with ham equipment, vintage computers, broadcast collectibles and a vinyl collection.
The museum is open every Saturday and Sunday; entrance is free.
Other Fun Things to Do in Huntington West Virginia (or Nearby)
19. Check Out the Carnival Rides at Camden Park
No visit to Huntington is complete without a stop by Camden Park. For over 100 years, this classic amusement park has been delighting thrill seekers of all ages and is one of the best things to do in Huntington WV.
Major attractions include the Rattler, Big Dipper, Log Flume, Tilt-a-Whirl, Sling Shot, and more. When you're ready for a less heart-pounding adventure, consider renting a paddle boat for a turn around Swan Lake.
20. Listen to McElroy Brothers Podcasts
If you enjoy listening to podcasts, consider listening to an episode of My Brother, My Brother and Me (MBMBAM). Created by McElroy brothers Justin, Travis and Griffin, MBMBAM has been providing hilarious advice and other random commentary for over ten years.
Sons of local Huntington radio personality Cliff McElroy, the brothers were born and raised in Huntington. They also created a short MBMBAM Television Series based on the podcast that was entirely shot in and around Huntington.
If you enjoy their quirky brand of humor, you may also be interested in The Adventure Zone – a bi-weekly podcast in which the brothers play Dungeons & Dragons and other role-playing games with their dad Clint.
21. Enjoy a Hot Dog at Hillbilly Hot Dogs
For a fun take on the classic West Virginia hot dog, head to nearby Lesage for a visit to Hillbilly Hot Dogs. This hillbilly-themed hot dog stand features a variety of dogs with all the fixings, along with the famous 1-lb homewrecker hot dog.
If you're up for a challenge, try to eat the homewrecker faster than the current record holder (which is 2 minutes and 34 seconds). If you do – it's free!
Be sure to bring your camera because the restaurant is filled with funny knick-knacks and hillbilly-themed decorations that are sure to make you smile.
22. Tour Heritage Farm Museum & Village
Heritage Farm and Museum is a recreated 19th century Appalachian village that celebrates local ingenuity and heritage.
The property includes a number of museums that are filled with historical artifacts along with a petting zoo, nature center and treehouse. Local artisans work onsite in order to complete everyday tasks from times past – such as blacksmithing and printing.
Once you've finished touring the museums, head to the adjoining Adventure Park. This new facility features zip lines, rope courses, rock climbing and a mountain bike park. Lodging is also available onsite for those who want a truly authentic Appalachian experience.
23. Go for a Hike at Beech Fork State Park
Located only 12 miles from Huntington, Beech Fork is a 3144-acre State Park that offers a wide variety of outdoor recreation opportunities. The park features hundreds of campsites along with miles of Beech Fork hiking trails and a 720-acre lake.
Popular activities include fishing, boating, biking, hiking, geocaching, swimming, camping and more.
24. Visit Kenova's Pumpkin House (only in October)
If you're looking for a fun and unusual activity this Halloween, be sure to check out the Kenova Pumpkin House. A part of the annual C-K Autumn Fest in the communities of Ceredo and Kenova, the Pumpkin House is a historic building that features thousands of festive carved pumpkins.
After starting with only 5 carved pumpkins 40+ years ago, the event now features over 3,000 carved pumpkins and attracts 30,000 visitors per year.
25. Get Your Donut on at Jolly Pirate Donuts
To finish off your tour of Huntington on a sweet note, stop by Jolly Pirate Donuts in East Huntington. A local favorite, Jolly Pirates serves up a large selection of yummy treats from cake donuts and yeast donuts to French crullers.
The donuts are fluffy and crispy and made in-house daily using the same recipe going back for over 40 years. The treats are on the small side, too, so you can try several without feeling *too* guilty.
Like this article? Pin it!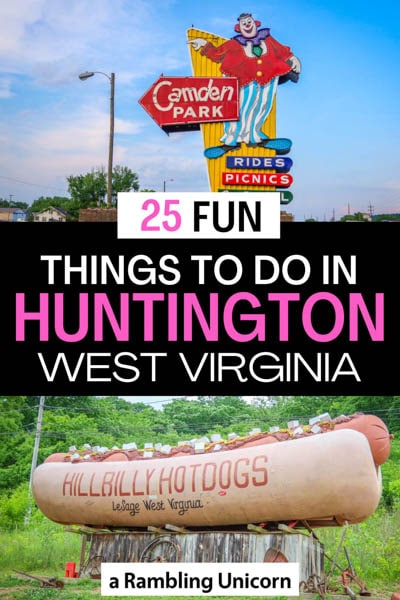 ---
Note: This post contains affiliate links, which means I may receive a commission if you click a link and purchase something. While clicking these links won't cost you anything, they will help me to keep this site up and running!