While I may be a newbie at the cross-country road trip, Daniel is an old hand. He has traveled across our fair continent several times. As such, he has garnered a wealth of experience to help guide our path.
One destination, in particular, stood out as we planned our journey. "We have to go to Wall Drug Store!" Daniel enthused on more than one occasion. He's mentioned it enough times, in fact, that I was quite looking forward to visiting this magical place.
What's so special about a drug store, you might ask?
A Brief History of Wall Drug
What started as a small town drugstore in 1931 didn't stay that way for long. When the shop began marketing free ice water to travelers on their way to Mount Rushmore, business boomed. The drugstore added cowboy-themed gift shops, restaurants, art galleries, and an 80-foot brontosaurus sculpture to the lineup.
Today Wall Drug is a sprawling roadside attraction that occupies an entire city block. More of a mall than a drug store, the business is a kitschy paradise which draws over two million visitors a year.
All Those Road Signs
While I enjoy cowboy-themed kitsch as much as the next gal, that's not the star attraction at Wall Drug. What really drew me to Wall Drug was their corny marketing campaign. We saw billboard signs for the store all the way across the state of South Dakota (and beyond).
It's a pretty boring stretch of highway and the road signs make the drive a lot more interesting. Here are a few of the signs that we saw: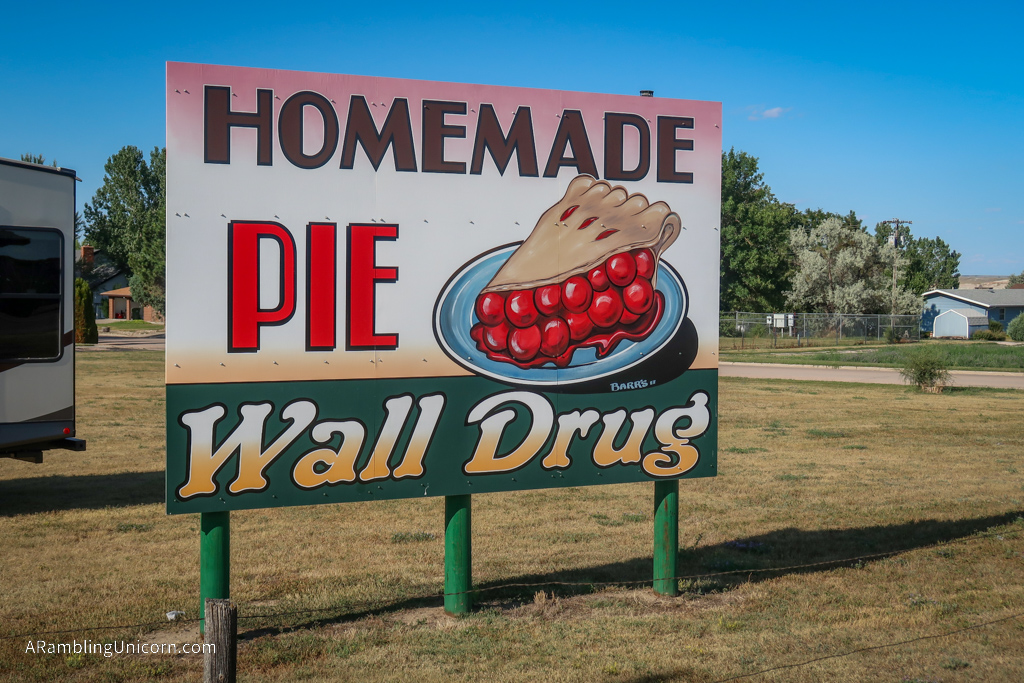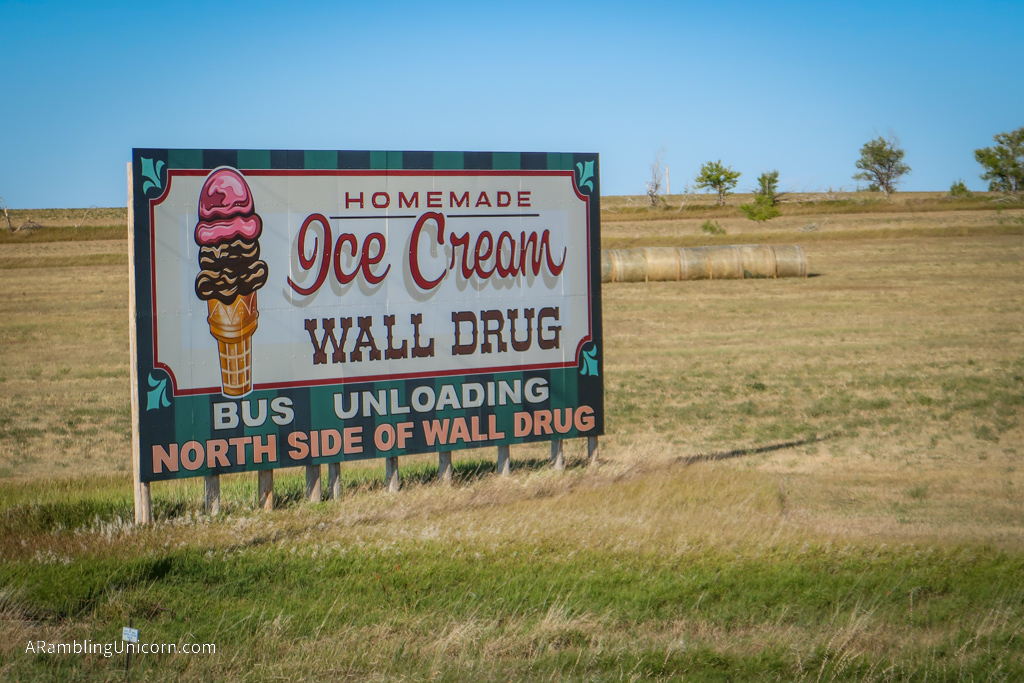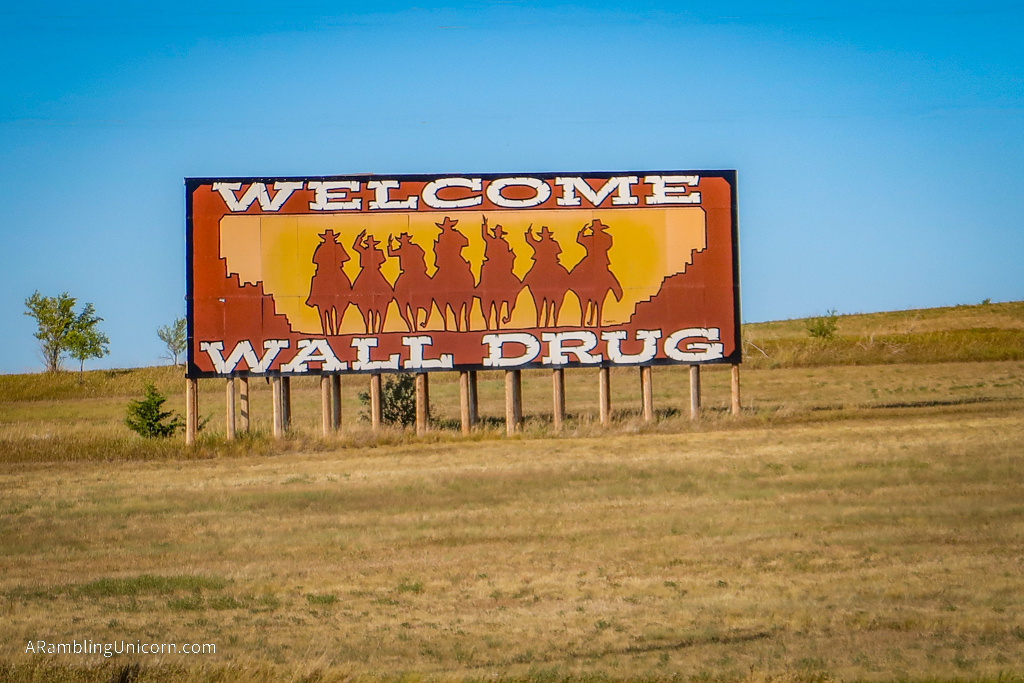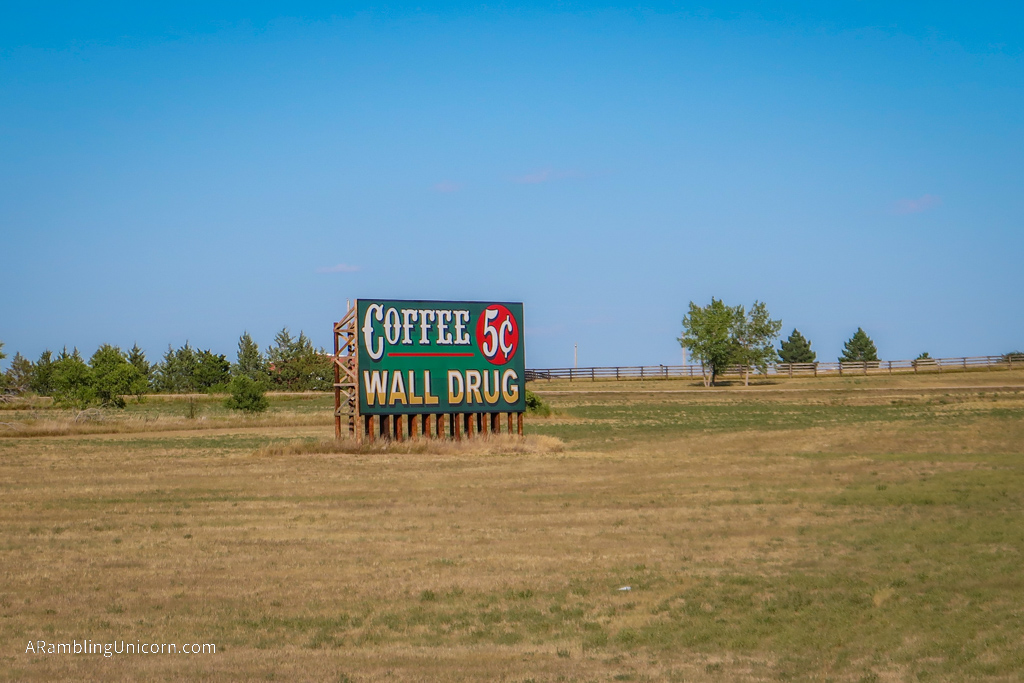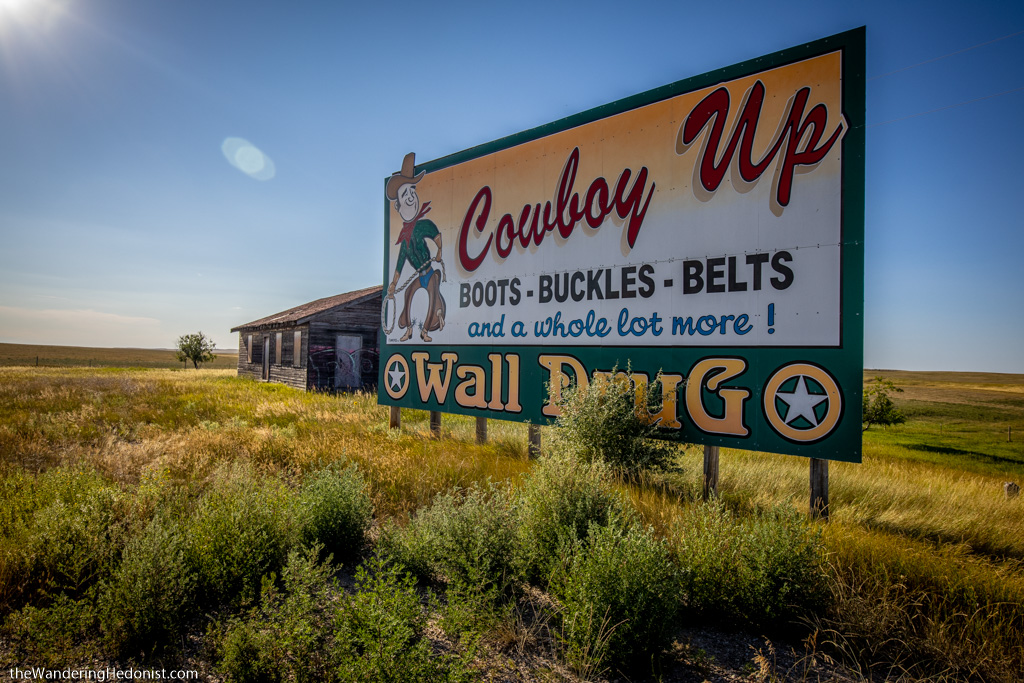 The most famous road sign is located near the exit for Wall along I-90. What sets this one apart is that it is accompanied by the aforementioned 80-foot brontosaurus sculpture. The dinosaur is its own roadside attraction, and even has picnic tables located under it.
Our Visit to Wall Drug
I was a little hesitant about visiting Wall Drug due to COVID-19. While the store is currently drawing less visitors than in other years, it is still a major tourist attraction. There were still plenty of people in and around the store.
We wore our masks inside, of course, but it was impossible to maintain a reasonable social distance. A few other people wore masks, but most did not. This was a very different experience than when we were in Washington or Montana, as both of those states have mask orders in effect.
I found the tourist shops to be especially crowded, whereas the Hall of Cowboys was slightly more manageable as there was a little more room to spread out.
So we kept our visit short and spent most of our time in the back yard area. Not only was this area less crowded, it is located outdoors. I felt a lot more comfortable there. Plus some of the best kitschy stuff is located in the back yard and adjoining building.
Where are we now?
Date: August 5
Great American Road Trip Status: Day 31
Location: Badlands KOA, SD
Miles Traveled: 72.2
Total Trip Mileage: 3163.2
For more details on our Great America (Socially Distanced) Road Trip, see my previous posts: