I sat bolt upright in the dark and listened intently. It sounded like a large animal was directly outside of our tent. Scratch that – it sounded like several animals were right outside of our tent. Maybe even a herd. Definitely a herd.
In fact I was absolutely certain that a herd of bison was right outside of our tent.
Noises in the Night
"What should we do?" I whispered to Daniel in alarm.
"I don't know!" he hissed back, "you're the backpacking expert. What do you think?"
He was right. It may have been a long time since I've backpacked, but I do have a lot of experience sleeping in a tent. I could handle this.
I zipped open my door and cautiously peered outside. Nothing. I grabbed my headlamp and shone the light around. Still nothing. A gust of wind rustled the tent and the sound echoed loudly. A lightbulb went off in my sleepy brain.
There were no animals outside of our tent. It was just the wind rustling the rainfly against prairie grass. Loudly.
I sighed with relief and slumped back down on my sleeping quilt. Well that was embarrassing. I guess it has been a long time since I've slept outside.
To Backpack or Not to Backpack?
Earlier that day, we sat in the Rialta's rear dinette seats at the Badlands KOA Campground. Daniel and I both worked on our laptops as the air conditioner ran on full blast.
We planned to backpack to some location inside Badlands National Park later that evening. The park has an open camping policy and you can camp anywhere you want, as long as your tent is a half mile away from roads and trails.
It was too hot to do much during the day, however, so we laid low and conserved our energy for the evening ahead.
I checked the weather forecast and learned that there was a 50% chance of thunderstorms later in the evening. Ruh roh. The forecast was fine the last time I checked.
So, that wasn't great news. I didn't really want to risk getting struck by lightning. But I was super excited about the prospect of going on our first backpacking trip.
Saddle Pass Trail
Daniel and I decided to drive into Badlands National Park anyway and assess the weather once we got there. We arrived at the Saddle Pass Trailhead around dinnertime and parked the Rialta.
I peered at the sky thoughtfully. It was hard to tell if rain was coming or not.
Saddle Pass is a short but steep connector trail which leads to the other "official" hiking paths in the park's trail system. I gazed at it longingly, wanting to climb to the top.
Daniel, on the other hand, was looking the other direction. He was drawn to the prairie grassland to our south that was dotted with a few solitary rock formations.
In the end we compromised. I hiked up the saddle while Daniel trailblazed across the prairie grass. I could see Daniel in the field far below as I made my way to the top of the pass.
Overnight in the Badlands
We met back at the Rialta half an hour later, exhilarated by our solo walks. I couldn't tell if rain was coming or not, but I decided I didn't care. So, we decided to go for it.
Daniel found a good campsite during his ramblings and we set out for it just after sunset. We hiked the minimum half mile from the road and ducked behind a rock formation so that no one could see us. Soon we were all snuggled up in the tent and watching the night sky.
I had hoped to see some stars tonight but mother nature had other plans for us. Clouds rolled in, completely obscuring the night sky. Then lightning flashed in the distance. Soon we had a full-on lightning storm on our hands.
Thankfully, the storm never came very close so we got to observe it from a distance. It was still a little scary, though. It never did end up raining, although we prepared for it just in case.
Welcome to the Badlands
When we first arrived at the Badlands, we had driven all day across South Dakota from the Black Hills. We had to drive across a corner of the park to reach our campground and couldn't help but stop to take some photos. Here are the photos from our first introduction to Badlands National Park:
Badlands Sunset
The next evening, we drove through the entire length of park along Badlands Loop Road. We started out in the Yellow Mounds area which, as you may have guessed, features some interesting yellow mound formations.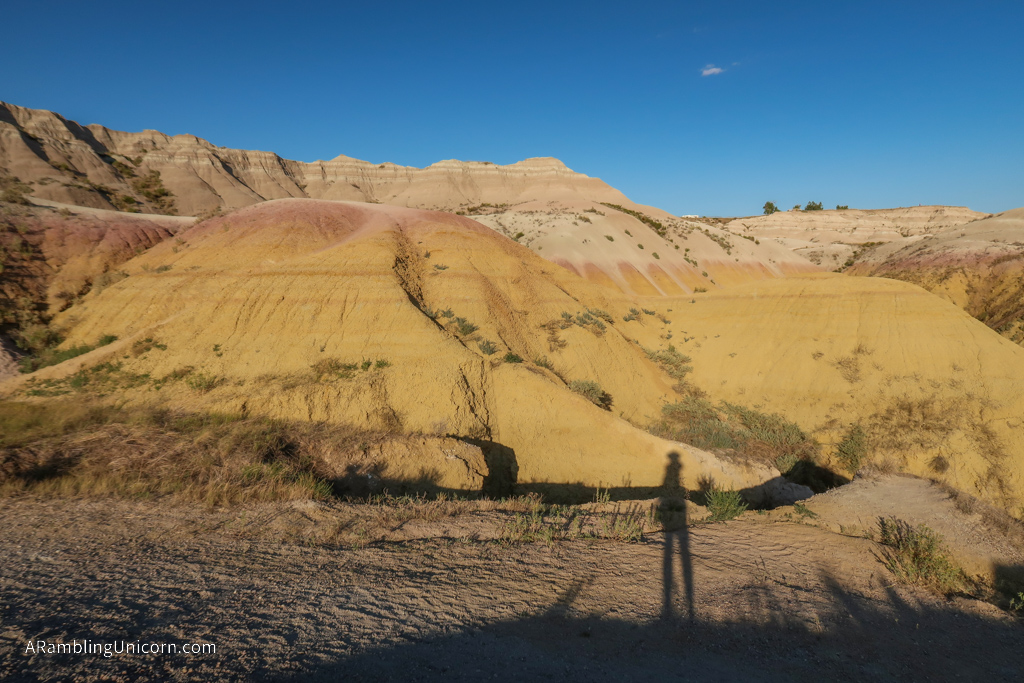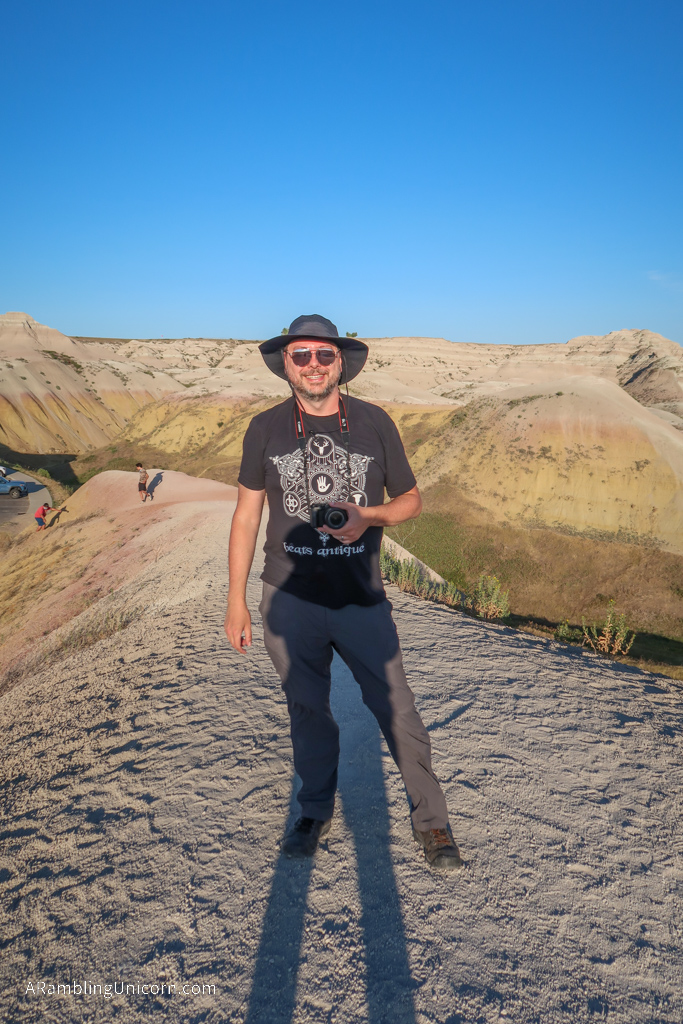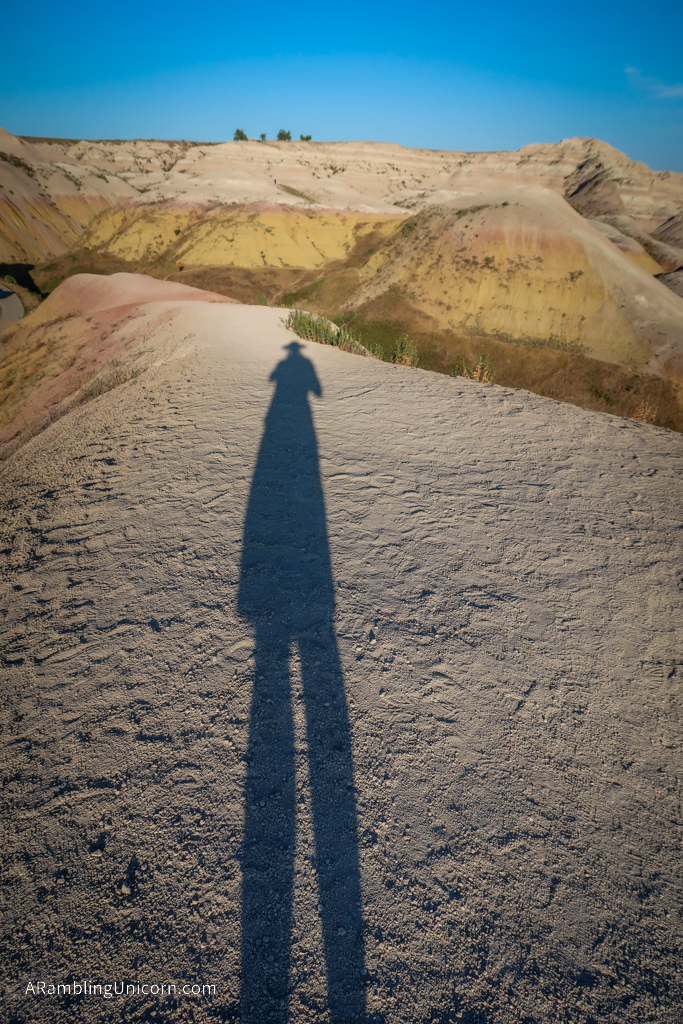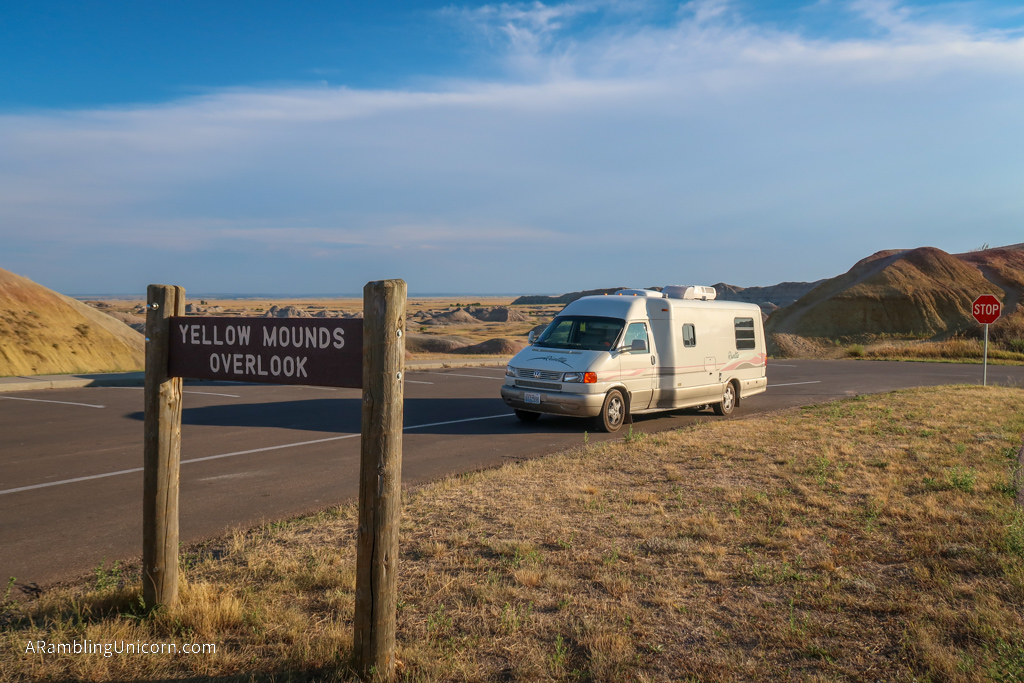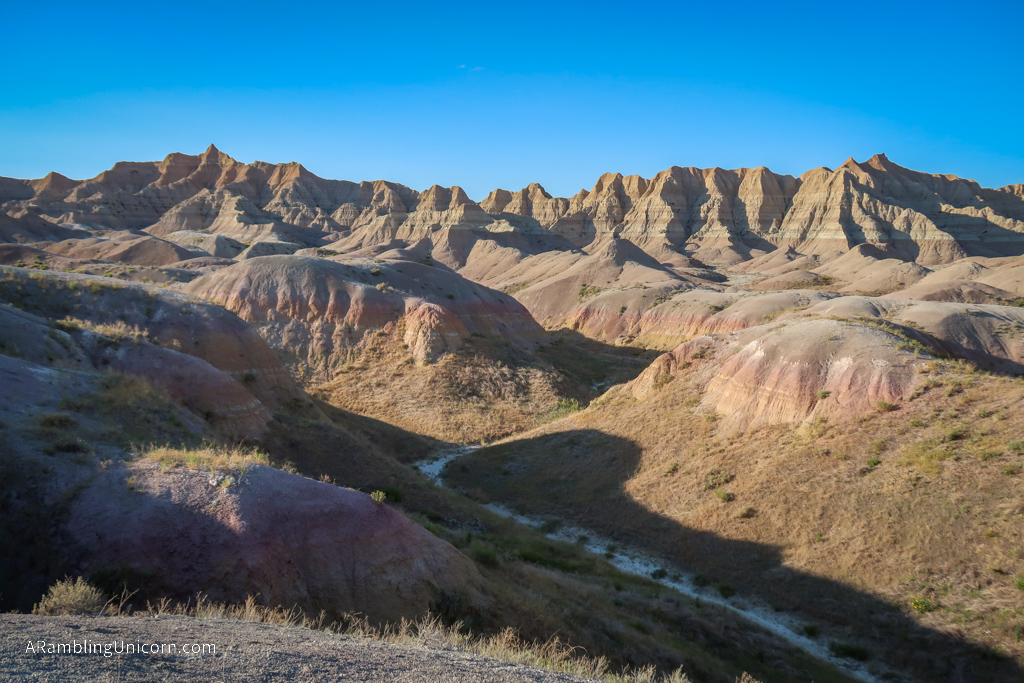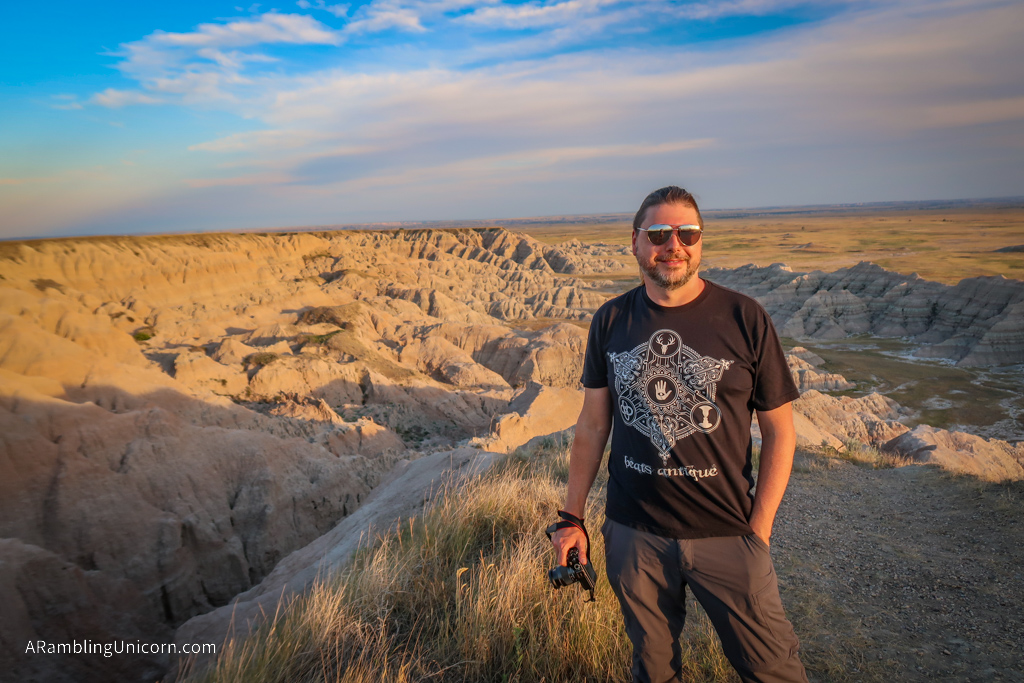 We happened to time our visit just as the sun was beginning to set. Sunset is an especially magical time in the Badlands. I'm glad we got to see sunsets two nights in a row in this magnificent place.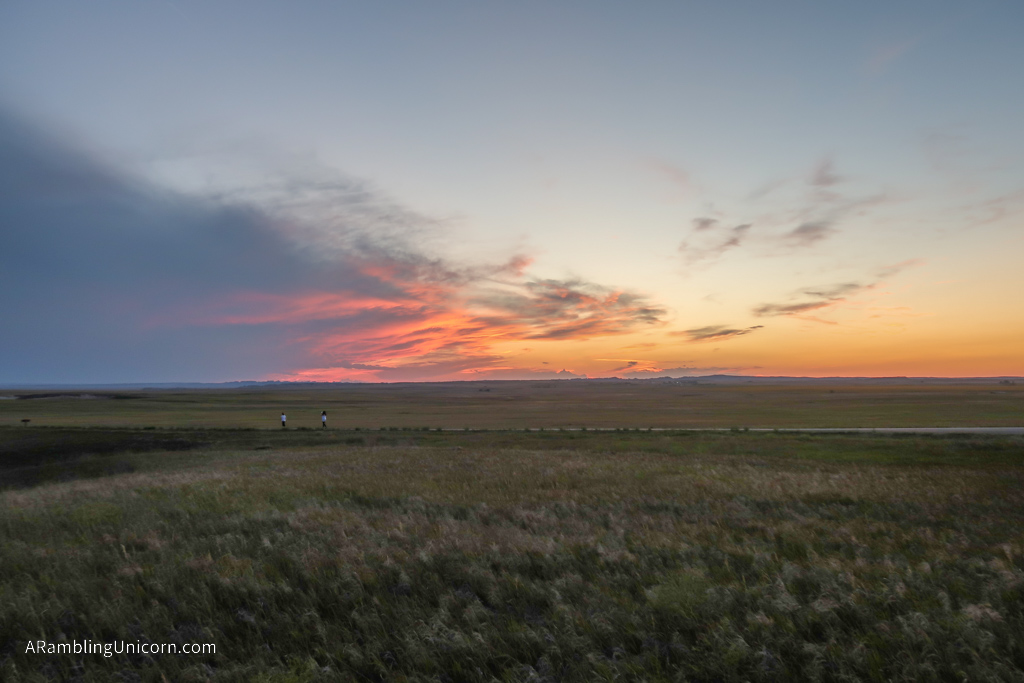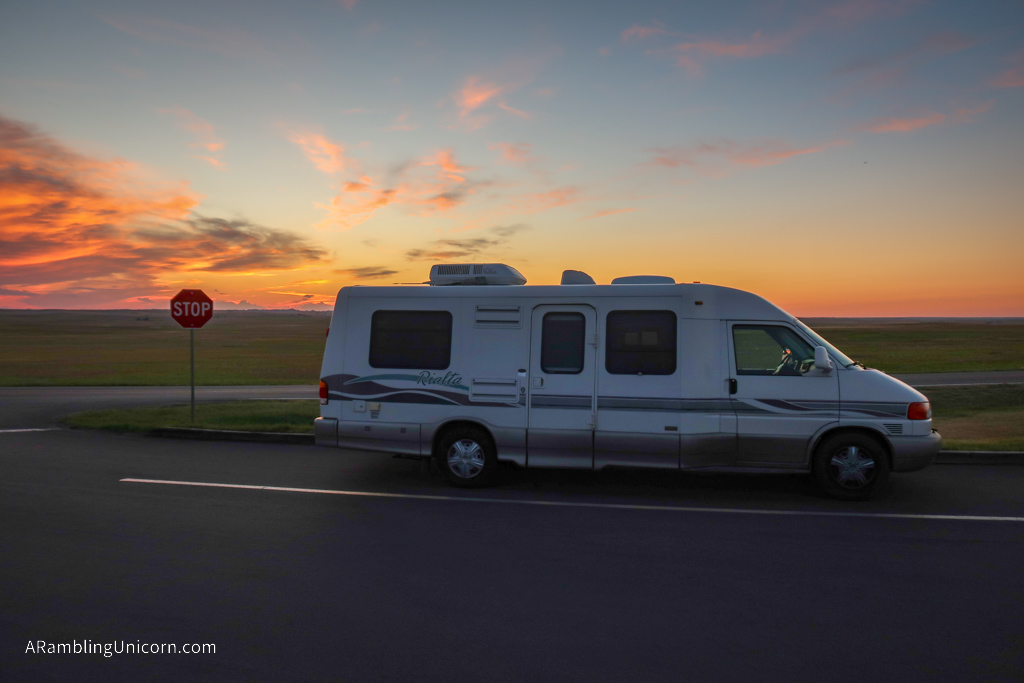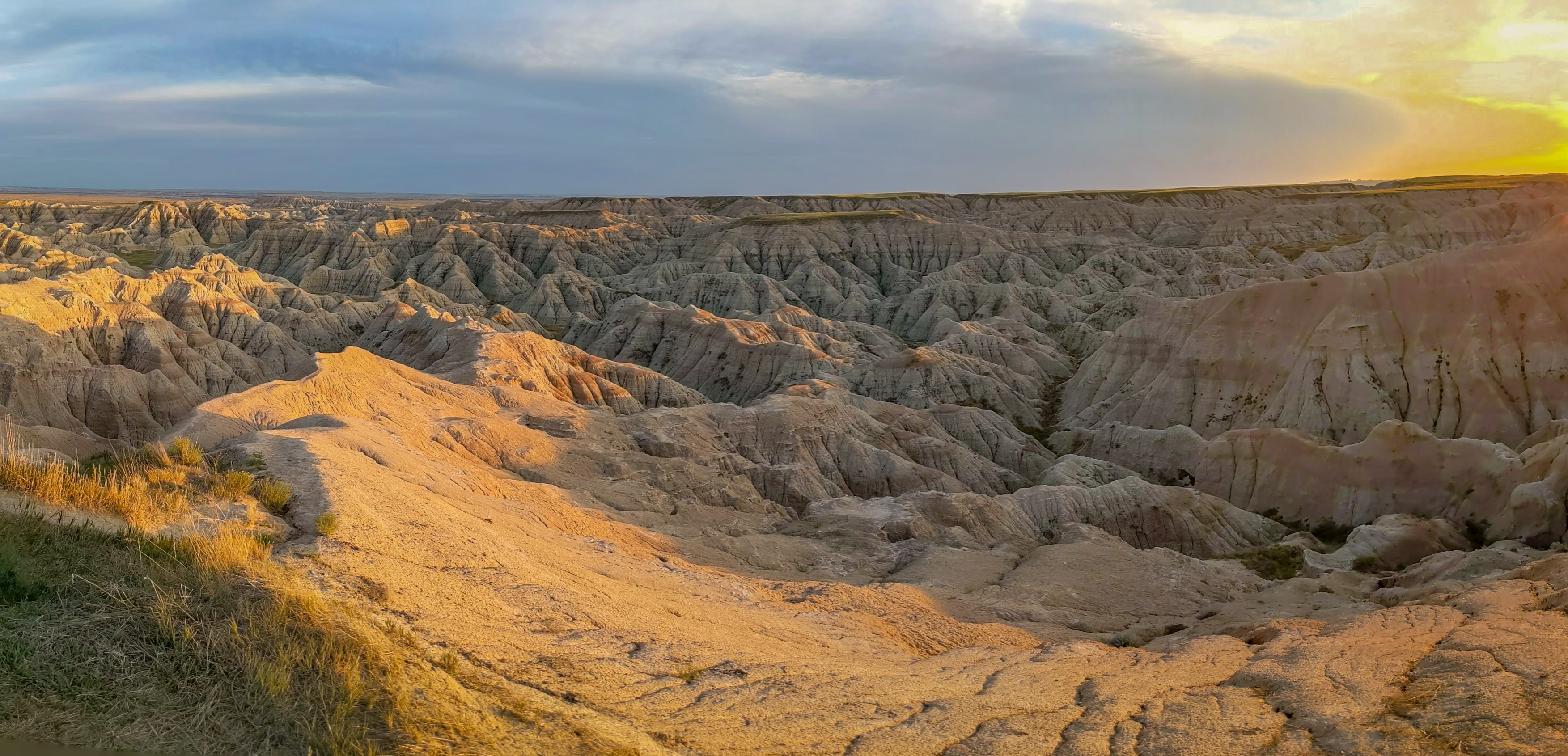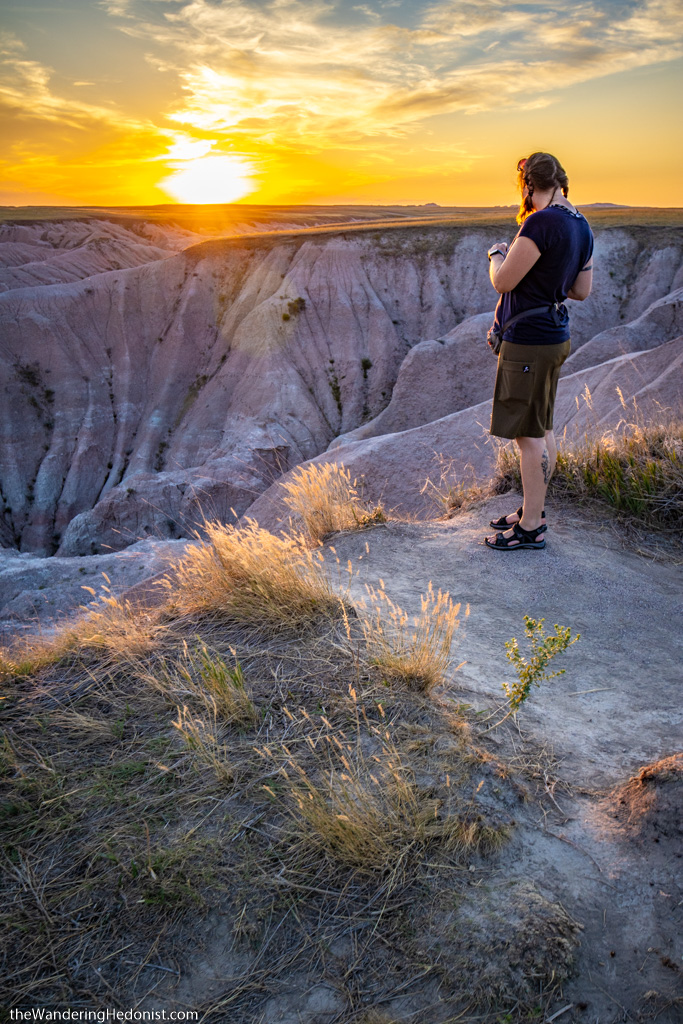 Where are we now?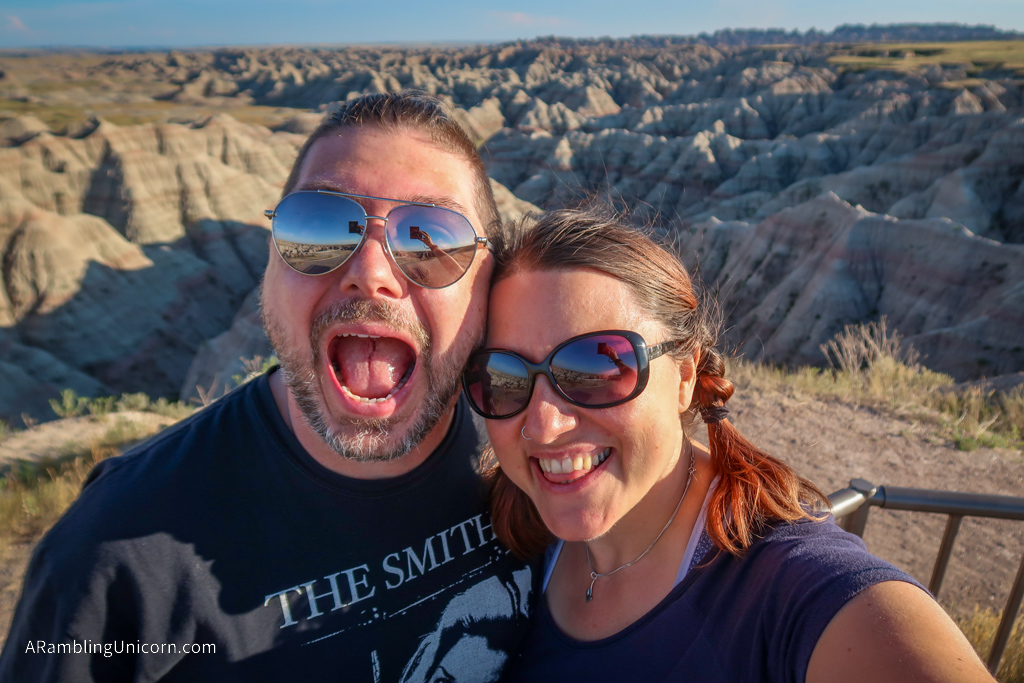 Date:
August 6
Great American Road Trip Status:
Day 32
Starting Location: Badlands KOA, SD
Ending Location: Badlands National Park, SD
Miles Traveled: 8
Total Trip Mileage: 3171.2
For more details on our Great America (Socially Distanced) Road Trip, see my previous posts: