On a recent visit to Huntington, West Virginia, I set aside a morning just for hiking. I didn't have a lot of time available, so I chose Lost Trail at Beech Fork State Park because it's a short drive from Huntington. Lost Trail is a pleasant jaunt through the woods with some peek-a-boo lake views and a mild climb along a ridge. With a distance of 3.6 miles, it's not super long and one of the more popular Beech Fork hiking trails.
Another popular hike is Overlook Trail which I checked out on a subsequent visit. You can read more about the Overlook Trail at this blog post: A Quick Visit to Huntington, West Virginia.
My Experience Hiking Lost Trail
I arrived at the Beech Fork State Park on a Saturday. I did encounter several other hikers on the trail, but I was surprised at how few people I saw given that it was a weekend. The trail is located right next to Moxley Branch campground which appeared to be completely full. I'm used to the crowded trails near Seattle so this was a pleasant change.
The first half of the trail is fairly flat as it follows along the lake shore. I could see the lake peeking through the trees, as well as lots of campers and people along the shore. If you're looking for solitude then this probably isn't the hike for you.
After about a mile, the trail intersects with the Mary Davis Trail, another of the Beech Fork hiking trails. The Lost Lake trail heads left away from the lake and into the trees. From here the trail heads up to a ridge with a couple of park benches – I assume the view is pretty nice in winter when there are no leaves on the trees.
As I came to another trail junction, I encountered a group of about 10 hikers from Indonesia who asked me for directions. I've never hiked this trail before either but I was equipped with a map and GPS on my phone as well as a lot of experience. After sorting them out, I contributed to follow the yellow blazes back to the parking lot.
All in all a great little hike. Next time we visit West Virginia I'd like to check out some of the other Beech Fork hiking trails in Beech Fork State Park.
Lost Trail Hike Details and Map
3.1 miles roundtrip
456 feet elevation
Parking and Fee Information at Beech Fork State Park
Lost Trail is located in Beech Fork State Park, West Virginia near the town of Barboursville. There is no fee to enter the park unless you are camping (there park has 4 campgrounds.). The AllTrails app directs hikers to park in the main campground parking lot and then walk through a bunch of campsites. I don't recommend that as there is a dedicated parking area – it's just a little hard to find.
Lost Trail Parking Area instructions: After entering the park on Beech Fork Road, go past the entrance kiosk and take the second left. You will cross over a small bridge and arrive in Moxley Branch Campground. Once here, look for camp site 103 – the entrance to the trailhead is located just to the right of the campground.
More Resources and Information
Interested in exploring other West Virginia hiking trails? Check out these books for inspiration:
Where are we now?
Location: Beech Fork State Park, West Virginia
Dates visited: October 2-5, 2019
To read more about my adventures in the great state of West Virginia, check out the links below:
Like this post? Pin It!
Click on the image below to save it to your board on Pinterest.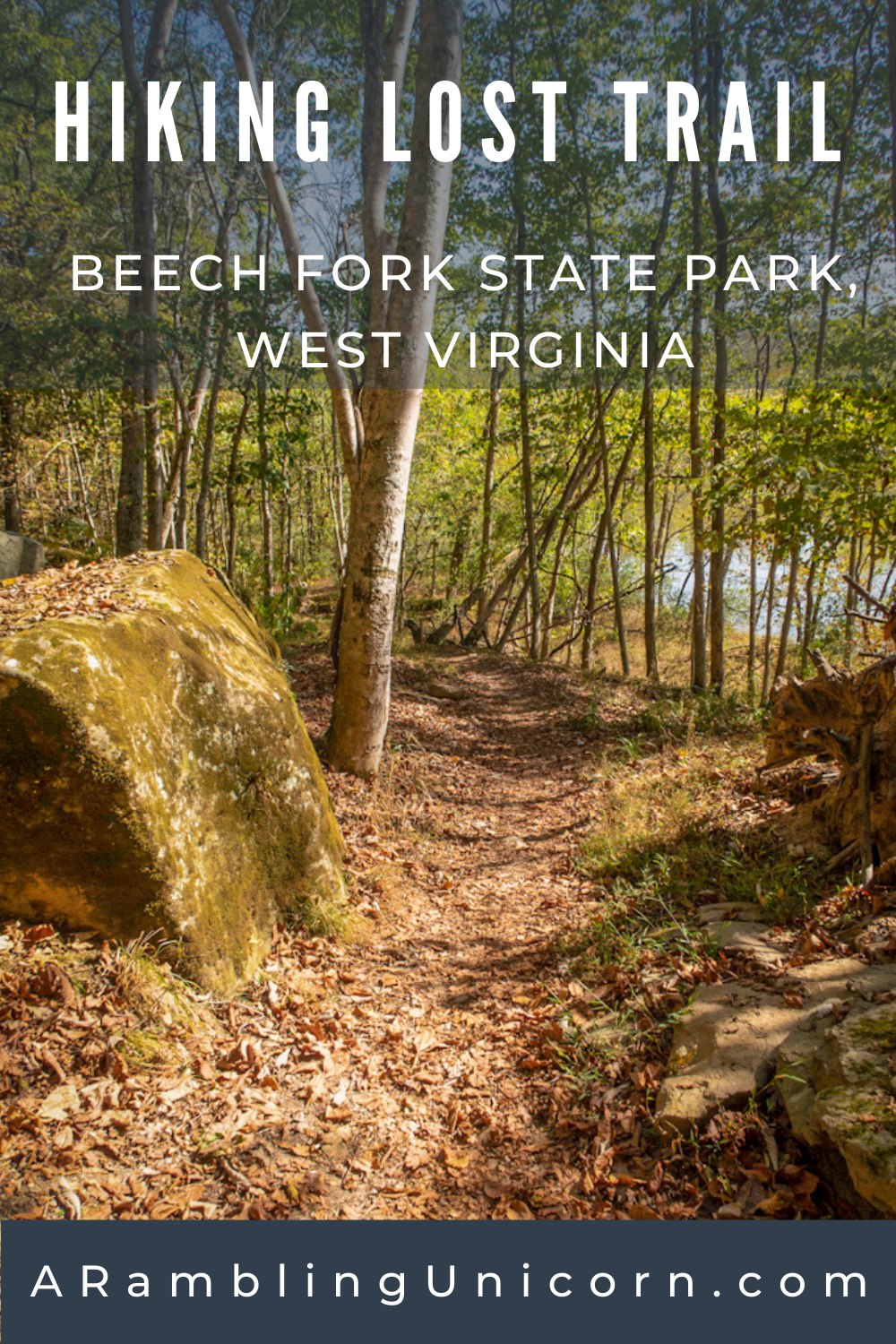 Note: This post contains affiliate links, which means I may receive a commission if you click a link and purchase something. While clicking these links won't cost you anything, they will help me to keep this site up and running!