In August 2021, my husband Daniel and I spent a month touring Ireland in search of beautiful destinations. We saw countless jaw-dropping locations – from the famous Cliffs of Moher and the spectacular Aran Islands to the towering Slieve League Cliffs in County Donegal.
But if I had to pick one place that stands above the rest, it is the Gap of Dunloe Walk in County Kerry.
Located about 7.5 miles (12 km) west of Killarney, the Gap of Dunloe is a mountain pass that is situated between two ranges: the MacGillycuddy Reeks (to the west) and the Purple Mountain range group (to the east).
A narrow country road traces the pass along a series of five sparkling lakes and through a countryside filled with green pastures and sheep. The route starts at Kate Kearney's Cottage in the north and ends at Lord Brandon's Cottage in the south.
Stretching for 7 miles (11 km) point-to-point, the road is a popular walking destination due to the incredible mountain scenery onhand. You can also hire a jaunting car (pony and trap) to see the gap or ride a bike through it as well.
Since I'm rather obsessed with hiking, however, it's not much of a surprise that I would choose walking as my preferred form of transportation.
The Gap of Dunloe Walk is absolutely spectacular and doable for most skill levels. It just requires a bit of planning to determine how to get from one end of the route to the other.
This article will guide you through everything you need to plan a successful hike as well as what to expect each step along the way.
Ready to start walking?  Let's go!
Gap of Dunloe Walk Transportation Options
One of the first things to consider when attempting the trek is how to get there – and back again. There are several options to choose from.
Transportation to Kate Kearney's Cottage
Traveling to Kate Kearney's Cottage from Killarney is fairly easy – either by public bus or by taxi.
You can take the KY2 bus operated by Transport for Ireland from Killarney to Kate Kearney's Cottage. This bus runs twice in the mornings from Killarney to Kate Kearney's Cottage.
It also runs twice in afternoons from Kate Kearney's Cottage to Ross Castle (which is very close to Killarney).
You can also book a taxi using the Free Now app (this is the option that I chose).
Transportation to Lord Brandon's Cottage by Boat
Transportation to Lord Brandon's Cottage is another matter, however. It is located in the Black Valley which is rather remote and hard to reach.
The easiest way to access Lord Brandon's Cottage is by boat. You can take a boat from Lord Brandon's Cottage to Ross Castle on the other side of Lough Leane near Killarney.
This way, you'll get to take an incredibly scenic boat ride (and visit a historic castle) in addition to hiking the through the gap.
Just be sure to make a note of the schedule to ensure you don't miss the boat. The boat ride is over an hour long and doesn't run very often.
During my visit, the boats sailed only once per day in either direction. The boats heading towards Lord Brandon's Cottage departed from Ross Castle at 10:30 am. Similarly, the boats heading towards Ross Castle departed from Lord Brandon's Cottage at 2:00 pm.
I recommend booking a ticket in advance to ensure your seat. There are several tour operators to choose from, the one I went with was Gap of Dunloe Traditional Boat Tours. Another option is Gap of Dunloe Tours.
Both of these companies offer tour packages which include bus transfer to and from Kate Kearney's Cottage. If you prefer not to walk the gap, you can take a jaunting car through the pass instead.
Transportation by Car
If you have a car, another option is to drive to Kate Kearney's Cottage. There is ample room for parking near the cottage.
The only issue will be getting back to your car afterwards. If you are a strong hiker, you could walk all the way back to your car again. However, be warned that it is a total distance of 14 miles (22.5 km).
Many hikers choose to turn around once they reach the Head of Dunloe at the top of the pass. This shortens the total distance hiked to 7.6 miles (12.2 km).
You may also be able to take a jaunting car from Lord Brandon's Cottage back to Kate Kearney's Cottage. I did see quite a few operating between the two cottages (but I'm not sure how easy it is to book one on the fly).
As a last resort, you could possibly leave a second car at Lord Brandon's Cottage so it is waiting for you at the end of the walk. I wouldn't really recommend this however. The road gets very clogged with walkers, cyclists and jaunting cars during the day.
Also a sign posted at the beginning of the road discourages driving on it except under certain circumstances.
Gap of Dunloe Walk Details and Map
Type of route: point-to-point
Distance: 7 miles (11 km)
Elevation Gain (hiking north to south): 750 feet (230 meters)
Even though the Gap of Dunloe Walk is well-signed, always carry a map with you when hiking in the outdoors. This will ensure you don't get lost if you come to an unfamiliar trail junction or lose the trail.
Also, I found the map to be helpful in locating the starting and ending points of the trail. It's best to download maps to your phone in advance in case you lose cell connectivity.
If you are using a phone for navigation, bring a portable battery such as the Anker portable battery charger and protect it from the rain and elements.
Google Maps
I found the Google Maps walking estimate of 2 hours and 16 minutes rather laughable. It took me four hours.
AllTrails Map
The distance shown in this map assumes that you'll start and stop the hike at Kate Kearney's Cottage. This doubles the total distance of the walk.
My Experience Walking through the Gap
Rain was in the forecast when I attempted the Gap of Dunloe Walk. It was supposed to start pouring around noon or 1:00 pm. So, I decided to start as early as possible to avoid the rain.
Neither the boat or the bus had very early start times. So, I took a taxi to Kate Kearney's Cottage and arrived around 9:30 am.
As it turns out, it never did rain on me that day. But, I was glad for the early start because it gave me plenty of time to walk through the gap without feeling rushed.
Beginning the Walk
When I arrived at Kate Kearney's Cottage, hardly any one else was around at that time of day. It was nice to have the road practically to myself.
After passing a loading area for the jaunting cars, I continued south. The trail goes by a few houses and some trees before passing into a wild mountainous area.
At .5 miles (.8 km), the trail passes MacGillycuddy Reeks Mountain access point (Strickeen). This trailhead provides access for hiking into the mountains which flank either side of the gap.
I would *love* to hike into the MacGillycuddy Reeks Mountains sometime but I'll have to save that for another visit.
Soon, the road rounded a curve and I got my first full glimpse of the mountain pass as well as the first lake – Coosaun Lough.
Crossing the Wishing Bridge
The first major landmark along the walk is the Wishing Bridge. This is a picturesque stone bridge that spans the river between Coosaun Lough and Black Lake.
It is said that wishes made while standing on the bridge really do come true. I have no idea if that's true or not but it is a lovely little bridge to walk across.
There was also a little coffee stand parked by the Wishing Bridge when I went by. It was the only place available along the entire route to buy water or coffee (except at the beginning or the end).
Augher Lake
The road passes some open countryside along with some farms after passing Wishing Bridge. I saw quite a few sheep in this area, some of which had broken free and were wandering across the road.
At the 2 mile (3.2 km) mark, the trail reaches Augher Lake. This is the fourth lake along the river and possibly the largest.
After passing Augher Lake, the trail is quite steep. It heads uphill to a pass which I assumed was the Head of the Gap.
As it turns out, I was wrong. There was still another lake after this and another small climb until I reached the top.
Black Lough
After climbing the pass past Augher Lake, I was surprised to find one more lake waiting for me. This is Black Lough... which is not to be confused with Black Lake located down by the Wishing Bridge.
Black Lough is cradled in a verdant mountain pass that is strewn with large glaciated boulders. It has a lovely stone bridge of its own at the northern end of the lake.
The Head of the Gap
Eventually, the Head of the Gap finally comes into view.  After passing some hairpin turns, the road finally reaches its highest point at an elevation of 788 feet (240 m).
From here, you have a fantastic view in either direction.
Looking north, the road twists and turns down through the Gap with Black Lough just visible in the distance.
Looking south, the road descends into the picturesque Black Valley.
Black Valley
A small valley nestled at the base of the MacGillycuddy Reeks, Black Valley is so remote that it didn't receive electricity until the 1970s. The narrow road descends into the valley past several pastures of grazing sheep and cows.
At the bottom of the valley, I was surprised to see signposts for another hiking trail – the Kerry Way.
Kerry Way is a 130 mile (214 km) long-distance hiking trail that circles the Iveragh Peninsula. The path passes through some of the most isolated and dramatic countryside in the entire country – including the Black Valley.
Needless to say I'm adding this trail to my (ever growing) bucket list of dream hikes. Yes please!
Killarney National Park
At the 6.3 mile (10 km) point, the path officially enters Killarney National Park. The route remains in the national park until reaching its final destination at Lord Brandon's Cottage.
The first National Park established in Ireland, Killarney encompasses over 25,425 acres (102.89 km2) of incredibly beautiful scenery. Highlights include Muckross House and Gardens, Muckross Abbey and Torc Waterfall.
These are all easily accessible by visiting the nearby town of Killarney.
During my walk along the Gap of Dunloe, however, I only passed through a small corner of the park.
Lord Brandon's Cottage
The Gap of Dunloe Walk officially ends at Lord Brandon's Cottage, a 19th-century era hunting lodge which is now converted into a small cafe.
Here, restrooms and hot food await as a reward for your hard work!
A small farm with some adorable goats and other animals is located near an ancient stone tower. This was a favorite with the kids who were visiting the cottage during my visit.
Riding the Boat to Ross Castle
After a quick lunch, I headed behind the cottage to the dock. A few boats waited to carry passengers across Lough Leane for the 1.5-hour long trip to Ross Castle.
I was a bit surprised when I saw the boats. These are small 12-seater motorboats with no facilities or protection from the elements. They seemed like awfully small boats to carry passengers for such a long journey.
I later learned that the capacity and size of the boats is regulated by Killarney National Park.
I was dubious at first, but it turned out to be a really fun boat ride. Our boatman has been making this same trip for decades and regaled us with entertaining stories the entire way.
Visiting Ross Castle
As we approached the opposite shore of Killarney's lower lake, Ross Castle loomed on the horizon.
We disembarked the boat on the dock right behind the castle. From there, it was easy to explore the area around the castle on foot.
Ross Castle is an impressive 15th Century building that was constructed by local ruling clan the O'Donoghue Mór. It is famous for being the last stronghold in Munster to hold out against Oliver Cromwell until it was taken in 1652.
Tours inside the castle are available in summer months. However, the tours are limited in size and reservations must be made in advance.
Preparing to Walk the Gap of Dunloe
Before embarking on this or any hike, remember that you are entering a rugged outdoors environment and prepare accordingly.
You're going to be doing lots of walking so be sure to wear sturdy hiking shoes. Check the weather forecast and make sure you're prepared for the weather conditions with plenty of layers and/or sun protection as appropriate.
Bring plenty of water and snacks. If you choose a longer hike, consider packing a lunch.
There are bathrooms at the beginning and at the ending of the trail. But just in case nature calls while you are away from developed areas, familiarize yourself with proper hiking bathroom etiquette.
Be sure to leave no trace of your visit behind.
Recommended Hiking Gear
Not sure what to bring or wear on your hike? This list includes some of my favorite day hiking gear.
Other Amazing Destinations in Ireland
Planning a trip to Ireland? If you spend any time in Dublin, take a day trip to Howth for the amazing Howth Cliff Walk.
The Aran Islands is another one of my favorite destinations. You can take a day trip to the Aran Islands from Galway or plan to spend the night (to avoid the daytime crowds). While you're in Galway, be sure to check out the Cliffs of Moher and the spectacular Doolin Cliff Walk.
County Donegal is another stunning Irish location. You can visit the Slieve League Cliffs and tour the Wild Atlantic Way on a Donegal Day Trip.
---
Have you walked this trail? If so I'd love to hear from you! Leave your comment below.
Like this article? Pin it!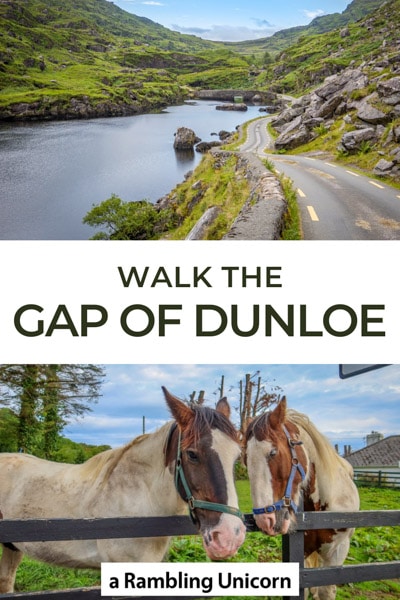 Note: This post contains affiliate links, which means I may receive a commission if you click a link and purchase something. While clicking these links won't cost you anything, they will help me to keep this site up and running!