If you're looking for amazing hiking trails near Lisbon, you can't go wrong with Sintra.
Located only 40 minutes away from Portugal's capital city, Sintra is nestled in the Serra de Sintra mountain range in the stunning Sintra-Cascais Natural Park.
Not only does the region boast incredible hiking trails, Sintra is also filled with dreamy castles and palaces. Pena Palace and the Quinta da Regaleira are just two of the impressive estates that draw thousands of visitors each year.
In fact, you can combine hiking *and* touring castles at the same time if you are so inclined. This is because some of the most popular trails lead directly to these magical destinations.
If a more remote hiking experience is your style, however, Sintra has got you covered too. The Sintra-Cascais Natural Park boasts spectacular trails both in the Serra de Sintra mountains and along the coastline.
This hiking guide will introduce you to the variety of trails available in Sintra so you can choose your own hiking adventure. I'll also provide an in-depth analysis of my personal favorite – the Santuário da Peninha Trail.
Note: if you are planning a trip during the pandemic, be sure to review the latest rules on traveling in Lisbon during COVID (which also apply to Sintra). This will ensure that you understand the latest travel restrictions.
Hiking in Sintra-Vila
The most popular trails in Sintra are the ones that lead from the center of Old Town (known as Sintra-Vila) to the castles and palaces. These hiking paths provide an alternative way to access tourist destinations for those who wish to reach them on foot.
Hiking to the Moorish Castle and Pena Palace (PR 2 & 3)
Sintra National Palace to Pena Palace there-and-back: 4 km (2.5 miles)
Moorish Castle-Pena Palace Loop Trail: 4.7 km (3 miles)
The path from Sintra's main square to the Moorish Castle (Castelo dos Mouros) is the most well-known hike in Sintra.
This shaded trail ascends a number of stairs to reach the old Moorish fortress. From there it is a short walk to the Pena Palace (Palácio Nacional da Pena). Together, these hiking trails are known as PR2 & PR3 (which means "Short Route #2 and #3").
The path begins at the Sintra National Palace in the main square. From there, the route goes through town and follows the Rue Marechal Saldanha and Calçada dos Clérigos.
The first major landmark on the trail is the Igreja de Santa Maria – a Gothic-Romanesque church dating back to the 12th century. Then, the path heads uphill and passes some lovely viewpoints until it reaches the turning-off point for the Castle of the Moors.
To continue on towards Pena Palace, simply continue hiking uphill along the stone path until you reach the road Estrada da Pena. Here you will find the ticket office for the Moorish Castle and bathrooms.
Take a left on the road until you see a sign for a hiking path to Pena Palace. This is a shortcut to Pena Palace and leads straight to the front gate and ticket office.
While some visitors choose to hike uphill to these castles and then back down again, many prefer to hike this trail downhill only. You can take the bus to Pena Palace and then walk downhill to the Moorish Castle. From there, it is an easy hike the rest the way back to town.
For a more interesting hiking experience, you can make a loop and return to Sintra-Vila by a different path. The loop trail returns to town via R. Ria da Bica and R. da Trinidade.
Rota das Quintas (PR5)
Shorter Loop  – 4.3 km (2.7 miles)
Longer Loop – 2.3 km (1.5 miles)
The Rota das Quintas hiking trail leads to some of the most interesting quintas (traditional estates or manor homes) in Sintra – including Quinta da Regaleira.
Also known as PR5 (which stands for Short Route #5), the path begins at the Sintra National Palace in the main square. From there, the route follows Rua Consiglieiri Pedroso to Rua Barbosa du Bocage.
Here, the path passes a lovely waterfall (Cascata de Pisões) before arriving at Quinta da Regaleira.
The Quinta da Regaleira is an impressive estate with an over-the-top gothic palace. The most famous feature of the Quinta, however, is the Initiation Well. This inverted tower is encircled with stairs and leads to an underground tunnel.
After passing Quinta da Regaleira, the path continues past Quinta do Relógio and some other stately houses.
For a shorter loop, you can return to town on Caminho dos Castanhais. To extend your hike, continue along the path on Caminho dos Frades as described in the map below.
Hiking Sintra's Palace Gardens
Another place to look for hiking trails in Sintra is the palace gardens. Both Pena Palace and Quinta da Regaleira feature large gardens with an extensive network of trails. You could spend hours wandering these magnificent gardens without running out of new places to discover.
Quinta da Regaleira Park
The Quinta da Regaleira's estate spans four hectares (10 acres) of land and includes many lush shaded trails.
There are surprises in these gardens seemingly around every corner – from grottos and fountains to castle turrets and waterfalls.
And, of course, don't forget about the park's most famous feature – the Initiation Well!
The number of ornate features packed into such a small space is quite impressive. These attractions are well hidden by winding paths and strategically placed shade trees.
If you're more interested in the trails themselves, however, head to the northern part of the park near the Grotto of the Virgin.
There are fewer attractions in this area, but that also means fewer other people as well. It's a great place to wander the forest and escape the crowds.
Pena Park
At 85 hectares (210 acres), Pena Park is much larger than the Quinta da Regaleira gardens. Pena Park (Parque da Pena) has just as many interesting things to see but the features are spread further apart – making for some excellent hiking opportunities.
One of the most popular hiking destinations in the park is High Cross (Cruz Alta). Located at the highest point in Pena Park, the Cruz Alta provides panoramic views of the surrounding region.
Cruz Alta is also the best place to take incredible photographs of Pena Palace. Although I should note that during my visit, the trees had grown so tall that I almost could not see the palace. I had to stand precariously on the cross itself to get a clear shot.
The Warrior's Statue, ornamental duck ponds, and Queen Amélia's Garden are also worth a visit in Pena Park as well.
Hiking Trails Beyond Sintra-Vila
Thanks to its location in the Sintra-Cascais Natural Park, Sintra boasts a variety of trails both in the nearby Serra de Sintra mountains and along the Atlantic Ocean.
Cabo da Roca to Azenhas do Mar is a 10 km (6 mile) coastal trek featuring dramatic overlooks and sweeping ocean views. This point-to-point route follows the coastline for its entire length and ends in the village of Azenhas do Mar.
I'm fascinated by long distance hiking trails, so I was interested to learn that this trail follows a portion of the much longer Caminho Atlântico Trail (GR11-E9). This is the Portuguese section of the European Long Distance Path – which runs for 5000 km (3100 miles) from Portugal to Estonia.
If you prefer hiking in the mountains rather than along the ocean, the Serra de Sintra mountains offer a variety of trails to choose from as well.
The Capuchos Trail (PR11) is an easy 3-mile loop that begins and ends at a 16th century convent. The charming Convent of the Capuchos was previously inhabited by Franciscan monks and features tiny, cramped rooms and hallways. This trail leads through the forest to Tholos do Monge, an ancient burial site.
Another good hiking trail in the Serra de Sintra mountains is the Peninha Trail. This is one of my favorite trails in the Sintra region so I'll share more details about how to complete this hike in the next section.
The Santuário da Peninha Trail (PR10)
Peninha Trail Distance: 5.9 km (3.6 miles)
The Santuário da Peninha (Sanctuary of Peninha) stands on a tall outcropping with sweeping views of the Atlantic Ocean.
Located at an elevation of 448 meters (1469 feet), the church was constructed in the 17th century at a holy site. According to legend, the Virgin Mary appeared to a shepherdess here and performed several miracles.
Today, the inside of the sanctuary is closed as it is undergoing restoration. However, the site is still worth a visit due to the amazing views.
It is also the starting point of the Peninha Trail (PR10). This route encircles the structure and is a lovely ramble through woods that are often shrouded in wisps of coastal fog. The trail also passes by an ancient megalithic burial chamber.
Beginning Sintra's Santuário da Peninha Trail
The hike begins at the Santuário da Peninha car park. Since I don't own a car, I took a taxi from Sintra-Vila (which cost about €15 one-way). I recommend also making arrangements for the taxi to pick you up again as cell service can be intermittent in the area.
Head north to Est. da Peninha road and take a right. From here, walk east along the paved road until you reach a second small parking area and a stone drinking fountain.
The trail then follows a dirt road for about .5 mile until reaching a junction. Take a left following the signs for PR10 for another 1/2 mile until you reach the junction for Andre Nunes.
Anta de Adrenunes
Located on a hilltop 426 meters (1397 feet) above sea level, the Anta de Adrenunes is an ancient cluster of granite stones. The rocks are grouped together and stacked in such as way to form a small passage.
The site is believed to be a megalithic monument or Stone Age burial structure (although no human remains have been discovered thus far).
The rocks are perched on a hill which I *suspect* has great views of the surrounding area. I could not confirm this, however, as it was quite foggy when I was there and visibility was poor.
The fog made for a delightfully spooky visit though.
A Ramble Through the Mata de Sintra
After visiting Anta de Adrenunes, retrace your steps back to the dirt road and take a left (heading east).
Take the second right onto a trail that winds through a wooded area with several picnic tables. Then cross the paved Est. da Peninha road and pass by the wooden gate.
Follow the dirt road south for .5 km (.3 miles) until you reach a trail junction. Look for the yellow and red blazes to mark the trail heading sharply uphill to the left. There is no trail sign here so it is easy to miss if you're not looking carefully.
From here, it is a simple matter of climbing uphill for about .5 km (.3 miles) through the Mata de Sintra (forest) to reach the Santuário.
Santuário da Peninha
When the trail breaks free of the trees, the Santuário da Peninha stands majestically before you on a rocky outcropping.
Before heading to the sanctuary, look for a trail heading to the right. This leads to the edge of a bluff with outstanding views of the Atlantic Ocean far below.
Or at least, that is what I assumed the views to be. During my visit, the area was so foggy that I couldn't see anything at all. So I sat down and ate some lunch.
Thankfully, by the time I finished eating, the weather began to clear a little and I was able to make out the shoreline down below.
From here, it is an easy walk around the sanctuary back to the car park. Be sure to climb the stairs and explore the exterior of the sanctuary buildings if you can.
Planning a Sintra Hiking Adventure
While some of these trails travel through the middle of Sintra-Vila, others are in more remote locations. Regardless of the trail you choose, it's best to always be prepared when going on a hike.
You're going to be doing lots of walking so be sure to wear sturdy hiking shoes. Check the weather forecast and make sure you're prepared for the weather conditions with plenty of layers or sun protection as appropriate.
Some of the trails in Sintra-Vila are popular so consider hiking early in the mornings or the evenings to miss the crowds. You can take the Sintra Tourist Bus #434 to Pena Palace if you'd rather only walk one-way.
If you choose a remote hike, pack a lunch and bring plenty of water. Familiarize yourself with proper hiking bathroom etiquette if you are hiking away from developed areas and bathrooms.
Be sure to leave no trace of your visit behind.
What to Wear When Hiking Sintra
Not sure what to bring or wear on your hike? This list includes some of my favorite gear when going on hikes in the woods.
Maps and Navigation for Hiking Sintra
The first rule of not getting lost is to always know where you are. The good news is that most of these trails are clearly marked with signs and with yellow/red blazes.
Even so, it is easy to get turned around. So be sure to have a map along and consult it regularly.
While cell reception is available throughout most of Sintra, some remote areas have limited connectivity. Be sure to download maps to your phone in advance.
Pro tip: GPS will work on your phone even if you have no cell signal. But it won't do much good if you haven't downloaded a map for the area.
If you are using a phone for navigation, bring a portable battery such as the Anker portable battery charger and protect it from the rain and elements.
AllTrails.com is a good resource for hiking maps and most routes in this guide can be found there. This is great for beginners because you can navigate using GPS without having to worry about GPX tracks.
Note that although the maps are free, downloading them to your phone requires a Pro subscription.
The Active Sintra website is another great resource and most routes in this guide can be found there as well. Active Sintra includes both Google maps and GPX tracks.
If you're heading to a remote location with spotty reception, I recommend downloading the GPX tracks rather than relying on Google maps. Keep in mind that you'll need to download a navigation app first before using the GPX file. OsmAnd is a great tool for this (especially when hiking in Europe).
Like this hiking guide? Pin it!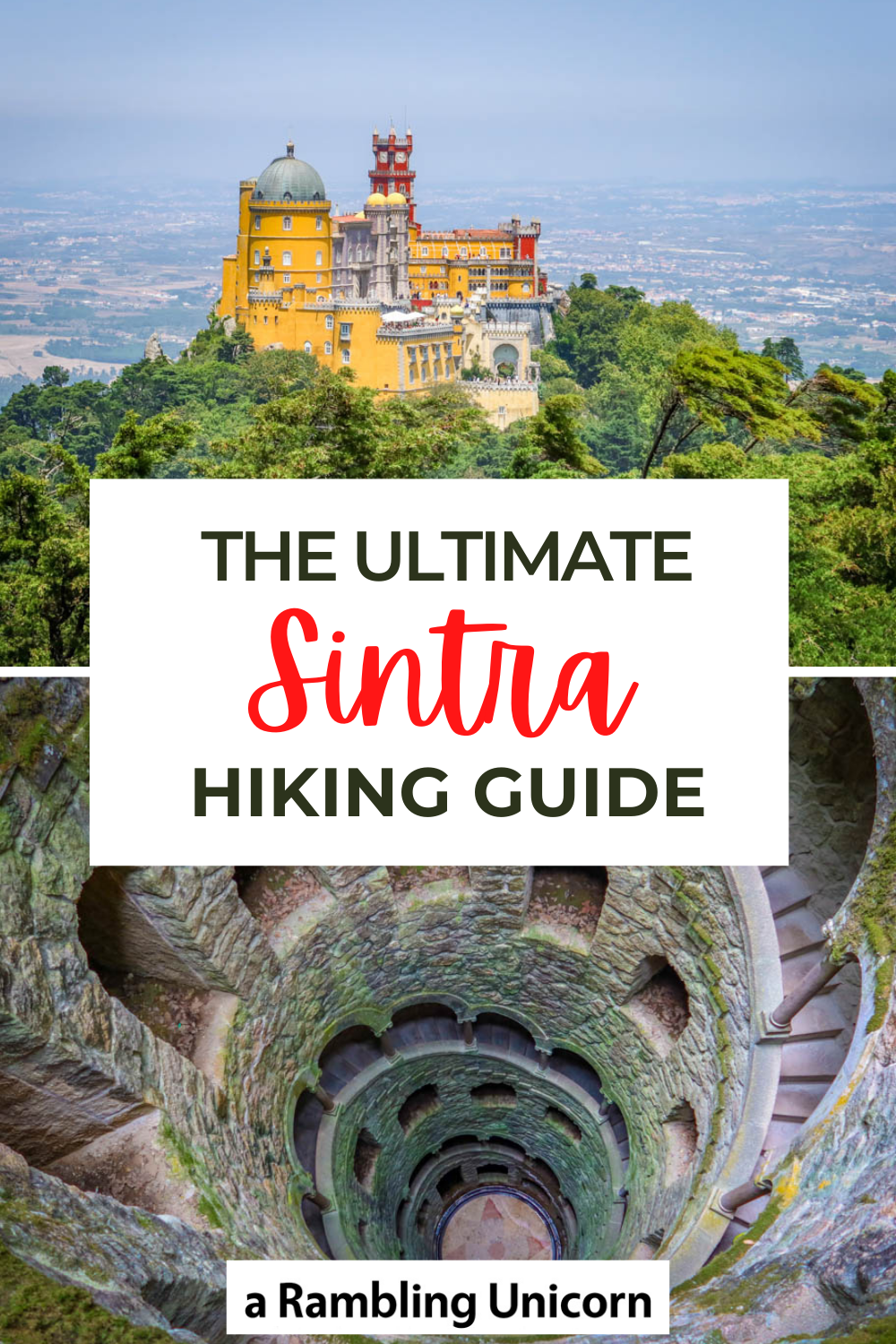 ---
Have you hiked in the Sintra region? If so I'd love to hear from you! Leave your comment below.
Note: This post contains affiliate links, which means I may receive a commission if you click a link and purchase something. While clicking these links won't cost you anything, they will help me to keep this site up and running!