On June 15, 2021, Portugal finally re-opened its doors to non-essential travel for Americans.
My husband Daniel and I booked our tickets to Lisbon the very next day.
Lisbon has been on our bucket list for a long time. In fact, we were about to head to Lisbon when the Coronavirus sidelined our travel plans in 2020. We were ecstatic when we learned that we could finally resume our trip, even if it meant traveling in Lisbon during COVID.
Not long afterwards, the number of COVID of cases in Portugal began to rise. The highly contagious Delta variant was spreading rapidly through the country and only 30% of the population was vaccinated. Some municipalities began imposing curfews and travel restrictions to curb the spread.
While this was the cause for some concern, we were undeterred. Daniel and I are experienced global travelers and are both fully vaccinated. We decided to go anyway and keep our plans flexible.
We landed in Lisbon on July 3 and spent the next week exploring the city. During this time, the rules for moving about the city completely changed – and it won't surprise me if they change again soon.
Read on to learn what our experience traveling in Lisbon during COVID has been like as well as navigating an ever-changing set of rules…
Planning a trip to Lisbon? Check out my Lisbon 4-day itinerary for a comprehensive guide on what to see in Portugal's capitol!
Traveling to Portugal from the United States
After the travel ban was lifted, the new rules stated that Americans could enter Portugal as long as they presented negative COVID-19 test. While several testing options were accepted, we opted for a PCR test because it could be performed up to 72 hours prior to boarding.
It turns out that these tests are not cheap!
I have gotten several COVID tests before, but these were covered by my health insurance because I was sick at the time.
COVID tests for travel purposes are another thing altogether! Our PCR tests cost us $180 each. But we didn't have much of a choice. Plus, they were fast and easy and we got the results the same day.
Once the tests were completed, we simply showed the results to the airline agent before checking in. We also filled out an online Passenger Locator Card to assist in contact tracing in case of an outbreak.
Masks are required in the airport and on the plane (except when eating or drinking). It was the longest continuous period of time that I've ever worn a mask before, but it wasn't too difficult.
Note: different rules may apply to travelers from other countries. The rules are also slightly different for traveling to the Portuguese islands of Azores and Madeira. Be sure to check the U.S. Embassy in Portugal  COVID page (or the equivalent for your country) for the current travel requirements as they change all the time.
Traveling in Lisbon during COVID – the first week of July 2021
When we arrived in Lisbon, the city was under a set of restrictions meant to keep the new variant from spreading to the rest of the country. These restrictions included:
A curfew imposed from 11:00 pm to 6:00 am every day
All restaurants must close by 3:30 pm on the weekends (Friday to Sunday) and by 10:30 pm on the weekdays
You could not travel outside of the greater Lisbon area on the weekends, with some exceptions (including for tourists to check-in to hotels and/or holders of the EU Digital COVID certificate)
Thankfully we rented a furnished AirBnB apartment with a kitchen. Since we arrived on a Saturday, this meant that restaurants were closed in the evenings. So, we cooked dinner at home the first two nights. I actually didn't mind hanging out at home because I wasn't feeling especially perky due to jet lag.
We didn't have any plans to leave the greater Lisbon area so this rule didn't impact us much. One of the most popular tourist destinations is the city of Sintra, but it is technically within the greater Lisbon area. So, we could have traveled there if we chose.
I was a little worried about the curfew, however. One evening our dinner ran a little long and we were still finishing dessert at 11:00 pm. I'm not much of a rule breaker and I was worried about getting into trouble.
When I spoke to the waitstaff, however, they were unconcerned. Our server said the rule was a suggestion and not compulsory. I don't know if this was true or not, but we did make it back to our apartment just fine and we saw a fair amount of people out on the streets.
I haven't been out past curfew since then however.
Lisbon's New COVID Rules
On July 8, we learned that new rules impacting Portugal's very-high risk municipalities were planned to start the following day.
The rules were so new, in fact, that no official web pages had been updated with the information (they have been now). Since Lisbon is currently in the very-high risk category, I tried for some time to locate this information. Eventually, after searching some Portuguese accounts on Twitter, I learned that:
Restaurants are now allowed to stay open until 10:30 all days of the week, however…
On weekends, restaurants with indoor dining require customers to show an EU Digital COVID Certificate. Customers without an EDCC will have to furnish a negative COVID test result or take a rapid Antigen test on the spot.
The prohibition against traveling on the weekends was lifted.
The nightly curfew from 11:00 pm to 6:00 am remained in place.
When checking into hotels or local accommodation establishments, guests are required to show an EU Digital COVID Certificate. Customers without an EDCC will have to furnish a negative COVID test result or take a rapid Antigen test on the spot.

Note: this last rule applies to the entire country, not just to very-high risk municipalities
You can read the full list of rules here: COVID-19 measures implemented in Portugal.
How Will the New Rules Impact Americans?
Naturally, I had lots of questions after reading these rules. As an American, I am not eligible for the EU Digital COVID Certificate. I would love to have one because we plan to travel around Europe after this and it would come in very handy. Hopefully this will eventually change.
But what about in the meantime? I am fully vaccinated with the Moderna vaccine and have a flimsy-looking CDC-issued vaccine card to prove it. The Moderna vaccine *is* an approved form of vaccination accepted by the European Union.
Would that be acceptable in lieu of an EDCC, or would I have to constantly take rapid Antigen tests when traveling in Lisbon during COVID?
Daniel and I visited three different restaurants the weekend of July 10-11, 2021 to find out.
Traveling in Lisbon during COVID under the New Rules
Unsurprisingly, since it up to each individual restaurant to enforce this policy, we encountered three different approaches.
One restaurant said our American CDC-issued vaccine card was ok. Another one didn't even bother asking us about it. A third restaurant provided us with an information card about the new rule…but didn't care if we followed it or not.
Apparently this antipathy towards the new rule isn't uncommon.
There is a lot of frustration over the new rule from the restaurant sector who has been put in the unenviable position of enforcing it. They say that the rule is "unworkable" and that the intended goal – to increase business to restaurants – has backfired as many reservations are now being cancelled.
When I visited a restaurant the following weekend I got a different response, however. A restaurant employee told me the police handed out citations for NOT following the new COVID rules. The police would not accept American CDC vaccine cards. So, maybe the new rules are being enforced now more than they were last weekend.
We'll see how long the new rule stands and if the current levels of enforcement eventually change.
Keep in mind that these rules do not apply during weekdays or to outdoor dining – and many restaurants here have lovely outdoor patios or at least some form of outdoor seating.
And if you do have to take a rapid antigen test, it's really not that big of a deal. I picked one up from the pharmacy yesterday for €6,80 (that's $8 USD). The test is super easy to do and you get the results back in 15 minutes.
One consequence of these constant rule changes is that it's hard for restaurants to keep a consistent schedule. Daniel and I have found the doors to restaurants shuttered on multiple occasions – even after first validating their schedules online.
If you have your heart set on visiting a particular restaurant, I recommend calling first to verify that they are actually open.
Updates to the Portugal Travel Rules on August 1, 2021
A new set of rules were announced that go into effect as of August 1, 2021. These rules now apply to the entire country rather than only impacting certain areas. Here is a summary:
The nighttime curfew was lifted for High Risk and Very High Risk Areas. Bars, cafes and restaurants can now stay open until 2:00 am.
Shops and shopping centers are open without time restrictions.
When checking into hotels or local accommodation establishments, guests are required to show an EU Digital COVID Certificate. Customers without an EDCC will have to furnish a negative COVID test result or take a rapid Antigen test on the spot. (This rule carries over from before).
On weekends, restaurants with indoor dining require customers to show an EU Digital COVID Certificate. Customers without an EDCC will have to furnish a negative COVID test result or take a rapid Antigen test on the spot. (This rule now applies to the entire country)
Americans still need to provide a negative COVID test for entry to the country.
As you can see, the rules keep changing all the time. Be sure to check the rules frequently which are detailed here: Â COVID-19 measures implemented in Portugal.
Should you Travel to Lisbon during COVID?
Traveling in Lisbon during COVID isn't without its risks. The country is in an official "State of Calamity" due to the rise of COVID rates. The CDC has issued a travel warning of "Level 4: COVID-19 Very High" for Portugal. NOTE: This was raised from level 3 to level 4 on July 26, 2021.
If things suddenly get worse, the whole country could go into lockdown. This could complicate matters for travelers returning home – as recently happened when Portugal was removed from the UK's list of "green" travel countries. Also, if you positive for COVID while in Portugal, you will be required to quarantine for 10 days before you can leave the country.
You definitely should not travel to Portugal if you're not vaccinated.
If you're a risk-averse person, then Lisbon may not be a good place for you to visit right now.
But if you're fully vaccinated and ok with some amount of risk, then Portugal is a lovely place to visit. We found the rules to be confusing but manageable. And Lisbon is an incredibly beautiful city.
That being said, when I visited Portugal the CDC-issued travel alert for Portugal was at Level 3. Now that it is at Level 4, I might seriously reconsider traveling there until the risk level is lowered again.
One advantage to traveling in Lisbon during COVID is that we haven't encountered many other tourists (however I suspect that will soon change). All the museums and tourist attractions that we've visited so far are open – with the exception of the Santa Justa Lift (Elevador de Santa Justa).
If you do decide to visit Portugal, be sure to keep your travel plans flexible. Make sure you can easily cancel or change your plans if need be. Buy travel insurance.
Remember that wearing a mask is compulsory in public indoor spaces and outdoors when you can't socially distance.
And most of all – have fun! We sure did.
Like this article? Pin it!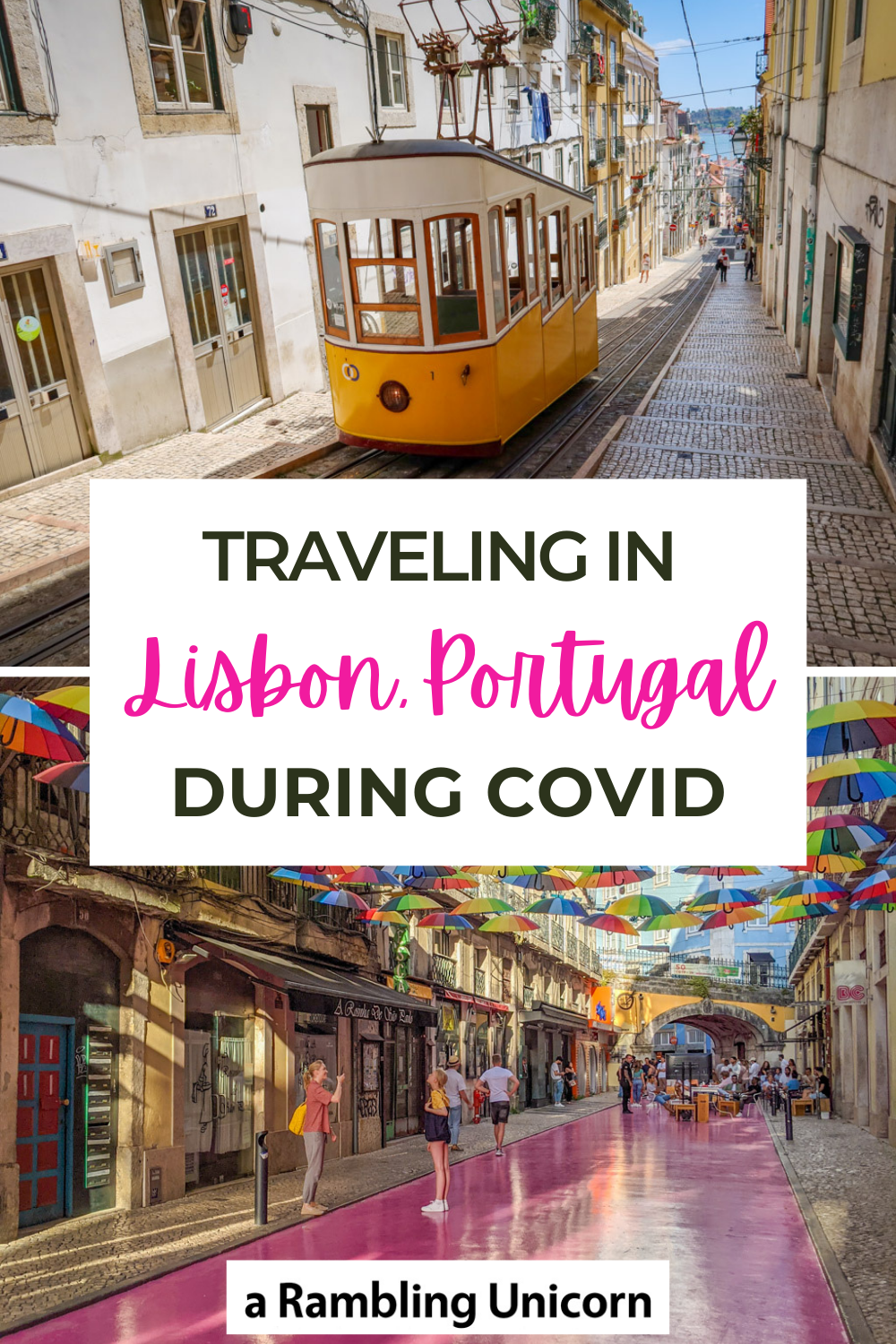 au