More people than ever are spending time outdoors thanks to the pandemic. Along with the traditional woodsy types, many folks who don't spend much time outside are flocking to our public lands. While it's wonderful to see so many people discovering the joys of nature, this influx inevitably leads to a few growing pains. A big one is bathroom etiquette, or more specifically, how to pee outside (and poop too).
If you're not a very experienced outdoor person or just have no idea how to properly poop and pee outside, don't fret. This article will walk you through everything you need to know so you can relieve yourself in the woods like a pro.
What NOT to do: Don't pee outside the wrong way
Before diving into the details of how to pee outside properly, lets talk about what NOT to do.
As I've been exploring National Parks and hiking trails this year, I keep seeing the same thing over and over: wads of toilet paper tucked behind a tree or a rock or a large shrub. It doesn't take genius to figure out what happened there – a hiker (probably of the female variety) had to pee outdoors and found a private spot to relieve herself. Usually I just see toilet paper, but sometimes I've seen tampons, wet wipes, dirty diapers, soiled underpants, and even piles of human poo.
Ew! Gross. That is what NOT to do.
The #1 outdoors bathroom mistake is treating the wilderness exactly like a flush toilet. After concluding their business, some folks walk away and leave a clearly visible mess behind. It's a mistake to think that the toilet paper will biodegrade or magically disappear before someone else notices. Trust me, the next person who comes along *will* notice.
When we go to the woods or other wilderness areas, we are there are there to commune with nature and breathe in the fresh air. We don't want to see garbage or evidence from other people who were previously there – especially not dirty toilet paper.
This can't be overstated so I will say it again: if you go the the bathroom outdoors and leave toilet paper behind – or worse, a pile of poop on the ground – you are doing it wrong.
If you go to the bathroom outdoors and leave toilet paper behind – or worse, a pile of poop on the ground – you are doing it wrong.
If you are guilty of this behavior, this doesn't make you a bad person. We were all novice outdoorspeople once and made mistakes as we went. Consider this a learning opportunity and continue reading to find out just how easy it is to properly pee outdoors.
How to Pee Outdoors
It's a lot easier for guys to pee outside than ladies, so most of this advice is for hikers of the female persuasion. That being said, some of these tips apply to guys too.
Obviously the first thing to keep in mind when peeing outdoors is to find an out-of-the way spot where you won't be seen by anyone else. Sometimes this is more difficult than others, especially in areas without much cover such as in alpine regions or in the desert. In that situation, you may just have to ask your hiking buddies to turn around. Be sure to find a spot that is at least 200 feet away from streams or other bodies of water.
When I pee outside, I like to find a private spot (preferably on a gentle slope that is out of the wind) and simply pop a squat. Sometimes it can be nice to hang onto a tree or a rock if there is one nearby as it can take some of the pressure off my knees.
Here are a few tips:
Be aware that in some alpine areas, mountain goats can be attracted by salt found in urine and have been known to dig up fragile vegetation. In these cases, it is better to pee on durable surfaces or rocks if possible.
How to Poop Outside
Once you've mastered the art of peeing outdoors, the next step is pooping. The solution that most outdoorspeople use for dealing with poop is to bury it in a cathole.
To do this properly, dig a cat hole that is 6″ to 8″ deep and at least 200 feet away from streams, lakes or trails. Don't dig a hole in the middle of campsite – find a spot away from where people are likely to hang out in the future.
After you've finished your business, cover the hole with dirt and pack out your toilet paper. While there is some debate among the outdoors community on whether or not it is ok to bury toilet paper, most people advise against it. Animals have been known to dig up cat holes and spread the toilet paper around. Burning toilet paper is also not recommended as it can start a forest fire. I always pack out my used toilet paper and I recommend that you do too.
Here are a few tips:
Be advised that there are some instances where burying your poop is not allowed. This mostly applies to alpine regions or other sensitive or protected areas. Before heading into the wilderness, you should check with the local land management agency and follow best practices about dealing with human waste in that area.
There is also a growing body of evidence to suggest that this method is not sustainable due to the increasing numbers of people recreating outdoors and that we should find new ways to dispose of human waste.
If you are not allowed to bury your poop (or if you choose not to), then you'll have to pack your poop out with you. Don't worry, it's not that big of a deal! The easiest way to solve this problem is to bring a WAG bag – simply poop in the bag and then throw it away when you return home again.
Menstruation Outdoors
For the ladies, menstruation is another issue to consider when heading to the wilderness. Women who menstruate should always come prepared in case they start their period during a trip to the wilderness.
Here are a few tips:
Bathroom Hygiene in the Outdoors
The last step to properly peeing or pooping outdoors is cleaning up afterwards. While it can be hard to keep clean in the wilderness, it's important to wash or sanitize your hands after pooping as giardia can be spread from fecal matter.
Here are a few tips:
Additional Resources on how to Pee and Poop Outside
Congratulations! You are now fully equipped to pee and poop outside like a pro. Now you can sit back and relax and get inspired about your next hiking adventure with these 60 inspiring hiking quotes.
If you would like more information, there are a ton of great resources out there on how to pee outdoors (and poop too). Here are a few of my favorites.
Further Reading
You may also be interested in these blog posts about hiking and camping outdoors:
---
Like this article? Pin it!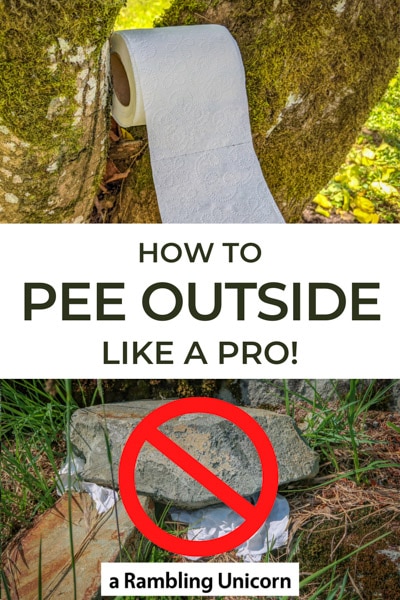 Note: This post contains affiliate links, which means I may receive a commission if you click a link and purchase something. While clicking these links won't cost you anything, they will help me to keep this site up and running!