If there's one thing all long distance hikers have in common, it's an obsession with backpacking gear. Â Thru-hikers have an amazing capacity to discuss all aspects of their hiking equipment for hours on end.
There's a good reason for this. The wrong gear can make a hiker's life miserable on the trail, especially if it malfunctions or breaks. An ill-fitting backpack or shoe can cause blisters (or worse) and is the last thing a hiker wants to deal with in the wilderness.
Conversely, the right gear can ultimately enhance a hiker's experience on the trail and, in some cases, even bring joy.
Ok I know that sounds corny, but I know this to be true firsthand. After I spent 5 months hiking the Pacific Crest Trail (PCT) in 2017, I spent so much time with my gear that it essentially became an extension of myself. By the end, I absolutely adored a few of my favorite pieces of gear (my cup and my sleeping quilt, to be exact).
So, to help new prospective thru-hikers with choosing their own gear, I've decided to share my PCT gear list.
Believe it or not, I'm still using some of the exact same gear from my 2017 hike today. I have made a few changes and upgrades to my gear over the years too, which I've called out below.
All that being said, I advise new hikers not to stress *too* much about gear before heading out. Yes, you should do some research and try to aim for a low pack weight.
But remember that you can always change gear on the trail if it doesn't work for you. There are plenty of opportunities on the PCT to exit the trail and shop for a replacement (or even order items online).
Long Distance Hikers and Ultra-Light Gear
Long distance hikers are obsessed with pack weight. Â The goal is to have as light of a pack as possible – because the lighter the pack, the less likely you are to injure yourself while on the trail. Â Through-hikers are famous for cutting the handles off of their toothbrushes and snipping unused buckles and straps from their packs to save weight.
For a pack to be considered light, a hiker should strive for a base weight of under 20 lbs ("base weight" does not include consumables such as water, food, or fuel). Ultralight hikers sport a base weight of under 10 or 15 lbs.
I know it seems counter-intuitive…when going into a wilderness area you'd think you'd want to bring more, not less, in case of an emergency. But most long distance hikers travel with extremely light packs and they survive just fine. Most of the time, anyway.
As discussed in a previous blog post about the ALDHA-West Ruck, I spent months honing my pack weight before hiking the PCT. I weighed every piece of gear, down to the safety pin, and created a finalized gear spreadsheet which I checked and double checked.
My final base weight of 17.5 lbs hasn't changed much since I attended the Ruck, and has continued to stay the same years later too.
Note: just because this PCT gear list worked for me doesn't mean that it will work for you. I recommend talking to lots of hikers to get ideas on hiking gear, and then trying different options for yourself until you find what works. Another great place to find ideas on the backpacking gear for thru-hikers is Treeline Review.
PCT Gear List: The Big Four
The "Big 4" refer to your backpack, tent, sleeping bag and sleeping pad. These are the heaviest items that you'll bring on your backpacking trip – and probably the most expensive.
Backpack
Take some time to find a pack that you feel comfortable in. I recommend going to an outdoors store and trying one on that has weight in it. This way you can see how it feels fully loaded.
Some of the most popular thru-hiking packs aren't available in outdoor stores, however, and have to be special ordered which makes the process more complicated.
An exception to this rule is the Osprey Exos 58. You can typically find this bag at REI or other outdoor stores and try it on.
This is my go-to bag because it's super lightweights and promotes good airflow along the back. This backpack doesn't have many pockets or places to store items, which is a hallmark of ultralight bags. I usually remove the lid to save even more weight.
This bag is great because it perfectly fits my bear canister (which is required when hiking through the High Sierras).
Tent

Big Agnes Copper Spur UL 1 Tent
I'm a big fan of the Big Agnes Copper Spur Tent. I used the 1-person version when I hiked the PCT and it held up like a champ. The zipper failed at the very end of my hike, so I simply sent it in for repairs after I got home. I still use the same tent to this day.
One of the reasons why I love Copper Spur is that it is completely free-standing. This makes it easy to set up on sandy areas or to move it as needed.
I like this tent so much that my husband and I bought the 2-person version to use when we backpack together.
Sleeping Bag/Quilt
I have the ultra-lightweight 10 degree Enlightened Equipment Enigma custom quilt which I absolutely adore. It was one of my favorite pieces of gear during my hike – its so soft and fluffy and cuddly.
I tend to sleep cold and this bag worked great 95% of the time. I must confess that I was a bit cold for a couple of days at the very end of my hike when the temperature dipped below freezing. Now I pack extra clothing (or bring a warmer bag) when I know I'll be encountering freezing conditions.
I paid extra for the 950 down fill and also brought along the quilt straps.
Sleeping Pad & Pillow
Choosing a sleeping pad is important not just because it determines how comfortable you will be at night. A sleeping pad also insulates you from the ground and helps to keep you warm. When choosing a sleeping pad, check the "R Value" of the pad as this will determine how much insulation the pad provides (and how warm you will sleep).
I actually brought along two sleeping pads with me on the PCT – a foam mattress and an air mattress. I have bony hips and had a really hard time getting comfortable at night. After some trial and error, I found that this system worked best for me and was worth the extra weight. Most thru-hikers only carry one sleeping pad so I'm a bit unusual in that regard.
I tried several air mattresses before finding this one and fell in love with it. The Exped has vertical baffles which is particularly great for side-sleepers. This is the hyperlight version which is very light (15.7 oz).  I also brought along the stuff sack and repair kit.
If you're a cold sleeper, consider getting the winter version which has a higher R-Value.
Be sure to bring along the Exped Schnozzel pumpbag for blowing up your mattress every night. This was a lifesaver for me on the trail (plus I stored all my clothes inside of it!).

Therm-a-Rest Z Lite Ultralight Camping Pad
For my foam pad, I use the Therm-a-Rest Z Lite mattress which is great because it also doubles as a seating pad for when I want to take a break. I took a lot of siestas and naps on this foam pad, hehe.
Sea to Summit Aeros Ultralight Pillow
While a pillow is technically optional as you can sleep on your clothes bag, I LOVED mine. It was one of my favorite pieces of gear. It was *especially* handy for those cold nights when I had to wear all my clothes to bed and therefore had no leftover clothes to use as a pillow. Highly recommend.

PCT Gear List: My Everyday Clothes & Hiking Poles
Purple Rain Skirt
I'm a big fan of hiking in a skirt because it's so freeing. Wearing a skirt makes going to the bathroom a breeze!
Altra Trail Running Shoes
I wore Altra Lone Peak shoes religiously on the PCT (and went through 5 pairs)! These days I prefer Altra Timps because they have more cushion and last longer than Lone Peaks.

Dirty Girl Gaiters
Gaiters keep rocks and debris out of your shoes. These ones come in all sorts of awesome designs.
Injinji Toe Socks
I started out with different socks but eventually switched to these to prevent toe blisters. They work great!

Hiking t-shirt
The shirt I wore on the PCT is discontinued, but these days I wear the prAna Foundation Short-Sleeve V-Neck.

Leggings
Leggings served as my lightweight base layer (bottom)
Lightweight base layer (top)
I went through a few different tops on trail which I wore constantly. Icebreakers are nice because they're made from wool which wicks away sweat and helps to keep the stink down.

Sports Bra
I wore the Brooks Juno Moving Comfort bra but unfortunately this style is discontinued. The Brooks Dare Crossback Bra is pretty similar though.
Unicorn Hat
My signature hat! I regret not also bringing along a sunhat though to protect my face. Now I wear this sun hat all the time.

Exofficio men's Give-n-go 9″ boxer briefs
I admit it! I wear men's underpants on the trail. These ones are 9″ long so they prevent thigh chafing under my skirt. Plus the fact that they are meant to accommodate a man's anatomy means they are extra roomy in the crotch to help with airflow. A big shoutout to Captain Underpants for (accidentally) introducing me to this magical underwear!

Exofficio women's bikini Underpants (2 pairs)
For when I'm not wearing men's underpants. Plus they double as my swimwear (along with my hiking bra)!
Hiking poles
Hiking poles are essential to help reduce pressure on your joints. I wrapped duct tape around mine so I could access the tape later if needed. I used a different pair of poles on the PCT but these days I use Leki poles.

PCT Gear List: Everything Else
Packed Clothes and Outerwear
Electronics and Navigation
Canon PowerShot G7 Mark III
I had the Mark II when I hiked the PCT, but these days I use the Mark III. I also had along 2 extra batteries, extra memory card, and a battery charger for the camera batteries.

Anker 10000mAh battery pack
Weighs 7.52 ounces
Generic Dual USB Port Wall Plug
Cell phone
My cell phone was arguably the most important piece of gear because I used it constantly for navigation (among other things). On the PCT I used an iPhone, but these days I have a Google Pixel. I also brought along headphones, a short charging cord and a phone case.
Suunto Core Hiking Watch (plus a spare battery)
This watch has an altimeter, barometer, and a compass with a long battery life. It also tells the temperature!
Garmin InReach Explorer (2-way satellite texting device and Personal Locator Beacon)
I highly recommend bringing an In-Reach (or InReach Mini) for solo female hikers on the PCT. I had the unlimited plan and used it constantly to text with my husband when I was without cell coverage. I also had along a charging cord.

Ptec Byte Headlamp
I headlamp is a must! Be sure to also bring along spare batteries.
Mini light
I clipped this tiny light to the outside of my backpack whenever I hiked at night so I was visible from behind. I also liked to hang it from the ceiling of my tent at night.
Paper Maps
It's important to bring along paper maps in case your electronics fail. When I hiked the PCT I used Halfmile's maps, but they are now published by National Geographic and getting bad reviews. These days I recommend Erik the Black's Pocket Atlas. You only need to bring along the pages for the section you're hiking.

PCTA Long Distance Hiking Permit
Yes – you need to bring along a paper copy! Be sure to print it out BEFORE your start date.
California Campfire Permit
Bring along a paper copy if you plan to use any kind of backpacking stove in the state of California
Sundries
Trash Compactor Bag
I used this as a pack liner to keep everything inside my bag dry. Get the non-scented kind with a twist tie (no drawstring).
Sewing Kit
My DIY sewing kit consisted of dental floss & 2 needles. Needles are an important tool for blister management!
Small camp towel/ washcloth
I had two of these. One was my wash cloth and I used the other as a very tiny camp towel.

Chapstick
Small Lighter
Tenacious Tape repair patches (clear)
I used these several times to repair holes in my puffy and my tent. Super useful!

Carabiners
I had a handful of carabiners affixed to my pack in various sizes. They are super handy for all sorts of things.
Hiking Umbrella
I loved my hiking umbrella and used it constantly when hiking in the desert. I hooked it to my pack straps with carabiners so I could hike hands-free.

4 safety pins
Swiss Army Knife
This tiny knife was all I needed on the trail. It has 7 functions including a blade, tweezers, scissors, nail file, and toothpick!

Mosquito Head Net
A must when you're hiking through a buggy area.
15′ parachute cord
Water Filtration and Management
Sawyer Squeeze Filter
My favorite way to filter water on the trail.

Platypus water bag
I filled this bag with dirty water and then screwed the Sawyer filter to it. This is better than the bags that come with the Sawyer which tend to fail. You can also skip this step and screw the filter right to your water bottle.
AquaTabs (10)
This was just a backup in case my water filtration system failed (which it never did)
Liter Smart Water Bottles x3
These weighed 1.45 oz each when empty
HydraPak water storage bag 3L
I only had this along in the desert section when I needed to expand my water carrying capacity.
3 Silk Tea bag liners
For filtering really gross water
Cooking/Food Storage
I put all my meals in quart freezer bags and then poured hot water into the bags. The food would cook inside the bag and keep my pot clean. For recipes and details on this cooking method check out Freezer Bag Cooking by Sarah Kirkconnell.
When traveling in the Sierras I brought along a bear canister for food storage. This is required.
Snow Peak Gigapower Backpacking Stove
This one does not include an ignition, so you'll have to bring along a lighter.

Evernew Titanium cup
I *love* this cup. It nests perfectly inside my cookpot and then my fuel canister nests inside the cup. Plus the rubber handles are great.

Snow Peak Titanium Cookset
I only brought along the pot and lid (which doubles as a frying pan). I left the small pot at home.
Simple Outdoor Solutions Food Cozie
This food cozie was essential in keeping the freezer bag warm while my food cooked inside it.
Long-Handled Spoon
For eating out of my freezer bags
Osprey Bag 12 L
My food bag. It perfectly fits the Loksak Opsak liner.

Loksak Opsak food bag liner
This 9″ by 10″ odorproof bag is designed to go in your food bag to store your food. It helps to eliminate food smells which attracts critters. Keep in mind that this probably won't deter bears though.
Toiletries & Bathroom Supplies
Pee rag
This is a must-have for ladies on the trail. You can also use a simple bandana. If you're new to backpacking be sure to learn how to pee outside properly.
Deuce of spades ultralight poop trowel
If you're new to pooping outside, be sure to first learn about hiking bathroom etiquette.

Quart Freezer Baggie w/ 1/2 roll Toilet Paper
Odorproof plastic baggie
This 6″ by 6.5″ smell-proof bag is great for storing all my toiletries
Mitchum non-scented gel deodorant
I started the PCT with no deodorant, but couldn't handle the stink after a month. I put the gel into 1-oz tubes for the trail.
Travel Toothbrush
Travel Toothpaste
Sunscreen
I prefer the 1-ounce bottles

2 Hair Ties
Menstrual cup
Most women use a menstrual cup on the trail because it creates less garbage. These don't work for me personally so I use o.b. tampons which don't have an applicator.

Dr Bronner's Soap
Only use biodegradable non-scented soaps outdoors and wash away from streams and water sources. I put mine in smaller .75 ounce bottles.

Lotramin Foot Cream – 1 ounce
For treatment of athlete's foot
Dog poop baggies
For bagging used toilet paper
1/2 of a comb
Nail Clippers (small)
First Aid Kit
I repackaged all my first aid kit pills into tiny baggies so they didn't take up much room in my bag.
Ace Bandage
Benadryl (5)
Earplugs
Ibuprofen (20)
Hikers take so much Ibuprofen on trail they refer to it as "Vitamin I". I eventually switched to Tylenol on advice from my doctor due to my Ulcerative Colitis.

Fluconazole (2) – prescribed by my doctor in case of a vaginal yeast infection while on the trail
Tinidazole (4) for Giardia – prescribed by my doctor in case needed
Nitrofurantoin (10) antibiotics – prescribed by my doctor in case needed
Compeed blister care
I had a variety of sizes in my pack at all times.

3×3 Sterile Pads (3)
Leukotape
For blister prevention. I rolled some around a straw since I didn't want the whole roll.
2 Clean wipes, 3 triple antibiotic, 3 hydrocortisone & 1 bite/sting pad – packets
Imodium Diarrhea relief tablets (4)
Additional Gear for the High Sierras and Snowy Sections
I shipped most of these items to Kennedy Meadows for use in the High Sierras. Or at least that was my original plan.
Kahtoola Microspikes
I had these on me at all times for crossing any snowy patches.

Black Diamond Whippet
I used this instead of an ice axe

BV 500 Bear Canister
This is required when hiking through the High Sierras. Plus it makes a great camp chair! I used the big one (BV 500) and still barely had enough room for all my food.

Waterproof Hiking Boots and Boot Socks
Snow baskets
Zip-off hiking pants
Like this article? Pin it!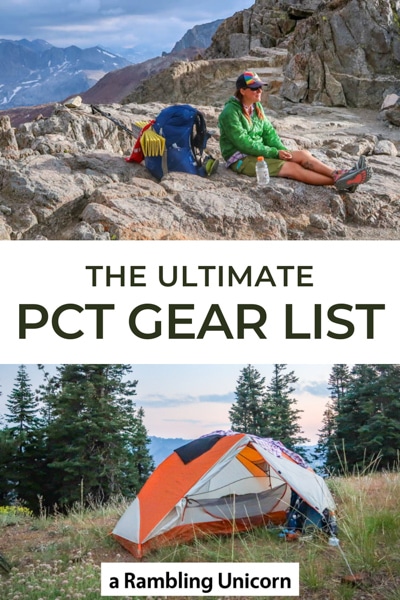 ---
Have you hiked the PCT? I'd love to hear about your favorite piece gear in the comments below!
Note: This post contains affiliate links, which means I may receive a commission if you click a link and purchase something. While clicking these links won't cost you anything, they will help me to keep this site up and running!