Sherry is a fortified Spanish wine that is typically misunderstood by most wine drinkers. The beverage tends to be associated with elderly British ladies or dismissed as a cheap cooking wine.
As a result, sherry wine has fallen out of vogue with the younger generation of wine enthusiasts.
This is a shame because sherry is a delightful beverage with a complex range of flavors that deserves more recognition.
And there is no better place to gain an appreciation of sherry than in Spain's Sherry Triangle. The region is filled with sherry bodegas and wineries that have been crafting traditional wines for centuries.
My first introduction to sherry was Harvey's Bristol Cream. It is arguably the most commonly available sherry in the United States and can be found at pretty much any grocery store.
I first tried it in my early 20s and, while I remember liking Harveys, it didn't make much of an impression.
I just assumed that all sherries tasted the same way until I stayed at a quaint Victorian bed and breakfast many years later. The host served a glass of sherry on check-in and I was blown away.
While I don't know what kind of sherry she served, I have been on a mission to learn more about this magical elixir ever since.
Since that time I have made it a point to educate myself about the kinds of sherries available and how they are made.
Eventually, all this research brought my husband Daniel and me to the home of Sherry Wine – Jerez de la Frontera and the Sherry Triangle.
What (and Where) is the Sherry Triangle?
The Sherry Triangle (or Jerez Triangle) is located in southwestern Spain's Andalusia region just north of Cadiz. The sherry region consists of three towns which form the points of the triangle: Jerez de la Frontera, Sanlúcar de Barrameda, and El Puerto de Santa María.
Inside this triangle, all sherry wines are blended and stored for aging. In fact, a wine is not officially considered a sherry unless it is produced in this exact region. Spain established the Denominación de Origen Protegida (Protected Denomination of Origin or "DOP") to protect the region in 1933 under the official name Jerez-Xérès-Sherry.
The region's unique geological characteristics enable it to produce wine unlike anywhere else in the world. The chalky limestone soil found in the region, called albariza, is essential for growing sherry's signature palomino grapes. Moreover, the region's location near the sea enables damp westerly winds to bring moisture from the Atlantic Ocean to the vineyards and also the caves where sherry is aged.
Jerez de la Frontera is the largest town in the region and the hub of most sherry production. In fact, sherry gets its name from the town of Jerez. The word "sherry" is simply an Anglicization of Jerez (which is also spelled Xérès).
Pro tip: if you would like to order sherry at a bar in the Sherry Triangle, don't ask for "sherry". It is not a term that is used by locals. Rather, ask for the type of sherry you would like to try such as an amontillado or a fino.
Five Sherry Bodegas worth Visiting in Andalusia
After much research and planning, I chose six bodegas to tour during our visit to the Sherry Triangle. Five of them were excellent and so I've included detailed information about each one of those below.
I didn't like the sixth bodega's sherry so I've decided not to even bother including it here.
Life's too short to drink bad sherry!
Before visiting the bodega, be sure to book a tour first. I recommend making reservations at least a week or two in advance to secure your spot.
Most bodegas offer a couple (or more) options to choose from depending on your budget and interests. Since I'm a huge sherry nerd with a taste for older wines, I always booked the most comprehensive tasting option.
Bodegas Lustau
Location: Calle Arcos 53, Jerez de la Frontera
Cost: Standard Tasting €18 / Full Tasting €28
Daniel and I began our tour of the Sherry Triangle at Lustau. I chose Bodegas Lustau because I've tried their various types of sherry many times before and I'm a huge fan.
With origins going back to 1896, Lustau is one of the largest and most well-known sherry wineries in the world. According to our tour guide, Lustau has won more awards than any other bodega. I have no idea if that's true or not, but it is true that Lustau has received an impressive number of international awards.
The winery is located in a collection of recently-restored 19th century bodega buildings in the middle of Jerez. It's a lovely facility with cathedral-like ceilings and sand floors which keeps the temperature and humidity stable.
For our tour, we selected the Full Tasting. This includes a tour of the winery along with a sample of 8 sherry wines and 1 vermouth. As we wandered through the winery, the guide refilled our glasses as she went.
If you can only choose one bodega tour during your visit to Jerez, I'd recommend this one. It is a terrific introduction to how sherry is made  – and a great value at only €28.
While all the sherries we tasted were excellent, if I had to pick one I'd go with the Oloroso Emperatriz Eugenia. It was originally created in 1921 to commemorate the visit to Jerez of the last Empress of France. Plus it's super yummy and has won tons of awards.
Bodegas Tio Pepe (González Byass)
Location: Calle Manuel María González 12, Jerez de la Frontera
Cost: Visits vary from €20 to €38, or arrange a technical tasting with a personal guide
You can't visit the Sherry Triangle without visiting Bodegas Tio Pepe.
Arguably the largest sherry producing winery in the world, Gonzales Byass got its start in 1835 when it was founded by Manuel María González Angel and Robert Blake Byass.
As the young González began making wines, he sought advice from his uncle – who he affectionately referred to as Tío Pepe. If the name sounds familiar, it's because he later named his famous Tio Pepe Fino wine after his beloved uncle.
Today, Gonzales Byass is located in several enormous buildings in the center of Jerez and makes a range of quality sherry wines.
During our visit to Gonzales Byass, we opted for a private tour and technical tasting of 10 sherries. At €90 per person the tour wasn't cheap – but it was a very extensive visit and tasting experience.
After meeting us at the front gate, our guide gave us a tour through the various buildings on the property. This included some cellars with hundreds of casks signed by various celebrities and notable personalities.
Soon it was time for the best part: the tasting! We tried 10 different sherries, including 4 VORS editions which were all aged for over 30 years.
The standout sherry from this tour was Amontillado del Duque VORS – hands down my favorite sherry from the entire week. I also quite enjoyed the Palo Cortado Apóstoles VORS which came in at a close second.
Detailed Gonzales Byass tasting notes
Bodegas Tradición
Location: Calle Cordobeses 3, Jerez de la Frontera
Cost: €40
A visit to Bodegas Tradición is unique because you not only get to taste great sherry – you'll also get to tour the winery's unique art collection.
Unlike most other bodegas in town, Tradición is a relatively new winery. Established in 1998, the winery specializes in old wines. It does this by buying up old wine casks from exceptional soleras and then continuing to age them in its facility.
The tour concludes with a peek inside the company's private art collection. The gallery features Spanish painters from the fourteenth to the nineteenth centuries and includes masters such as Goya, Velázquez, Murillo and El Greco.
Tradición currently only offers one visit option which includes a tour of the winery along with a tasting of 5 wines paired with tapas. My personal favorite was the Amontillado – which was aged for over 30 years and delicious!
Detailed Bodegas Tradición tasting notes
Bodegas Hidalgo La Gitana
Location: Calle Banda Playa 42, Sanlúcar de Barrameda
Cost: tours range from €15 to €60
And now for something completely different!
Up to this point in our Sherry Triangle tour, I focused primarily on aged olorosos and amontillados. They are my favorite sherries and I wanted to learn all I could about them.
But to gain a *true* appreciation of sherry, I needed to also learn about manzanillas. And to do that, we had to travel to a different city: Sanlúcar de Barrameda.
This is because manzanillas can only be produced in Sanlúcar due to its unique location next to the ocean.
We visited Bodegas Hidalgo La Gitana in Sanlúcar and I'm so glad we did. Our guide was super fun and engaging and by far my favorite guide from the entire visit to the region.
For our tour, we chose the Manzanillas and VORS option (€45) which includes 4 sherries. The visit began with an aperitif and then a tour of the winery.
The Hidalgo cellars are exceptionally cool and feature atmospheric tables scattered around the darkened cellars with candles and dim lighting.
One of the highlights of our visit was drinking straight from the cask. We hadn't gotten an opportunity to do this on any other tours and it was *really* neat.
We tasted 2 manzanillas along with an amontillado and palo cortado on our visit and I liked them all. I definitely gained a new appreciation for manzanillas and can't wait to try some more.
Hidalgo La Gitana tasting notes
Castillo de San Marcos
Location: Pl. Alfonso X el Sabio 3, El Puerto de Santa María
Cost: €14 for castle tour + wine tasting
Before leaving the region, be sure to visit the Sherry Triangle's 3rd city: El Puerto de Santa María.
We visited the Castillo de San Marcos for our winery tour. Not only is it an important historical landmark, the castle features sherries that are aged in its cellars.
Unfortunately we didn't understand much of the tour because I accidentally signed up for the Spanish-language version. But no matter! It was still a really fun visit.
The winery is owned the Caballero Group, which is the same company that owns Lustau – so some of the wines were already familiar. The wine tasting included 3 sherries, a vermouth, and the signature liquor Panche Caballero.
Castillo de San Marcos tasting notes
How Sherry is Made
Before heading off to a sherry bodega, however, it's helpful to know a little more about how sherry is made.
Sherry is made by fortifying wine with a distilled grape spirit which is then aged in oak casks. The casks are typically stacked on top of eachother in rows that are 3 or 4 barrels tall.
Sherry does not have a vintage because the wine is blended together using the solera aging system. The new wine is placed in the top row of barrels (called a criadera).
After aging for a certain period of time, a fraction of the sherry is moved from the top criadera down to the barrels in the next row – where it will continue aging until it is ready to move down again. The barrels are never allowed to empty completely and always contain a mixture of older and newer wines.
Sherry that has been aged for a minimum of 20 years is signified as V.O.S. which is short for the Latin phrase "Vinum Optimum Signatum". In English, most folks just use the phrase Very Old Sherry.
Sherry that has been aged for a minimum of 30 years is signified as V.O.R.S. which is short for the Latin phrase "Vinum Optimum Rare Signatum". In English, most folks just use the phrase Very Old Rare Sherry.
I personally love the old wines the best and make it a point to try VOS and VORS wines whenever I get the chance.
Types of Sherry
Even though sherry can range in color from white to deep red, all sherry is made from white grapes.
Five main types of sherries are made with Palomino grapes. These are are the driest (and most traditional) sherries:
Fino – is a light-colored tangy wine that is made with a purely biological process. A layer of flor (a yeast-like growth) in the barrel protects the sherry from contact with oxygen.
Manzanilla – follows the exact same process as a fino except that it is produced exclusively in the seaside town of Sanlucar de Barrameda. This gives the beverage a light and salty flavor.
Amontillado – is an amber-colored wine that starts out as a fino for four to six years. Then it is exposed to oxygen and allowed to continue aging.
Oloroso – is a brown-colored sherry with nutty and complex flavors that undergoes a purely oxidative aging process.
Palo Cortado – is a rare variety of sherry that starts out like a fino or amontillado and loses its flor, resulting in rich-tasting wine closer in resemblance to an oloroso.
Two additional types of sweet sherries are available as well. Pedro Ximénez and Moscatel grapes tend to be used for these (and other sweet sherry wine) varieties:
Pedro Xim̩nez (PX) Рis an extremely sweet sherry made from PX grapes which have been allowed to dry for a couple of weeks before fermentation. It is especially tasty when poured on ice cream.
Cream – is a dark dessert wine which is typically made by mixing Oloroso and PX sherries together.
Sherry is Awesome. Drink Some Today!
After visiting the Sherry Triangle, I am more enamored than ever with this magical wine. While I've always loved olorosos and amontillados, I have a new appreciation for their complex flavors and nutty tasting notes.
Plus, I've learned to love some new sherry varieties. I didn't really "get" finos and manzanillas before trying them in the Sherry Triangle. Now these crisp, light sherries make perfect sense – especially on a hot sunny afternoon in southern Spain.
So are you ready to drink some sherry now? I hope so!
If you've never tried sherry before, it can be a bit of an acquired taste at first – especially the drier varieties.
I encourage you to give sherry a chance, however. Be sure to try different varieties and also to sample them with various kinds of foods such as hard cheeses and cured meats.
And who knows? Maybe sherry will surprise you!
Appendix: Detailed Tasting Notes
For fellow sherry nerds out there who *really* want the details of each sherry I tried, I've included a list below along with my tasting notes.
Please be aware that my tasting notes are, of course, subjective. What appeals to me may not appeal to you at all. And that's ok! Try different sherries until you find the ones that you like!
Lustau Tasting Notes
Notes from the Full tasting experience of 8 sherries plus 1 vermouth at Bodegas Lustau.
Amontillado Escuadrilla (nutty flavors and honey aroma)
Manzanilla Papirusa (very dry, fresh, light and salty)
Fino Jarana (very dry, smells like bread, nutty, complex )
Fino Del Puerto (very dry, salty, eat with oysters)
Palo Cortado de Jerez Almacenista (oaky notes, caramel aftertaste)
Palo Cortado Peninsula
Oloroso Emperatriz Eugenia (caramel aftertaste, eat with strong cheeses)
PX San Emilio (smells like raisins, too sweet for me! pour on ice cream)
White Vermouth (bitter and dry, aromatic)
[return to the Bodegas Lustau section]
Gonzalez Byass Tasting Notes
Notes from a private tour and technical tasting of 10 sherries at Bodegas Tio Pepe (González Byass).
Fino Tio Pepe (light yellow color with notes of lemons and almonds)
Amontillado Viña AB (hazelnut aromas)
Amontillado del Duque VORS (30 years old, vanilla notes with a long nutty finish. My favorite.)
Oloroso Alfonso (more complex, woody, smooth. Eat with wild game.)
Leonar Palo Cortado
Palo Cortado Apóstoles VORS (30 years old, aged in the cask with a sweet sherry. My second favorite.)
Cream Solera 1847 (hints of raisins and plums)
Cream Matusalem VORS (30 years old)
Pedro Ximenez Nectar (so sweet and thick that it tastes like syrup)
Pedro Ximenez Noe VORS
[return to the Bodegas Tio Pepe (González Byass) section]
Tradición Tasting Notes
Notes from our tour of Bodegas Tradicion.
Fino Tracion (notes of almonds, green apples and a bakery)
Amontillado Tradicion VORS (aged 30 years, dark golden color. Delicious!)
Oloroso Tradicion VORS (aged 30 years, almost orange in color. Notes of cinnamon, nutmeg, leather)
Cream Tradicion VOS (30% PX / 70% oloroso. Sweet Christmas wine, notes of raisins and plums)
Pedro Ximenez VOS (dark purple and syrupy. So sweet!)
[return to the Bodegas Tradicion section]
Hidalgo La Gitana Tasting Notes
Notes from our Manzanilla and VORS tour and tasting of Hidalgo La Gitana.
Manzanilla En Rama (drank straight from the cask. Fresh and salty, short window for expiration date).
Manzanilla Pasada Pastrana (drank straight from the staff barrel. Less fresh but more sophisticated, eat with jam and salty foods)
Amontillado Napoleon VORS (made from manzanilla. Yum!)
Palo Cortado Wellington VORS (over 60 years old. Yum!)
[return to the Hidalgo La Gitana section}
Castillo de San Marcos Tasting Notes
Notes from our tour and tasting at Castillo de San Marcos which is operated by Lustau.
Puerto Fino Pavon (a light and salty fino)
Rio Viejo Oloroso (rich with nutty notes)
Candela Cream (nice)
Lustau Red Vermouth (less herbal than the white vermouth)
Ponche Caballero (unique Spanish liquor with notes of cinnamon, cloves and oranges)
[return to the Castillo de San Marcos section]
Like this article? Pin it!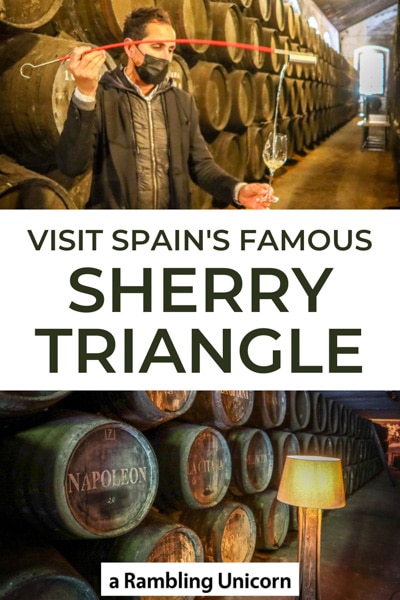 ---
Do you like sherry? Or are you planning a trip to the Sherry Triangle? If so, I'd love to hear from you! Leave a comment at the bottom of the article.