One of my favorite things to do in Spain is to eat tapas and drink sherry. Spanish food is incredible and I just can't seem to get enough of it.
When Daniel and I first visited Spain together 9 years ago, we were delighted by the variety of foods that we encountered. We ate an amazing variety of tapas in Barcelona and nibbled on pintxos in San Sebastián. We've since returned to the country four times and we keep discovering new culinary delights on each visit.
I don't usually write about food in this blog as Daniel covers that subject so well in The Wandering Hedonist. And to be honest, this article isn't really about food – it's about a pleasant hike near Seville called Arroyo de las Cañas.
But as the hike features Spain's Iberian pigs, I figured that some additional background was in order. This is because those famous black pigs are the source of my all-time favorite Spanish food: jamón ibérico (or Iberian ham).
For those of you not in the know, jamón ibérico (also called pata negra) is a type of cured ham that is only found in Spain (and sometimes Portugal). The ham is made from a special breed of black iberian pigs that roam the countryside and feed on nuts and acorns. Pork legs are then salted and left to cure for 1-2 years.
The taste is hard to describe, but it's fatty and flavorful while earthy and nutty all at the same time. It's absolutely divine. Pata negra is also something that we can't get in the United States since importing this magnificent ham is illegal. So, I always make it a point to eat a lot of jamón anytime we visit Spain.
And, as you may have guessed, these famous Iberian pigs are a key feature in the Arroyo de las Cañas trail.
Rutal Del Arroyo de las Cañas Details and Map
Distance: 7.3 miles loop
Elevation Gain: 426 feet
Rating: Easy/Moderate
The Ruta Del Arroyo de las Cañas is a pleasant ramble through the Andalusian countryside in the Sierra Norte de Sevilla Natural Park (Parque Natural Sierra de Sevilla). The Sierra Norte is a small mountain range about an hour's drive north of Seville.
This particular hike is located at the base of those mountains and is relatively flat. The hike begins at the small town of El Pedroso and then follows some country lanes along gently rolling hills until reaching a stream and some farmland. Trail eventually loops back to town along some different roads after passing a small historic church.
The stream is the undisputed highlight of the hike, as this is the point where the trail diverges from the road and travels through some lovely farms. The trail also features some interesting granite formations that dot the countryside along the path.

My Experience Hiking the Arroyo de las Cañas
I first heard about the Del Arroyo de las Cañas from a local hiking club in Seville called Alaventura. I've been doing a lot of hiking by myself lately, so I thought it would be fun to join a group hike so I could meet some new people.
Alaventura leads group hikes every weekend to various places in southern Spain (and sometimes beyond), so I reached out to the leader and signed up. The club also provides transportation to and from the trail, which is great for someone like me without a car. The cost was only €25 ($27 USD) which seems like a pretty great deal if you ask me.
A fun part about this particular trip was that it was a total Spanish language immersion experience. I took 3 years of Spanish in high school and can communicate basic concepts, but I need a lot of practice. While some other hikers spoke English occasionally, Spanish was the primary language spoken.
The group consisted of 12 people of various ages – the oldest hiker being 80 years old. Everyone was super nice and I had a great time.
Beginning the Hike
After stopping in the town of El Pedroso for breakfast, our group parked next to the Bar Triana and began walking west. The walk begins by following country roads past some farms and various private estates.
Eventually the path leaves the houses behind and travels through some lovely olive orchards.
Las Cañas Stream
After walking west for 2.7 miles (4.3 km), the route turns sharply north in the middle of the orchard. Five minutes later, the path reaches a gate. We all trooped through the gate and then closed it again to ensure no livestock escaped.
Here the path crosses the Arroyo de las Cañas for the first time (arroyo means stream). There wasn't much water in the streambed so it was easy to hop across. At this point, the trail follows a footpath near the stream through farmland. It was nice to leave the country roads behind and walk on a proper trail.
The Iberian Pigs
We encountered the herd of black Iberian pigs shortly after crossing the stream. I actually had no idea that we'd be seeing pigs on the trail so it was a huge surprise for me. It was absolutely delightful to see these famous pigs at pasture as I'd never seen them before.
I was a bit nervous at first to be around so many pigs but they simply ignored us. They are quite a bit smaller than the pigs I'm used to seeing in the United States.
Our hiking group took this opportunity to take a break. We all plopped down on nearby rocks and snacked on treats from our backpacks.
Heading Back to El Pedroso
After wrapping up our break, we continued walking along the stream until the path rejoined the road. Then we headed back into town along another country road while we admired the landscape.
Just before reaching town we stopped at Ermita Nuestra Señora Del Espino, a fifteenth-century chapel dedicated to the virgin Mary. It's a small building with a magnificent golden altar inside. I saw many similar churches on my pilgrimage along the Portuguese Camino but it's always a treat to see another one.
Preparing for Hiking near Seville
While this hike isn't a particularly difficult one, be aware that you are entering a rural area with limited resources and plan accordingly.
Be sure to wear comfortable walking shoes and bring along water and snacks. Check the weather forecast and make sure you're prepared for the weather conditions. You may need to bring sun protection for hot days or raingear during rainy weather.
Take a photo of the map at the trailhead and download the route to your phone in advance so you don't get lost. Consider bringing along a portable battery charger (such as this one) in case your phone dies on the trail.
Learn how to pee outside properly before heading out in case the urge strikes away from a bathroom. Be sure to leave no trace of your visit behind.
Recommended Hiking Gear
Here are a few of my favorite pieces of gear for day hikes. This is not a complete list, but it will get you started.
When to Go
While you can visit the Sierra Norte Natural Park year-round, spring and fall are the best times to visit. Temperatures can get warm in the summer months (although it's generally cooler than in Seville). Be sure to check the weather forecast before heading out to ensure you have the appropriate clothing packed.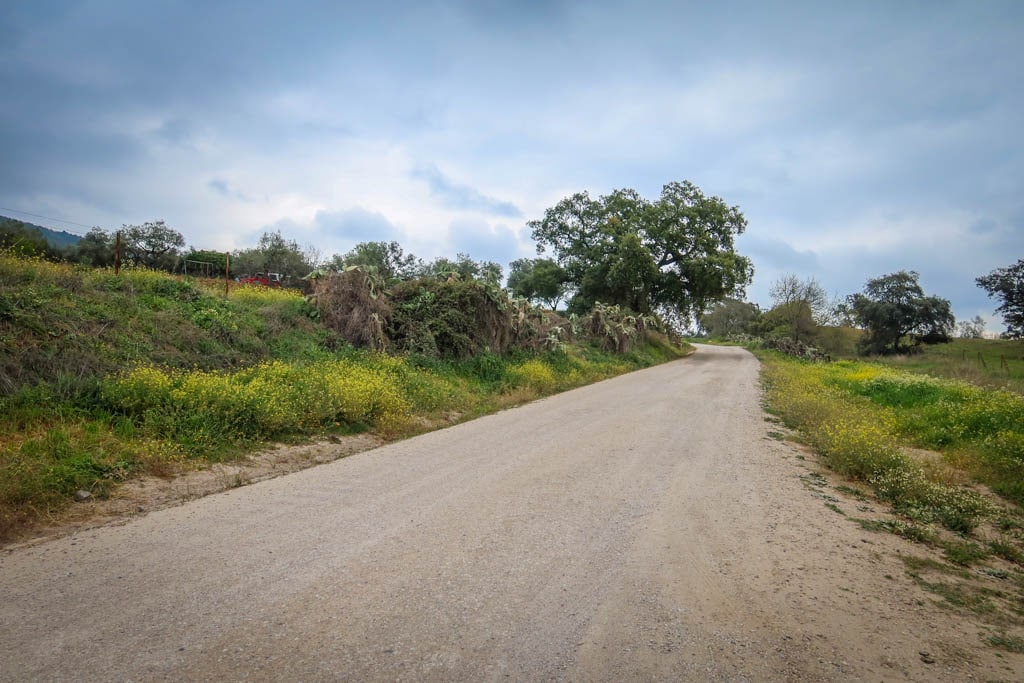 Trailhead and Parking
The Arroyo de las Cañas trailhead is located next to the Bar Triana in the town of El Pedroso. There is a small parking area next to the bar which fits 5-10 cars. Parking is free.
To begin hiking, cross the street and walk west along Diseminado Trianilla.
If you don't have a car (or a ride), you can take the train. Check for trains from Sevilla to Pedroso on the Renfe web site.
Like this Trail Guide? Pin it!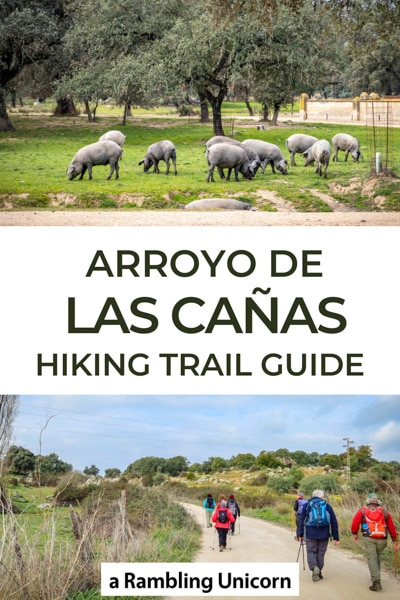 ---
Note: This post contains affiliate links, which means I may receive a commission if you click a link and purchase something. While clicking these links won't cost you anything, they will help me to keep this site up and running!