With a population of over 15 million people, Istanbul is a vibrant city with no shortage of amazing things to see and do. The city famously spans two continents and is split by the Bosphorus Strait, a wide channel that is easily crossed by a network of ferries and bridges.
While most visitors flock to the mosques and bazaars on the European half of the city, the Asian side of Istanbul also has much to offer. The Kadikoy District (Kadıköy in Turkish), specifically, is the cultural heart of this region. Filled with coffee shops and bars and cinemas, this area has a more relaxed vibe and fewer tourists.
This does not mean that Kadikoy has no crowds. Quite the contrary. The district is home to one million people, which would be an extremely large city were it to exist on its own.
But in Kadikoy, the crowds are more manageable. It is a comfortable community with a thriving art scene that is home to both young hipsters and elderly shop owners alike.
It is also a great place to stay if you plan to be in Istanbul for some time and are looking to get away from the other tourists.
This is exactly what my husband and I did on a recent trip to Istanbul. We rented a flat in the YeldeÄŸirmeni neighborhood of Kadikoy and stayed for an entire month.
It was a great opportunity to live like a local and really get to know all the incredible things to do on the Asian side of Istanbul.
Top 14 Things to do in Kadikoy on the Asian Side of Istanbul
Kadikoy is such a large district that it is subdivided into several smaller neighborhoods. It also has an incredible coastline and features amazing views of the Bosphorus Strait along with monuments on the other side.
While we enjoyed wandering around the various areas of the district, some stood out more than others.
This list includes our favorite neighborhoods and things to do on the Asian side of Istanbul in the Kadikoy district.
1. Wander the YeldeÄŸirmeni Neighborhood
Located a short walk up the hill from the ferry terminal and bus station, Yeldeğirmeni is a historical part of Kadıköy with lots of old buildings, coffee shops and a thriving art scene.
This neighborhood is home to many elderly Turkish citizens who have lived here from birth, along with hip youngsters who flock to the cafes and tea houses. It's a relatively inexpensive area with a relaxed vibe that is filled with incredible street art.
The Turkish word for windmill, YeldeÄŸirmeni used to be a green hill that was topped with four windmills to grind flour. Now it is filled with apartment buildings, people, and lots of stray cats.
Yeldeğirmeni stretches along the coast from Haldun Taner Stage to Haydarpaşa Train Station and uphill to the train tracks. The heart of the neighborhood is on Karakolhane Street near Küff Cafe.
2. Browse the Kadıköy Market
Visiting the Kadikoy Market is one of the most popular things to do on the Asian side of Istanbul. A foodie's paradise, the market is filled with shops selling everything from fresh produce and fish to pickles and endless varieties of olives.
The market's winding pedestrian-only streets are packed with locals going about their daily shopping. It's a wonderful place to people watch and to try some of the amazing foods Istanbul has on offer.
If you're looking to avoid the crowds, however, than the Kadikoy Market may not be for you. It is an incredibly popular place that is filled with so many people that it can be hard to navigate sometimes.
3. Ride the Kadıköy-Moda Nostalgic Tramway
A great way to see the highlights of Kadikoy is by riding the Kadıköy-Moda nostalgic tramway. This historic trolley car has 10 stops and runs in a circle around the Kadikoy neighborhood.
While the city used to have an extensive network of trams, these began to decline in number after the 1950s. By 1966, all trams lines in Istanbul had shut down.
The Kadıköy-Moda nostalgic tramway was re-introduced to the Kadikoy neighborhood in 2003 after the area was converted to a pedestrian-only zone. Today it is a fun ride and a convenient way to get around the neighborhood.
4. Grab a Photo at the Kadikoy Bull Statue
The Kadikoy Bull Statue (Kadıköy Boğa Heykeli in Turkish) is one of the most iconic locations on the Asian side of Istanbul. Located at a busy crossroads where six roads intersect, the statue is a popular meeting point for locals and tourists alike.
Originally created by the French sculptor Isidore Bonheur in 1864, the statue came to Istanbul in 1917. It wasn't until 1990, however, that the statue arrived at its current location.
Be sure to pack your patience if you want a photo with the statue, however. This is a popular attraction and there is usually a long line of people waiting to pose with Istanbul's most famous bull.
5. Go on a Kadikoy Mural Tour
One of my absolute favorite things to do in Kadikoy is to admire the murals and street art.
Thanks to the Mural Istanbul Street Art Festival, the district is covered with enormous eye-catching murals that decorate the sides of various buildings. The festival began in 2012 and is still ongoing to this day.
The festival seems to have inspired other "unofficial" artists, as well, because the graffiti in this area is extensive and really quite good.
While the giant paintings are located all over the Kadikoy district, the majority can be found in the YeldeÄŸirmeni neighborhood. One of the best ways to get to know the neighborhood, in fact, is to walk around it and hunt for murals. We were there for over a month on our last visit and still didn't manage to find them all.
6. Visit the Moda Neighborhood
Moda is a trendy up-and-coming area of Kadikoy that is filled with lots of restaurants, cafes, bars, pubs, and meyhanes (Turkish pubs). The neighborhood borders the Sea of Marmara and features a coastal walkway with incredible ocean views.
While you're in Moda, be sure to visit the Barış Manço Museum which is dedicated to Anatolian rock legend Barış Manço.
7. Stroll to the Kadıköy Lighthouse
Located near Kadikoy's ferry terminal at the southern entrance to the Bosporus Strait, the Kadikoy Lighthouse (Kadıköy Ä°nciburnu Feneri in Turkish) is a quiet place to escape Istanbul's notorious crowds.
The lighthouse provides a great view of the Sultanahmet area on the European side of the city. It is also a fabulous location from which to watch the sunset.
The lighthouse can be reached by walking along Kadikoy's coastal area and onto a concrete wall that juts into the Bosphorus.
8. Amble along the Kadıköy Coastal Pathway
After paying a visit to the Kadikoy Lighthouse, walk south along a broad walking and biking trail to continue admiring the views.
The pathway begins at the lighthouse and continues to Moda which features some lovely coastal parks. It is a great place to take a stroll and get some exercise away from the bustle of the city.
If you're looking for a more traditional beach scene, head further south to the Caddebostan Coast (Caddebostan Sahili in Turkish). This coastal area features sandy beaches and plenty of picnic spots from which to view the sunset.
9. Go Shopping on Bahariye Street
Bahariye Street is another bustling area of Kadikoy that is filled with restaurants and cafes, along with some trendy stores. The street begins at the Bull Statue and follows the Kadıköy-Moda tram line all the way to the Moda neighborhood.
If shopping is on your agenda, this is a good place to start. Also of note on Bahariye Street is the famous Süreyya Opera House.
Another great place to go shopping in Kadikoy is Bağdat Avenue, further to the south.
10. Admire the HaydarpaÅŸa Train Station
Nestled on the edge of Kadikoy's harbor, the HaydarpaÅŸa Train Station is a famous historical landmark with a grand neo-classical façade. The building has drawn thousands of visitors since its construction in 1909.
HaydarpaÅŸa was the busiest train station in all of Turkey until 2012. Since that time, railway traffic was suspended due to the construction of the Marmaray commuter rail line.
During my visit to Istanbul in 2021, the Train Station was undergoing renovation. Even though the exterior was covered in construction materials, it was easily one of the most magnificent buildings on the harbor.
11. Explore Akmar Passage
If you like books or heavy metal music (or both) then Akmar Passage is for you.
This narrow passage just south of Kadikoy Market is lined with hundreds of independent booksellers. Here, you can find tomes for sale on every possible subject.
The bottom floor also includes a few music shops that specialize in heavy metal music. It's an odd juxtaposition to find these music stores tucked in among the bookshops, but hey -Â  that's what gives this passage its special charm.
12. Party on Bar Street
Just east of Moda lies Kadife Street (Kadife Sokak in Turkish). The road is also nicknamed Bar Street because this is where Kadikoy's nightlife really cranks into high gear.
The street is lined with pubs and nightclubs featuring live music and DJs which are open until the wee hours of the morning. Here you can dance the night away or nurse a drink in a corner – whichever suits your fancy.
While there are plenty of clubs to choose from, Karga Bar is one of the undisputed favorites. The streets around Kadife Street also feature lively pubs and bars such as the Hiç Bar and Valhalla Pub.
13. Eat a Traditional Turkish Breakfast at Küff Cafe
No visit to Istanbul is complete without eating a Turkish breakfast.
A traditional Turkish breakfast involves lots of little plates filled with salty cheeses, cured meats, olives, fresh tomatoes and cucumbers, pastries, honey and fruit preserves, eggs and lots of cups of tea (çay in Turkish).
While there are lots of great places to get a Turkish breakfast in Kadikoy, our favorite restaurant is the Küff Cafe in the Yeldeğirmeni neighborhood. We liked this café so much that I thought it deserved a special mention.
Küff Cafe is a favorite hangout with locals that features a relaxed atmosphere along with an extensive menu (in English and Turkish). We ended up eating there several times a week for breakfast, lunch and dinner.
14. Befriend a Neighborhood Cat (or Two)
Cats are everywhere in Kadikoy. In fact, there are so many cats that it is pretty much impossible to go anywhere without running into a cat or two.
You can find them curled up in coffee shops, strolling boldly through grocery stores, napping in bookstores and stretching in the sunshine. Part wild and part tame, these neighborhood cats live on the street and are cared for by the locals.
They are used to begging at cafes, so be prepared to fend off your lunch from a friendly kitty that may hop onto your lap if you're not careful.
If cats aren't your jam, there are plenty of stray dogs wandering the streets as well. The dogs I saw all had tags in their ears and were very well-behaved.
If you can't get enough of Istanbul's cats, I recommend watching Kedi. This 2016 documentary follows the lives of some lovable Istanbul cats as they navigate the city and their relationships with the people in it.
Where to Eat on the Asian side of Istanbul
There are so many incredible restaurants in Kadikoy that it can be hard to know where to start. Here are some of my personal favorites:
Çiya Sofrası – this well-known restaurant located in the Kadikoy Market features some of the best Turkish food in all of Istanbul. This is a must-visit if you're looking for the best all-around traditional Turkish food.
Kebapçı Ä°skender – this family-run restaurant has been serving Ä°skender kebap since 1867. This is a delicious dish consisting of döner kebab (sliced grilled lamb) topped with tomato sauce and yogurt on top of pita bread and highly recommended.
Halil Lahmacun – lahmacun is a pizza-like dish consisting of a thin crust topped with minced meat, vegetables and herbs. For the best lahmacun in Istanbul, head to Halil Lahmacun.
Yanyalı Fehmi Lokantası – this restaurant ended up being one of my favorites. It serves Northern Greek food buffet style in the middle of the Kadikoy Market.
Ekspres Ä°negol Köftecisi – looking for the best traditional Turkish meatballs (kofte)? Then look no further.
Say Cheese – this incredibly popular restaurant serves fettuccine alfredo made from hand-made noodles that are dipped into a giant wheel of parmesan cheese. Be prepared to wait in a long line if you decide to visit.
Küff YeldeÄŸirmeni – as previously mentioned, this fun and quirky cafe is one of our favorite places to eat in Kadikoy. It's a great place to relax and people watch (or eat a Turkish breakfast!)
Cafe Eya – this small cafe in the YeldeÄŸirmeni neighborhood is a great place to grab a cup of çay or coffee and watch the world go by.
Maps for All the Things to See on the Asian Side of Istanbul
Refer to this handy map to locate all of the places and restaurants discussed in this article. You can zoom in to get a better view of each item and the neighborhood surroundings.
Map of the Kadıköy-Moda nostalgic tramway route around the Kadikoy neighborhood:
How to get to the Asian Side of Istanbul
The best way to get to the Asian side of Istanbul is by ferry. Not only is the ferry quick and inexpensive, but it provides fabulous views of Istanbul on both sides of the Bosphorus during the crossing.
Two of the most popular ferries to Kadikoy are from the Eminönü and the Karaköy neighborhoods. To ride the ferry, simply use your IstanbulKart transportation card. You can use the same card on all buses, trams and the metro.
You can also reach the Asian side of Istanbul via the Marmaray commuter rail line or by crossing one of the bridges of the Bosphorus via taxi or Uber.
Where to Stay
If you're looking where to stay on the Asian side of Istanbul, you can't go wrong with the Kadikoy or Moda neighborhoods.
---
Have you been to the Kadikoy neighborhood in the Asian side of Istanbul? If so, I'd love to hear from you! Share your comments below.
Like this article? Pin it!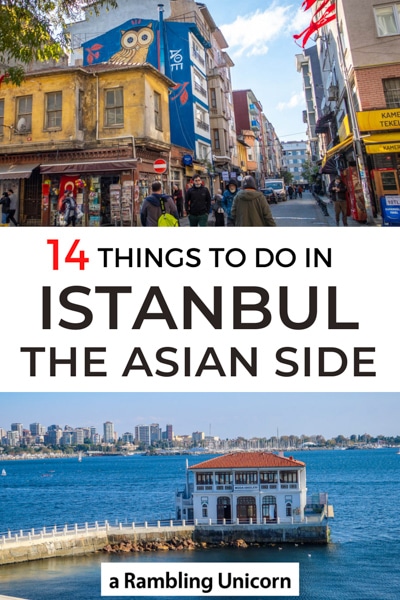 Note: This post contains affiliate links, which means I may receive a commission if you click a link and purchase something. While clicking these links won't cost you anything, they will help me to keep this site up and running!