Lake Bled is one of those magical destinations that doesn't seem like it could possibly be real. The first time I saw the lake I felt as if I had wandered into a fairytale.
Filled with crystalline waters and framed by the Julian Alps, Lake Bled features a picturesque chapel on an island that can only be accessed by rowboat. A medieval castle perched on a rocky outcrop overlooking the glacial lake provides another stunning visual reference point.
The small community of Bled is located on the eastern side of the Lake and makes the perfect base from which to explore the region. This is where my husband Daniel and I stayed during the month of September 2021 as I trained for my upcoming pilgrimage on the Portuguese Camino.
During this time, I had plenty of opportunities to explore the surrounding area and try out various Lake Bled hikes.
While there are plenty of Lake Bled hikes to choose from, three stand out as the best hikes around Bled. I chose these trails because not only are they incredibly scenic, they are all within walking distance from Bled. They are easy to access and can be attempted by hikers of most skill levels.
If you're looking for harder hikes or ones off the beaten path, I've got you covered too.
So put on your walking shoes and get ready to explore the beautiful scenery on offer in Lake Bled, Slovenia.
About Lake Bled
Located in the Upper Carniolan region of northwestern Slovenia, Bled is a small resort town with a population of approximately 8,000 people. A settlement area since Mesolithic times, Bled came under control of the Bishop of Brixen in 1004.
It was during this time that the magnificent castle overlooking Lake Bled was constructed. Bled Castle was initially built in the 11th century for defensive purposes and then fortified with additional towers and walls throughout the Middle Ages.
Bled's other iconic building, the Church of the Mother of God on the Lake, also dates to the Middle Ages. Also known as the Assumption of Maria Church, the chapel was initially consecrated in 1142. It has undergone several renovations since that time in the Gothic and Baroque architectural styles.
Bled Castle and Bled Island are two of the most popular tourist attractions in Bled. If you're looking for other things to do in Bled besides hiking, these should be at the top of your list.
Nestled at the foothills of the Julian Alps, Bled is close to Triglav National Park and only 25 km (15 miles) away from Lake Bohinj. Bled is 55 km (34 miles) away from Slovenia's capitol city of Ljubljana, making it part of a perfect weekend getaway in Sovenia.
Traveling from Ljubljana to Lake Bled can be easily accomplished by taking the bus managed by Arriva or by private transfer.
Preparing for Hikes in Lake Bled
While the three Lake Bled hikes in this article are located near amenities such as bathrooms and cafes, it's always best to be prepared when going for long walks in the outdoors. This is especially true for the second and third hikes in this article which are slightly more remote and further away from said amenities.
I recommend downloading maps to your phone ahead of time in case you don't have cell reception. Even when trails are clearly marked, you never know what could happen along the way to disrupt your plans.
Be sure to leave no trace of your visit behind and familiarize yourself with proper hiking bathroom etiquette in case a bathroom isn't nearby. You should also bring along a pack with snacks and water. Check the weather forecast and bring layers for rain or sun protection as appropriate.
Recommended Hiking Gear
This list includes some of my favorite gear for day hiking. Some of this may be a little overkill for the short hikes listed in this article, but these are my go-to's for all hiking trails.
When to Go Hiking in Lake Bled
The best time to visit Bled is during spring or autumn when the weather is pleasant and the crowds are fewest. April, May, September and October are particularly nice months to visit.
The summer months of June through mid-September see the highest temperatures and biggest crowds. This is also the wettest time of year with frequent thunderstorms in the afternoon.
Bled is located at an elevation of 507 m (1665 feet), which means that it is covered in snow during the wintertime. On some years, the lake freezes over which allows for ice skating on the lake. Many restaurants and businesses are closed during the off-season, however, and Vintgar Gorge is closed for safety reasons.
Whenever you choose to visit Lake Bled, be sure to check the Lake Bled weather forecast ahead of time so you are prepared with the right clothing.
Three Incredible Lake Bled Hikes
Now that we have the preliminaries out of the way, it's time for the good stuff!
The first two hikes in this list showcase Lake Bled and provide great views both from lake-level and from a small hill overlooking the lake. The third hike is located 5 km (3 miles) from Bled in Triglav National Park at Vintgar Gorge.
Lake Bled Loop Trail
Distance: 3.7 miles (6 km)
Elevation Gain: 377 feet (115 m)
Route Type: Loop
Difficulty: Easy
If you have time for only one hike during your visit to Lake Bled – this is it.
The premier walking trail in Lake Bled, the Lake Bled Loop Trail is a broad path that encircles the entire lake. This path provides spectacular views of the lake and mountains from every possible angle. There is no bad view on the entire walk.
This is not a remote trail by any means. There are plenty of amenities such as drinking water, bathrooms and cafes along the way. The path is either paved or covered in gravel the entire way and suitable for wheelchairs or strollers.
Should you wish to take a break during the hike, you can stop at a bench overlooking the lake. A swimming area is available at the lake's western shore and boat rental facilities are available along the entire route if you so desire. The trail also passes by the Olympic Rowing Centre which is located on the northwestern corner of the lake.
Note: the trail around the Olympic Rowing Centre may be closed during rowing events. This was the case on one of my walks around the lake and I had to make a detour up the hill to the train station.
To extend your hike, you can take a spur trail up to Bled Castle on the trail's northern shore. This trail is clearly marked. Entrance to the castle costs €13 for adults.
Lake Bled Loop Trail Hiking Map
Ojstrica and Mala Osojnica Viewpoints
Distance: 2 miles (3.2 km)
Elevation Gain: 692 feet (210 m)
Route Type: Loop
Difficulty: Easy
For the best views of Lake Bled from a bird's eye level, head to Ojstrica hill on the southwestern side of the lake. The trailhead is located along the Lake Bled Loop Trail and leads uphill to a spectacular viewpoint.
After summiting Ojstrica, you can either return downhill or continue on towards Mala Osojnica. This viewpoint is slightly less crowded but no less spectacular. From there, the path descends back down to the lake via a series of steps and switchbacks.
To extend the hike, in between the two viewpoints take the spur trail to Velika Osojnica – the tallest point on the hill. This adds 1.2 km (.8 miles) to the total distance along with 76 m (250 feet) of elevation gain.
Be sure to wear sturdy shoes for this hike as the dirt path is rocky in places. The trail is short but steep so be prepared for a little workout.
Ojstrica and Mala Osojnica Trail Hiking Map
Vintgar Gorge Loop Trail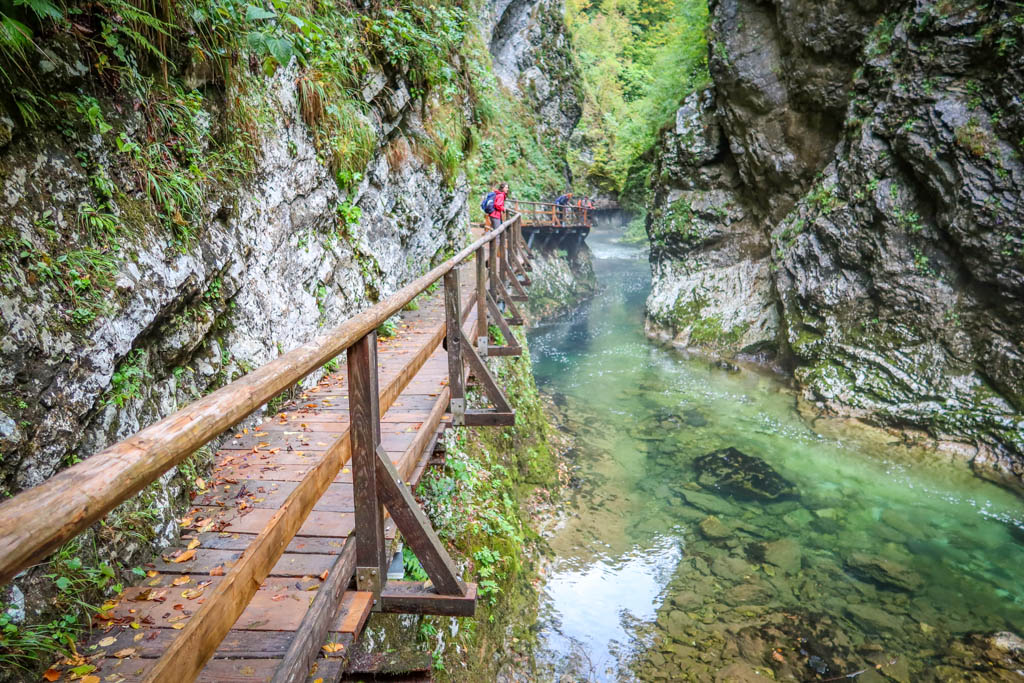 Distance: 3.4 miles (5.5 km)
Elevation Gain: 748 feet (228 m)
Route Type: Loop
Difficulty: Easy
Vintgar Gorge (Soteska Vintgar in Slovenian) is a stunning 1.6 km-long canyon that is carved from the vertical walls of the Hom and Boršt hills. A series of boardwalks leads visitors through the gorge and past various waterfalls, pools and rapids along the Radovna River.
The entrance to Vintgar Gorge is located in Triglav National Park. At the end of the gorge, the walk culminates at the picturesque Å um Falls -Â  the largest river waterfall in Slovenia.
Due to the narrow boardwalks, hiking the gorge is only allowed in one direction to allow for social distancing. This means that hikers have to loop back to the beginning of the trail along another path.
I recommend taking the St. Catharine Trail back to the trailhead. While it is the slightly longer option, it is the most scenic. The trail loops by the gothic Church of St. Catherine which dates back to the 15th century.
After passing the church, the trail travels through several pastures with cows and goats along a hillside with incredible views. You can even see Bled Castle in the distance.
Admission to Vintgar Gorge costs approximately €10 for adults (parking is extra). You can reach the gorge by shuttle bus, by bike, or on foot if you want a longer walk.
Please note: Vintgar Gorge is typically open from April to November and closed during the winter months.
Vintgar Gorge Trail Hiking Map
More Hikes Near Lake Bled
If you're looking for something off the beaten path or for more of a challenge, you may be interested in one of the hikes below:
Talež Hunting Lodge
Distance: 3.7 miles (6 km)
Elevation Gain: 1489 feet (454 m)
Route Type: there-and-back
Difficulty: Medium
Talež Hunting Lodge is a less popular hiking trail near Lake Bled with good views of the lake and surrounding area. The trail traditionally starts in the community of Ribno heads uphill via forest roads and narrow trails to reach a hut serving food (during the summer months).
Valley of the Seven Lakes
Distance: 9.3 miles (15 km)
Elevation Gain: 3448 feet (1051 m)
Route Type: there-and-back
Difficulty: Difficult
If hiking in the Alps is more your scene, check out the Valley of the Seven Lakes Trail in Triglav National Park. Starting in the nearby community of Bohinj, this trail leads into the heart of the Julian Alps to a valley dotted with glacial lakes.
Like this article? Pin it!
——-
Note: This post contains affiliate links, which means I may receive a commission if you click a link and purchase something. While clicking these links won't cost you anything, they will help me to keep this site up and running!