Day 11 – Paradise River to Nickel Creek Camp
9.8 Miles
1900 Foot Elevation Gain
2250 Foot Elevation Loss
Today was another damp day on Mt. Rainier. Â It rained overnight and puddles soaked through the floor of my tent but I was cozy and dry inside my sleeping bag. Â I was in high spirits despite the rain, and packed up camp while it drizzled. Â The weather forecast predicted a 40% chance of rain throughout the morning with a 10% chance of rain in the afternoon. Â So, I was reasonably sure that I'd get a chance to dry out my tent at some point. Â I threw my sodden tent in a trash compactor bag and hit the trail around 8:45 am.
This morning I hiked along the southeastern side of the mountain through low elevation forests and lush riparian vegetation. Â The path paralleled the Stevens Canyon Road for the most part and crossed over it a few times. Â It was a jarring experience to walk on pavement after so many miles of the forest floor. Â But it was also comforting to know that help was nearby in case I needed it.
After climbing steadily through the dripping trees for about a mile, I came upon Narada Falls. This is one of the more spectacular waterfalls that I've seen in the park so far. Â Andesite rock formed part of the waterfall's base, formed into long parallel geometric strands.
Narada Falls

After Narada Falls I kept climbing in elevation until I reached Reflection Lakes. Â The lakes are also accessible from the road and I ran into a few day hikers huddled under umbrellas with cameras.
On a clear day, I suppose you can see a view of Mt. Rainier reflected in the lakes. Â Today the mountain was nowhere to be seen, however, but the misty trees still looked magical as they framed the lake.
Reflection Lakes


Gratuitous Selfie in front of Reflection Lakes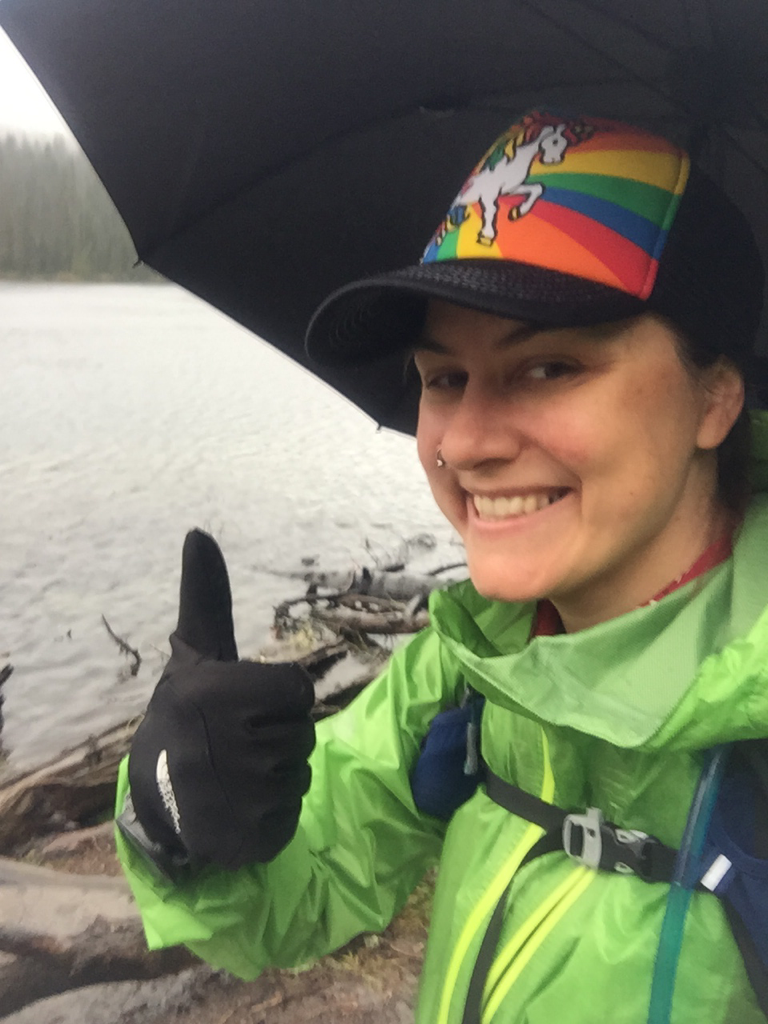 At Reflection Lakes, I met another hiker that I recognized from when I passed hiking the opposite direction near Golden Lakes. We were both enjoying our morning stroll in the rain and shared a pleasant conversation. As we conversed, he divulged that he has hiked the Pacific Crest Trail twice, the Continental Divide Trail AND the Appalachian Trail. Holy cow! Â For those not in the know, hiking all three major trails is called achieving the Triple Crown, and it's somewhat of a rarity. Â I realized I was in the presence of a celebrity. Â But he was humble and mellow and a genuinely nice person. He even complimented me on my rain skirt. Â Apparently he hiked most of the Appalachian Trail wearing a sarong, so he's not averse non-traditional forms of clothing. After our conversation, I felt encouraged about my own progress on the Wonderland Trail and continued on my way.
After Reflection Lakes, the trail continued steadily downhill towards Maple Creek camp. Â I passed several more lovely waterfalls, but I've seen so many in the last few days that they're starting to seem less interesting. Â The vegetation changed from mossy rain forest to thick and green lowland riparian plants. Â At one point the trail got really dicey, and barely hugged the edge of a hillside where it had previously been washed out. Â That was a little scary. Â My foot slipped on some gravel through here and almost slipped right off the side of the trail.
Washed out section of the trail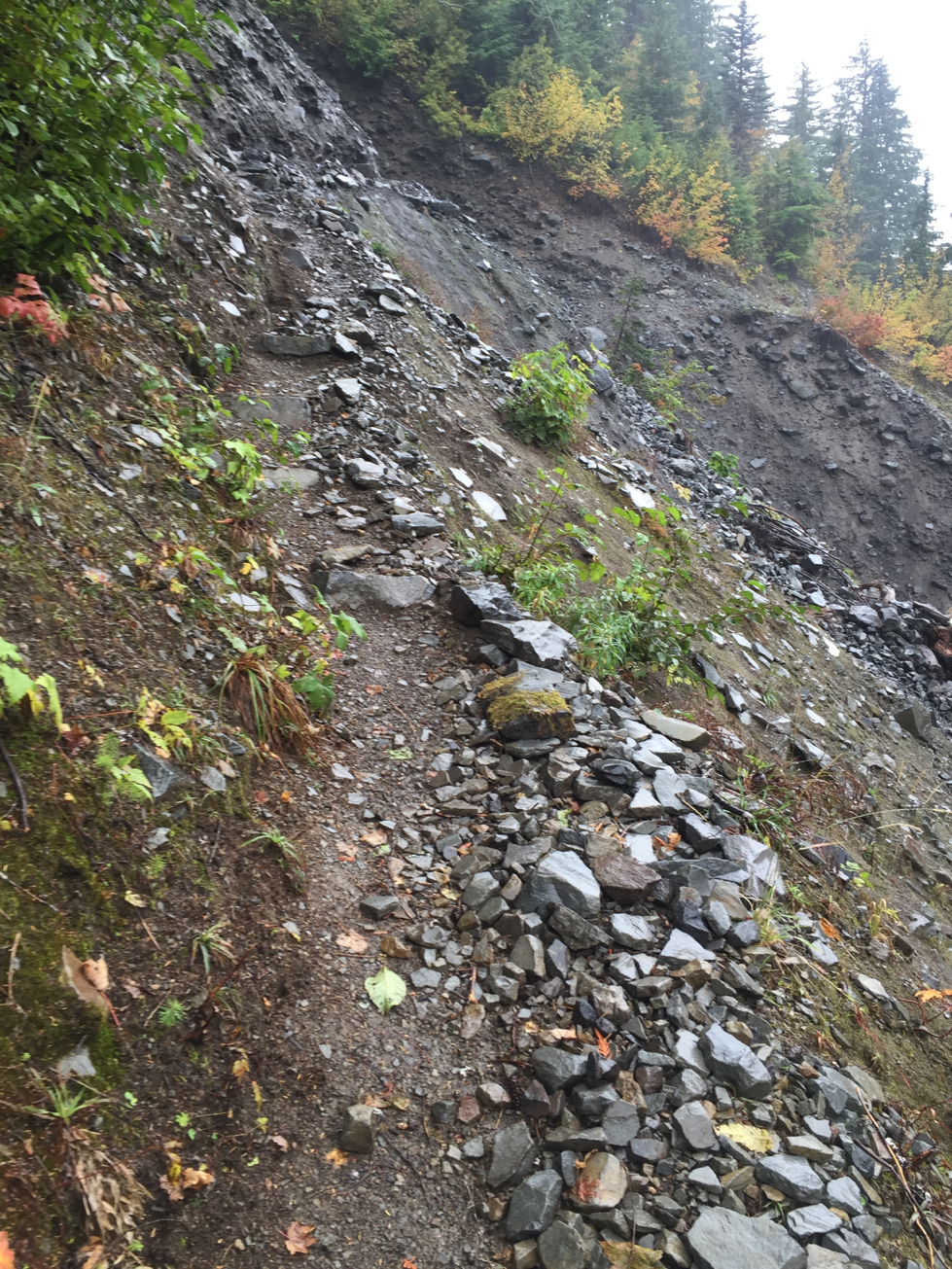 At the bottom of the ravine, I paused for some lunch and met another hiker, Nathan. Â I recognized him from camp the night before. Â Turns out he is hiking the same direction as me and we have the same itinerary for the next couple of nights. He's the first person I've met on the trail so far with remotely the same itinerary, and I felt a little relieved to know someone else on the trail in case I got into trouble. Â He hiked ahead I pressed on after I finished my lunch.
After Maple Creek camp, I hiked to Box Canyon. Â Box Canyon is the last point where the Wonderland Trail intersects with the road before heading north. I made use of the lovely bathroom facilities (flush toilets and running water!) and threw away all of my trash (wow! garbage cans!) before heading on to Nickel Creek camp, which was less than one mile away.
Just before arriving at Nickel Creek, I passed a salamander-type creature hanging out on the trail. Â He was quite long – almost a foot long. Â I've never seen anything quite like him before.
Salamander-Type Creature on the Trail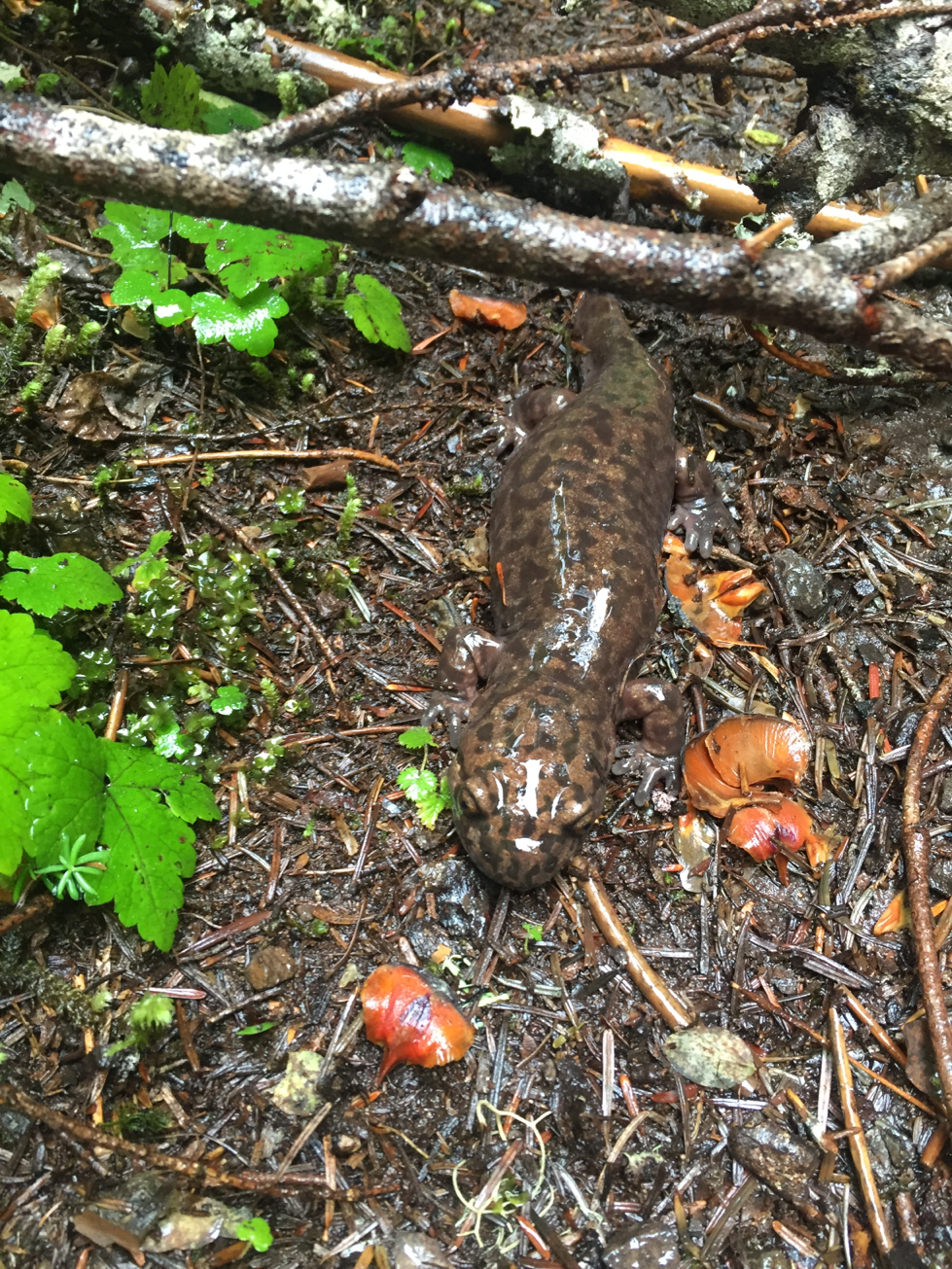 I arrived at Nickel Creek around 5:00 pm. Â The rain had not let up at all during the day and my tent was soaked through. Â I set it up and tried to mop out the insides with a spare shirt, but puddles of water were already forming on the floor. Â Hmm.
Then, the rain suddenly stopped and the late afternoon sun made its first appearance of the day streaming through the trees. Â I quickly took my tent down and hung it up to dry on cords strung between two trees. My tent never did completely dry out, but it got a little less soggy. Â I gingerly placed my sleeping bag on my sleeping pad, being careful not to let it touch the wet tent floor.
I had lost a pair of socks and was only down to a couple of pairs, and my favorite pair was now soaked through. Â So I hung them to dry inside of my tent as I wasn't sure if the clear weather would hold overnight. Â Phew! Â I was already getting pretty stinky by this point, but it was really smelly inside of my tent once I hung up my nasty socks! Â Oh well. Â What's a girl to do? Â Having dry socks is more important than offending my olifactory sensitivities. Â So I settled in for a stinky night.
Dirty Feet and Stinky Socks