Day 12 – Nickel Creek to Indian Bar
6.7 Miles
2600 Feet Elevation Gain
1000 Feet Elevation Loss
No rain fell overnight, which was a nice change. Â My tent was still wet from the day before but at least it hadn't gotten any wetter. Â I was pleased to leave my umbrella behind when I went in search of the facilities this morning. Â There's nothing like pooping in the rain to give you a new appreciation for dry weather.
I broke camp at around 8:00 am and started the climb uphill towards Indian Bar. Â I was looking forward to hiking to an alpine elevation for the first time since the rain started a few days back. Â The trail climbed steeply, gaining 2500 feet in elevation in just a couple of miles. But it was nice to get above the treeline again. Â I could see Mt. St. Helens in the distance towards the south for the first time during my trip as I hiked.
Mt. St. Helens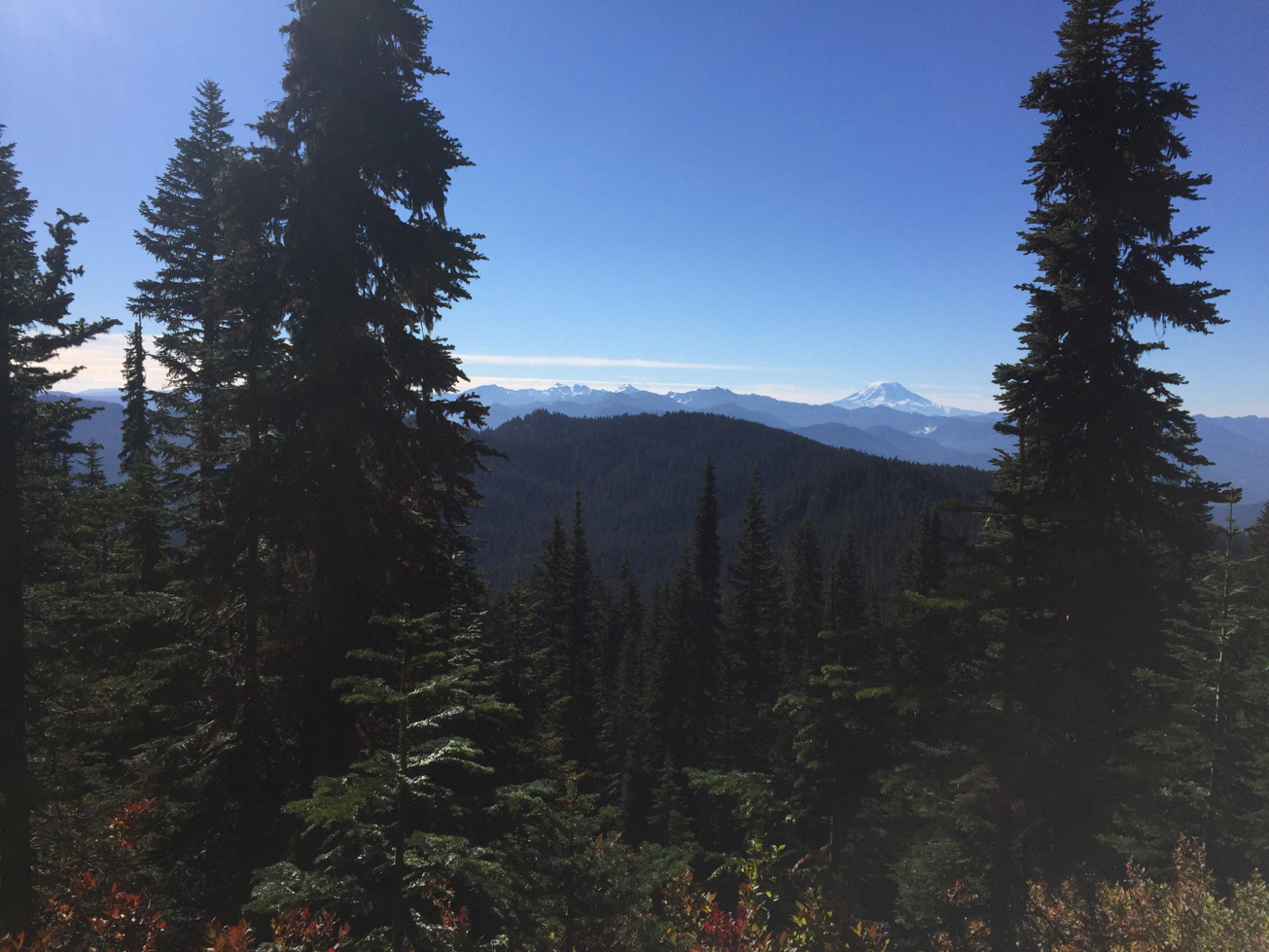 There was a chance of rain in the forecast, so I spread my tent over some rocks to dry out in mid-morning. Â I didn't want to risk getting rained on another night with an already wet tent at an elevation of 5000 feet. Â My tent dried out surprisingly fast once I layed it out in the direct sunlight.
As I waited for my tent to dry, I met another hiker who passed along on the path. Â Her trail name is Happy Feet, and she through-hiked the Pacific Crest Trail last year. Â We chatted for a few minutes and exchanged contact information, planning to get together after the hike to continue chatting. Â It's been great getting to meet so many other local hikers.
I continued along the trail once my tent dried out. Â Mt. Rainier was finally visible after hiding behind clouds for the past few days. Â Why, hello mountain!
Vista from Cowlitz Divide


Gratuitous Selfie at the Cowlitz Divide

After hiking up and over the Cowlitz Divide with an elevation of 6000 feet, I then began the descent into Indian Bar. Â The campsite is nestled in an idyllic little valley right next to the Ohanapecosh River. Â Indian Bar has a shelter located in the group site, and it is visible as you hike into the valley guiding you like a beacon.
Indian Bar Shelter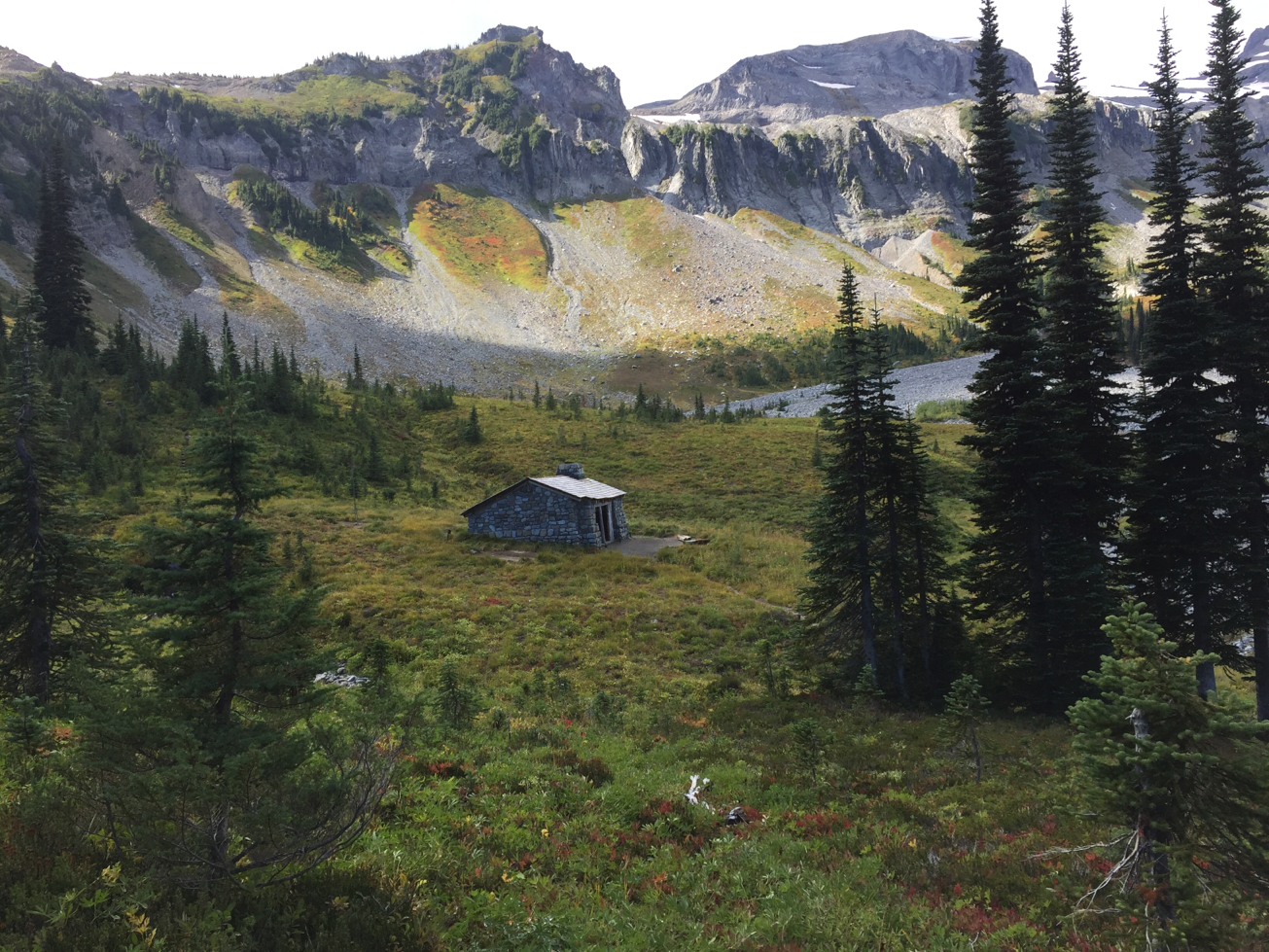 This backcountry camp is one of the most popular ones in the entire park and it's easy to see why. Â I literally couldn't stop myself from singing the entire soundtrack from The Sound of Music as I hiked into camp. Â The alpine scenery looks like something out of a movie.
I set up camp and lunched on some soup as I enjoyed the views.
Lunch at Indian Bar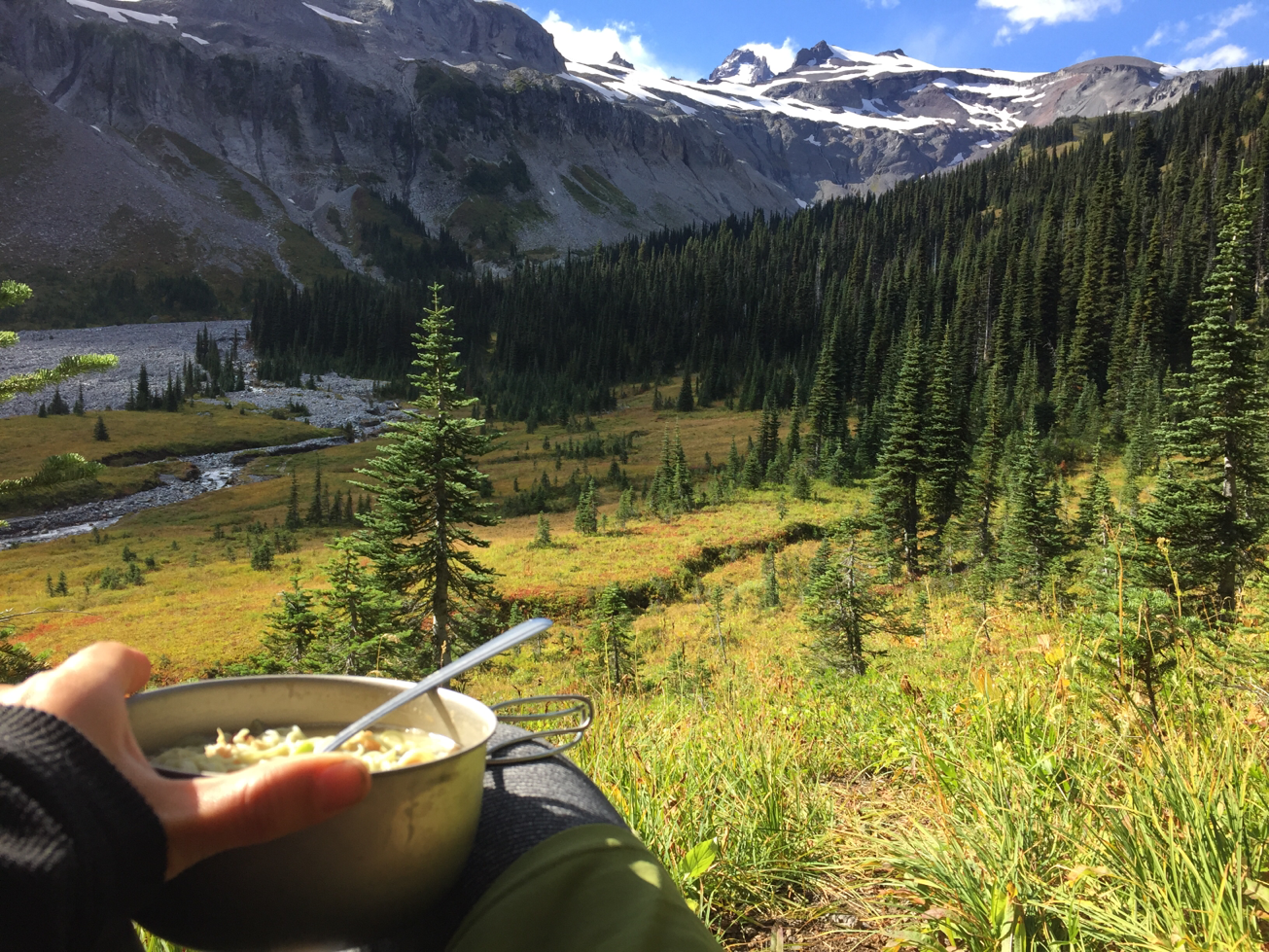 After lunch I picked some huckleberries and soaked up the sunshine. Â What a lovely day.