Day 5 – Eagles Roost to S. Mowich River Camp
6.3 Miles
Negligible Elevation Gain
2300 Foot Elevation Loss
I've been practicing breaking camp as quickly as possible in anticipation for when I'm hiking longer days. Â I'm going faster now, but it seems that I can't break camp in less than hour. Â This includes: deflating my sleeping pad, stuffing my things into compression sacks, taking down my tent, answering the call of nature, retrieving my bear bag, making and eating breakfast, packing up my cooking gear, packing my backpack, and doing my physical therapy stretches. Â I suppose one way to speed things up would be to skip breakfast and eat a power bar or something but that would just make me sad. Â I like to eat a big pile of oatmeal every morning. Oatmeal makes me happy. Â I just pour hot water into a quart freezer bag of oatmeal (my own recipe) and eat it out of the baggie with a long spoon. Â No dishes!
This morning I prepared my oatmeal and then hiked .3 miles to Eagles Cliff and breakfasted there. Â The sun was just about to peek over the trees to the east when I took the following photo.
Eagles Cliff Vista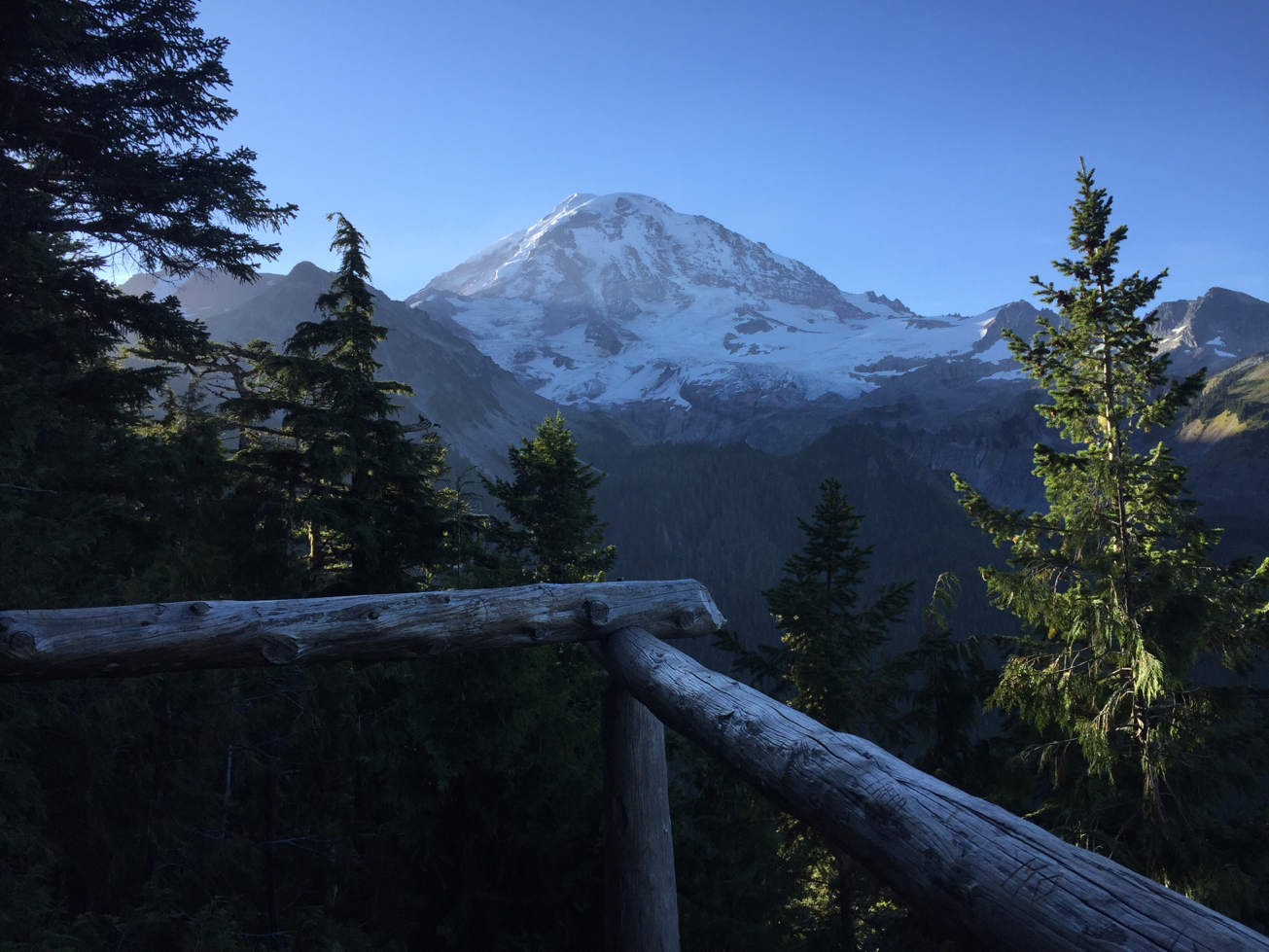 I hiked on through the trees and after another mile and a half, I arrived at the junction connecting the Spray Park Trail with the official Wonderland Trail again.
Back on the Wonderland Trail

I was planning to head south to camp at S. Mowich River Campground for the evening, but I detoured to Mowich Lake first to retrieve my food cache from the Mowich Lake Patrol Cabin. Â Ta da! There was my bucket of food safe and sound.
The first food cache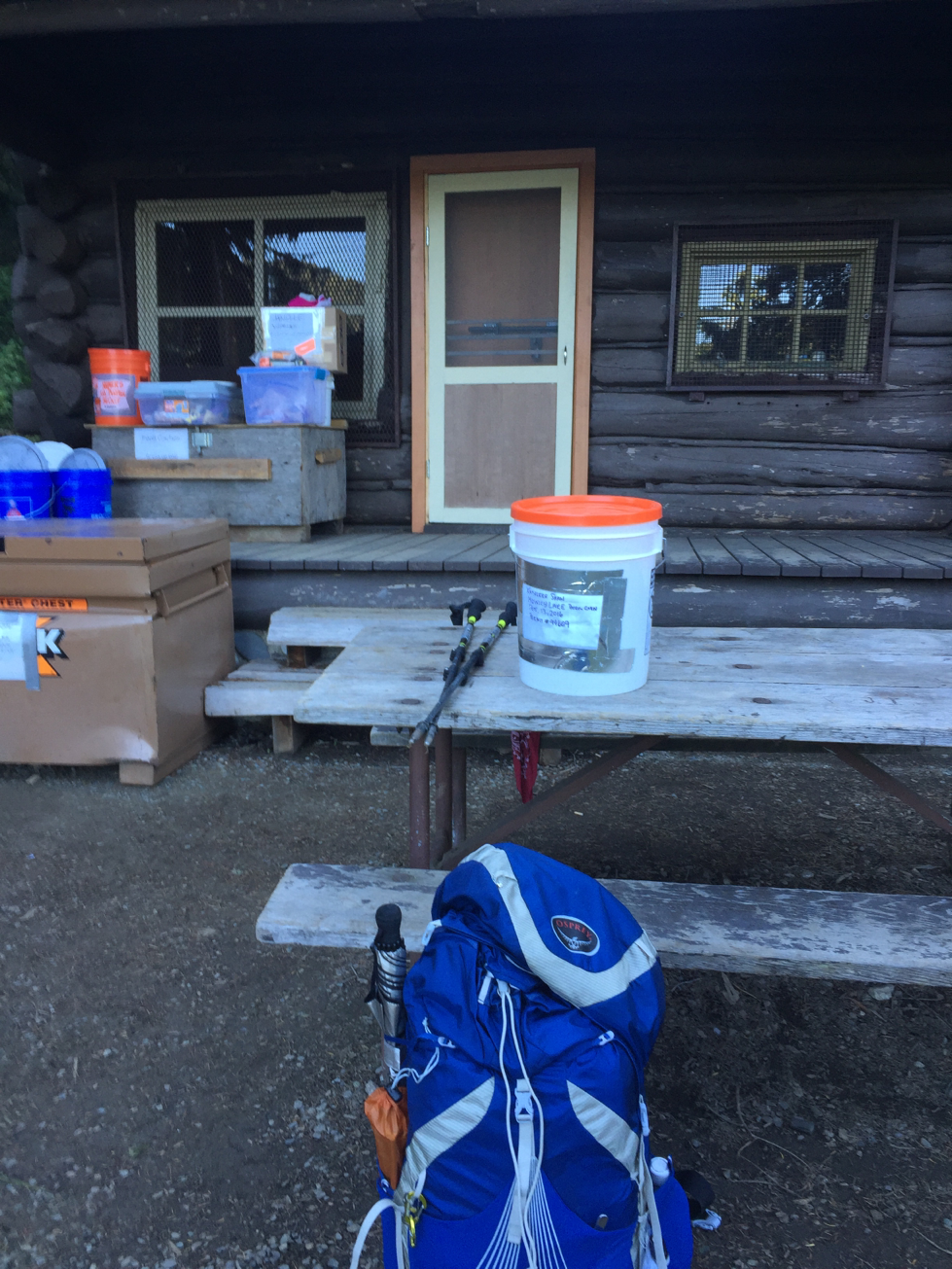 Yummy things! Â Including gluten-free cookies, an apple, and a bag of chips!! Oh joy!
I loaded up my backpack and offloaded some extras into the hiker free food box, and then spent some time hanging out by Mowich Lake soaking up some morning sun.
Mowich Lake


I met a couple of other women from Seattle who were also picking up their food cache at Mowich Lake. Â They offered me a beer and some snacks while we chatted. Â They had stayed at S. Mowich River Camp the night before, and told me about a superb campsite right on the river. Â I thought that sounded pretty great to me, so I hiked quickly and made it in about 2 hours. Â It was all downhill and a fairly smooth dirt trail through the woods, so that helped to speed things along.
I arrived at around 1:00 pm and I was the first one to arrive. Â As advertised, camp site #4 was right on the water. Â It was a fabulously sunny day, and I took advantage of it by washing my clothes and also taking a backcountry shower. Â I hung my hydration bladder from a tree to let the water warm up and then … Presto! Â Instant shower. Â It felt good to wash the trail grime off of me.
Backcountry Shower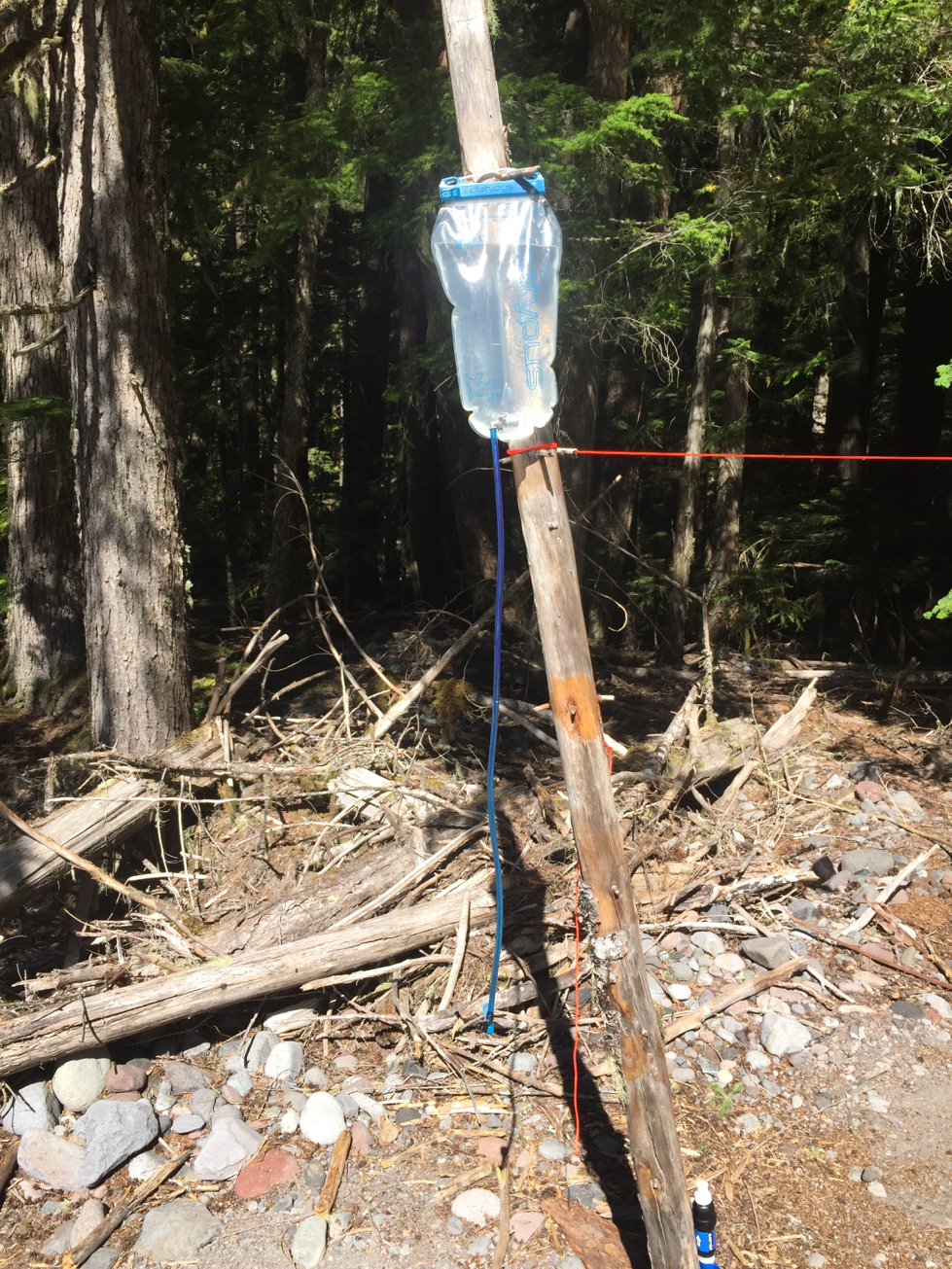 I spent the rest of the afternoon drying off and relaxing in the sun.  Belatedly, I remembered that I wasn't consuming gluten and sadly looked at the beer that I had carried all the way down from Mowich Lake.  Well, fuck it, I thought.  I'm consuming gluten today!  And that was one fine beer.
Hooray for Clean!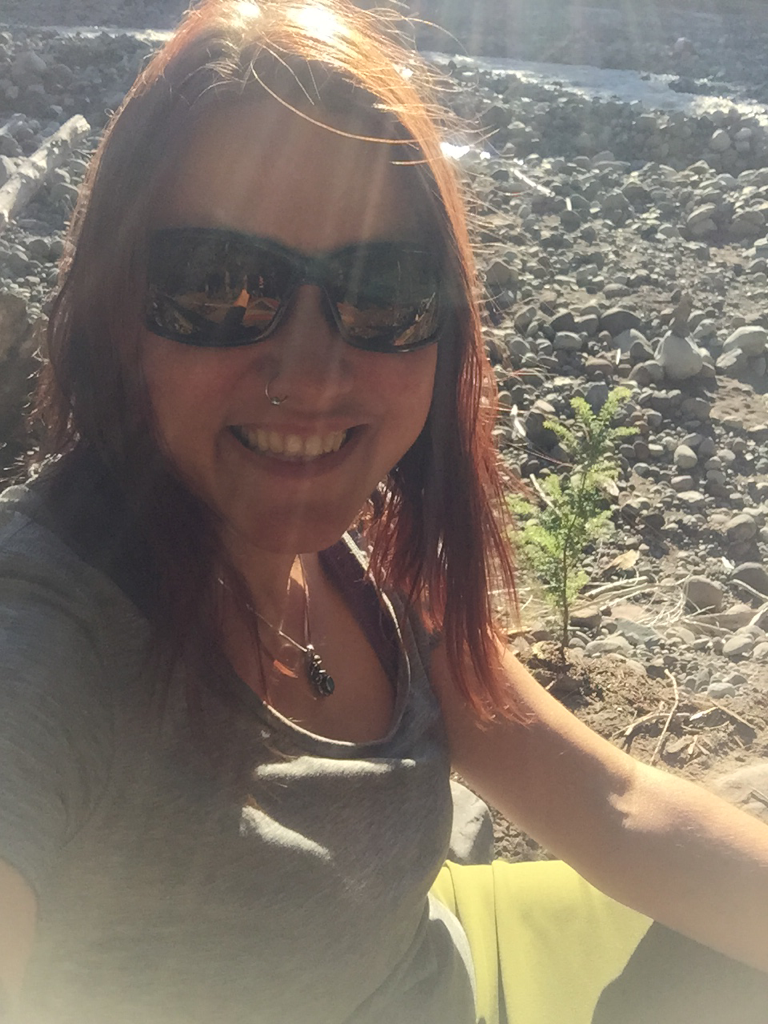 My campsite at S. Mowich River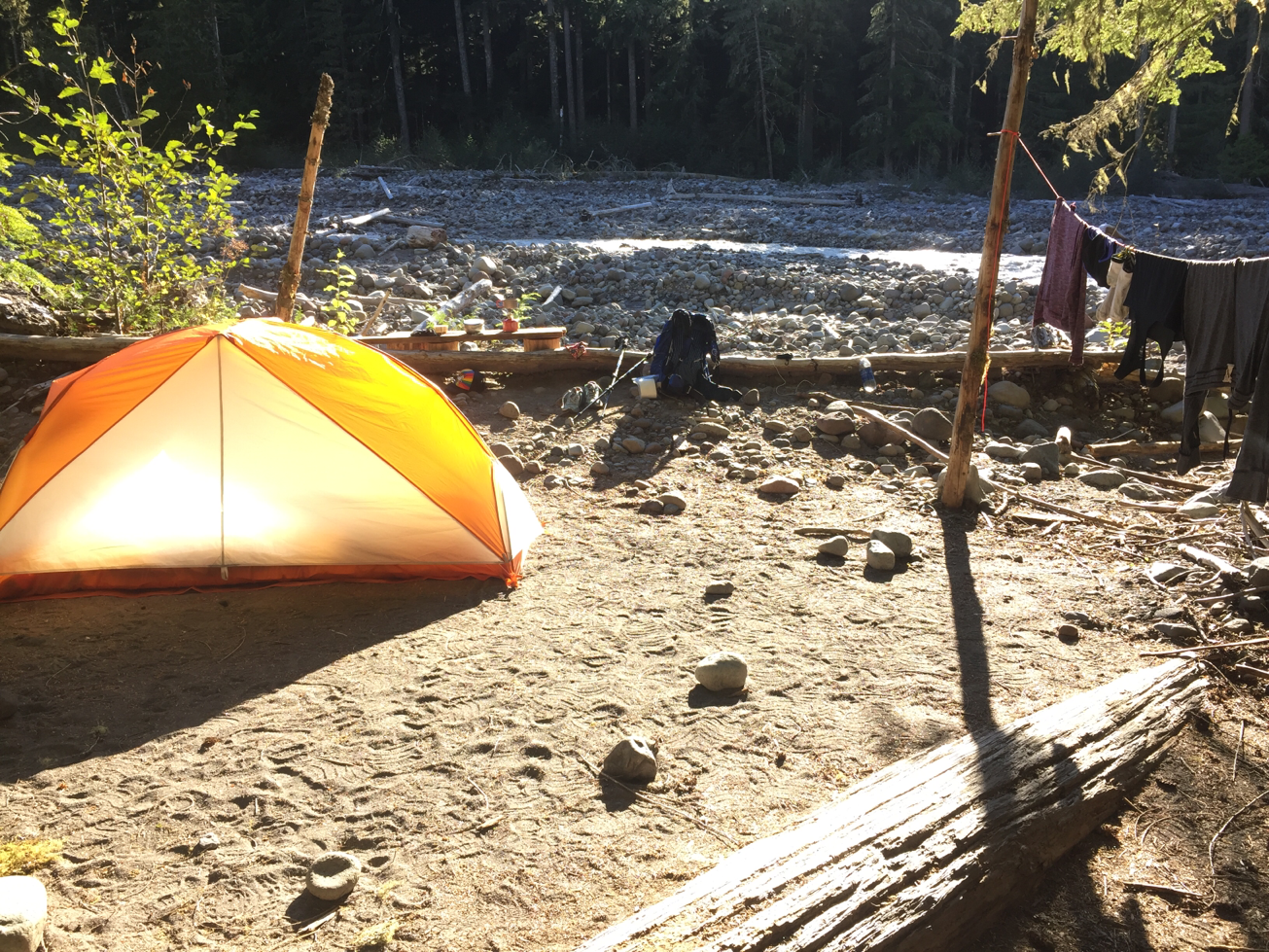 Later in the afternoon I met a couple of other hikers, Dave and Jason, and we talked shop for a while. Â I learned a new way to hang my clothes line and we discussed the merits of various backcountry dehydrated foods.
A very fine day.