One of the many reasons to visit Chiang Mai is its prime location near lush mountain ranges and several national parks. The area offers endless opportunities for trekking in the jungle and exploring the nearby mountains.
Many of these trails lead to spectacular temples or monasteries. Some pass by pools or hidden waterfalls where you can take a quick dip. Others lead to villages that are populated by the local hill tribes where you can buy lunch or a souvenir.
For those looking for an immersive experience deep in the jungle, it's probably best to hire a tour guide. There are many options available from nature walks to multi-day trekking tours that typically include a homestay at a local village.
If you're planning a less ambitious hike nearer the city, however, you may be able to hike without a guide.
The following Chiang Mai hikes are good ones if you're looking for something easy that doesn't necessarily require a guide to arrange your trip for you. I hiked all of these trails during a trip to Chiang Mai in January 2022 (although I did have a guide along on two of them).
Please note: there are a few hikes at National Parks which require you to hire a member of the local hill tribe to accompany you. Kew Mae Pan Nature Trail is one of those hikes. Keep reading for more details about that experience below.
How to Prepare for Hiking in Chiang Mai
While some of the Chiang Mai hikes described in this guide have facilities and restaurants nearby, not all of them do.
Be sure to pack plenty of water and snacks on your hiking trip along with insect repellent and sunscreen. Also bring clothing to cover your knees and shoulders in case you happen to visit a temple or shrine along the way.
Check the weather forecast and make sure you're prepared for the weather conditions. The trail can become muddy and slippery during (or after) rainfall so wear shoes with good traction. Bring layers as the top of these mountains can be chilly (especially Doi Inthanon and Doi Pui).
Learn how to pee outside properly before heading out in case the urge strikes away from a bathroom. Be sure to leave no trace of your visit behind.
Hiking Gear
Here are a few of my favorite pieces of gear for day hikes. This is not a complete list, but it will get you started.
When to Go
While you can hike year-round in Chiang Mai, there are a few distinct seasons to be aware of.
The best time to hike is typically in the dry season which typically lasts from October to March. Temperatures are coolest during this time and the trails are usually not slippery and muddy.
Be aware that air quality tends to get poorer as the dry season progresses. Things take a turn for the worse during burning season, which typically takes place in late February/early March. During this time farmers burn their fields to ready them for new crops and air quality is low.
The hot season takes place from April to June. Temperatures soar during these months so take care not to hike during the middle of the day. Some national parks close during hot season, so check before you go.
Rainy season (or monsoon season) takes place from July to September. Some trails are too muddy and slippery to hike on during this time, but not all. Most hikers avoid monsoon season, but some prefer it because visibility is better due to improved air quality.
No matter which season you choose, the best time of day to hike is usually in the early morning or late afternoon hours. Avoid hiking during the middle of the day when the temperatures are hottest.
Maps and Navigation
Whenever hiking a new trail, always bring along a map and know how to use it (or bring a guide).
If you plan to use your phone for navigation, download hiking routes in advance as you may not have cell reception after arrival. Be sure to bring along a portable battery charger (such as this one) in case your phone dies on the trail.
This map shows you where to find the trailheads for each hike mentioned in the article below.
Four Easy Chiang Mai Hikes
Now that we've gotten all the preliminaries out of the way, it's time for the good stuff!
Here are four easy Chiang Mai hikes that you won't want to miss, with or without a guide!
Monk's Trail to Wat Pha Lat
Distance: 2.9 km (1.8 miles) to Wat Pha Lat Temple and back
Elevation Gain: 187 m (614 feet)
Highest Point of Elevation: 635 m (2084 feet)
Difficulty Level:Â Easy
Cost: Free (donations are accepted at the temple)
Trailhead: Monk's Trail Trailhead
One of the most popular and well-known Chiang Mai hikes, the Monk's Trail leads to a hidden jungle temple on Doi Suthep Mountain. The hike follows a stream uphill through the jungle, passing a few small waterfalls along the way.
After 1.5 km, the trail crosses over a footbridge and emerges at Wat Pha Lat Temple – a gorgeous temple nestled in the jungle along a waterfall. The temple doesn't get many visitors and is primarily used as a meditation retreat center by the monks.
Before crossing the stream, be sure to take in the views of the temple from the other side. This is the best spot to see the temple's Naga staircase (naga are mythical beings which look like serpents). There are also great views of Chiang Mai city from the stream.
Then you can proceed across the waterfall and wander among the meditation retreat center. Many of these buildings are constructed in harmony with nature in such a way that it's difficult to tell where the buildings end and the forest begins.
Pro Tip: for more of a challenge, you can extend your hike and continue up the mountain to Doi Suthep temple. Be aware that this trail is much steeper and more challenging. More details are available in my Monk's Trail to Wat Pha Lat hiking guide.
Monk's Trail Map and Trailhead
How to reach the trailhead: the trailhead is located at the base of Doi Suthep Mountain a few kilometers away from Chiang Mai University. I used the Grab App to book a ride to the trailhead because I planned to hike all the way to the top of Doi Suthep and take a songthaew (shared taxi) back down again.
There is limited parking at the trailhead, so if parking is full consider parking at Basecamp Trail Café and walking to the trailhead (it's a bit of a walk).
Doi Pui Peak Nature Trail
Distance: 2.3 km (1.5 miles) loop, plus an extra 1.2 km (.8 miles) to the viewpoint and back
Elevation Gain: 182 m (597 feet)
Highest Point of Elevation: 1685Â m (5528 feet)
Difficulty Level:Â Easy
Cost: Free
Trailhead: Doi Pui Peak Trailhead at the Pui Campground
Doi Pui Peak is a short but steep nature trail that loops through the evergreen and pine forests on the top of Doi Pui mountain. The trail features informative signboards at 13 stations along the way with details about the park's flora and fauna.
The highlight of the trail is Doi Pui Peak. At 1685 meters (5528 feet), it is the tallest point on the entire mountain. There isn't much of a view to speak of from here, however.
For the best views, continue along the trail past the Royal Pavilion for .6 km (or .4 miles) until you reach a ridge. There are plenty of spots with great views along the ridge, along with a bench and some nice places to relax and enjoy the forest.
Pro Tip: after walking along the ridge, you can continue downhill to the Ban Khun  Chang Khian hill tribe village. That's what I did when I hiked the trail, but I had a guide along to show me the way. We were there in January and the cherry blossoms were in full bloom throughout the village.
Doi Pui Peak Nature Trail Map and Trailhead
How to reach the trailhead: the trailhead is located at Doi Pui Peak campground and ranger station. There is plenty of parking here as this is a popular area inside Doi Pui Peak National Park.
The road to reach the trailhead is long and winding and only a single lane for the last few kilometers. You have to sound a horn any time you go around a corner to ensure you don't hit another car. I don't recommend driving it on a scooter unless you're an experienced scooter driver.
To reach this trail without a car, I suggest hiring a private driver or tour guide (that's what I did). You may also be able to arrange a ride from Doi Suthep temple, a popular tourist destination further down the mountain.
Huay Tung Tao to Dtaat Mook Waterfall
Distance: 6.3 km (3.9 miles) there-and-back
Elevation Gain: 325 m (1069 feet)
Highest Point of Elevation: 614 m (2016 feet)
Difficulty Level: Moderate
Cost: 50 baht fee for foreigners to access the lake
Trailhead: The Golden Buddha Statue at Huay Tung Tao Lake
Dtaat Mook waterfall is a lovely cascading waterfall that typically has water year-round. Reaching the waterfall requires a pleasant hike uphill through the jungle and a bamboo forest. This is the longest hike in this guide and the most difficult (although I would still only rate it as moderate).
The trailhead is located at Huay Tung Tao Lake, which is a gorgeous destination in its own right. There are many scenic bamboo huts overlooking the lake and restaurants specializing in seafood. The lake is a popular destination on the weekends for families.
There are a lot of trails above the lake and it's easy to take the wrong one. Some of the trails are overgrown and hard to follow. Be sure to download a map (or several) to your phone before starting out.
Pro tip: for more of a challenge, consider extending your hike by completing the Huay Tung Tao Circular Hike.
Dtaat Mook Waterfall Map and Trailhead
How to reach the trailhead: the trailhead is located near the golden buddha statue on Huay Hung Tao lake. There is plenty of parking here, or you can take a Grab car (that's what I did).
While there is a map on AllTrails for the Dtaat Mook Waterfall hike, I don't recommend it. That route does not follow the best path to the waterfall.
I suggest using the below map for the Huay Tung Tao Circular hike instead. This hike also goes to the Dtaat Mook Waterfall but via a better path. Simply turn around after reaching the waterfall rather than continuing on to complete the entire loop.
Kew Mae Pan Nature Trail in Doi Inthanon National Park
Distance: 3.4 km (2.1 miles) loop
Elevation Gain: 190 m (623 feet)
Highest Point of Elevation: 2311Â m (7584 feet)
Difficulty Level: Easy
Cost: 300 baht per person entrance fee (for foreigners), plus 200 baht to hire a guide
Trailhead: Kew Mae Pan Nature Trail trailhead
Kew Mae Pan Nature Trail is a short ramble through the woods on Thailand's tallest mountain, Doi Inthanon. The loop hike follows a picturesque stream before eventually breaking out of the foliage to a viewpoint.
While a bit further away from Chiang Mai than the other hikes on this list, the trail deserves a spot on your bucket list as it is undeniably one of the best Chiang Mai hikes. The views from the top are *epic*.
On the return hike, the trail passes by a viewpoint of the Twin Pagodas before dipping back into the woods and returning to the trailhead.
Kew Mae Pan Nature Trail is somewhat unique in that hiring a local guide is mandatory. The guides are all members of the local Hmong tribe and ensure that visitors stay on the correct path. You can hire one on the spot after your arrival for 200 baht.
Note: the trail is available from November to April every year. The hike is not suitable for people who cannot handle stairs as there are quite a few.
Kew Mae Pan Nature Trail Map and Trailhead
How to reach the trailhead: the trailhead is located near the top of Doi Inthanon peak in Doi Inthanon National park, a 2-hour drive southwest of Chiang Mai. It's a long drive up a steep winding mountain road.
The best way to reach the trailhead from Chiang Mai is by driving your own car or arranging for a private driver or tour guide. That's what we did and honestly it was worth it for us since we didn't have to worry about any transportation details. He paid the entrance fee to the park and arranged for hiring the local Hmong tour guide.
Like this hiking guide? Pin it!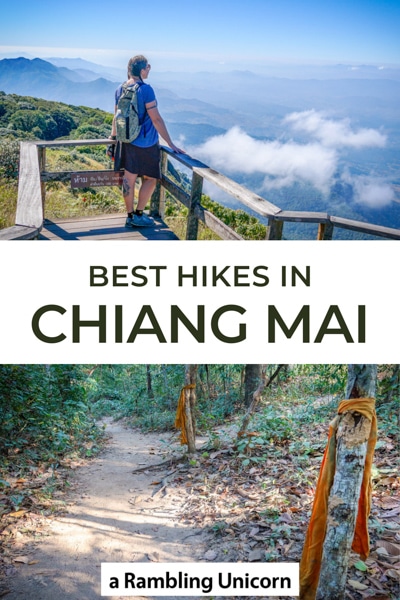 ---
Have you been on any of these Chiang Mai hikes? If so, I'd like to hear from you! Leave a comment below.
Note: This post contains affiliate links, which means I may receive a commission if you click a link and purchase something. While clicking these links won't cost you anything, they will help me to keep this site up and running!