Chiang Mai is one of those bucket list-worthy destinations that is worth visiting at least once in your lifetime. The largest city in Northern Thailand, the area is filled with over 300 stunning Buddhist temples. In fact, Chiang Mai has more temples than any other city in Thailand.
The oldest part of Chiang Mai is surrounded by a moat and fortifications that are over 700 years old. Inside the old city, visitors find a bustling city filled with vibrant markets, amazing food, and classic Northern Thai-style architecture. These gorgeous buildings harken back to the city's roots as the former capital of the Lanna Kingdom.
One of the best things about Chiang Mai is its location. The city is based in a mountainous region that makes it a perfect place from which to go on various Chiang Mai hikes or see an elephant at one of the many Chiang Mai elephant sanctuaries.
My husband Daniel and I recently spent a couple of months exploring Chiang Mai and going on day trips to the surrounding area. Since most people can't spend that long in this fabulous city, I put together a comprehensive Chiang Mai itinerary with all the best things to see in Chiang Mai.
Keep in mind that this is only meant to serve as a guide for you to build upon when planning your trip. If hiking isn't your thing, skip the hike up the Monk's Trail and take a cooking class instead!
Note: some of the best Chiang Mai markets are only open one night per week, such as the Chiang Mai Sunday market. You may have to shift the itinerary below based on your arrival date.
Itinerary for Chiang Mai At-A-Glance
First Day: wander the old city and visit some important temples and monuments. Then end the day at LamChang Walking Street (Fridays only).
Second Day: tour an ethical elephant sanctuary on a day trip. Then spend the evening at the Saturday Night Market.
Third Day: go shopping at some of Chiang Mai's local markets and visit some additional temples. End the day at the Sunday Night Walking Street.
Fourth Day: explore nearby Doi Suthep National Park by hiking the Monk's Trail and visiting Doi Suthep temple. You can also visit Bhubing Palace gardens. End the day with some delicious street food at the Chang Phuak Gate Night Market.
Additional Days: visit additional markets and temples, take a cooking class, get a message, see a Muay Thai fight, go zip-lining, go jungle trekking, get a sak yant tattoo, visit Doi Inthanon National Park.
Chiang Mai Itinerary Map
The following map includes all the locations discussed in this Chiang Mai itinerary. Before heading to Chiang Mai, refer to the Preparation section at the end for this article for tips on how to plan for your trip!
Day One: Exploring Chiang Mai's Old City
On the first day of your Chiang Mai itinerary, spend the day wandering around the heart of Chiang Mai in the old city. Today's highlights include visiting some of the city's most important temples and landmarks along with a Michelin-recognized restaurant for lunch.
Afterwards, spend the evening wandering the small Lamchang Walking Street (which only takes place on Friday nights).
Wat Chedi Luang
Opening Hours: Open daily from 9:00 am to 5:00 pm
Location: 103 Prapokkloa Road
Wat Chedi Luang is the perfect place to begin your explorations of this historic city.
The temple's name means "Temple of the Large Stupa" because it used to be the tallest building in the entire Lanna Kingdom. At the time of its construction in the 14th and 15th centuries, the chedi (a tall pyramid-like structure) used to rise over 80 meters (260 feet) tall.
Even though the upper portion of the structure collapsed in 1545, it still remains one of the tallest buildings in all of Chiang Mai.
The chedi features a large staircase on each side that leads to a niche with a Buddha image. One of these statues is a replica of the famed Emerald Buddha which used to reside at this temple (but was moved to Bangkok centuries ago). Be sure to check out the elephants at the base of the chedi on its south side.
Another smaller temple called Wat Phan Tao is located next door and is also worth a visit.
Wat Phra Singh
Opening Hours: Open daily from 9:00 am to 6:00 pm
Location: in the heart of the old city at the intersection of Rachadamnoen and Samlarn Roads
After visiting Wat Chedi Luang, head east on Rachadamnoen Road towards the impressive Wat Phra Singh. One of Chiang Mai's most important and popular temples, Wat Phra Singh dates back to the Mangrai dynasty in 1345.
The temple gets its name from a famous Buddha statue, the Phra Buddha Sihing, which resides at the temple complex.
Wat Phra Singh is one of the most eye-catching temples in the city as it's chedi and several other buildings are covered in gold.
One of my favorite aspects of this temple is its surrounding gardens. There are lots of paths around the temple lined with trees and seats in the shade. The garden also features inspirational Buddhist sayings and a small cafe (when it's open).
It's a great place to sit and relax for a while and escape the heat.
Lunch at SP Chicken
Opening Hours: Open daily from 10:00 am to 5:00 pm (although I advise arriving no later than 1:30 pm before they run out)
Location: 9/1 Samlan Road Soi 1
Located only a couple of blocks from Wat Phra Singh, SP Chicken is one of the city's most sought-after lunch spots. A favorite with both locals and tourists alike, this Michelin-recognized eatery is famous for its melt-in-your-mouth rotisserie-style chicken.
Be aware that you may have to wait in line as this place is incredibly popular. During our first visit to Chiang Mai in 2017, Daniel and I waited in line only to watch the last chicken of the day being sold to the people in front of us. So on our next visit in 2021, we made a point to arrive a bit earlier in the day.
Three Kings Monument
Opening Hours: Open 24 hours a day
Location: on Prapokkloa Road between Ratvithi and Intrawarorot Roads
After lunch, head to the famous Three Kings Monument in the center of the old city. The statue was constructed in 1984 and portrays the three founders of Chiang Mai: King Mangrai, King Ramkhamhaeng and King Ngam Muang.
The monument is located in the middle of a large square which is a pleasant place to sit a while and enjoy watching life go by. It is also located next to the Chiang Mai Cultural Center and the Lanna Folklife Museum should you like to learn more about Northern Thai cultural traditions.
Wat Chiang Man & Wat Lam Chang
Opening Hours: 8:00 am to 5:00 pm
Wat Chiang Man Location: 171 Ratchapakhinai Road
Wat Lam Chang Location: Moon Muang Road Lane 7
Continue your Chiang Mai itinerary with a visit to the city's oldest temple: Wat Chiang Man (also spelled Wat Chiang Mun). Located in the northeast corner of the old city, Wat Chiang Man was constructed in 1297 by King Mangrai (also spelled Mengrai).
My favorite part of this particular temple is the chedi in the back of the complex. Known as the elephant chedi, the structure features elephants all around the base that appear to be holding it up. The temple also has some nice gardens and shady areas to relax and to take a break.
If you haven't had your fill of temples yet, head across the street and down one block to Wat Lam Chang. The name translates to "Temple of the Tethered Elephant" because elephants used to be housed here centuries ago.
Pro Tip: Continue through the temple and out the back entrance to the neighborhood behind for access to some nice cafes and restaurants. This is also the best way to reach the next destination: Lam Chang Walking Street.
Lam Chang Walking Street (Fridays)
Opening hours: Every Friday night, 5:00 pm to 9:00 pm
Location: Along Ratvithi Alley from Ratvithi Road to Moon Muang Road Lane 7
The Lam Chang Walking Street (Kad Lam Chang) is a small neighborhood affair that runs through a colorful alley in the old city. Every Friday night, the street is closed to vehicle traffic and transforms into a bustling walking street.
Here, you can buy everything from clothes and knick-knacks to snacks and street food.
This is just a warm-up for the bigger Chiang Mai markets that take place later in the weekend. It has more of a local/neighborhood vibe and is a fun alternative if you want to skip the big crowds.
Day Two: Visit an Elephant Sanctuary
Visiting a Chiang Mai elephant sanctuary is one of the most rewarding activities you can do during a visit to Northern Thailand. Elephants are Thailand's official animal and seeing one up close and in-person is a truly magical experience.
I missed out on visiting an elephant sanctuary during my first visit to Thailand and deeply regretted it. Although I made up for it on my next trip, I advise you not to make the same mistake and to prioritize this activity in your Chiang Mai itinerary.
Note: before purchasing your tickets to an elephant sanctuary, do some research first and learn about ethical elephant encounters. Avoid camps that offer rides to tourists.
Elephant Nature Park
Opening Hours: varies depending on the tour
Location: approximately 1.5 hours drive northwest of Chiang Mai
The most well-known and largest elephant sanctuary in Chiang Mai, Elephant Nature Park (ENP) provides homes for distressed elephants from all over Thailand. Many of the animals in the park are disabled or are recovering from injuries sustained from abuse in the logging or tourism industries.
ENP not only provides a home for over 100 elephants on its property, it also works extensively with small family-run camps to help them transition to more ethical business models. The sanctuary also rescues dogs, cats, buffalo, and other animals as well.
Visits to Elephant Nature Park range in duration from a half-day trip (2,500 THB) to a 2-day sleepover (5,800 THB). Your ticket includes transportation to and from your lodging in Chiang Mai. Tickets to ENP often sell out weeks in advance, so be sure to book ahead.
If you can't secure tickets to the main sanctuary, consider booking a visit to a smaller camp that is managed in cooperation with Elephant Nature Park. Into the Wild Elephant Camp is another good option if you'd like to visit a smaller facility.
Saturday Night Walking Street or the Night Bazaar
Opening hours: Every Saturday from 4:00 pm to 11:30 pm (TEMPORARILY CLOSED)
Location: Wualai Road
If you're not too exhausted after your day with elephants, head to the Chiang Mai South Gate for the Saturday Night Walking Street. Also known as Wualai Walking Street, the market travels the length of Wualai Street every Saturday Night.
Full Disclosure: this walking street was not open when I visited in January 2022 due to COVID. I hear that it is amazing though, and a less crowded option than Chiang Mai's famous Sunday Night Market.
If the Saturday Market is closed, you can also consider the Night Bazaar. However, this was closed for the most part during my visit due to COVID. Hopefully both of these venues will be operational again soon.
If you're after some nightlife, you can head to the intersection of Chang Klan and Loy Kroh roads where there are some lively bars. Just be aware of any COVID-related restrictions or curfews.
Day Three: Markets and Sunday Night Walking Street
On your third day in Chiang Mai, it's time to go shopping!
Start your day east of the old city walls near the Ping River at the famous Warorot Market. The day includes stops at some other notable temples and lunch at a restaurant specializing in khao soi, a Northern Thai noodle soup.
Be sure to save plenty of time and energy for the main event of the day, the Sunday Night Walking Street.
Warorot Market (Kad Luang) & Riverside Flower Market (Ton Lamyai)
Warorot Opening Hours: Every day from 10:00 am to 10:00 pm
Warorot Location: the city block bordered by Chang Moi Road, Wichayanon Road, Kuang Men Road and Lao Chou Alley.
Flower Market Opening hours: Every day, 24 hours a day
Flower Market Location: Intersection of Praisanee Road and Chang Moi Road
Warorot Market is a bustling 3-floor market located in a large building that spills into the streets outside. Also known as the Kad Luang, which means big market in Thai, the market sells a variety of local products and Northern Thai food such as Thai sausages and green pepper chile paste.
Warorot also sells various kinds of flowers, dried foods, souvenirs and an endless variety of clothing.
Outside the market, you can find fresh produce stalls on one side and an alley specializing in Chinese and Hmong local products and handicrafts on the other side.
Located one block away from the Warorot Market along the river, Ton Lamyai is a bustling market filled with blooms in every color. Here, you can find a bouquet of blossoms for your sweetie or a brightly colored garland to place at a Buddhist temple.
Wat Mahawan
Opening Hours: Open daily from 8:00 am to 5:00 pm
Location: Intersection of Thapae Road and Thapae Road Soi 4
Wat Mahawan is a lesser-known temple a 10-minute's walk from the Warorot Market near the Tha Pae Gate. I wandered into this temple by accident one day and was enchanted by the beautiful buildings and gardens.
Lunch at Khao Soi Khun Yai
Opening Hours: 10:00 am to 2:00 pm, closed Sundays
Location: Sri Poom 8 Alley
Khao Soi a traditional Northern Thai curry soup that you must try during your visit. While there are many restaurants serving this dish, Khao Soi Khun Yai is one of the best Khao Soi restaurants in Chiang Mai.
This particular restaurant is located inside of the old city walls near the north gate, so it's a bit of a walk from Wat Mawahan. If you want to save your energy, I recommend grabbing a tuk tuk or calling a ride using Grab (a rideshare app similar to Uber).
Wat Lok Moli
Opening Hours: Open daily from 8:00 am to 5:00 pm
Location: 298/1 Manee Nopparat Rd
Wat Lok Moli is a gorgeous temple that is famous for housing the ashes of some members of the Mengrai dynasty. It is located a short walk from Khao Soi Khun Yai across the moat.
There are also a couple of other temples nearby that are worth a visit if you have the time: Wat Rajamontean and Wat Khuan Kharma.
Sunday Night Walking Street
Opening hours: Sundays from 4:00 pm to 11:30 pm
Location: Ratchadamnoen Road from Tha Pae Gate to the Wat Phra Singh Temple
And now for the main event of the day: the Chiang Mai Sunday Market!
The city's biggest and most well-known market, this walking street market takes place every Sunday night in the center of Chiang Mai's Old City on Ratchadamnoen Road.
This famous walking street features all kinds of homemade crafts and goods for sale by local Thai people. From silk shirts to sandals and baggy Thai pants, you can find all sorts of things for sale at the Chiang Mai Sunday Market.
Get there early to beat the crowds and be sure to come hungry if you like street food. There is no shortage of food vendors at the market which tend to be clustered together in makeshift food halls at various temples.
Day Four: Doi Suthep & Chang Phuak Night Market
Spend the last day of your Chiang Mai itinerary at nearby Doi Suthep National Park. Here, you will find perhaps the most important temple in Chiang Mai: Wat Phra That Doi Suthep.
While on Doi Suthep Mountain, you can also hike the Monk's Trail to a secret jungle temple and visit Bhubing Palace gardens.
End your day at the Chang Phuak Night Market by sampling some incredible street food.
Hike the Monk's Trail to Wat Pha Lat
If you're looking to get off the beaten path in Chiang Mai, there's no lovelier place than Wat Pha Lat (also spelled Wat Palad). This picturesque temple nestled in the jungle is a peaceful place to meditate and get away from it all.
The best way to access the temple is by hiking the Monk's Trail. This easy 3 km (1.8 miles) trail winds through the jungle and follows a stream before reaching the temple partway up Doi Suthep mountain.
Wat Phra That Doi Suthep
Opening Hours: 6:00 am to 8:00 pm
Location: Th Huay Kaew, Doi Suthep
Wat Phra That Doi Suthep, Ratchaworawihan is one of Northern Thailand's most sacred temples and an important pilgrimage site for many Thai people.
The temple dates to the 14th century during the reign of King Kuena. According to legend, a monk found part of Buddha's shoulder bone and brought it to the king. He placed the holy relic on the back of a white elephant and sent it into the jungle to look for a new home.
The elephant eventually climbed to the top of Doi Suthep mountain where it stopped and trumpeted three times. Then it died. This was interpreted as an omen and the opulent temple Wat Phra That Doi Suthep was established at that spot.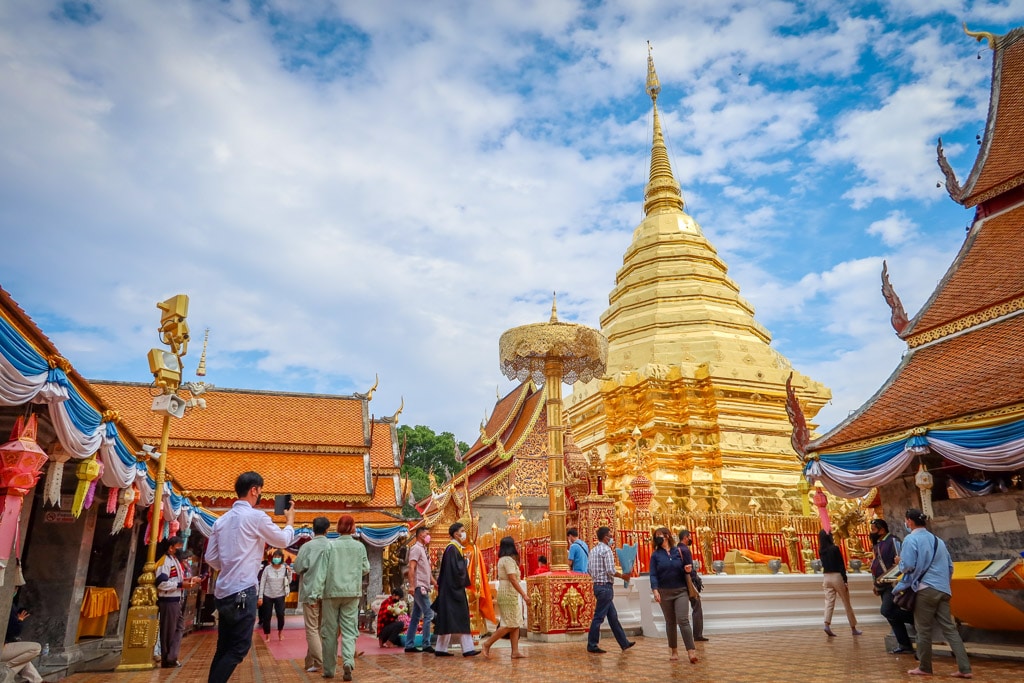 Bhubing Palace Gardens
Opening Hours: Open daily from 8:30 am to 4:30 pm (except on holidays
Location: 1223 Sriwichai Alley, Tambon Su Thep
Bhubing Palace is a winter palace that is used by the royal family when they visit Chiang Mai. The extensive gardens are quite lovely and are open to the public whenever the royal family is not in residence.
I visited in January 2022 when all the flowers were in bloom and it was spectacular. Be aware that the same dress code for visiting temples apply at the palace.
Dinner at Chang Phuak Gate Night Market
Opening hours: Every day from 6:00 pm until late
Location: Intersection of Manee Nopparat Road and Changhuak Road at the Chang Phuak Gate
After spending the day on Doi Suthep Mountain, head to the Chang Phuak Gate Night Market for some amazing street food. Located on the opposite side of the moat from the North Gate, the market hosts a variety of food stalls selling everything from meat on a stick to Thai omelets.
One of the best-known vendors here is the Lady in the Cowboy Hat. She was featured in an episode of Anthony Bourdain's No Reservations television show when he visited Chiang Mai in 2014. She is best known for khao ka moo, a dish of stewed pork leg served over rice with a boiled egg and sour greens.
Preparing for a Visit to Chiang Mai
When to Go
While you can visit Chiang Mai any time of year, there are a few distinct seasons to be aware of.
Most visitors arrive in the dry season which typically lasts from October to March. Temperatures are coolest during the dry season and it's not as rainy. There are also some important festivals during this time such as the Yee Ping lantern festival (Loi Krathong) in November, New Year's Eve, and the Chinese New Year (which usually takes place in January or February).
Be aware that air quality tends to get poorer as the dry season progresses. Things take a turn for the worse during burning season, which typically happens in late February/early March. During this time farmers burn their fields to ready them for new crops and air quality is low.
The hot season takes place from April to June. Temperatures soar during these months so avoid strenuous activity int the middle of the day. Some national parks close during hot season, so check before you go. The Songkran Festival (Thai New Year) takes place during this time, in the month of April.
Rainy season (or monsoon season) takes place from July to September. Most visitors avoid monsoon season, but some prefer it due to improved air quality and the lush green hue the jungle takes on due to the rains.
Etiquette for Visiting Temples
It's hard to go very far in the city without running into one or more Chiang Mai temples.
Many temples are open to the public and you can typically enter as long as the doors and gates are open (in some cases you have to pay a small entrance fee first). But first, keep in mind a few basic rules of Thailand temple etiquette before entering.
First and foremost, remember that it is a place of worship and behave respectfully. Keep your voice down as you walk around the grounds and in the buildings. Be sure to remove your shoes any time you enter into a building or when you see a sign asking you to do so.
It's also important to dress modestly. This means wearing pants or a skirt that covers your knees and a shirt with sleeves that covers your shoulders. Avoid showing too much skin or wearing clothing with images of the Buddha as this is considered disrespectful.
When you're inside the temple, don't turn your back to the Buddha statue or touch it. Taking photos is usually fine, but taking a selfie (or photos of the monks without their permission) is not. Women should not touch monks.
Pro tip: I always carry around a pair of Thai pants and a long-sleeved sun shirt in my pack when I'm in Chiang Mai. That way I can throw them on any time I happen to come across a temple that piques my interest.
What to Bring
Here's a few ideas of what to bring along while you explore the city or surrounding area each day. This is not a complete list, but it will get you started as you think about what to pack.
Sturdy walking shoes – While some people get by with flip-flops or sandals in Thailand, I wear sturdy walking shoes when I'm sightseeing. I prefer the Altra Timp trail running shoe both in the city and on the trail.
Camera – I love taking photos and always bring a camera along. I use the Canon PowerShot G7X Mark III because it is lightweight yet has many advanced features.
External battery – I always bring along an external battery & charging cord so I'm not left stranded in case my phone dies.
Sun hat – Protect your face (and scalp) with a broad sun hat. This sun hat is great because it has a wide brim and no back so it doesn't bump into my backpack. Or you could shop for a cute straw hat after you arrive in Thailand.
Sunglasses & Sunscreen – Apply sunscreen before leaving your lodging and bring some along in case you need to reapply. I like these Banana Boat 1-oz tubes of sunscreen because they are super tiny and hardly take up any room in my bag.
Water – Always buy bottled water in Thailand or refill your bottle from a trusted source that has been filtered.
Temple clothing – Bring long pants/sarong covering your knees and a light long-sleeved shirt like this one for visiting temples.
Like this article? Pin it!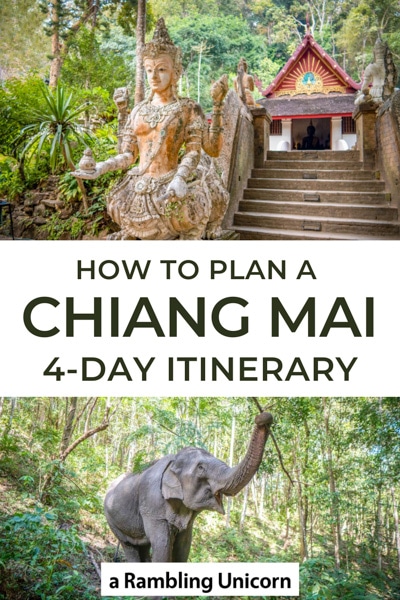 ---
Note: This post contains affiliate links, which means I may receive a commission if you click a link and purchase something. While clicking these links won't cost you anything, they will help me to keep this site up and running!