Daniel and I broke camp early this morning, eager to head into Yellowstone National Park.
As we were preparing to leave, I looked across the valley and squinted. "I think that's Mammoth Hot Springs!" I said, pointing to a white spot on a distant hill. We later found out that it, indeed, was Mammoth Hot Springs. We'd been camping in full view of the hot springs for the past two days without even knowing.
Entering Yellowstone
As we headed to Yellowstone's north entrance, we found the famous Roosevelt arch just outside the gate. I've been looking forward to seeing this magnificent triumphal arch ever since I first learned about it.
President Theodore Roosevelt laid the cornerstone for this arch in 1903, which is inscribed with the phrase: "FOR THE BENEFIT AND ENJOYMENT OF THE PEOPLE". I find this incredibly powerful and moving. I love the fact that the National Parks are open to everyone.
Mammoth Hot Springs
Once inside the park, our first stop of the day was Mammoth Hot Springs. Here, thermal activity has created a magnificent array of travertine terraces which can be viewed from a series of boardwalks. Steaming water bubbles and oozes out of the formations to form a colorful water feature. Apparently, the hot springs constantly shift so that the area never looks the same way twice.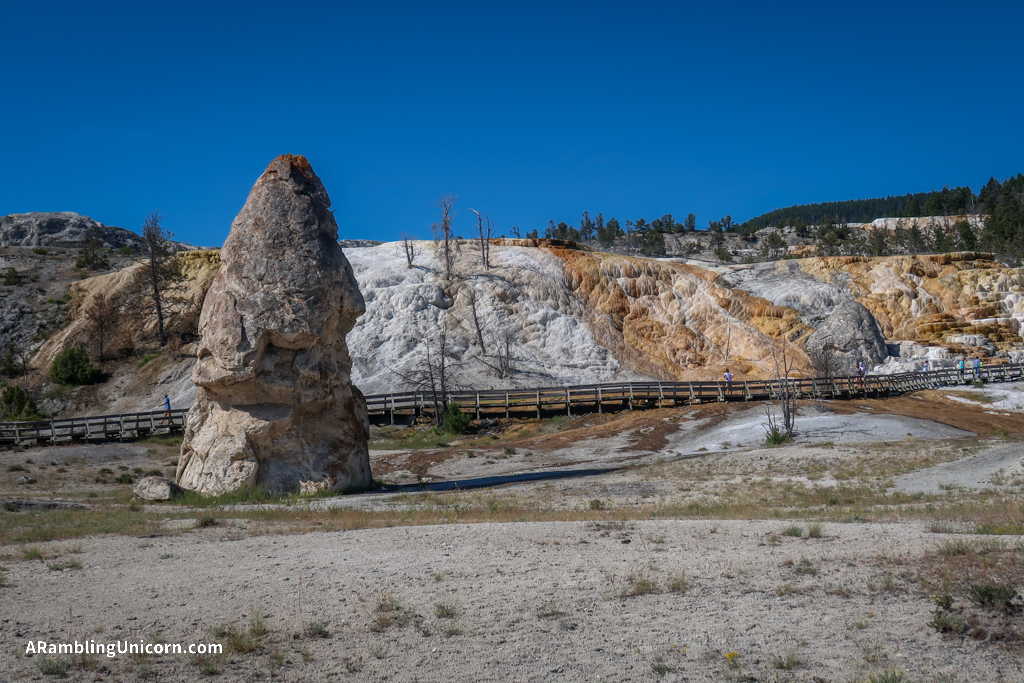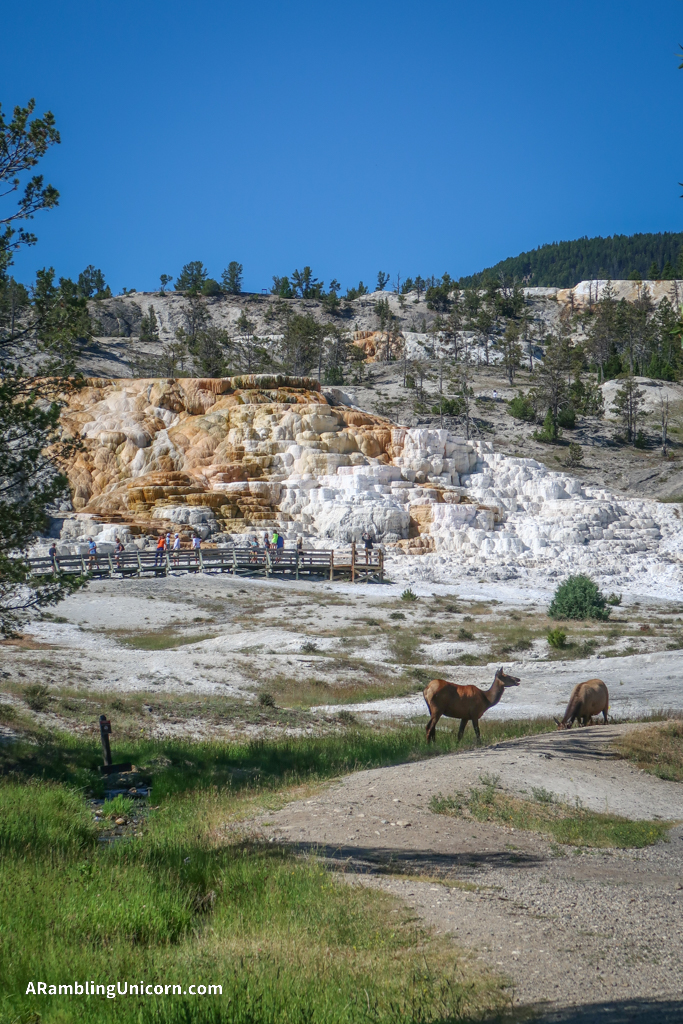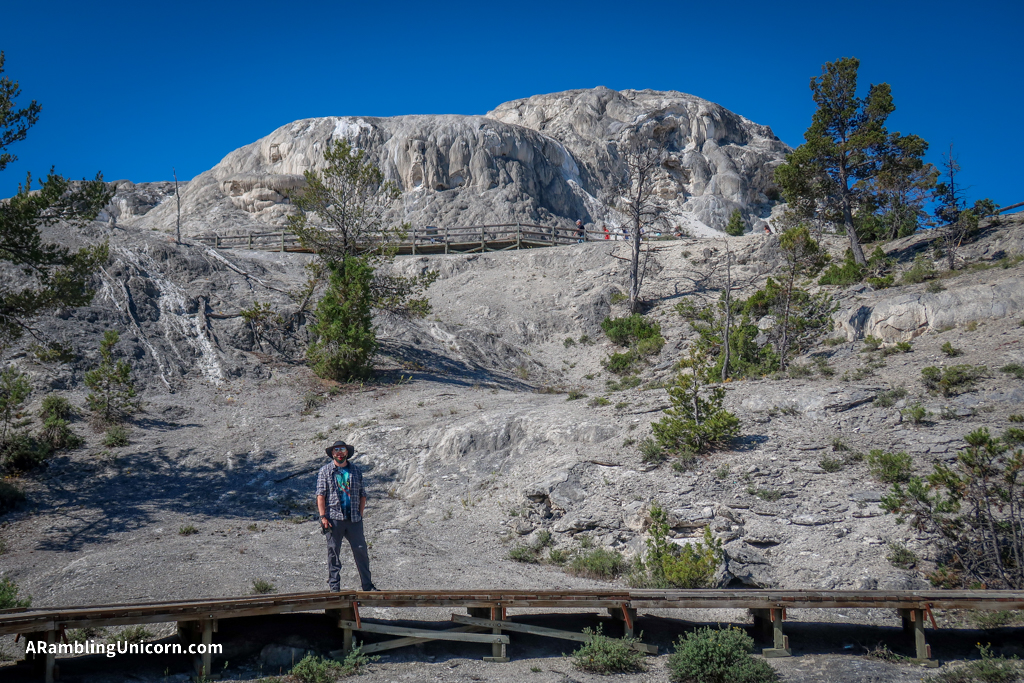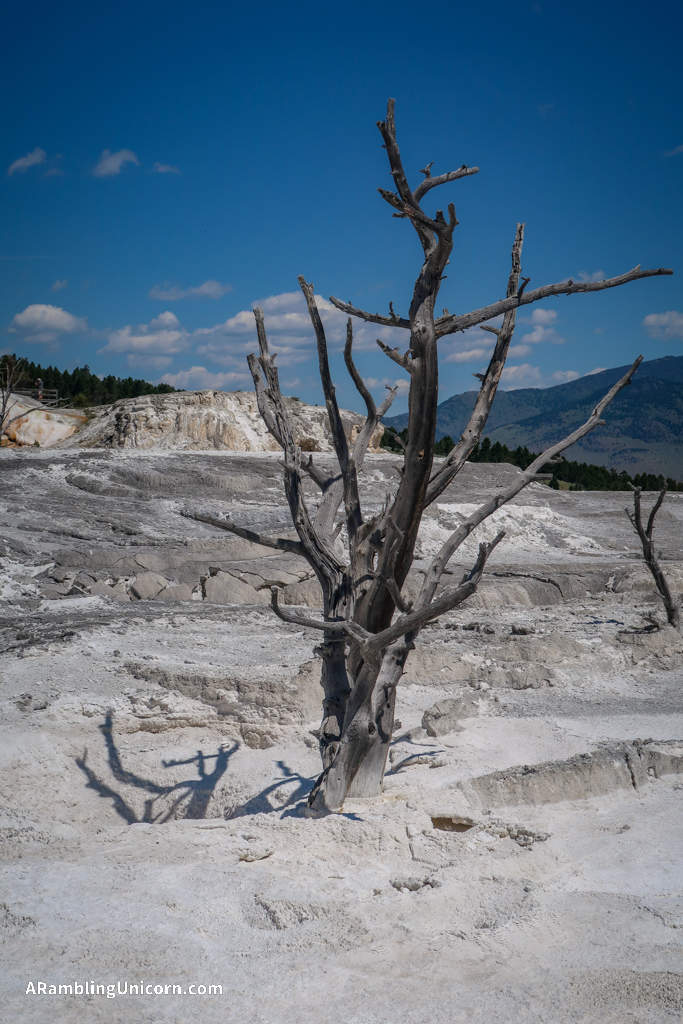 Obsidian Cliff
As we traveled south, we also visited the Obsidian Cliff. Obsidian is commonly found in volcanic areas under the right conditions. Apparently, there used to be a lot more obsidian here – but it has been carried away as souvenirs over the years by tourists.
Norris Geyser Basin
Our final stop of the day was the Norris Geyser Basin. The basin is divided into two areas: Porcelain Basin and Back Basin. We spent most of our time exploring the Porcelain Basin which is absolutely spectacular.
The Back Basin features Steamboat Geyser, which at 300 feet is the tallest geyser in the world. We didn't make it that far, however, as we were both feeling super wiped out. Standing for hours under the super hot sun can really take it out of you!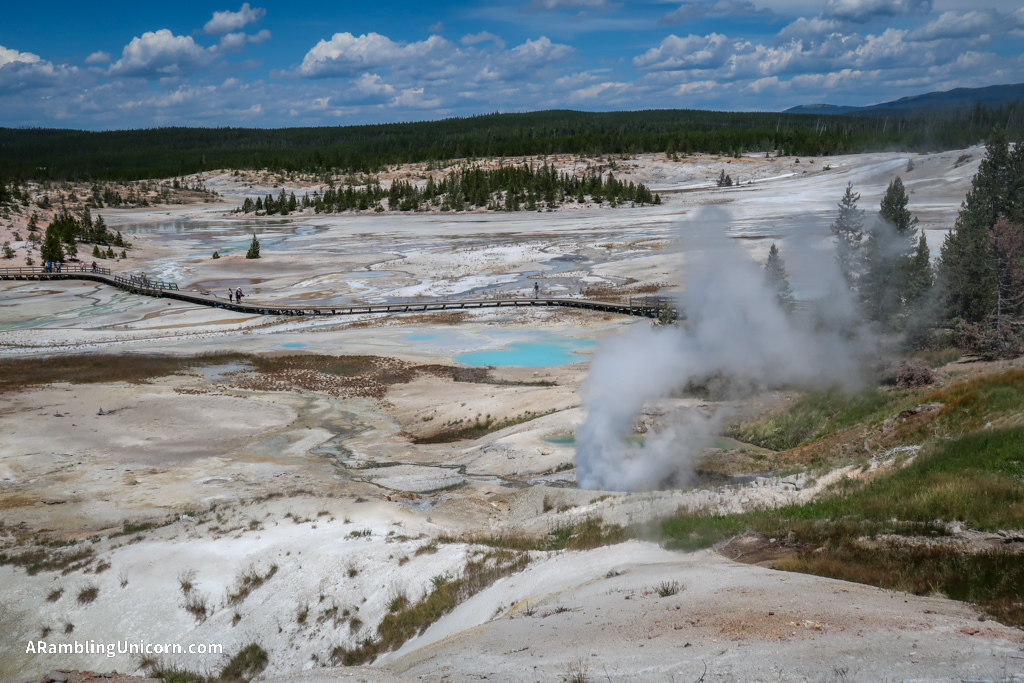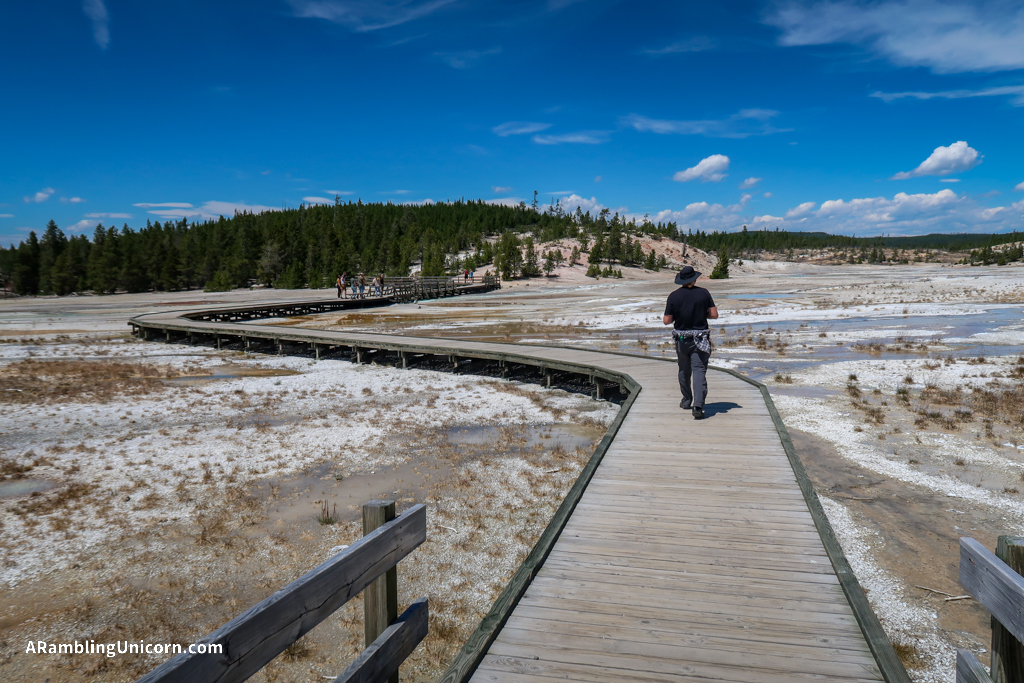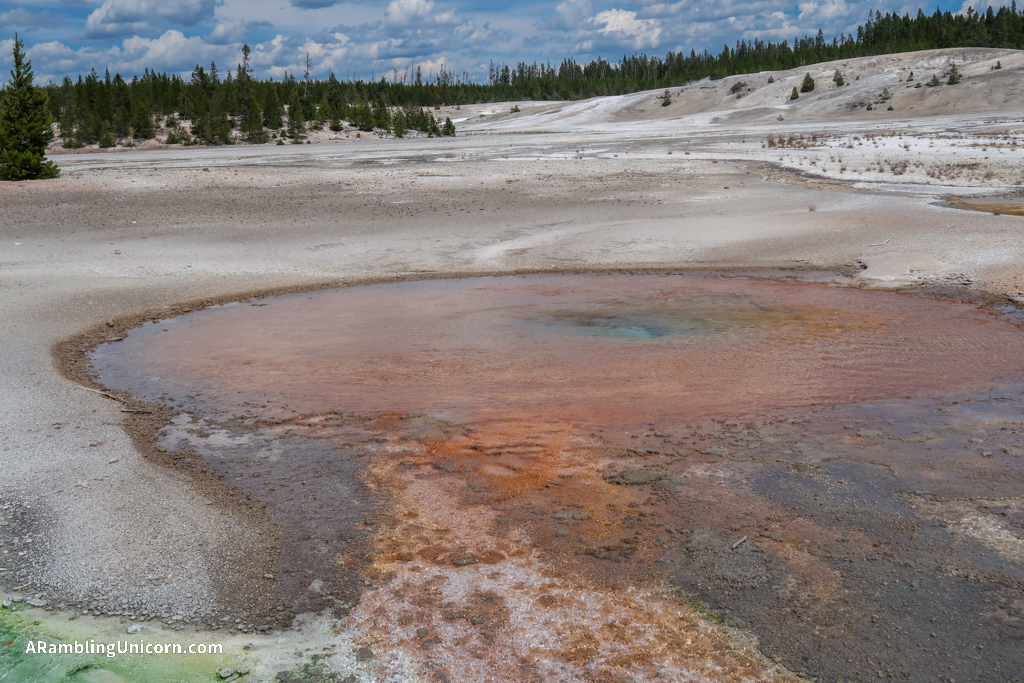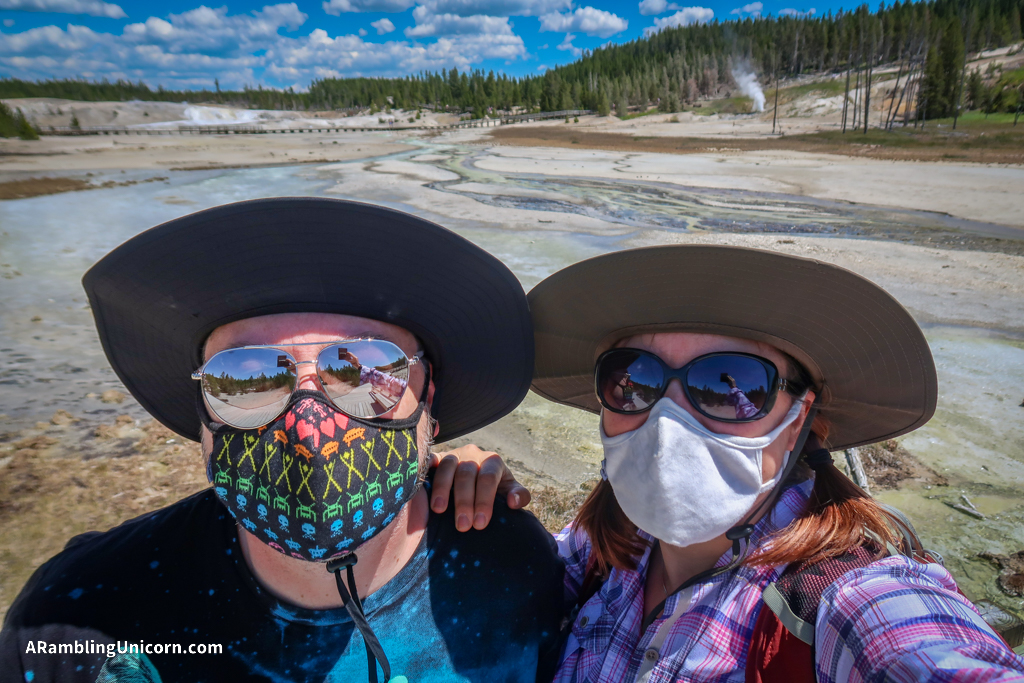 The Refrigerator Saga Continues
Daniel and I exited out of the park's West Entrance, heading to the town of West Yellowstone. I had a reservation booked at the Yellowstone Grizzly RV Park, and this time we didn't try to find a more scenic camping experience. We needed a flat parking spot with electric hookups so we could troubleshoot our misbehaving refrigerator.
All of our food was warm when we got up this morning. Unfortunately, we had to throw out most of it – which is sad because we had just fully stocked our refrigerator. Daniel and I are on a low-carb diet right now, which means we're primarily eating fresh meats and vegetables.
Once at the RV park, we plugged into the power supply to see if the fridge would start working. It didn't. So that's not an encouraging sign.
We ended up spending the rest of the evening in West Yellowstone to buy more groceries and ice. The town was packed with tourists, none of whom were obeying social distancing guidelines. Quite a few were wearing masks, thanks to the new statewide mask mandate issued a couple of days ago, but I still wasn't very comfortable. We hurried through our errands and got out of there as soon as possible.
So now our fridge is an icebox until we can figure out what's wrong with it.
Where are we now?
Date: July 17
Great American Road Trip Status: Day 12
Starting Location: Gardiner, MT
Ending Location: West Yellowstone, MT
Miles Today: 61.9
Total Trip Mileage: 1409.6
For more details on our Great America (Socially Distanced) Road Trip, see my previous posts:
Days 10 & 11: Boondocking Near Yellowstone
Day 9: Garnet Ghost Town
Day 8: Going-to-the-Sun Road
Day 7: Avalanche Lake Trail and Polebridge
Day 6: Rocky Point Nature Trail