Lummi Island is an often-overlooked hiking destination in Washington State. A small island that is only accessible by ferry, it's a great daytrip or weekend getaway from the nearby cities of Bellingham or Seattle.
If you're a foodie, Lummi Island is particularly amazing due to the Willows Inn and associated restaurant. Run by award-winning head chef Blaine Wetzel, the restaurant serves some of the best food I have  eaten in my entire life (and I've dined at The French Laundry and NOMA, so that's saying something).
During your stay on the island, be sure to check out several Lummi Island hikes. My personal favorite is the Baker Preserve Trail, although the trails in Otto Preserve are really nice too.
Lummi Island Hikes – Which One to Choose?
There are three trails (or trail systems) that I know of on Lummi Island, all managed by the nonprofit Lummi Island Heritage Trust.
The Baker Preserve Trail is the best known hiking path on Lummi Island. The trail is 3.2 miles roundtrip with 1000 feet of elevation gain – so its short but steep but with a great view at the end.
Otto Preserve is a small protected area on the island with a network of trails criss-crossing it through the forest. It's a great place to get a closer view of the woods.
Curry Preserve is less remote than the other two hiking areas and includes some nice footpaths near some houses on the island. It is also dog-friendly.
Baker Preserve Trail
Distance: 3.2 miles there-and-back
Elevation gain: 1000 feet
Baker Preserve Trail is a short but steep hike through the woods to the Baker Preserve Ridge, which has great views of the Puget Sound. There are not many tall points on the island, so the ridge is easily visible from various points on Lummi Island.
When I hiked the Baker Preserve Trail, I arrived to an empty parking lot.
The trail begins with a steep climb uphill and I was glad to have my hiking poles with me. The grade becomes a bit less steep after about a quarter mile but still climbs aggressively until it reaches a junction with an old logging road.
From there it's a relatively easy half-mile to the top of the ridge.
After reaching the ridge, follow the signs to a viewpoint with an amazing vista of Puget Sound. Be prepared for rain (it is Washington State, after all!) but with any luck, you'll get a break in the clouds and be able to see the amazing view.
From the vista, you can see all the way to the San Juan Islands. If you like the water, consider exploring them by boat with an epic San Juan Islands sailing itinerary.
Otto Preserve
During the same visit to Lummi Island, I decided to check out Otto Preserve with my husband, Daniel. The reserve is a lovely forested area with lots of trails that houses the Lummi Island Heritage Trust headquarters.
Previously home to a farm raising Scottish highland cattle, the 100-acre Otto Preserve includes several short intertwining trails that meander through quiet woods. Old farm buildings and equipment are in evidence through the trees.
The path is wide and mostly flat – a pleasant but easy ramble through the woods to round out our trip to the island.
Preparing for Hikes in Lummi Island
Even though these trails are located near developed areas in Lummi Island, remember that you are entering a rugged outdoors environment and prepare accordingly. Pack a lunch or snacks, bring water, and wear sturdy hiking shoes. Check the weather forecast and make sure you're prepared for the weather conditions with plenty of layers as appropriate.
Familiarize yourself with proper hiking bathroom etiquette before hitting the trail and be sure to leave no trace of your visit behind.
Hiking Gear for Hikes in Lummi Island
Not sure what to bring or wear on your hike? This list includes some of my favorite gear when going on hikes in Lummi Island.
Like this article? Pin it!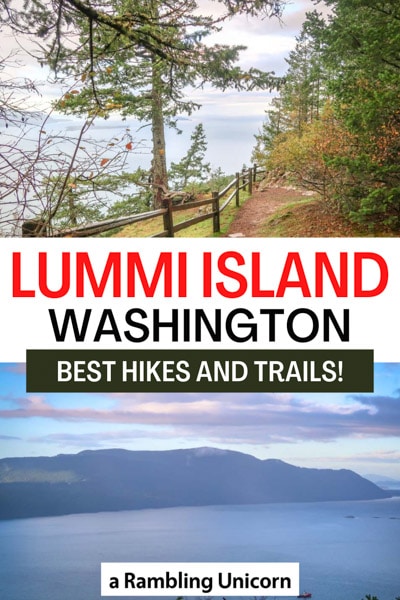 Have you been on any of these Lummi Island hikes? If so, I'd like to hear from you! Leave a comment below.
---
Note: This post contains affiliate links, which means I may receive a commission if you click a link and purchase something. While clicking these links won't cost you anything, they will help me to keep this site up and running!