We sit with our backs against a rock, holding hands and watching the shadows lengthen. Mt. Baker rises majestically behind us and Mt. Shuksan towers before us, its ragged top obscured by clouds. We had considered hiking further but aren't prepared to face the snow hugging the steep trail ahead. So we stop and sit companionably in silence, drinking in the view and the soft afternoon light.
Earlier that day, we made the 3-hour drive from Seattle to Artist Point in the Mt. Baker Wilderness. After nine years together, Daniel and I have finally decided to tie the knot. We will be getting married later this summer in a small family ceremony at Artist Point. Daniel has never been there before and I wanted to share this special place with him prior to the wedding.
When we arrived, we saw that there was still quite a bit of snow at the top of Artist Point. Families with children threw snowballs and sledded down a small hill. Although it seems like a winter wonderland, I know that the snow levels are actually much lower than normal for this time of year. The snow will likely be completely gone in a month's time.
This comes as a relief to me, as the melted snow will reveal the paved trails underneath and make the location fully wheelchair accessible. But the low snowpack has a downside. Smoke from forest fires blanketed the entire Pacific Northwest in a depressing airless haze last year. This summer is sure to be just as bad, if not worse. I just hope that fire season holds out until after our wedding is over.
After scouting out a few possible locations for the ceremony, we headed to the Ptarmigan Ridge Trailhead. This is also the beginning of the Chain Lakes trail, which I backpacked last summer and also hiked with my niece Ava. We hiked over the snowbank to the exposed trail ahead, heading towards Mt. Baker in the distance.
At the junction to the Chain Lakes Trail, we stopped for the day. We sat silently for a while, and then Daniel read aloud the wedding vows that he's written to me. His words are succinct and beautiful. I haven't started writing my vows yet and resolved to do so in the morning.
We headed back to the town of Glacier where we've booked a condo for the night. It's been a lovely day but also an exhausting one. We stopped for dinner and I became increasingly cranky as we waited for our food. I tend to not be very functional when I'm hungry. It's a good learning, however. I made a mental note bring lots of snacks on our wedding day to ensure I don't turn into a cranky bridezilla. I want to be bridechilla, not bridezilla.
The next day we made a slight detour on the way home to visit Nooksack Falls. I read about the waterfall in a magazine at the condo the previous evening. Even though I originally hail from the town of Nooksack, I've never heard of Nooksack Falls – or if I have I've completely forgotten about them. So I felt compelled to check them out.
It was a sunny Sunday afternoon and the parking lot was overflowing with cars. Families with children and pets swarmed across the street and made the short trek to the Nooksack Falls overlook. I noted that the trail is covered with roots and inaccessible for wheelchairs. Bummer. But the falls are lovely. Daniel and I took some photos and then moved on so that the next group could have a turn.
We headed home along Highway 9 towards Maple Falls and Deming. The road dropped in elevation and the forest wilderness gave way to rolling farmland. We passed the town of Acme and I smiled inwardly, thinking of the Acme Corporation from the Road Runner cartoons. The miles rolled by as we listened to our favorite podcast, our hands linked.
As we drove, I was reminded again of just how much I love this man. I can't wait to marry him.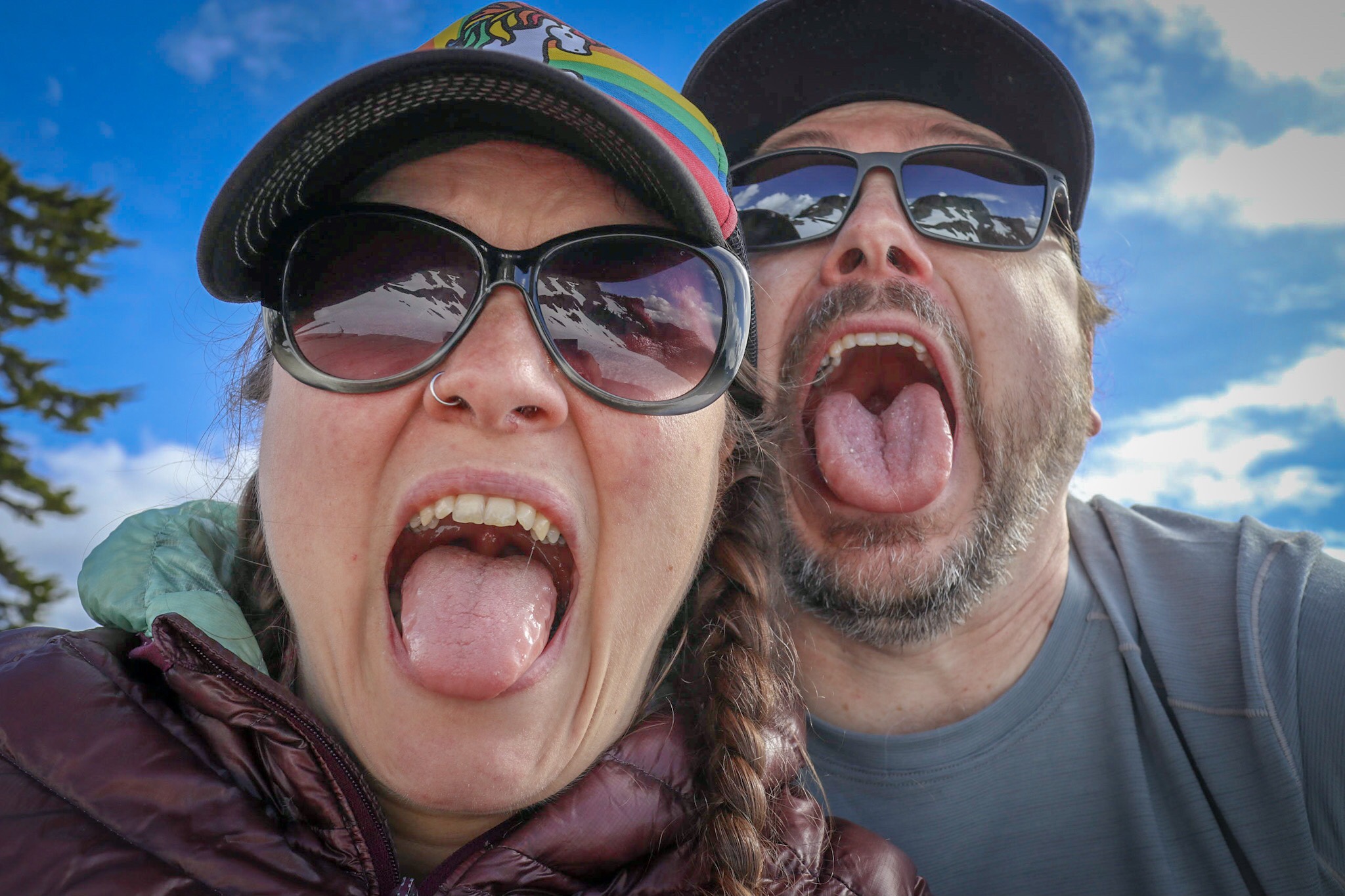 Note: if you're interested in getting married at Artist Point, be sure to contact the Forest Service beforehand. Details are at the Forest Service web site.