Today was hard. It was a long day and I was exhausted by the end of it.
I started the day by crossing the Muddy Fork River. It was a rather tricky crossing that had to be made over two logs that were on top of eachother. The upper log was slightly offset, giving barely enough room to cross by scootching across on the bottom log while clutching onto the upper log. Someone had tied a rope as a handhold on the upper log, but it was loosely tied and not very effective.
After crossing the river, the trail rose steeply in elevation and zig-zagged up a hill. The views of Mt. Hood continued to be spectacular as I hiked past the mountain on the west side, heading north. Soon Mt. Hood was behind me and I saw Mt. Adams ahead of me to the north for the first time.
It was a much clearer day than I have experienced for a while. I've grown used to grey skies clouded by smoke from various forest fires. Today the sky was clear and blue with white puffy clouds. It was such a nice change. I rounded a corner and was able to see not only Mt. Adams but also Mt. Rainier and Mt. St. Helens on the horizon as well. It's exciting to be so close to Washington State!!
In late afternoon, I came to the junction for Indian Spring. Most hikers traditionally depart from the PCT at this location and continue along the Eagle Creek alternate trail into Cascade Locks as it is renowned to be more beautiful than the PCT. However, this trail is currently closed due to the Indian Creek Wildfire that started on July 4.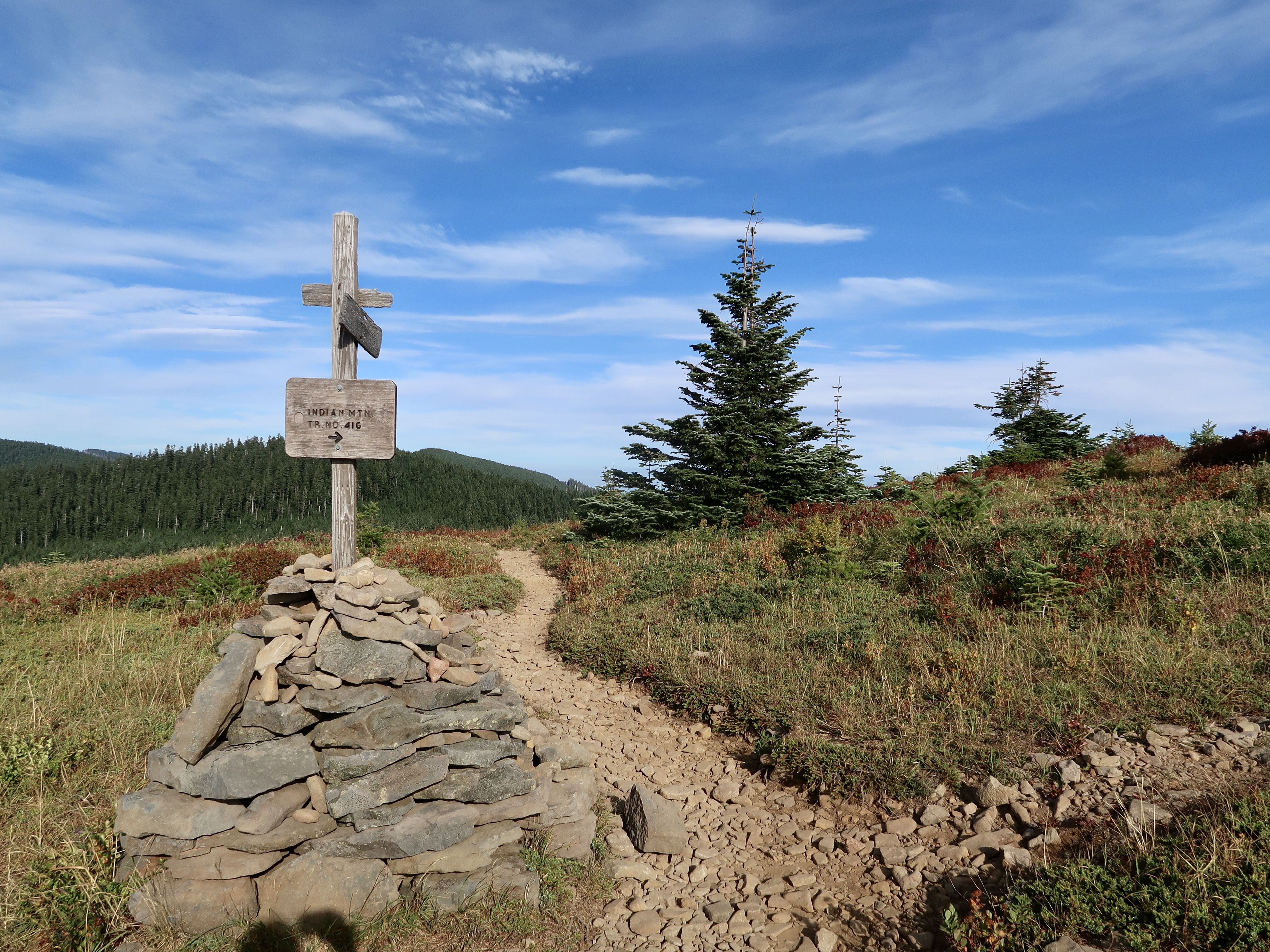 Several hikers that I talked to earlier today planned to hike the Eagle Creek alternate anyway, but when I arrived at the junction a couple of rangers were parked there and effectively prevented any hikers from getting through. A lot of PCT hikers have been flaunting fire closures and putting not only the themselves at risk, but also emergency personnel who may have to go in later to rescue them. Apparently the Forest Service is getting wise to PCT hikers and putting personnel at closed trails to physically prevent anyone from getting through.
From the junction I hiked another 2.5 miles to Wahtum Lake. I would've liked to camp here for the night, but the lake was closed to camping as a result of the wildfire. A helicopter shuttled back and forth from the lake to the fire, scooping up water and bringing it over to the fire. I stopped to filter some water and kept going.
By this point it was starting to get dark so I put on my headlamp. I was exhausted and ready to camp at the first reasonable flat spot that I found. About a mile from the lake, I came across several hikers camped in the woods. I found a flat spot and joined them, setting up my tent and cooking dinner by the light of my headlamp.
I'm only 14 miles from Cascade Locks! Daniel will be meeting me tomorrow and I'm SO EXCITED! Yay!!
PCT 2017 Stats
PCT Day 139 – Wednesday August 30
Muddy Fork River Mile 2106.4 to Mile 2129.6
PCT Miles Hiked Today: 23.2
Total PCT Miles Hiked: 1567.8
Feet Ascended Today: 5025
Feet Descended Today: 3622
Current Elevation: 4220
Steps: 67518
For more on my experience hiking the Pacific Crest Trail, visit my Pacific Crest Trail 2017 page: