Day 2 – Lake Morena
Mile 13.4 to Cottonwood Creek Mile 25.5
PCT Miles hiked today : 12.1
Feet Ascended Today: 2063
Feet Descended Today: 2026
Current Elevation: 3109
Steps: 36651
I woke up around 7:00 am – and realized I got 11 hours of sleep! Wow. No wonder I was so tired the night before. I guess my body really needed sleep. I wasn't in a huge hurry this morning – I'm not trying to make big miles yet as I want to give my body time to adjust so no need to rush things. I heated some water and poured it in the bag of oatmeal with plans to eat when arrived at Hauser Creek. Sometimes I'm not hungry when I wake up and like to eat at my first break.
Today is the first morning that I got to take care of my morning business au natural. When I previously backpacked, I camped at established campsites that were furnished with backcountry pit toilets. But not today! I got to use my Deuce of Spades poop trowel for the first time today! After climbing over some boulders and thorny bushes, I found a nice secluded spot with a lovely view of the canyon. I dug a hole 6-8 inches deep and used a dog poop baggie to bag up my used t.p. so I could pack it out as per Leave No Trace guidelines. I was very proud of a job well done as I made my way back to the tent, only to realize I left the baggie behind. Ugh. So I fought the thorny bushes one more time to go retrieve my bag full of used toilet paper.
I hit the trail at 8:30 am. The first two miles of the day were an easy descent down Hauser Canyon to Hauser Creek. I could tell that lots of people must have camped there the night before but it was deserted now and a pleasant spot for a break. I filled a couple of water bottles and ate my oatmeal, but didn't linger too long as I wanted to get the next part of the hike over with quickly before the hottest part of the day. The hike out of Hauser Canyon is a trek uphill with about 1,000 feet elevation gain in 1.5 miles. Compared to the hikes I'm used to in Washington state it's not that steep, but in 80 degree direct sun with no shade it's a bit of a challenge. I made it to the top, stopping for water a few times of the way, and took a break at the top. Birds that resembled vultures circled overhead riding the thermals. Hmmm… seemed like a bad sign…
From there it was another 3 miles to Lake Morena, and I hiked like there were wings on my feet. I was in the zone and very motivated to get to Lake Morena and relax in the shade for a while. I even passed some other hikers which is an unusual occurrence for me, as it seems like I'm usually the one getting passed. At mile 19, I could see the lake down below, beckoning, and raced the rest of the way down toward the lake.
At the entrance to Lake Morena, I encountered my first Trail Magic! A table was set up with fruit and cold beverages, courtesy of the owner of Zero Day Resupply. I relaxed in the shade for a bit with a couple of other hikers and then walked up the street to the Lake Morena Grocery store. It's a hiker-friendly establishment and includes a small kitchen where one can order a burger or pizza. I ordered a bacon cheeseburger (gluten be damned!) with fries with and relaxed on the front porch with a group of other hikers. It seems like the majority of other hikers in my group seem to be from from other countries (primarily Europe) which makes for a fun international crew.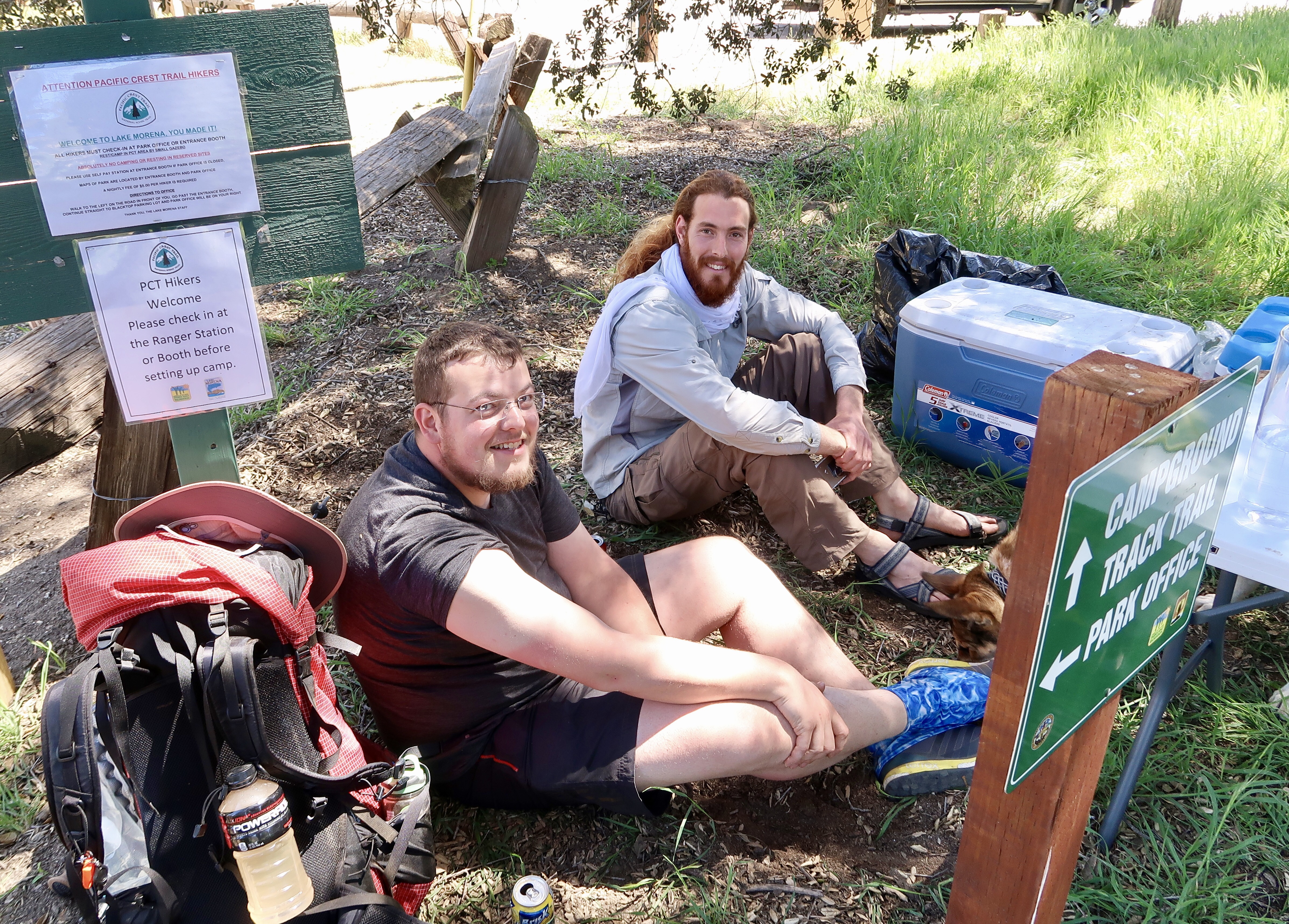 After lunch I spent some time in the Lake Morena County Campground, filtering water and relaxing in the shade. It was very crowded with campers – and then I remembered that it was the Saturday before Easter and that many folks have a 3-day weekend. That explained the crowds. I used the electrical outlet in the ladies room to charge up my phone for a bit and examined my feet. I have a blister on the side of my big toe on my right foot but otherwise my feet are in pretty good shape so far.
After relaxing in the shade a for an hour to avoid hiking at the hottest part of the day, I resumed hiking around 3:00 pm. The trail continued along the east side of Lake Morena and rose into the hills to the north. It was hot out and I paused around mile 23 to take and break and drink some water.
I set down my pack and hiking poles and was about to start digging through my things when I heard a buzzing sound. I looked up and saw a swarm of what must have been bees or wasps in a cloud directly over my head. Yikes! I must have accidentally disturbed their nest when I sat down. I barely had the wherewithal to grab my pack and poles as I made a hasty retreat. Luckily I was not stung and escaped without incident. That was a close call!
Soon I descended down the hill and crossed Buckman Springs Road using the underpass. A creek flows under the bridge and some hikers were gathered there, chatting and bathing. The creek was actually too wide to cross without getting my feet wet, so I just charged across with my shoes on. Afterwards I wished I would have removed my shoes and crossed barefoot, as the creek flowed gently and had only sand at the bottom. It was too late in the day for my shoes to dry before nightfall, and they ended up feeezing overnight.
I had planned to continue on towards Boulder Oaks Campground, but ended up stopping a half mile prior to the Campground at Cottonwood Creek. Some other hikers were camped there which I had previously met and it seemed like a nice spot, so I decided to join them. Soon there seven of us: Jack and Alex who are brothers from Australia, Stephan from Germany, Jason from Seattle (who I met at the terminus my first day), and two girls who joined us later in the evening.
We washed our clothes in the creek and hung them out to dry on a lavender bush. A mouthwatering aroma drifted over from the Australian brothers' camp, and I looked over to see Jack sautéing onions and sausage in a skillet. Wow! Talk about a backcountry feast!
As the sun set, a chorus of frogs started singing from the creek. Everyone was snug I their tents by 8:00 pm. A pleasant way to end the day.