I spent a leisurely morning in Wrightwood today, not in a big hurry to leave. I planned to spend the morning updating my blog, but the wifi and cell signal were so bad in our hotel room that I had to go to a coffee shop to work. The wifi was blazing fast there, so I also downloaded some new music on my phone while I was at it. It was a popular spot for hikers, probably because of the wifi, and soon Tater, Alladin, Apocalypse, Jack (Thunder Down Under), Alex, Sizzle and Sea Biscuit all joined me on the coffee shop porch enjoying the sunshine.
I ran into Dr. Pain at the coffee shop and we decided to hike together today as Halfway, Elise and Sevie had already hiked out earlier in the morning. After running a few errands and checking out of our hotel room, I was ready to go around noon.
Dr. Pain and I stood on the side of the road by the grocery store with our thumbs out, and had a ride within 10 minutes. Our driver was a local Trail Angel who was used to hosting hikers. He filled us in on some local history as he drove us up to Inspiration Point.
Inspiration Point Looks More Inspirational Today

When we got out of the car, I was struck by how much different Inspiration Point appeared today. It was a beautiful sunny day and the views were spectacular – as opposed to yesterday when we couldn't see anything due to the clouds and fog. We hiked just a few hundred feet up the trail and saw that we were actually above some clouds that were shrouding the mountain peaks around us. Neat.
Another Picture Above the Clouds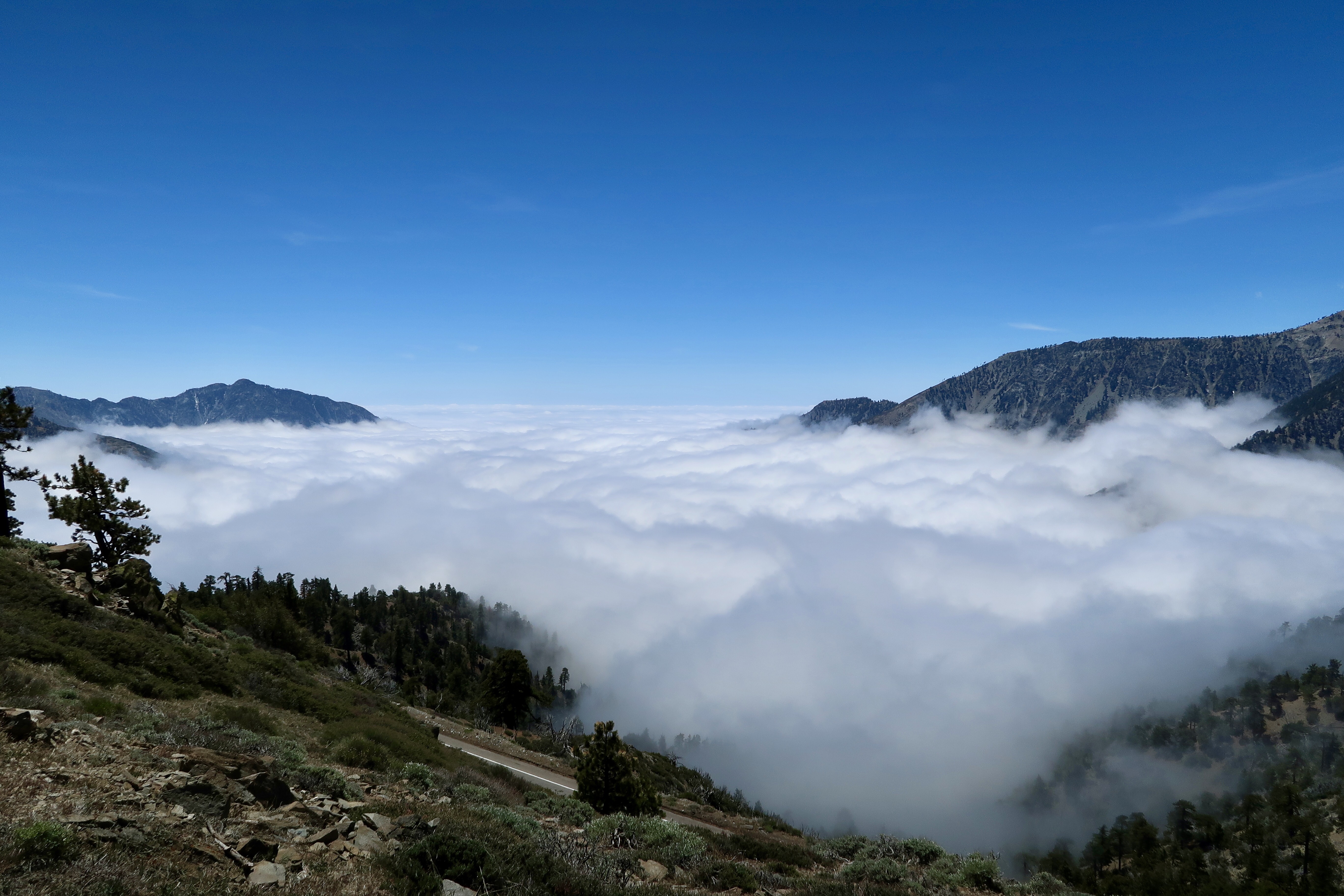 We weren't in a hurry today. I had pounded a bottle of Gatorade right before we started hiking and had to pee every 10 minutes. That was kind of embarrassing. The hike was relatively flat for the first three miles or so. We stopped for a lunch break right before the trail descended about 1,000 feet to a trailhead, and then began a big ascent up Mt. Baden-Powell.
The trail dipped into one of the clouds that we had seen from up above, and so we hiked the first part of the ascent in a cloud which actually wasn't a bad thing as it kept us cool. It was a pretty steep ascent with numerous switchbacks and soon we were huffing and puffing.
Dr. Pain Leans on a Trail Sign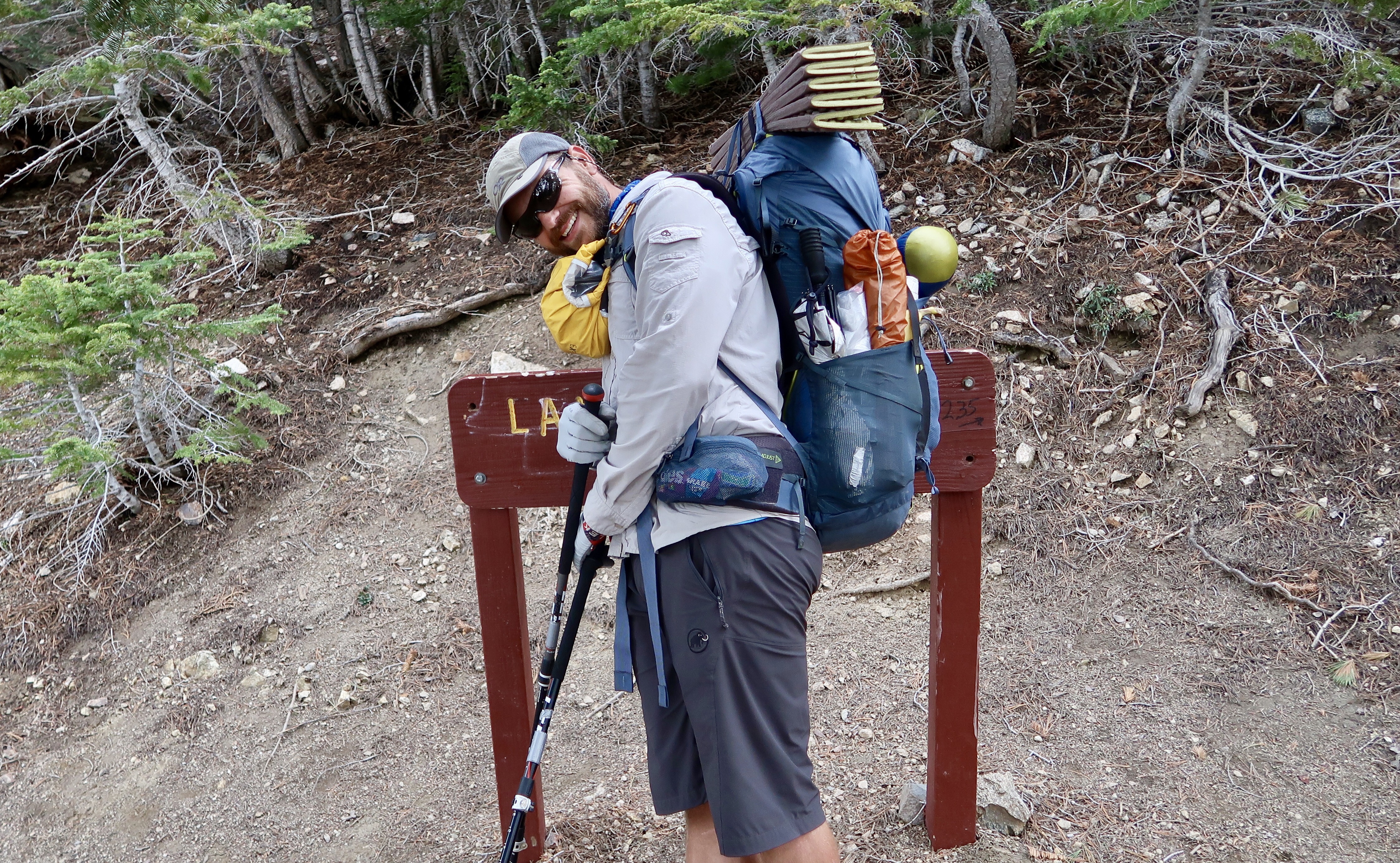 We stopped at The Lamel Spring spur Trail for water. I was expecting a creek flowing down the mountain, but it was a small stream of water flowing out of a grated pipe.
We hiked on for another mile or so to some tent sites up the mountain around 8550 feet. It wasn't a huge spot but it fit 2 tents comfortably and had a terrific view. And it was COLD. It was 40 degrees by 6:30 pm. We set up tents quickly and cooked our food. I was too cold to wait for my food to rehydrate, so I ate once I was inside my tent. I'm currently huddled inside my quilt, my fingers just barely warm enough to type this.
PCT 2017 Stats
PCT Day 33 – Tuesday May 16
Mile 369.3 to Mile 376.9
PCT Miles Hiked Today: 7.6
Feet Ascended Today: 2445
Feet Descended Today: 1376
Current Elevation: 8544
Steps: 28204
For more on my experience hiking the Pacific Crest Trail, visit my Pacific Crest Trail 2017 page: