11 Miles
2500 Feet Elevation Gain
30 lb backpack
Yesterday, I felt recovered enough from The Sick to go on a hike. Â I've been on some easy walks around Seattle's Capitol Hill neighborhood to test the waters, and I felt ready. Â I was originally planning a more ambitious hike, but after checking the avalanche forecast I decided to stick with something at a lower elevation.
Tiger Mountain is located just east of Seattle in an area affectionately known as The Issaquah Alps by local hikers. Â A network of trails criss-cross the mountain, enabling hikers and trail runners to tailor a course that suits their needs for the day. Â I've been to Tiger Mountain lots of times but had previously focused on two of the most well-known trails: Poo Poo Point Trail and West Tiger #3 Trail. Â The only time I had deviated from these trails was a trip with hiking buddy David Edge in which we explored the West Tiger Railroad Grade trail for a few miles.
I decided it was time to check out the Tiger Mountain Trail. Â The entire trail stretches for 15 miles from one side of the mountain to the other, and is on my list of trails to thru-hike someday. Â However, hiking the entire trail involves coordinating transportation to one trailhead or another, so I decided to hike the first 6 miles of the TMT and then to loop back via the Poo Poo Point trail.
I can't believe that I've never been on the TMT before. Â It is hands down my new favorite hike on Tiger Mountain. Â The trail begins at the High Point Trailhead and branches off of the West Tiger #3 trail near the trailhead. Â It is a much more scenic hike than West Tiger #3, with a gradual elevation gain that meanders through moss-covered trees and over picturesque streams. Â I only passed a handful of other hikers on the TMT trail and drank in the solitude. Â What a pleasant contrast to the deathmarch of switchbacks that comprises West Tiger #3!
After climbing a thousand feet, the trail loses elevation as it heads down a ravine and crosses over several streams. Â I had already crossed a couple of bridges when I rounded a corner and gasped. Â Murat's bridge is the longest bridge I've seen on Tiger Mountain so far. Â I hadn't expected to find such a cool bridge out here. Â A shrine is located at the head of the bridge and is hung with Christmas ornaments. Â It felt like a sacred place.
After Murat's Bridge, the trail heads uphill towards Fred's Corner where it intersects with the West Tiger Railroad Grade Trail. Â Rusty detritus from days gone past can be found alongside the trail. Â Shortly afterwards, I came to a junction where the trail was re-routed in 2014 due to a washed out bridge. Â This wasn't on my map, but the trail was clearly marked and easy to follow.
Around 1:00 pm, I reached the summit of West Tiger #2. Â I was looking forward to checking it out as I hadn't been there before. Â As I approached the top, an eery groaning and whistling sound reached my ears. Â After summiting, I found that the sounds emanated from the wind rustling through a radio tower. Â It was cold and windy at the top, so I quickly ate lunch and continued on my way.
I had detoured off of the TMT Trail to summit West Tiger #2. Â However, according to the map, the trail reconnected with the TMT in .2 miles so I continued along with the intention of picking it up again shortly. Â All of a sudden, I found myself climbing to the top of another summit. Â Confused, I looked around and found I was at the top of West Tiger #3. Â I'd been here tons of times before, but I had approached it from a new angle and didn't recognize it at first. Â So where was the TMT? Â After backtracking, I realized that I had already passed it. Â The trail markers were located alongside of the path and easy to miss.
Back on the TMT, I picked up speed as it was getting later in the afternoon than I had intended. Â After a mile and a half, I split off of the TMT for the last time and turned onto the One View Trail. Â I passed the 15 Mile Gap shortly thereafter, a saddle deep in the woods that was blanketed with misty fog. Â Afterwards, I continued on to the junction with the Poo Poo Point Trail and the West Tiger Railroad Grade Trail. Â I stopped for a snack and ran into two different hiking parties at the same time – that's more people than I'd seen all day. Â I missed the TMT already.
Aha! Â This is why it's called "The Bus Trail"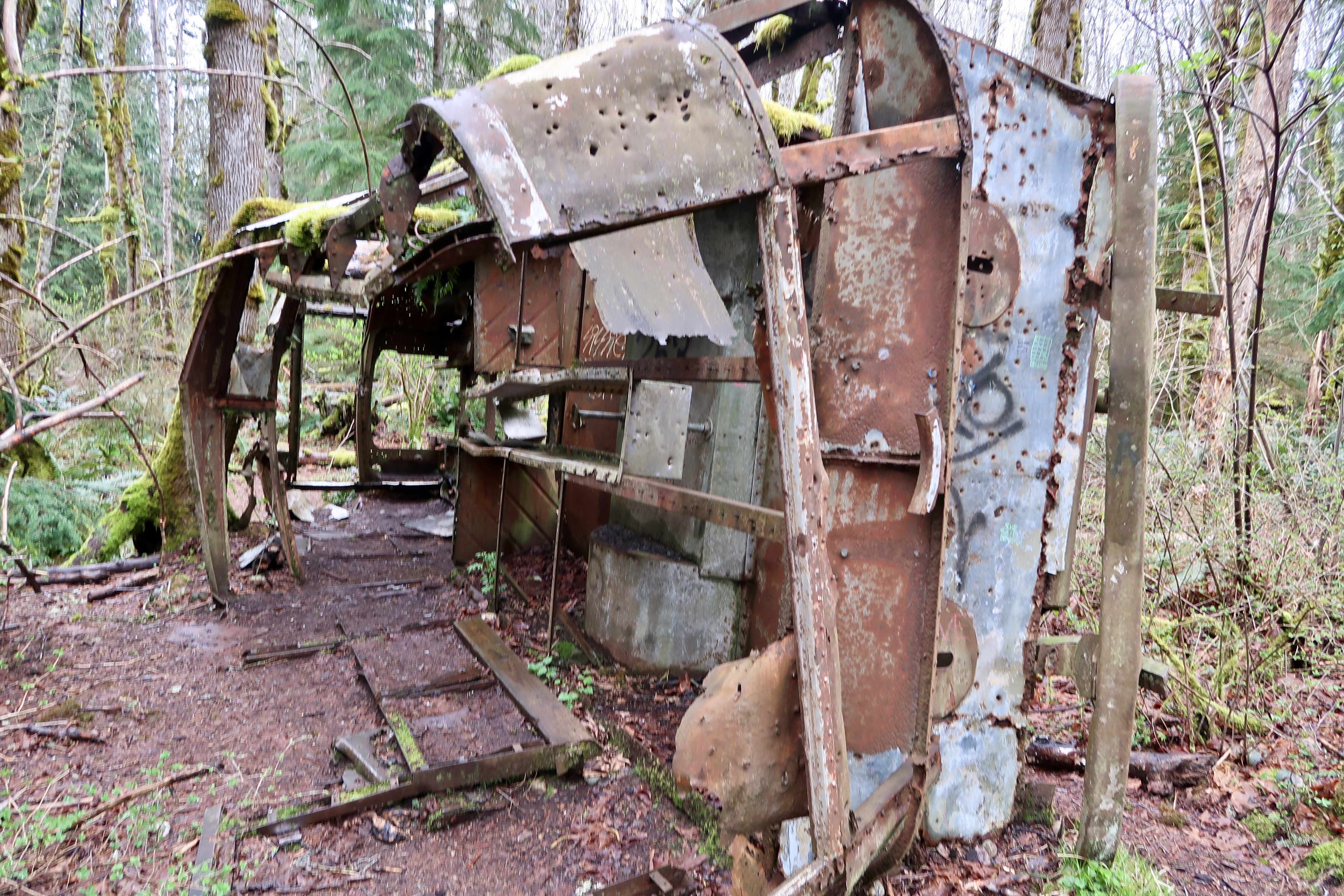 I descended the Poo Poo Point Trail for 2.8 miles to the Tradition Plateau area. Â I had originally intended to loop back to the High Point Trailhead on the Adventure Trail because – well, it has BEST TRAIL NAME EVER! Â But, alas, I was running out of time, and so decided to save the Adventure Trail for another trip. Â I turned under the power lines on the Bonneville Trail instead, which connects to the Bus Trail. Â The Bus Trail is a well-groomed wheelchair accessible nature trail near the High Point Trailhead, so I knew I was getting close. Â And before I knew it, I was back at my car.
All in all, a lovely day. Â I feel like my strength is returning and I'm ready for a more challenging hike next time. Â I fly to San Diego in exactly 2 weeks (squee!) so my training window is rapidly coming to a close. Â PCT here I come!