After my husband Daniel and I purchased our 2000 Winnebago Rialta 22HD in May 2020, we spent the following month turning it into a home. We were about to embark on our great America (socially distant) roadtrip in our Rialta motorhome and wanted it to feel homey inside.
Although they are very functional, Winnebagos are famous for having a bland interior design. We wanted to feel comfortable inside of the VW Rialta and also make the space livable for long-term use.
So, after sorting out title transfer issues due to purchasing a motorhome on Craigslist and reading all the manuals, we set about turning the Rialta motorhome into our home. For another perspective on this project, be sure to check out Daniel's blog post: Our new pirate ship – The 2000 Rialta 22HD.
If you'd like more details about any of the items we purchased for our Rialta motorhome, check out the Product Information section at the bottom of the page.
But first… a little more about our new home away from home.
What is a VW Rialta Motorhome?
Volkswagen Rialtas are compact 21 foot-long motorhomes that are built on a Volkswagen Eurovan chassis. Winnebago manufactured these motorhomes from 1995 to 2005 so they are becoming a bit of a rarity these days. Recently, Rialtas have developed somewhat of a cult following for their innovative design – especially with regards to the telescoping bathroom that folds away when not in use.
While we love our VW Rialta motorhome, they aren't for everyone. They have an exceedingly low weight capacity and it's easy to overload them. It can be challenging to find a mechanic that will work on Rialtas when things go wrong (and trust me, they *will* go wrong). Parts are becoming harder to come by since they haven't been manufactured for over 15 years.
But they are so cute and easy to drive! It's hard not to love a VW Rialta motorhome.
We love ours so much that we took many inspiring Winnebago Rialta photos from our year-long road trip.
If you're interested in purchasing a motorhome, you may want to first consider learning about the most popular RV types.
Personalizing the Rugs and Dinette Seat Covers
Our first order of business was to choose throw rugs. The interior was covered with grey carpeting when we purchased it, but we wanted to protect the carpets and also add some visual interest with some throw rugs. My favorite rug is the colorful 6 foot Persian-style runner in the back. It was hard to find one that was just the right size and this fits perfectly. We also got a smaller matching Persian-style rug to protect the carpet in the walkway by the kitchen.
I also added covers to the dinette seats for when we are not using the area as a bed. The covers add a nice pop of color and also protect the seats from food and debris. Eventually we hope to reupholster the seats, but that's a project for another time.
Customizing the Bedding and Mattress Topper
After choosing rugs for our VW Rialta motorhome, we moved onto the bedding. At 48″ by 80″, the bed is not exactly a standard size. We ended up buying Full XL sheets and a twin comforter – neither of which fits exactly but they were as close as we could get. Shopping for a duvet cover was fun and I *love* the llama-themed duvet cover that we ended up with. Plus it's made from microfiber and is super soft.
The bed was not comfortable on its own so we also added a 3″ memory foam topper to go on top. We had to cut down our old queen-sized topper with a box cutter to fit the space. I sewed a cover to fit around the topper because we wanted to protect it and because it was shedding little bits of foam all over the place. We roll up the bedding with bungee cords and store it on the back window area when we want to use the dinette seats.
I'll be honest – after travelling for a few months we found the bed still wasn't comfortable even with the memory foam topper. We could feel the metal structure from inside the dinette seats even through all that memory foam. We would love to get the seats re-upholstered and replace all the worn out stuffing inside someday. That would solve the problem.
But in the meantime, we added an air mattress underneath of the memory foam topper and that solved the problem. Our bed is *super* comfy now. Plus it's pretty easy to put up the air mattress and topper any time we want to use the dinette sitting area.
Installing Curtains and Door Pulls to our Rialta Motorhome
My favorite VW Rialta makeover addition is the privacy curtains that we placed in the back of the RV. This separates the bed from the rest of the motorhome – which is important as Daniel and I have different sleeping schedules.
The curtain was originally too long to fit into the space so I customized it with my sewing machine. I originally just planned to take up the bottom of the curtain, but we really liked the fabric along the bottom. So I ended up removing about 10″ of fabric from the middle of the curtain. It was a lot of extra work but it was well worth the effort. I absolutely adore the results.
We hung the curtain with an adjustable tension shower curtain rod which fits between the upper cabinetry in the back. I originally planned to position the rod against the walls, but the wall curves just under the ceiling and it kept falling down.
We also ditched the faux gold door pulls on the cabinetry and added nice new chrome handles instead. It's amazing how such a small change can make such a big visual difference.
Internet and TV
As travel bloggers, having a dependable Internet connection is an important consideration for Daniel and me. After talking to some other full-time RVers, we purchased a Verizon hotspot jetpack device which provides wifi for our devices while on the road. The hotspot usage data is capped at a certain point, however, so we have devised other strategies to keep our internet usage down.
Daniel purchased a wifi extender which enables us to amplify faint or distant wifi signals. This is especially helpful when we are in certain campgrounds.
We also decided to bring along an old iPhone and download tons of movies and tv shows onto it. This way we don't have to stream content when we want to watch television. We bought a super lightweight TV which connects to our DC power supply with a cigarette lighter plug. The TV connects to the iPhone with an Apple digital AV adaptor and an HDMI cord and easily stores in the closet while we are driving.
Daniel and I purchased a DC 12 volt 14-foot extension cord – this plugs into the cigarette lighter up front and runs all the way to the back. This way we can set the TV on top of the refrigerator and watch it in the back. We also added a 3 socket cigarette lighter adapter that also has 4 USB ports to the extension cord. This enables us to charge our phones in bed at night when we aren't hooked up to electrical power.
After traveling in the RV for months now, I'm very happy with this setup. The TV only weighs 7 lbs! We use the TV all the time and even bring it with us when we stay in AirBnBs that don't have televisions (we have an adaptor so it can plug into the wall).
Storage Solutions for our Rialta Motorhome
Daniel and I also spent quite a bit of time measuring all the nooks and crannies in the Rialta motorhome so that we could organize the space. Given the small amount of storage available in the Rialta, we wanted to use the available space as intelligently as possible.
For the closet, we added 3 stacking drawers to make better use of the space. You could probably add a fourth drawer there if you wanted to. For the Norcold 3-way refrigerator, we bought an assortment of storage containers for our food. We found the Ziplock large rectangle, medium square and small square sizes work the best.
We also bought stackable bamboo shelves to help organize the space under the kitchen sink and in the cabinet to the right of the microwave. It took some time to find ones with the right dimensions but these shelves fit pretty well. We also brought a variety of organizers such as this one which we use for our knives and large utensils. Clear plastic caddies adhere to the bathroom wall to the left of the stove and make great spice organizers. We replaced the sink cover with a bamboo cutting board so we can also use if for food prep.
Daniel and I store our clothing in the cabinets above the bed. We each have one for our own personal use and we use these small felt storage baskets to help organize our clothes. They are great because we can easily carry our clothing outside the RV if we decide to stay in a hotel or AirBnB for a while.
As far as garbage cans go, it took us awhile to find the right garbage solution for our Rialta but we are happy with our set up. We have two garbage receptacles in the RV. Our main garbage option is actually just a stainless steel trash bag holder that hangs outside of the cabinet door under the sink. We use shopping bags to hold our garbage and empty them every day. We also have a tiny garbage can that's just the right size to fit between the toilet and the wall on the bathroom floor.
The item which took the most time to install was our shoe organizer. The shoe rack fits along the outside of the refrigerator so that we can easily access our shoes as we enter and exit. It took some time to find an organizer that would fit the space, and when it arrived I had to make several alterations as most of the shoe slots were too small to fit our shoes.
Painting the Door of our VW Rialta Motorhome Blue
The most visible change that we've made to the VW Rialta motorhome is the bathroom door. After 20 years, the door was yellowing from age and didn't look very nice so we decided to paint it. We originally considered painting the door a grey color to match the rest of the interior, but eventually decided to go with a more fun blue color.
To paint the door blue, we removed the door from its hinges and brought it outside. Daniel used a blue spray paint to cover the door, let it dry, and then applied a second coat.
The Outdoor Setup
Although most motorhomes come with an attached awning for extra shade and privacy, our VW Rialta motorhome does not. Daniel and I have decided to put off installing one for now, due to the cost and also the added weight to the vehicle. Instead, we've purchased a lightweight outdoor shelter that stands independently and also comes with bug netting. This awning paired together with camping chairs and our outdoor rug makes a nice outdoor space for relaxing outside the Rialta.
Weighing our Rialta Motorhome
A common problem that many Rialta owners face is overweighting the motorhome. Rialtas have a notoriously low load capacity (which is probably why they have so little storage space). Our Rialta only has a 500 lb capacity (after taking our weight into account) – and this includes water, gas, propane and food. Daniel and I are no strangers to traveling light but this is taking it to the next level.
This point was really driven home to us last week when we weighed the Rialta at a truck stop. Daniel and I packed up the motorhome with everything we planned to take on our trip and filled up the gas tank – only to find that we were 200 lbs overweight. And this was before we had added food or water to the vehicle! Yikes!
We then went through a major exercise to ditch every possible thing we could think of – from tools and clothes to armrests and even the third seat up front. We got rid of about 100 lbs. When we re-weighed the Rialta the following day, however, we found that we were 240 lbs underweight. This was great news – but it didn't make much sense at first.
We eventually figured out the discrepancy. When we first weighed the Rialta, Daniel was standing off of the platform so he could speak to the weighmaster on the intercom. We assumed his weight wasn't included so we manually added it into the total weight after the fact. Turns out, his weight was included after all and we were underweight the whole time!
Now that we've removed the third chair and the armrests, we've decided we like it that way. So we've added an additional shag carpet which covers the spot where the bucket chair used to be. We've also purchased a small folding chair for use if we ever want a third seat up front (when we're stationary, of course). Now we can bring along a full tank of water and lots of food without worrying about going over carrying capacity.
Before and After Videos of our Rialta Motorhome
I took the following video of the Rialta's interior before we had a chance to make any modifications:

This video shows what the Rialta looks like now:

Product Information for our VW Rialta Motorhome
Rugs and Dinette Seat Covers
Bedding and Mattress Topper
Curtains and Door Pulls
Internet and TV
Storage Solutions
Painting the Bathroom Door Blue
The Outdoor Setup
Other Essential RV Supplies
---
Like this article? Pin it!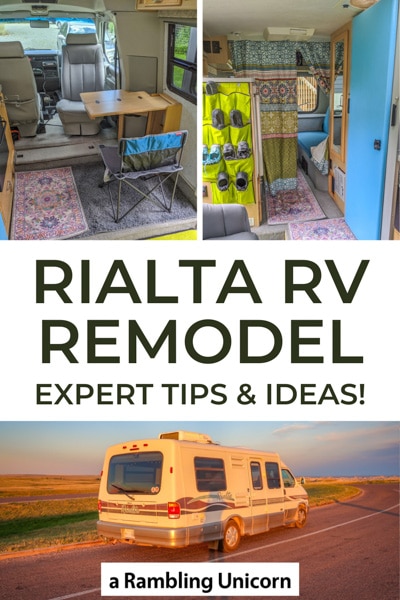 Note: This post contains affiliate links, which means I may receive a commission if you click a link and purchase something. While clicking these links won't cost you anything, they will help me to keep this site up and running!