Welcome to my Cologne blog!
Cologne (Köln) has long held a special place in my heart. I first visited Cologne over 20 years ago as a university student. It was a short visit, however, and I've always wanted to return.
So when Daniel and I traveled from Amsterdam to Copenhagen last month, we decided to stop off in Cologne for a few days. We wanted to drink some of the local beer (kölsch), eat at a brauhaus, and visit the Cologne Cathedral. I also wanted a chance to get better acquainted with the city that I briefly visited many years ago.
My First Visit to Cologne
The year was 1998 and I was wandering across Europe with my backpack and a djembe drum. After studying abroad in the British Isles for a quarter, I spent the summer backpacking across Europe. I traveled from France and Spain to Budapest and Prague all on a Eurorail pass.
But eventually it was time to head home. I had a return flight to Seattle booked out of London. This meant I needed to make it all the way back to London from Prague in two days on the train. So I pulled out a map and randomly picked Cologne as a reasonable destination mid-way between the two cities.
And that is how I found myself spending one night in Cologne over 20 years ago. It was a brief visit and I don't remember much about it to be honest. But what do I remember the most is the Cologne Cathedral.
Cologne Blog Part 1: The Cologne Cathedral
On my first visit to Cologne, I didn't know anything about the city before I arrived. As I exited the railway station, I was astonished to discover the twin spires of the magnificent Cologne Cathedral directly in front of me. At 157 meters (515 feet), the cathedral dominates the city's skyline. It is downright awe-inspiring.
This time around I set aside more time to explore the cathedral. I also spent some time learning about the Cologne Cathedral's history.
Construction of the church began in 1248 but was halted in 1473. The building remained unfinished and work did not start again until the 1840s. That's over 250 years! It's hard to imagine such an enormous construction project sitting dormant for so long.
Construction was finally completed in 1880 and the Cologne Cathedral is now a UNESCO Heritage World Site. The cathedral managed to remain mostly intact after an Allied bombing destroyed most of Cologne in 1944. Today the Cologne Cathedral is currently the tallest twin-spired church in the world.
Outside the Cathedral
It is *really* hard to photograph the exterior of the Cologne Cathedral. Located in the center of the city, the building is so massive that it's almost impossible to fit the entire building into the frame. Any time we were near the cathedral, I could only see small portions of the building that weren't obstructed from view.
The photos below don't do the building justice at all, but hopefully they manage to convey a sense of what the building looks like and the scale.
Inside the Cathedral
Climbing the Cathedral Tower
One morning during our visit, I got up early to climb the cathedral's southern bell tower. I wanted to avoid the crowds so I was the first person in line to climb all 533 steps. Upon reaching the observation deck at the top, I was rewarded with sensational panoramic views of the city and beyond.
The cathedral's bells are still operational and chime every quarter of an hour. Near the top of the climb, a side path leads to a cage which houses the Cathedral's massive bells. On my way back down, I made a point to be in there when the bells chimed.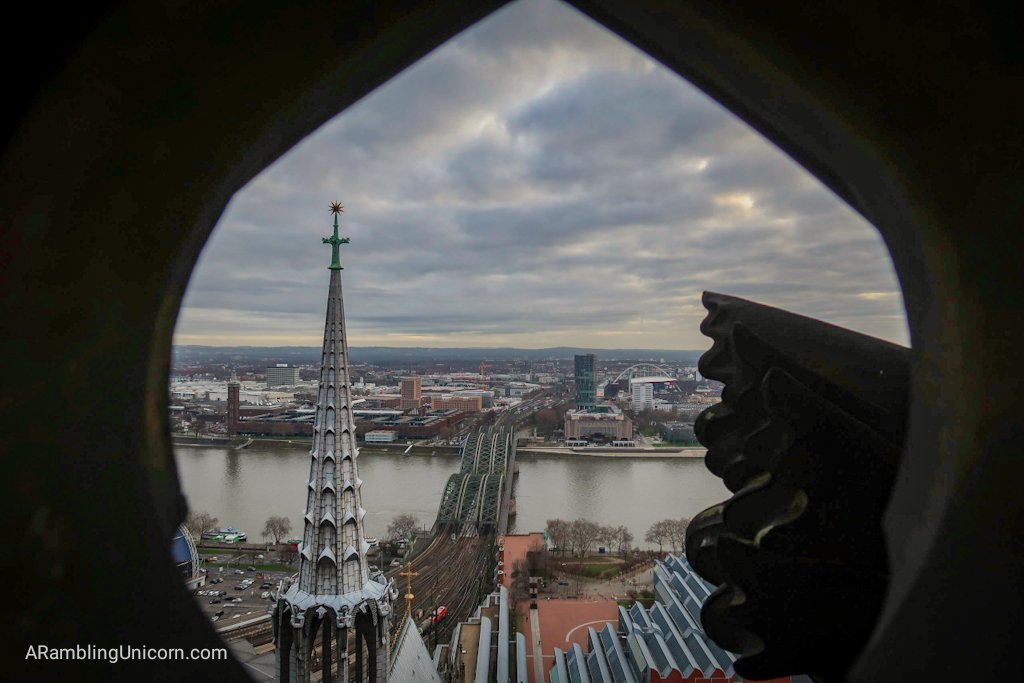 Cologne Blog Part 2: Kölsch
Cologne is also famous for its local beer, K̦lsch. This type of beer is regionally protected, so a true K̦lsch must be made in made in Cologne. The beer is tastiest when it is served fresh and cold, so K̦lsch is served in 20cl glasses from small kegs. Beer culture in Cologne is really interesting Рservers will continually come by and replace the small glasses without asking. The beers will keep coming until you indicate that you are finished by placing a coaster on top of your glass.
Daniel was really fascinated by Kölsch and the beer culture in Cologne so we spent a lot of our time trying sampling beer from the various local brauhauses. You can read more about our experiences sampling Kölsch and local foods in Daniel's blog post: Cologne (Köln), Germany – Exploring traditional Kölsch cuisine in the brauhäuser (brewhouses) of Köln.
Cologne Blog Part 3: Carnival
Carnival is a really big deal in Cologne. A festive season typically marked by parades, costumes, and debauchery, Carnival is basically a giant party celebrated by an entire city.
I had no idea that Cologne celebrated Carnival before arriving in the city. In Cologne, Carnival is known as "The Fifth Season" with festivities beginning in as early as November of each year. Things don't really get going until after the beginning of the New Year, culminating in what is known as "The Crazy Days" the week prior to Lent.
As we walked around Cologne, we got a sense for the festival's size by the sheer number of costume shops located all over the city. We spent hours just going through the various shops and checking out the incredible clothes. These would make incredible outfits for Burning Man – I was a little disappointed that we couldn't take any with us. But I really don't have any room in my backpack for more stuff.
Walking Around Cologne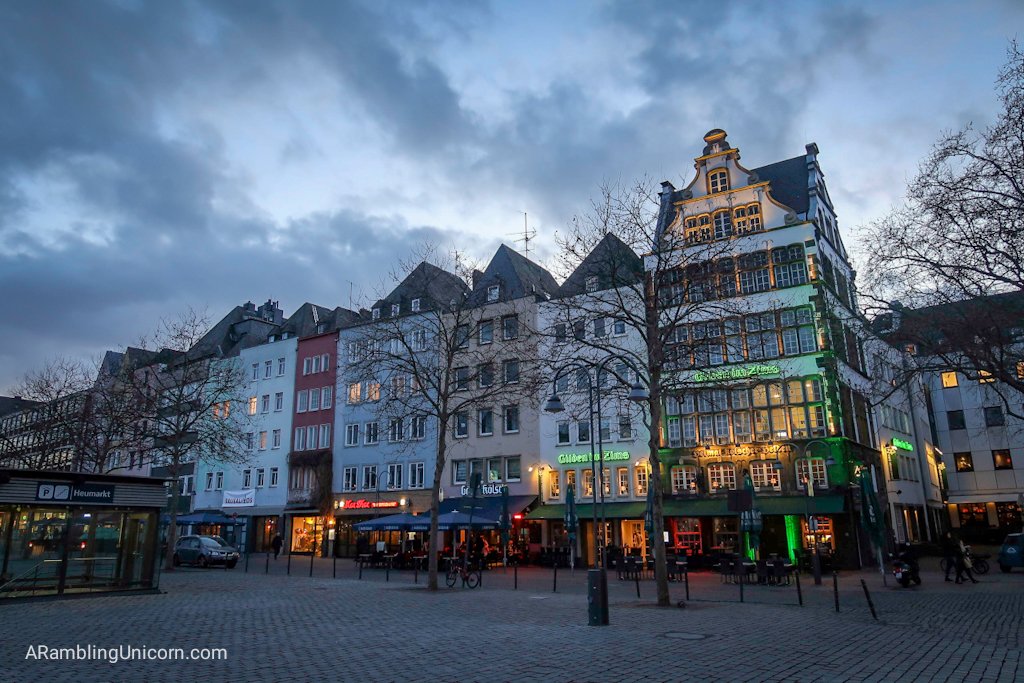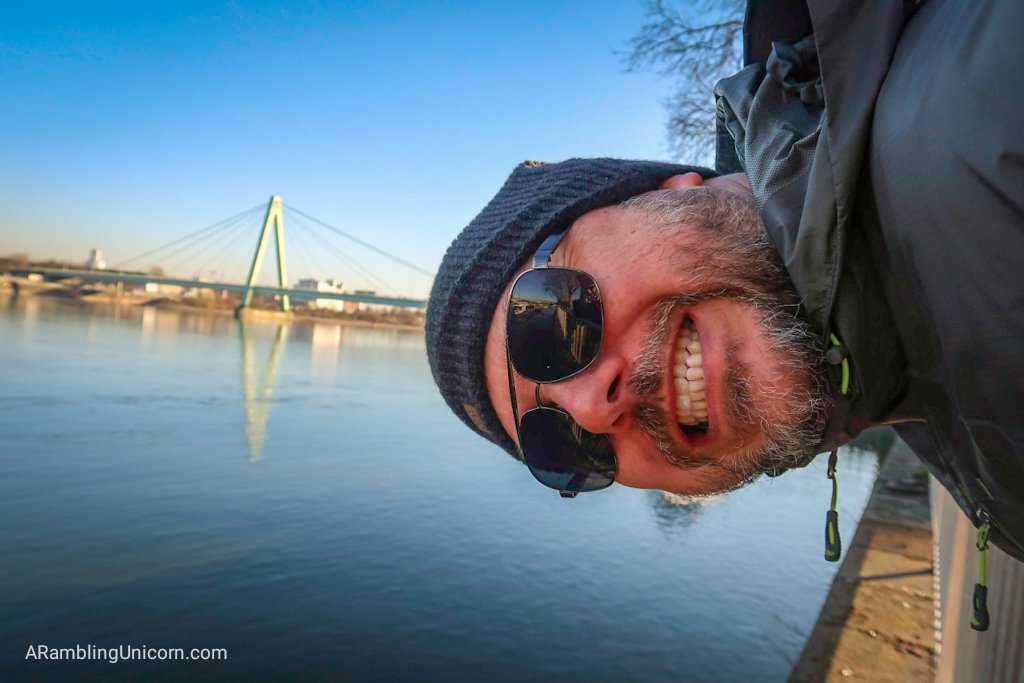 Where are we now?
Location: Cologne (Köln), Germany
Dates: January 27 to 31, 2020
Vagabonding Journey Status: Day 119-123
For more details on our vagabonding journey, see my previous posts: