Daniel and I woke up early this morning to hunt for a new campsite. The spots at Flagg Ranch weren't very nice so we drove down the road seven miles. Here, we found Lizard Creek Campground – and it was perfect.
Welcome to Lizard Creek Campground
Lizard Creek is a rustic little campground just inside the north entrance to Grand Tetons National Park. The spots have enough spacing between them for a semblance of privacy, and some even have lake views.
The campground is first-come first-served and we arrived just as another RV was pulling out. It was the furthest spot from the lake, but we didn't care. We were happy just to be there. Finally – an awesome campsite *inside* a National Park!
I paid our registration fee and we both promptly went back to sleep.
A few hours later, we awoke feeling refreshed – although a little disoriented. I kept forgetting that we didn't spend the entire night here.
Lake Shore Trail
After lunch, we headed to the Colter Bay area to check out the Lake Shore Trail. The hike is an easy 2.3-mile-loop in the shape of a figure-eight which goes around a little island.
The Lake Shore Trail begins at the Colter Bay Visitor Center. The path was rather crowded at the beginning, but the crowds thinned out after we crossed a land bridge to a small island. The trail loops around the island and the views on the other side are superb.
The island is also home to lots of mosquitoes, however, so we didn't linger. I am indifferent to mosquitoes, but Daniel is especially delicious to them. They bit right through his clothes. I kept swatting them off his back as I followed him on the trail.
Primitive Camping
After our refrigerator mysteriously stopped working (and then started again), we have been monitoring it closely. I bought a thermometer so we could track the temperature.
The fridge has three modes: electric, propane, and battery. We use the electric mode when plugged into a shore line and the propane mode for boondocking. The battery mode can be used while driving – but we have avoided it as the refrigerator seems to quickly drain the batteries.
Since the propane mode hasn't been working that well, we decided to use the battery mode more often. Daniel and I tried this for a few days and promptly managed to drain both our batteries.
Or least we think they may be drained. It's hard to tell as our sensors have been giving us inconsistent results. But when our lights started flickering, we decided to stop drawing on the batteries just in case. We don't want to drain them completely.
We haven't used the generator yet so we decided now was the time. It didn't turn on. Daniel tried several times with no luck. The generator worked fine when he tested it before we left. Neither of us feel like troubleshooting right now, so we'll save that for another time when we have an Internet connection.
So in the meantime we are conserving our batteries. We are using our battery-operated rainbow Christmas lights instead of the ceiling lights and listening to podcasts instead of watching TV. Actually it's been kinda fun.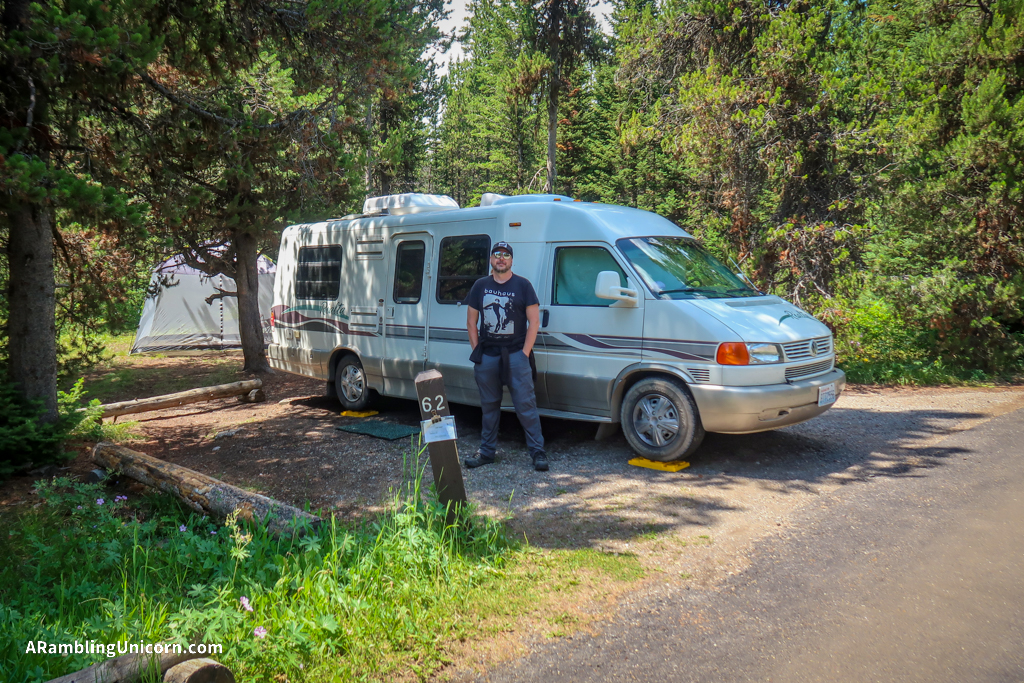 Sunset at Lizard Creek Campground
Later that evening, Daniel and I decided to go for a walk after dinner. We walked around the campground until we found a little trail down to the lake's edge. From here, we admired the view as the sun set. Magical!
Where are we now?
Date: July 23
Great American Road Trip Status: Day 18
Starting Location: Flagg Ranch, WY
Ending Location: Lizard Creek Campground, WY
Miles Today: 24.2
Total Trip Mileage: 1909.5
For more details on our Great American (Socially Distanced) Road Trip, see my previous posts: