One of the premier trails in Grand Teton National Park, the Jenny Lake Hike encircles a crystalline lake in an easy 7.9-mile loop. While most visitors prefer to ride to the lake's opposite shore in a boat, hikers who walk around the lake won't be disappointed. The views of the majestic Grand Tetons reflected in the lake's surface along the trail are absolutely stunning.
I hiked the Jenny Lake Trail during a visit to Grand Teton National Park with my husband Daniel on a socially-distant road trip. I got a late start and only had a few hours to complete the trail before dark. Keep reading to learn more about the experience as well as some tips for other visitors attempting the Jenny Lake Hike.
Jenny Lake Hike Trailhead
The Jenny Lake Hike trailhead is located near the boat rental area at the Jenny Lake Visitor Center in Grand Teton National Park. There is large parking area here as well as an overflow lot since this is popular place to visit. A ranger station, flush toilets, campground and store are all available near the trailhead.
Driving Directions from Jackson: head north on Highway 191 for 13.5 miles until the intersection with Teton Park Road. Turn left onto Teton Park Road through the community of Moose to enter Grand Teton National Park. Drive north for another 7 miles and turn left to reach the turnoff for the Jenny Lake Visitor Center.
Preparing for a Hike in the Grand Tetons
When planning your hike, be sure to pack everything you might need for the day including plenty of water as well as snacks and layers. Cell reception is spotty in the park so download maps to your phone ahead of time (or pick up a paper maps from the ranger station). Be sure to leave no trace of your visit behind.
Hiking Gear
This list includes some of my favorite gear for day hiking.
My Experience on the Jenny Lake Hike
When I hiked the Jenny Lake Trail in July 2020, I had already packed in full day before hitting the trail. I had recently recovered from COVID-19 and was still getting my strength back. We arrived at the trailhead around 3:00 pm so IÂ wasn't sure if I'd have time to finish it before dark.
Even though Daniel wasn't up to hiking that particular day, he encouraged me to go. It was our last day in Grand Teton National Park and I still hadn't done much hiking. He knew I'd be super bummed if I missed out on this gem.
So I grabbed my hiking poles and bear spray and headed to the trailhead. I glanced at my phone when I hit the trail…and realized that it was 4:00 pm, not 3:00 pm. My FitBit watch was still stuck on Pacific Daylight Time. Ruh roh! I did some quick math and realized that I'd *really* have to move if I wanted to make it back before dark.
After a split second of deliberation, I decided to go for it anyway. I could do this!
The Jenny Lake Hike Begins
I began by hiking north in a counter-clockwise direction. In the beginning, the trail was fairly crowded with visitors who were gawking at the scenery. The crowds thinned as I put distance between myself and the parking lot, however.
After about a mile, the only people I encountered were hikers like me. I was a little nervous about hiking solo in bear country, so I was glad to pass an occasional group of hikers. When no one else was around, I made plenty of noise to supplement the bear bell jangling on my pack.
String Lake
After about 2.5 miles, I came to a large creek flowing into Jenny Lake. Here the path diverged from Jenny Lake and followed the creek upstream. The creek turned out to be an outlet from nearby String Lake.
I found a bridge over the creek near the String Lake parking area. From there, I backtracked along the opposite side of the creek until I rejoined Jenny Lake again.
The Opposite Shore
Now I was on the opposite side of Jenny Lake, heading southwest – and loving the views! The Grand Tetons were now directly in front me. A fire had ravaged this side the lake at one point so there weren't very many tall trees.
At 6:00 pm, I reached a boat dock. Here, I found boats ferrying passengers from the Jenny Lake parking lot to this side of the lake. I hadn't realized the ferry was running this year. It was nice to know I had the option of returning by boat if need be.
Time to pause for a moment and assess my progress. I had just hiked 5 miles in 2 hours – and I was still feeling pretty good! I should be back by 7:00 pm, assuming I didn't make any stops or detours. Easy peasy!
Hidden Falls and Inspiration Point
So of course, the next thing I did was to detour off of the Jenny Lake Trail. Two of the most popular scenic viewpoints in the park are located a short hike away from the boat dock.
The first is Hidden Falls. My National Park Trail Guide App describes the falls as such: "Possibly the most popular attraction in the Park, Hidden Falls isn't quite so hidden." Lucky for me, I had the falls pretty much to myself. Apparently, hiking in the evening is a good way to avoid the crowds.
After enjoying some quiet time with Hidden Falls, I continued uphill until I arrived at Inspiration Point. This particular vista looks away from the Grand Teton mountain range, not towards it. It's a lovely view of Jenny Lake and beyond, but personally I'd rather look at the Tetons.
A Race Against Time
By the time I made it back to the main trail, it was 7:15 pm. Daniel was expecting me back by 8:00 and I still had over two miles to go. I'd better get a move on.
A few other hikers passed as I walked, but not very many. I pretty much had the trail to myself. I was exhausted and mostly focused on putting one foot in front of the other. And bears. I sang and whistled and made lots of noise because I was freaked out about running into a bear.
By the time I made it back to the Rialta, it was 8:30 pm. I was sore and tired but otherwise safe and sound. I was also elated at having just hiked hiked 9.5 miles in 4.5 hours. That's a major milestone in my Coronavirus recovery. And I got to see some of the most beautiful views in Grand Teton National Park.
Sunset over the Tetons
The sun set just as we left the Jenny Lake parking lot. As we drove, a glorious palette of oranges and yellows and pinks streaked across the sky. We pulled over at the same scenic turnouts that we visited earlier in the day to enjoy the show.
Signal Mountain
Lest you think that hiking Jenny Lake was the only thing I did today, I leave you with this final chapter. Earlier in the day, we drove to the top of Signal Mountain. I originally planned to hike to the top, but then we decided to drive instead. I'm so glad that we did! This enabled me to do the Jenny Lake Hike later in the day.
Jenny Lake Hike Trail Information and Map
Distance – 7.9 miles loop
Elevation Gain – 623 feet
Starting Elevation – 6791 feet
Highest Elevation Point – 7009 feet
Grand Teton National Park Fee Information
The fee to enter Grand Teton National Park is $30 per vehicle which is good for seven days. I recommend buying the America the Beautiful Interagency Pass, however, which costs $80. This allows entry to all National Parks for an entire year, as well as most federal lands (including National Forests, Bureau of Land Management and more).
Be sure to check the Grand Teton National Park web site for current conditions before heading to the park.
Where are we now?
We are in Grand Teton National Park!
Date: July 24, 2020
Great American Road Trip Status: Day 19
Location: Lizard Creek Campground, WY
Miles Today: 62.6
Total Trip Mileage: 1972.1
For more details on our Great American (Socially Distanced) Road Trip, see my previous posts:
---
Have you hiked the Jenny Lake Trail? I'd love to hear from you! Share your experience in the comments below.
Like this article? Pin it!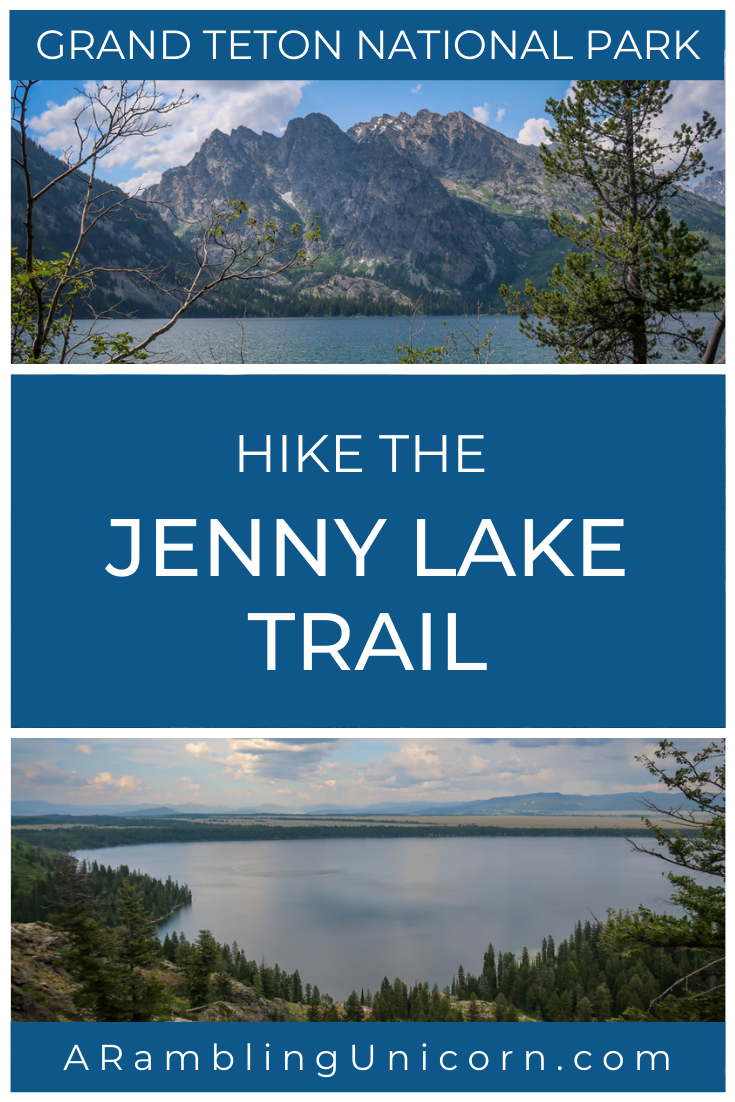 Note: This post contains affiliate links, which means I may receive a commission if you click a link and purchase something. While clicking these links won't cost you anything, they will help me to keep this site up and running!