Well, another year has come and gone. And what a year it has been. Despite the challenges facing us in 2021, Daniel and I have managed to spend another year traveling during the pandemic.
I honestly thought our vagabonding days were over when we fled the Coronavirus outbreak in Italy almost two years ago.
Yet somehow, we have managed to keep going. In fact, we have traveled to 11 countries this year (including the United States).
It's not how I thought our year would go by any means. 2021 was supposed to be the year that we traveled all across Asia and hopped to New Zealand, Fiji, and Australia. That's off the table now because most of those places are closed to tourists (except for Thailand – which is where we are now).
When Daniel and I began traveling full-time in 2019, we planned to visit as many countries as possible. Traveling during the pandemic is much more challenging, however. So we are going slower and staying longer in each place we visit.
Which is not a terrible thing. In fact, I've enjoyed really getting to know each place that we visit in more depth.
Here's a look back at some of my favorite memories from 2021 as Daniel and I have continued to (cautiously) explore the world together.
Hiking in the High Desert – Arizona & California
At the beginning of 2021, Daniel and I were in the middle of a socially-distant road trip across the United States in our VW Rialta motorhome. COVID cases were high and vaccines had not yet become available to the general population.
Even though we had already recovered from COVID-19, Daniel and I avoided other people as much as possible. I spent most of my time back then hiking my little heart out and exploring the great outdoors.
Tucson, Arizona
Daniel and I rang in the new year in Tucson. I'd never been to Tucson before and fell in love with the area. Located in the Sonoran Desert and surrounded by multiple mountain ranges, Tucson is an outdoor lover's paradise with endless hiking opportunities.
Highlights of our visit to Tucson include exploring Sabino Canyon and Saguaro National Park.
Joshua Tree National Park
On January 6, 2021, Daniel and I drove from Tucson to Joshua Tree, California. I remember the drive vividly because it was the day of the attack on the United States Capitol. We spent most of the day on the road with limited cell reception and were worried and confused about what was going on.
After arriving in Joshua Tree, we rented an apartment and spent two months exploring Joshua Tree National Park and beyond. Located in California's high desert, the National Park is filled with miles of arid land dotted with Joshua Trees and picturesque piles of boulders.
I spent countless hours hiking almost every trail in the park until I became an expert on the best hikes in Joshua Tree. I also went backpacking in Joshua tree several times. My favorite Joshua Tree adventure was a multi-day hike along the California Riding and Hiking Trail – an epic 3-day trip across the entire length of the park.
When Daniel and I weren't wandering the National Park, we got to know the nearby communities. The area is a renowned gathering place for artists and other quirky types.
Art installations, unusual buildings and vintage flair abound in Joshua Tree and the nearby cities of Yucca Valley and Twentynine Palms. Some of my favorite things to do near Joshua Tree include visiting the Sky Village Swap Meet, the Noah Purifoy Outdoor Desert Museum, and Salvation Mountain.
Kelso Dunes, Mojave National Preserve
Another one of our favorite places in the Mojave Desert is Kelso Dunes. Located about 2 hours away from Joshua Tree in the Mojave National Preserve, these spectacular sand dunes rise to over 600 feet tall. Kelso Dunes are famous for producing a singing or "booming" sound under certain conditions (although we didn't hear any booming during our visit).
Daniel and I spent one afternoon exploring the dunes – the highlight of which was hiking the Kelso Dunes Trail to the very top. Hiking on a sand dune was a lot harder than I thought it would be but it was very rewarding to finally reach the top.
Although, sadly I lost my magnificent hat to a gust of wind at the top (one of many hats I lost this past year). It was worth it though!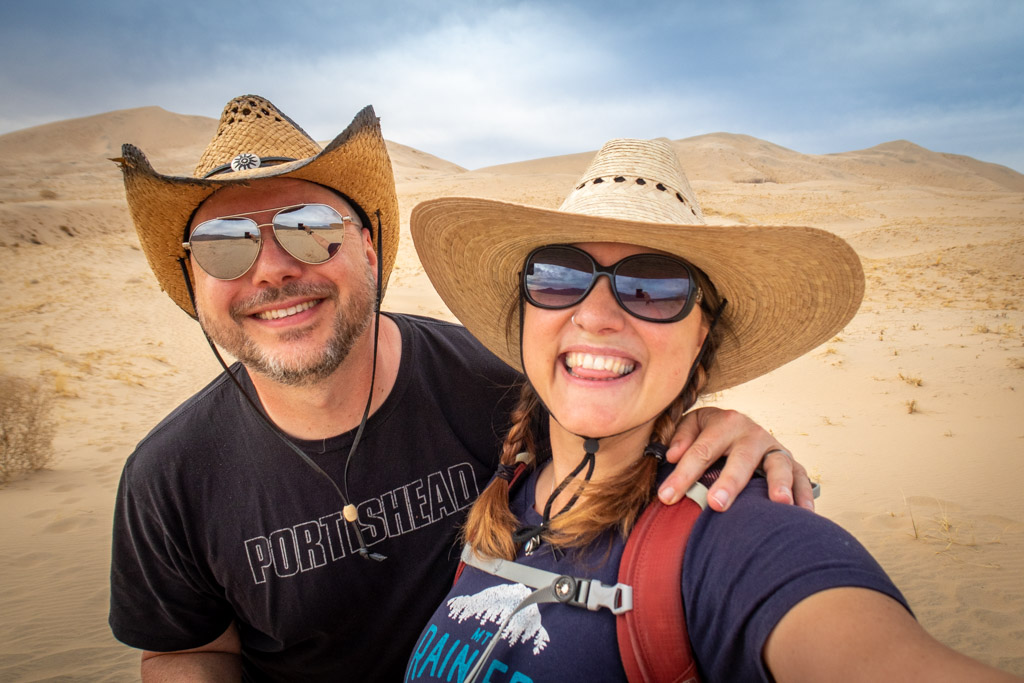 Road Trip Across the Southwest – Utah, Arizona & California
After wrapping up our visit to Joshua Tree in March, Daniel and I piled into our motorhome and went on a 2-week road trip across the American Southwest. COVID cases were on the decline nationwide and it seemed like a good time to visit some other National Parks and outdoor destinations.
Zion National Park
The first stop on our road trip was Zion National Park. Zion's magnificent sandstone canyons are so breathtaking that I was beside myself with excitement as we drove through them along the Zion-Mount Carmel Highway.
We only had one day in Zion National Park, but we made the most of it.
Vermillion Cliffs Scenic Highway
After crossing through the Zion-Mount Carmel Tunnel, we continued traveling during the pandemic by driving east across Northern Arizona along U.S. Route 89A. Also known as the Vermillion Cliffs Scenic Highway, this 92-mile stretch of road passes magnificent towering cliffs that border the Vermilion Cliffs National Monument.
We ended this stretch of our journey in Page, Arizona where we visited famous Horseshoe Bend.
Wahweap Hoodoos, Grand Staircase-Escalante
While staying in Page, I took a day trip across the Utah border to hike the Wahweap Hoodoos in Grand Staircase-Escalante National Monument. The trek featured tall ethereal spires topped with distinctive brown caps and eerie white sandstone mounds.
It was one of the most interesting hikes I've been on all year. Plus it snowed on me on the way back! It was very exciting.
Death Valley National Park
Daniel and I wrapped up our trip across the Southwest with a few days in Death Valley National Park.
We spent several magical days there exploring the park's surreal saltwater flats and undulating sand dunes, along with the multi-colored Badlands near Zabriskie Point.
Pacific Coast Highway Road Trip – California & Oregon
In the second half of March, Daniel and I took another road trip. Since the first trip went so well, we decided to keep traveling during the pandemic by driving north up the Pacific Coast along Northern California and into Central Oregon. The entire journey took approximately 2 weeks so we had plenty of time to stop and explore along the way.
Muir Woods to Garberville
We began our Northern California coast road trip with a stop at Muir Woods north of San Francisco. From there, we took Highway 1 along the coast to Bodega Bay, the Sonoma Coast State Park, Point Arena Lighthouse and Mendocino.
We drove our gutless wonder of a motorhome the entire way which was its own adventure. While our RV has excellent gas mileage, she has a touchy transmission and doesn't do so well on hills. So we had to constantly watch our gauges and pulled over occasionally to ensure she didn't overheat.
Avenue of the Giants
The next stop on our journey was taking the spectacular Avenue of the Giants scenic drive. Stretching for 32 miles through Humboldt Redwoods State Park, this stunning road winds through groves of towering Redwood trees. There are plenty of places along the way to stop and walk among the trees (and even a drive-through tree!).
Redwood National and State Parks
After touring the Avenue of the Giants, Daniel and I continued north through the Redwoods National and State Parks. Redwoods National Park is managed together with three California State Parks – Del Norte Coast, Jedediah Smith, and Prairie Creek. All provide ample opportunities to explore the Redwoods.
Of the four parks, we spent the most time in Prairie Creek State Park. The highlight of my visit there was hiking the James Irvine Trail to Fern Canyon, a lovely 11-mile hike through some of the coolest forests I have ever seen.
Oregon Coast
We continued driving north and soon found ourselves in Oregon. The prettiest stretch of this drive was the Samuel H Boardman Scenic Corridor. There are lots of pull-outs along the coast here to stop and take in the views.
Castles, Fado & Pastel de Nata – Portugal
After taking a few months off to rest and recharge in Oregon, Daniel and I were ready to travel internationally again. As soon as Portugal opened their doors to tourists, we booked our plane tickets the very next day.
Lisbon
We arrived in Lisbon on July first and booked an apartment in the historic Alfalma neighborhood. Lisbon was the next place we had planned to visit after our last trip was interrupted in 2020 so we couldn't wait to explore the city.
I compiled the highlights of our visit in a detailed Lisbon 4-day itinerary guide.
Sintra
Located only 40 minutes away from Lisbon, Sintra is nestled in the Serra de Sintra mountain range in the stunning Sintra-Cascais Natural Park. The city is filled with dreamy castles and palaces and boasts incredible hiking trails.
I just couldn't get enough of this fascinating city. I adored hiking in Sintra and exploring Pena Palace along with Quinta da Regaleira.
Wandering the Emerald Isle – Ireland & Northern Ireland
We saw so many amazing places this year that it's hard for me to pick a favorite. But… if I was forced to choose one destination, I'd have to go with Ireland. There's something incredibly magical about the entire island along with its windswept cliffs and gorgeous landscapes.
Daniel and I spent a month wandering all over Ireland in July and August 2021.
Howth Cliff Walk
After arriving in Ireland, we spent a week or so in Dublin getting to know the city. It's a fun vibrant city, as cities go, but I tend to prefer getting out into nature.
My favorite part of our visit to Dublin was a day trip to Howth and a hike along the Howth Cliff Walk.
County Donegal
Next we took the bus to County Donegal so Daniel could trace his ancestry there. The highlight of our visit was a Donegal Day Trip along the coastline on the Wild Atlantic Way.
Aran Islands
Another favorite Irish memory is a day trip to the Aran Islands from Galway.
I first visited the Aran Islands on a trip 15 years ago and have been dreaming about it ever since. It's a shame we only had a day to visit the islands, though. The biggest island, Inis Mór, is so overrun with tourists during the daytime that it's a little overwhelming. The island is much nicer in the evening after the crowds are gone.
Doolin & the Cliffs of Moher
During our visit to Galway, I took the bus to Doolin so I could check out the Doolin Cliff Walk. Unfortunately, the path was closed due to COVID – but on the bright side I did get to see the Cliffs of Moher up close and in person.
Killarney & the Gap of Dunloe
We continued our tour of Ireland with a stop at Killarney – which is right next door to Killarney National Park. It is a really gorgeous area near all kinds of wonderful hiking opportunities and a featured stop on the Ring of Kerry.
My favorite experience during our visit to Killarney was the Gap of Dunloe Walk. This spectacular 7-mile trek passes between two mountain ranges and ends with a glorious ferry-ride back to Killarney. The hike features five sparkling lakes along with a countryside filled with green pastures and sheep.
Pure heaven.
Blarney Castle
Ok we couldn't help ourselves. We had to stop by Blarney Castle and kiss the Blarney Stone. You'll be happy to know that it is fully sanitized between each smooching.
Northern Ireland & the Giants Causeway
We ended our tour of the island with a day trip to Northern Ireland and the Giants Causeway. It's an incredibly long drive from Dublin so we didn't get to spend as much time at the Giants Causeway as I would have liked. But it was still amazing to finally see these neat geologic formations in person.
Vodka, Pierogies and the High Tatras – Poland
After spending a month in Ireland, we were suffering from sticker shock. Prices in Ireland were much higher than we expected and we were going through money faster than anticipated.
So we headed to Poland. It's a country that neither of us had visited before and was high on our bucket lists. Plus the cost of living is much cheaper. Win win!
Krakow
I had no idea what to expect when we arrived in Krakow but – wow! What a cool city. The Old Town Square (Rynek Główn) in the middle of town is one of the biggest squares that I have seen across Europe.
Daniel and I spent most of our time in Krakow wandering around Old Town and trying different kinds of Polish foods (did someone say pierogies?? yes please!) We also took a vodka walking tour so we could better understand Poland's beverage of choice.
Auschwitz
During our visit to Krakow, Daniel and I set aside a day to visit the Auschwitz-Birkenau Concentration Camp. It's something that I've wanted to do for a long time and I'm glad to finally have had the chance to do it.
Over 1.1 million people were murdered at Auschwitz during World War II from 1941-1945. It's a staggering number that defies comprehension.
Now the site is turned into a museum and memorial for the victims and survivors. If you ever find yourself in Krakow, I highly recommend taking a look for yourself. It is a sobering and moving experience.
Zakopane
During our stay in Poland, I took a solo trip to Zakopane for a few days to see the Tatras Mountains. Part of the Carpathian mountain range in Eastern Europe, the Tatras are the tallest mountains in all of Poland.
The goal of my visit, of course, was to go hiking in Zakopane. Unfortunately it rained every day of my visit which made hitting the trails harder than I anticipated. I still had a great time though.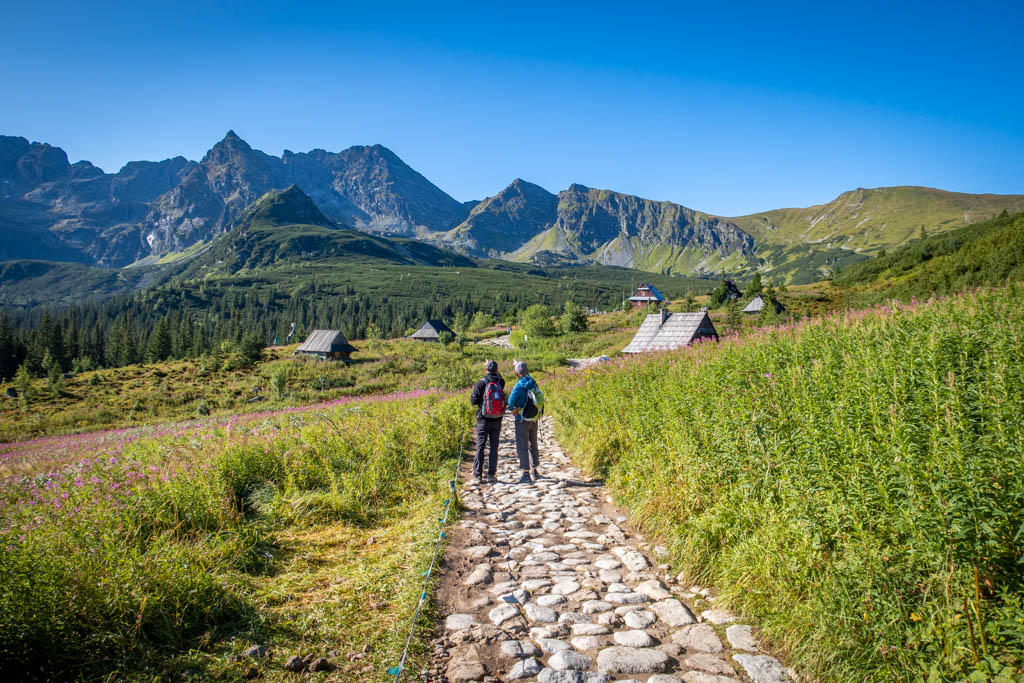 Traveling Central Europe – Austria, Slovakia & Slovenia
After wrapping up our visit to Poland, we continued sightseeing in Central Europe with a whirlwind tour of Austria, Slovakia and Slovenia.
Vienna, Austria
Vienna is an incredibly beautiful city. Everywhere you look there are stately palaces and gorgeous buildings and enormous statues. Daniel and I stayed in the Neubau neighborhood which is filled with artists and hipsters.
We quite liked our stay in Vienna (although it is not the cheapest city to visit).
Vígľaš, Slovakia
For our 2-year wedding anniversary, Daniel and I decided to do something special. So we booked a room at a fancy 4-star hotel in the middle of Slovakia.
But this wasn't just any lodging. The Grand VígľaÅ¡ Hotel is located in what used to be an actual castle. The hotel plays up this fact with a décor that consists mostly of medieval coats of armor and stuffed animal heads. And they have an honest-to-god falconer on site.
The place is cheesy fancy fabulous. I loved it.
Bled, Slovenia
Daniel and I finished up our tour of Central Europe with a visit to Bled, Slovenia. Filled with crystalline waters and framed by the Julian Alps, Lake Bled features a picturesque chapel on an island that can only be accessed by rowboat.
It's also a great place to hike as there are tons of hiking trails nearby. I spent hours getting to know all the best Lake Bled hikes as I trained for my upcoming pilgrimage on the Portuguese Camino.
Walking the Portuguese Camino – Portugal & Spain
At the end of September, I finally had a chance to fulfill my dream of walking the Camino de Santiago: Portuguese Way from Porto, Portugal to Santiago de Compostela, Spain.
I had originally planned to walk the Portuguese Camino in April 2020 but unfortunately my plans were put on hold due to the Coronavirus pandemic. Thankfully, I was finally able to complete the Camino in September/October 2021.
The pilgrimage took 2.5 weeks to complete. I kept a daily blog about the experience which you can read here: Portuguese Camino Blog.
Exploring the Asian Side of Istanbul – Turkey
After my pilgrimage was over, it was time to leave Europe because our visas were up. So we headed to Istanbul to rest and recoup for a while.
What started as a two-week trip turned into five weeks. Daniel and I planned to visit Thailand next and we wanted to stay for two months. So, we went through the arduous process of applying for Thai tourist visas.
On the bright side, we had plenty of time to learn all the amazing things to do on the Asian side of Istanbul in the Kadıköy neighborhood.
Visiting the Land of Smiles – Thailand
Our Tourist Visas and extensive COVID documentation in hand, it was time to head to Thailand. We first visited Thailand in 2017 and have been itching to come back ever since.
Phuket
Daniel and I arrived in Phuket on November 27. We had to stay in the "sandbox zone" of Phuket for one week due to COVID regulations. So we booked a nice hotel with a view of the beach and prepared to explore the island.
Unfortunately, I was sick with a stomach bug almost the entire time so I almost never left the room. The one exception was when we visited the Big Buddha statue which is visible from most places across the island.
Chiang Mai
After our period in the Phuket sandbox was over, we flew to Chiang Mai on the northern side of the country. And that is where we are now. It's a really lovely city and we're glad to be spending the holidays here.
The highlight of our visit, so far, is a trip Elephant Nature Park – the best elephant sanctuary in Thailand.
Good-bye 2021!
So that concludes our look back at 2021. It's hard to believe that we've managed to fit all that much awesomeness into one year – despite the challenges of traveling during the pandemic.
I wonder what next year has in store for us…