Located in California's high desert, Joshua Tree National Park presents visitors with a close look at two fascinating ecosystems: the Mojave and Colorado Deserts. Miles of arid land are dotted with Joshua Trees and loose boulders in one part of the park and are filled with creosote scrub and cholla cactus in another.
There are some surprises in the desert, however. Five fan palm oases are hidden throughout the park and provide a welcome refuge for desert wildlife. The 49 Palms Oasis Trail leads to one of these hidden gems and is one of the best hikes in Joshua Tree National Park.
Tucked along the northern boundary of the park, this 3-mile trek is one of Joshua Tree National Park's more popular hikes – and for good reason. Not only does the trail lead to a hidden oasis, it also provides incredible views of the town of Twentynine Palms.
Don't be fooled into thinking this is an easy hike, however. Even though the trail is only 3 miles long, it requires hiking up and down hills and is classified as moderately strenuous. Several people have died on the trail from heat-related illnesses who weren't prepared for the desert climate.
Only have one day to spend in Joshua Tree National Park? Be sure to check out my Joshua Tree day trip itinerary!
49 Palms Oasis Trailhead
The 49 Palms Oasis Trailhead is located at the end of Fortynine Palms Canyon Road. There is a paved parking area here with room for about 20 cars or so and restroom facilities.
Driving directions from Highway 62: turn south onto Canyon Road (this is about 11 miles east of the park's west entrance). After about one mile, the road turns left (east) and the name changes to Fortynine Palms Canyon Road. The trailhead is another 3/4 of a mile up the road in the canyon. The road is paved the entire way to the trailhead.
Preparing for a Hike in Joshua Tree
When planning your hike, remember that you are entering a desert environment and pack accordingly. There are no stores or restaurants once you enter the park, so you should come prepared with everything you need for your visit. Daytime temperatures can get really hot in Joshua Tree, especially in the summer months, so be prepared with adequate sun protection and plenty of water.
Avoid hiking during the hottest part of the day if you can help it (or hike during the winter months when it is cooler). Be sure to leave no trace of your visit behind and learn how to pee outside in case the urge strikes away from a bathroom.
Hiking Gear
This list includes some of my favorite gear for day hiking in the desert. If you'd like to spend more time in the backcountry, consider backpacking in Joshua Tree.
Hiking the 49 Palms Oasis Trail
Part 1: Hiking up the Ridge
The Fortynine Palms Oasis Trail begins by climbing uphill. There is no beating around the bush with this hike – it's a straight trek uphill for the first three-quarters of a mile. Steps are carved out of the hillside to help visitors manage the climb. A viewpoint after about half a mile rewards hikers with gorgeous views of the town of Twentynine Palms in the valley below. The path angles south after this and continues uphill for another quarter of a mile before reaching the crest of the ridge.
Part 2: Hiking into the Canyon
After cresting the ridge, the first glimpse of 49 Palms Oasis comes into view. Sure enough, a there's a bunch of palm trees down there in the middle of a desolate canyon! Seriously though, it really is quite a remarkable sight.
The trail heads downhill after this into the canyon towards the oasis.
Part 3: Welcome to 49 Palms Oasis
After 1.5 miles, the trail arrives its destination. The trail leads past a small grove of fan palm trees to a field of boulders. Here, hikers can stop for lunch and gaze at a large grove of palms in the oasis below. This area is popular with birdwatchers as birds congregate around the trees in this area. I wished I had brought some binoculars during my visit to get a closer look at these magnificent specimens.
Hikers should stay keep to the trail in this area and avoid hiking directly underneath the palm trees to avoid disturbing the plants and wildlife.
Part 4: The Return Trip
To finish the hike, simply retrace your steps back to the parking area. Don't forget to save enough water and energy to climb back up out of the canyon! Canyon hiking can be deceiving because it is easier to climb downhill into a canyon than it is to climb back up out of it again (unless you have bad knees… then that's a different story).
49 Palms Oasis Trail Information and Map
Distance – 3.1 miles roundtrip
Elevation Gain – 636 feet
Starting Elevation – 2716 feet
Highest Elevation Point – 3071 feet
Joshua Tree National Park Fee Information
The fee to enter Joshua Tree National Park is $30 per vehicle which is good for seven days. I recommend buying the America the Beautiful Interagency Pass, however, which costs $80. This allows entry to all National Parks for an entire year, as well as most federal lands (including National Forests, Bureau of Land Management and more).
Be sure to check the Joshua Tree National Park web site for current conditions before heading to the park.
While you're in the area, don't forget to explore outside of the national park as well. There are lots of fun fun and quirky things to do near Joshua Tree besides hiking and camping.
Further Reading
If you enjoyed this trail guide, be sure to check out my other articles about Joshua Tree National Park!
---
Have you hiked the 49 Palms Oasis Trail? I'd love to hear from you! Share your experience in the comments below.
Like this article? Pin it!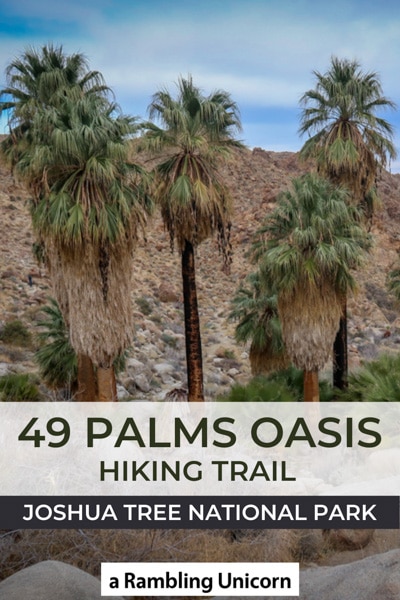 Note: This post contains affiliate links, which means I may receive a commission if you click a link and purchase something. While clicking these links won't cost you anything, they will help me to keep this site up and running!