Joshua Tree National Park is famous for its stunning rock-strewn landscape and vast forests of unusual-looking Joshua Trees.
There is something for everyone at Joshua Tree, from equestrian trails and hidden desert oases to miles of hiking trails and boulders to climb. Spanning an area of over 1,200 square miles, this this high desert paradise is a big place to explore. If you only have a single day in Joshua Tree, however, you can still see most of the highlights in a Joshua Tree day trip.
This guide provides a one-day itinerary for visiting Joshua Tree National Park and outlines everything you need for a successful Joshua Tree day trip.
This route starts at the West Entrance Station in the town of Joshua Tree and finishes at the South Entrance on Cottonwood Springs Road. From there, it's just a one-hour drive to Palm Springs or a 2.5-hour drive to Los Angeles. Depending on your schedule, you can also double back into the park and catch a breathtaking sunset at Keys View.
Planning a longer visit? Be sure to check out the fun and quirky things to do near Joshua Tree.
Joshua Tree Day Trip Itinerary at a Glance
8:00 am – Start at the Joshua Tree Visitor Center in the town of Joshua Tree
9:00 am – Stop at Quail Springs Picnic area to scramble on the rocks
9:30 am – Hike the Hidden Valley Nature Trail (1 mile)
11:00 am – Hike the Barker Dam Trail & eat lunch (1.3 miles) – Skip this if you are running short on time
1:30 pm – Quick visit to Skull Rock
2:00 pm – Hike the Arch Rock Nature Trail (1.2 miles)
3:30 pm – Walk through the Cholla Cactus Garden (.25 mile loop)
4:30 pm – Visit the Cottonwood Spring Oasis
Sunset – Drive back to Keys View to catch the sunset
Joshua Tree Visitor Center
It's best to begin your Joshua Tree Day Trip at the Visitor Center in the town of Joshua Tree. Here you can pick up park maps and talk to the rangers about current conditions and weather.
For the National Park fans out there, you can get your passport stamped and pick up a collectible coin at the gift store. A coffee shop and deli are located next door in case you need to grab a last minute snack or caffeine.
You can also learn more about Joshua Tree's distinctive high desert landscape and history at the Visitor Center. Joshua Tree National Park is unique in that two different ecosystems meet in the park – the Mojave and Colorado deserts.
The Mojave Desert is more prevalent at the park's higher elevations in the northwest and the Colorado Desert is more dominant to the southeast. The park is also home to a colorful history filled with cattle rustlers, gold miners, and cowboys.
If you have more time, Joshua Tree is a great little town to explore on its own right. The Crossroads Cafe is a fabulous breakfast/lunch spot and the Joshua Tree Saloon is a fun place for dinner and drinks. The Coyote Corner Gift Shop, located right across the street from the Visitor Center, is worth a visit if you have extra time for shopping.
Entering Joshua Tree National Park
The West Entrance Station for Joshua Tree National Park is located a 10-minute drive south of the Visitor Center on Park Boulevard. The fee to enter the park is $30 per vehicle which is good for seven days. I recommend buying an America the Beautiful Interagency Pass, however, which costs $80. This allows entry to all National Parks for an entire year, as well as most federal lands (including National Forests, Bureau of Land Management and more).
The West Entrance is the most popular one and can attract long lines – especially on weekends during the high season. I suggest arriving early or on a weekday (or both) to avoid having to wait in line. If you don't want to wait in line, you can usually shorten the wait by entering at the Twentynine Palms Entrance Station or at the South Entrance.
First-timers to Joshua Tree National Park should begin at the West Entrance if you can. About 5 minutes after passing the West Entrance Station, the road crests a ridge and dips into a stunning valley dotted with Joshua Trees. It's an amazing sight if you've never seen it before. Watch for traffic here as everyone tends to pull over onto the side of the road to take photos (you should too!).
There are also some great pull-outs and picnic areas along the road where you can stop off and explore. I recommend the Quail Springs Picnic Area as it has vault toilets and a couple of parking areas. This picnic area is located next to several piles of large boulders that are fun to climb on and investigate.
Hidden Valley Nature Trail
If you only have time to see one thing in Joshua Tree, it should be the Hidden Valley Nature Trail. This hike is an easy 1-mile interpretive trail that loops through a gentle valley surrounded by tall granite boulders. These natural walls create a unique ecosystem inside where both Joshua Trees and pinyon-juniper woodlands co-exist together. The scenery inside this hidden valley combines some of best features of Joshua Tree National Park into a single experience and provides a great introduction to the park overall
The rocky walls surrounding Hidden Valley can also protect the valley from prying eyes – a feature which has contributed to the area's colorful history. A group of cattle rustlers called the McHaney Gang supposedly used this valley to hide cattle in the 1870s and 1880s. The gang purportedly stole cattle and hid them in this valley before selling them across state lines. Lead Rustler Jim McHaney was eventually convicted of counterfeiting $20 gold pieces in gold-plated lead and was sentenced to seventeen years in jail.
These days Hidden Valley is one of the most popular areas in the entire park…so plan accordingly. The parking lot is a 7-minute drive from the Quail Springs Picnic Area and is quite large – but it can fill up quickly. If the parking lot is full, you can park across the street at the Intersection Rock parking area. Vault restrooms and picnic tables are also available at the parking lot.
For more information about the Hidden Valley Nature Trail, check out my Hidden Valley Trail Hiking Guide.
Barker Dam Nature Trail
Barker Dam Nature Trail is an easy interpretive loop that leads to a lovely hidden pool in Joshua Tree National Park. This small lake attracts an array of animal life in an arid high-desert environment where water is exceedingly scarce. Barker Dam (also called Big Horn Dam) was constructed by cowboys in the early 1900s in order to water cattle. Remnants from these early cattle-ranching days are still visible from the trail near the dam.
With a distance of only 1.3 miles, this loop trail is good for all skill levels and a great option for families. A collection of ancient petroglyphs is also available along the trail and provide another point of interest for visitors. That being said, the trail is fairly popular so plan accordingly. The parking area is a 6-minute drive from the Hidden Valley Nature Trail and tends to fill up quickly as it is also frequented by climbers and hikers for the Wall Street Mill Trail. If the parking area is full, there are several pull-outs along Barker Dam Road about a quarter mile from the trailhead where you can park. You can also turn onto Keys Ranch Road and park at the Echo T Trail parking area.
Since you'll be hiking the Barker Dam Nature Trail around lunch time on this Joshua Tree Day Trip, I suggest bringing along a packed lunch and finding a nice spot along the trail to stop and eat. If you run out of time and need to cut an item from this itinerary, I recommend cutting this one.
For more information about the Barker Dam Nature Trail, check out my Barker Dam Trail Hiking Guide.
Skull Rock
Skull Rock is a large granite rock formation located near the Jumbo Rocks Campground that vaguely resembles a misshapen skull. Two depressions, located where the skull's eye sockets should be, were created over many years by erosion. Whether you believe the rock looks like a skull or not, it is worth a visit due to its fun and unusual shape. Skull Rock is located just off of Park Boulevard and is easy to access by only a few minutes walk. There are lots of other boulders and rocks to explore in this area too if you are so inclined.
The 1.7-mile Skull Rock Trail can also be accessed from the same area. This nature trail leads to the Jumbo Rocks campground and then loops across the street. Interpretive markers along the way explain the rich biological diversity found in the Mojave Desert. I don't recommend trying to hike the entire trail on this Joshua Tree day trip, but you may want to return another time.
Skull Rock is located on Park Boulevard about an 18-minutes drive from the Barker Dam Nature Trail. There is no parking lot for Skull Rock but there is plenty of space nearby to park along the shoulder.
Arch Rock
Arch Rock is another must-see granite formation in Joshua Tree National Park. This natural arch spans about 30 feet in length and is located in a field of granite boulders. For campers lucky enough to get a spot at the White Tank Campground, Arch Rock is only a few steps away. Parking is limited at the campground, however, so for everyone else the best way to access the rock is via the Arch Rock Nature Trail.
The Arch Rock Nature Trail begins about a half-mile away at the Twin Tanks parking lot. Located an 8 minutes drive from Skull Rock on Pinto Basin Road, the Twin Tanks parking lot is fairly spacious and has room for plenty of cars. From here, the trail is an easy 1.2-mile hike to Skull Rock and back.
Cholla Cactus Garden
And now for something completely different – a Cholla Cactus Garden. This dense stand of teddybear cholla spans 10 acres and is one of Joshua Tree's more unusual features. An easy quarter mile-long trail loops through the garden and provides an up-close and personal view of these magnificent cacti. But don't get too close – this is one teddybear that you don't want to hug. On my last visit I encountered not one but two screaming children who had painful run-ins with teddybear cholla.
The Cholla Cactus Garden is perched on the edge of a mountain about 12 minutes drive south from the Twin Tanks parking area in a transition zone. From here, the road quickly loses elevation as it heads downhill towards the park's southern area which is dominated by the Colorado Desert ecosystem.
Cottonwood Spring Oasis
Of the 158 desert Fan Palm oases located in North America, five are located in Joshua Tree National Park. Located just 7 miles from the park's South Entrance, the Cottonwood Spring Oasis is one of the easiest ones to visit. The oasis is comprised of towering Fan Palms and one lone Cottonwood Tree that are all clustered around Cottonwood Spring. One of the few areas in Joshua Tree where you can find reliable shade, the oasis features a bench where you can sit and relax. This area is popular with birders due to the number of birds tend to congregate around the trees.
The Cottonwood Spring Oasis is located a 30 minutes drive from the Cholla Cactus Garden near the Cottonwood Visitor Center. To access the oasis, turn onto Cottonwood Oasis Road and drive for about 3 miles. There is a parking area here although it can fill up quickly as several hiking trails begin at this location as well. The oasis is only a few minutes walk away from the parking area down a hiking trail. Cottonwood Campground is also located nearby for those wishing to spend the night.
If you plan to exit from the park's southern entrance, this would be the last stop in your Joshua Tree Day Trip itinerary. From here it's a short drive out of the park's boundary and to Interstate 10. If you plan to stay for sunset in the park, however, then read on!
Sunset at Keys View
There is no better way to end your Joshua Tree day trip than by catching the sunset at Keys View. Perched on the crest of the Little San Bernardino Mountains, the Keys View lookout provides stunning panoramic views of the Coachella Valley. A .-2 mile loop trail up the ridge is also available and provides amazing views of the Santa Rosa Mountains.
If you do stay for sunset, check the weather forecast ahead of time and bring layers! It can get really cold at Keys View in the evening, depending on what time of year your visit the park.
Keys View is an hour's drive from Joshua Tree's South Entrance and a half hour's drive from the West Entrance. Be warned that there is limited parking at Keys View and buses and large RVs are prohibited.
What to Bring on your Joshua Tree Day Trip
There are no stores or restaurants once you enter Joshua Tree National Park, so you should come prepared with everything you need to spend the entire day in the park. Pack a lunch, bring plenty of water, and arrive with a full tank of gas. Check the weather forecast and make sure you're prepared for the weather conditions. Temperatures can vary wildly so it's best to bring an assortment of layers. Daytime temperatures can get really hot in Joshua Tree, especially in the summer months, so be prepared with sun protection including sunscreen, a long-sleeved shirt and a broad sun hat.
Since you'll be hiking on this Joshua Tree Day Trip, be sure to wear sturdy footwear and leave no trace of your visit behind.
My favorite hiking shoes? I never hit the trail without my Altra Lone Peak Trail Running Shoes.
Additional Joshua Tree Resources
If you enjoyed this guide, be sure to check out my other articles about Joshua Tree National Park!
---
Like this article? Pin It!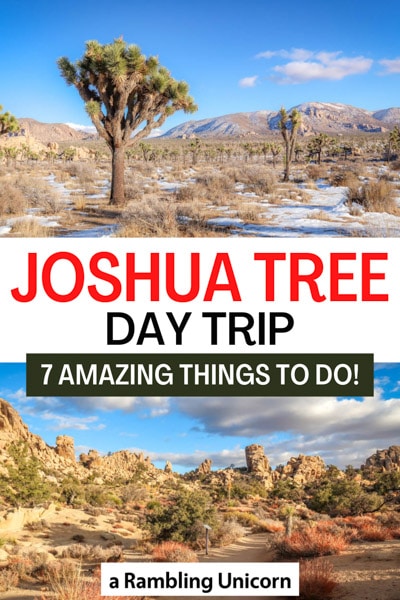 Note: This post contains affiliate links, which means I may receive a commission if you click a link and purchase something. While clicking these links won't cost you anything, they will help me to keep this site up and running!