There is no shortage of amazing hiking opportunities in Joshua Tree National Park. Visitors can climb mountains with panoramic views, wander through forests of Joshua Trees and discover palm oases that are hidden throughout the park.
While there are hikes for every skill level, there is one that stands above the rest. This trek is the big enchilada, the granddaddy of all trails, one of the best hikes in Joshua Tree National Park. It's the longest trail in the park and an incredible multi-day backpacking adventure.
What is this phenomenal trail, you ask? Why, the California Riding and Hiking Trail of course.
Stretching for 37 miles across the park's northern region, the California Riding and Hiking Trail is a mini thru-hike amidst some of Joshua Tree's most spectacular scenery. The trail provides hikers with the opportunity to explore remote wilderness areas and commune with the Mojave desert well away from other visitors.
From the minute I heard about this amazing trail, I knew I had to experience it for myself. This was during a two-month visit to Joshua Tree when my husband Daniel and I were laying low during the pandemic. I had fallen in love with Joshua Tree National Park and planned to hike as many of the trails as humanly possible.
All good things come to those who wait, they say. So I decided to save this trail for the very last.
And that is how I ended up hiking 37 miles along Joshua Tree's California Riding and Hiking Trail on an epic solo backpacking trip in early March 2021.
Wilderness Backpacking in Joshua Tree National Park
Before striking out on the California Riding and Hiking Trail, I did my homework on Joshua Tree's wilderness camping regulations. After chatting with the rangers and researching online, I learned the following:
Backpacking in Joshua Tree is fairly easy compared to some other National Parks. There are no quotas for permits or early registration required. You can self-register for a backcountry permit at one of 13 backcountry registration boards which are located throughout the park.
After registering for a permit, you can camp anywhere in the park as long as you're at least one mile from the road, 500 feet from the trail, and not in a day use area.
There is no water available in the main part of the park. Hikers have to either bring all of their water with them or cache it in advance.
There are more things to know about wilderness camping of course, but these are the basics. For more detailed information, consult my comprehensive guide to backpacking in Joshua Tree.
Backpacking Gear
This list includes some of my favorite backpacking gear.  This isn't a comprehensive list of everything you'll need but it will get you started.
Training to Hike the California Riding and Hiking Trail
After acquainting myself the basics on wilderness camping, I began training. I was out of shape after recovering from an illness and could barely hike a few miles, let alone a 37-mile trail.
So I started small. I began with easy trails such as the South Park Peak Trail and the West Side Loop Trail. I was eager to try something harder, however, and decided to try the more challenging 6.4-mile Panorama Loop Trail.
Unfortunately, I went a little too fast too soon and hurt my right foot. I have an old hiking injury that bothers me sometimes if I'm not too careful, and I wasn't being careful. I could barely walk by the time I returned to the car and was reduced to a painful hobble.
So I iced my foot and rested for a week before trying again. This time I did strength-training exercises and stretched religiously before hitting the trail.
Needless to say, it is important to train for your hike to strengthen muscles, build endurance, and improve stability. All the things your body needs to do during a hike.
That made a world of difference.
Soon I was back in the park exploring easy trails with Daniel. We hiked the Barker Dam Trail, the Arch Rock Nature Trail and the Hidden Valley Trail (twice!). Before long, I graduated to slightly more difficult trails such as the 49 Palms Oasis Trail and the Lost Horse Mine Trail.
After those outings, I decided to try an overnight camping trip. I wanted to test out my hiking gear (and my foot) on a short trip before committing to a longer adventure. The 8-mile Boy Scout Trail Joshua Tree was the perfect trail for this experiment. It was just the right length without being too easy or too difficult.
After the successful overnight trip, I was ready for some longer day trips. I loaded my pack with training weight and hiked the 6.8-mile Willow Hole Joshua Tree Trail and then the 7.2-mile Lost Palms Oasis Trail later the same week.
Once those hikes were completed, I decided that I was finally ready to tackle the California Riding and Hiking Trail. But first, I had to cache my water. And before I could place my water caches, I had to plan my route.
Maps and Trip Planning
Distance – 37.6 miles point-to-point
Elevation Gain – 3,175 feet
Elevation Loss – 3,623 feet
Highest Elevation Point – 5,167 feet
Lowest Elevation Point – 2,836 feet
The trail starts at the Black Rock Canyon trailhead and ends at the North Entrance near the town of Twentynine Palms. While it can be hiked in either direction, I recommend hiking from west to east due to an easier elevation profile. When hiking in this direction, most of the uphill hiking takes place at near the beginning of the trail with the second half of the hike being an easy jaunt downhill.
AllTrails Map
Be sure to download this map to your phone before heading out as there is no cell reception once you've entered the park. Bring a portable batter charger to keep your phone powered while you hike.
Official Joshua Tree National Park Map
You can download a high-resolution version of the entire map from the National Park Service here: Joshua Tree Map.
Water Caching Locations and Places of Interest
There are limited places along the trail where hikers can leave water caches. Here are the most obvious ones along with their distance from the Black Rock Trailhead, as well as other points of interest along the trail:
Black Rock Canyon Trailhead – 0 miles

Water, garbage cans, and vault toilets are available.

Upper Covington Flat Trailhead – 8 miles

Typically used for water caches. Located on a rough backcountry road.

Juniper Flats Trailhead – 19.4 miles

Typically used for water caches. Located on a paved road.

Ryan Mountain Campground – 20.1 miles

Garbage cans and vault toilets are available.

Geology Tour Road – 25.9 miles

Typically used for water caches. Located on a rough backcountry road.

Twin Tanks Trailhead – 30.2 miles

Typically used for water caches. Located on a paved road only half a mile from Arch Rock.

Belle Campground – 31.4 miles

Garbage cans and vault toilets are available.

North Entrance Trailhead – 37.6 miles
My Initial Trip Plan (which changed later!)
Most hikers take from 2-4 days to complete the entire trail, depending on their inclination and ability. How far you choose to hike in a single day largely depends on how much water you want to carry and/or have cached in advance.
I decided to take it slow and hike the trail over 4 days because I was worried about re-injuring my foot. Although, as you will see, the trail had other plans in store for me. It's important to stay flexible when backpacking in the wilderness because you never know what curveballs mother nature will throw at you!
Here was my initial hiking plan before setting out:
(although as mentioned above, my plans changed midway and so I ended up not following this plan)
Day 1: Black Rock Canyon Campground to a half-mile past Upper Covington Flats

Distance: 8.5 miles
Elevation Gain: 1178 feet
Water Planning: Pick up water cache at Upper Covington Flats

Day 2: Half-mile past Upper Covington Flats to one mile before Juniper Flats

Distance: 9.9 miles
Elevation Gain: 990 feet
Water Planning: Pack extra water from Covington Flats cache and dry camp

Day 3: One mile before Juniper Flats to one mile before Twin Tanks

Distance: 10.8 miles
Elevation Gain: 350 feet
Water Planning: Pick up water cache at Juniper Flats first thing in the morning and dry camp

Day 4: One mile before Twin Tanks to North Entrance

Distance: 7.2 miles
Elevation Gain: None
Water Planning: Pick up water cache at Twin Tanks first thing in the morning and hike out
The Great Water Caching Adventure & Eureka Peak
One of my biggest challenges before hiking the California Riding and Hiking Trail was figuring out how to place all of my water caches. I did NOT want to attempt a 20-mile day at the beginning of my hike just so I could pick up a water cache at Juniper Flats. That seemed like a bad idea given my recent foot injury.
The only caching option prior to that point is at Upper Covington Flats… which is located on a rough dirt road in the backcountry. Daniel and I drive a low-clearance high-maintenance VW Rialta Motorhome which has trouble managing some paved roads, let alone most dirt roads. Any time we drive over a bump we worry about how much money that is going to cost us later.
So we decided to rent a car. Daniel and I had to take our RV into the shop anyways, so it seemed like a good opportunity to try driving another vehicle for a couple of days.
While I love our Rialta, it was was an absolute delight driving around the backcountry in a zippy SUV. Daniel and I spent a lovely afternoon driving out to Upper Covington Flats to place my water cache and also exploring Eureka Peak. You can drive all the way to the top of Eureka Peak which is great for people who can't hike long distances but still want to experience fabulous views.
The next morning, I placed water caches at Juniper Flats and at the Twin Tanks trailhead as well. I had initially planned to do them all on the same afternoon but the drive to Upper Covington Flats took a lot longer than expected.
My Experience Backpacking the California Riding and Hiking Trail
After completing all of my planning and preparations, I was finally ready to begin hiking! Check out the following trail journals to read about the adventures I encountered each day:
Day 1
I stopped with my foot midway to the ground and froze. It was the first day of my multi-day day backpacking trip on the California Riding and Hiking Trail and I hadn't even made it a mile yet. I had hoped to camp somewhere near Upper Covington Flats this evening, but now I wasn't so sure. A coyote stood on the trail right in front of me, blocking my path.
And he wasn't moving…
The story continues here >>Â Day 1: Upper Covington Flats
Day 2
My breath formed into puffy clouds as I groggily unzipped the door to my tent. It was too cold to even think about getting out of my sleeping quilt, so I set up the camping stove just outside the door. I reached for my water bottle, only to find that the water had partially frozen. The contents were the consistency of a frozen slushy and barely managed to ooze into my cooking pot. The rest of my water supply was frozen solid.
Wow. No wonder I was so cold the previous night. Clearly I did not have the right gear with me to handle these cold temperatures. But I still had 3 more days of my backpacking trip on the California Riding and Hiking Trail. What was I going to do?
The story continues here >>Â Day 2: Juniper Flats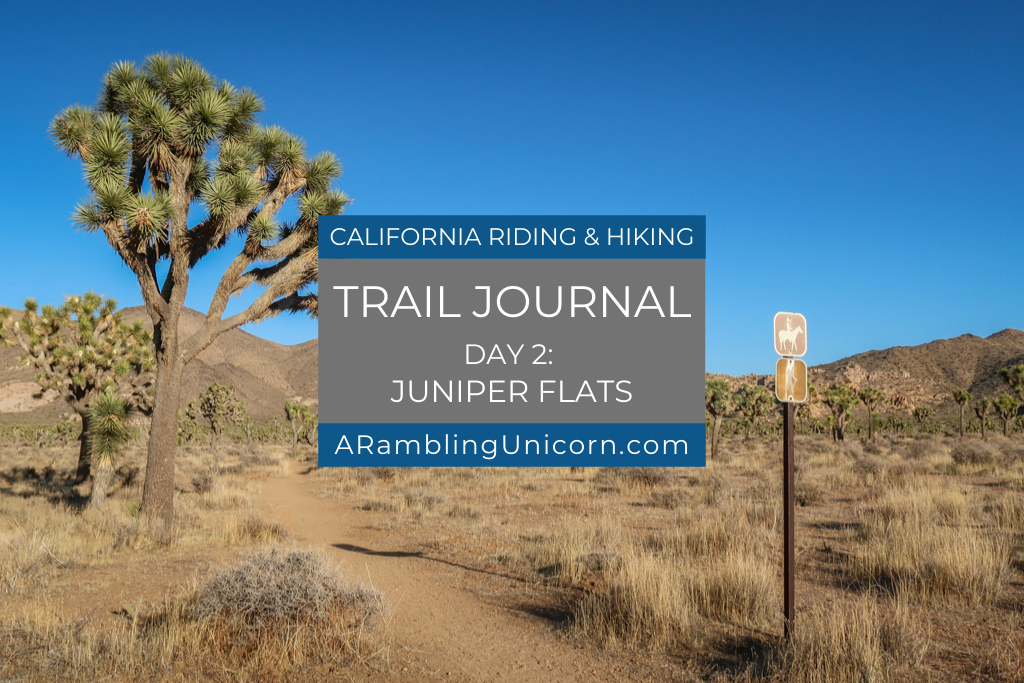 Day 3
I glanced over my shoulder to find angry clouds gathering on the horizon behind me. It was my third day on the California Riding and Hiking Trail and up to this point all I'd seen was sunshine. Ahead of me, blue skies beckoned as I hiked east towards the Twin Tanks area of Joshua Tree National Park.
But not for long. Soon, dark clouds obstructed the entire horizon. The temperature plummeted and I realized that hiking alone wasn't going to keep me warm. Shivering, I stopped to put on my puffy jacket and gloves.
And that's when the snow started.
The story continues here >> Day 3: Twin Tanks
Joshua Tree National Park Fee Information
While wilderness permits are free, there is a fee to enter Joshua Tree National Park. This is $30 per vehicle which is good for seven days. I recommend buying the America the Beautiful Interagency Pass, however, which costs $80. This allows entry to all National Parks for an entire year, as well as most federal lands (including National Forests, Bureau of Land Management and more). Buy your pass online before arriving at the park to shorten the wait in line.
Be sure to check the Joshua Tree National Park web site for current conditions before heading to the park.
While you're in the area, don't forget to explore outside of the national park as well. There are lots of fun fun and quirky things to do near Joshua Tree besides hiking and camping.
Additional Joshua Tree Resources
If you enjoyed this trail guide, be sure to check out my other articles about Joshua Tree National Park!
Like this article? Pin it!
Note: This post contains affiliate links, which means I may receive a commission if you click a link and purchase something. While clicking these links won't cost you anything, they will help me to keep this site up and running!