Barker Dam Nature Trail is an easy interpretive loop that leads to a lovely hidden pool in Joshua Tree National Park. This small lake attracts an array of animal life in an arid high-desert environment where water is exceedingly scarce. Barker Dam (also called Big Horn Dam) was constructed by cowboys in the early 1900s in order to water cattle. Remnants from these early cattle-ranching days are still visible from the trail near the dam.
With a distance of only 1.3 miles, this loop trail is good for all skill levels and one of the best hikes in Joshua Tree National Park. A collection of ancient petroglyphs is also available along the trail and provide another point of interest for visitors. That being said, the trail is fairly popular so plan accordingly. I recommend visiting on a weekday or in the late afternoon to avoid the crowds.
Please note: There are some steps on this trail and it is not suitable for wheelchairs or strollers. Dogs are not allowed.
Trailhead and Parking for Barker Dam Nature Trail
The trailhead for Barker Dam Nature Trail is located on Barker Dam Road near the West Entrance in Joshua Tree National Park. The parking area tends to fill up quickly as it is also frequented by climbers and hikers for the Wall Street Mill Trail. If the parking area is full, there are several pull-outs along Barker Dam Road about a quarter mile from the trailhead where you can park. You can also turn onto Keys Ranch Road and park at the Echo T Trail parking area. From here, hike along the Hidden Valley-Barker Dam Connector Trail to reach the Barker Dam Trail.
Driving directions from Highway 62: turn south onto Park Boulevard in the town of Joshua Tree. The Joshua Tree Visitor Center is located one block ahead on the right if you'd like to stop and get a map or additional information. From there continue straight, past the West Entrance, and into the park for 14 miles. Turn left onto Barker Dam Road and continue for 1.5 miles. The parking lot is on the left where the road branches off onto Queen Valley Road.
Preparing for a Hike in Joshua Tree
When planning your hike, remember that you are entering a desert environment and pack accordingly. There are no stores or restaurants once you enter the park, so you should come prepared with everything you need for your visit. Daytime temperatures can get really hot in Joshua Tree, especially in the summer months, so be prepared with adequate sun protection and plenty of water. Avoid hiking during the hottest part of the day if you can help it (or hike during the winter months when it is cooler). Be sure to leave no trace of your visit behind and learn how to pee outside in case the urge strikes away from a bathroom.
Hiking Gear
This list includes some of my favorite gear for day hiking. If you'd like to spend more time in the backcountry, consider backpacking in Joshua Tree.
Hiking the Barker Dam Nature Trail
Part 1: Hiking to Barker Dam
The Barker Dam trail starts along a sandy wash as it heads north towards the Wonderland of Rocks area of Joshua Tree. At .2 miles, the trail reaches a junction for the beginning of the loop trail. My husband Daniel and I chose to hike in a counter-clockwise direction, so we took a right at the junction. Here, the path snakes through piles of boulders along a path that is lined with Turbinella Oak, Parry Nolina, California Juniper and Creosote Bush. There are plenty of interpretive signs along the trail to help visitors identify the plant life.
Part 2: Barker Dam Lake
After hiking for about half a mile, the trail reaches Barker Dam Lake. This idyllic little lake is nestled in the southernmost edge of Joshua Tree's Wonderland of Rocks where piles of smooth boulders surround the area. It's interesting to see how the water level in the lake varies from season to season. During our first visit to Barker Dam in March 2019, the water almost reached to the edge of the trail. On our most recent visit in January 2021, however, the lake was completely dry. We actually walked across the dry the lakebed to the bottom edge of Barker Dam.
Part 3: Barker Dam
After arriving at Barker Dam Lake, the trail heads west along the lake's edge for .1 mile until it reaches Barker Dam. From this point, it is an easy climb up some rocks to the top of the dam. Although the dam as was originally constructed in the early 1900s, it was rebuilt in the 1940s by Willis Keys. An inscription at the base of the dam recounts this particular bit of history.
Part 4: The Petroglyphs
After passing Baker Dam, the trail heads south through a typical Mojave desert landscape complete with Joshua Trees and other high desert plants. There are several interpretive signs here which help to explain the various plant life. Petroglyphs left behind by Native Americans many years ago are visible after about .4 miles following a trail junction. From this point it is only .4 miles back to the trailhead. Alternatively, you can take the trail back to the Echo T Trailhead if you parked there.
Barker Dam Nature Trail Information and Map
Distance – 1.3 miles roundtrip
Elevation Gain – 62 feet
Starting Elevation – 4256 feet
Highest Elevation Point – 4312 feet
Joshua Tree National Park Fee Information
The fee to enter Joshua Tree National Park is $30 per vehicle which is good for seven days. I recommend buying the America the Beautiful Interagency Pass, however, which costs $80. This allows entry to all National Parks for an entire year, as well as most federal lands (including National Forests, Bureau of Land Management and more).
While you're in the area, don't forget to explore outside of the national park as well. There are lots of fun fun and quirky things to do near Joshua Tree besides hiking and camping.
Further Reading
If you enjoyed this trail guide, be sure to check out my other articles about Joshua Tree National Park!
---
Have you hiked the Barker Dam Nature Trail in Joshua Tree National Park? I'd love to hear from you! Share your experience in the comments below.
Like this blog post? Pin it!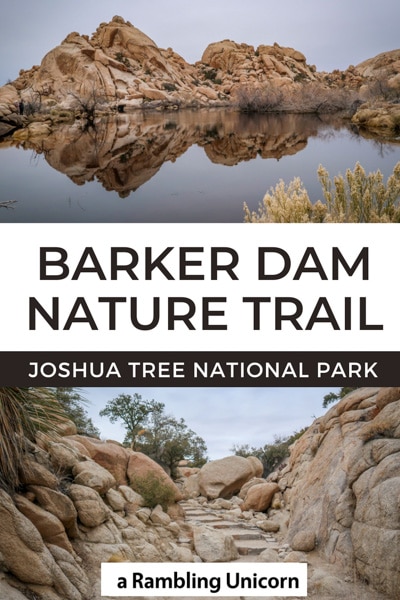 Note: This post contains affiliate links, which means I may receive a commission if you click a link and purchase something. While clicking these links won't cost you anything, they will help me to keep this site up and running!