I woke up feeling tired this morning. I guess it's not a complete surprise since we got in so late last night. We also have been traveling for the last four days in a row. I still struggle with fatigue sometimes as a result of COVID so it's to be expected. But I'm not happy about it. Boo!
Since it was already 8:00 am, I stumbled out of bed and headed to the front office. The campground was closed when we arrived the previous evening and so we still had to check in. Once I finished, I stumbled right back into bed and woke up at noon. Wow. I guess I really was tired.
I'm glad I got my beauty sleep, though, so that I was fully prepared for our first day at Glacier National Park!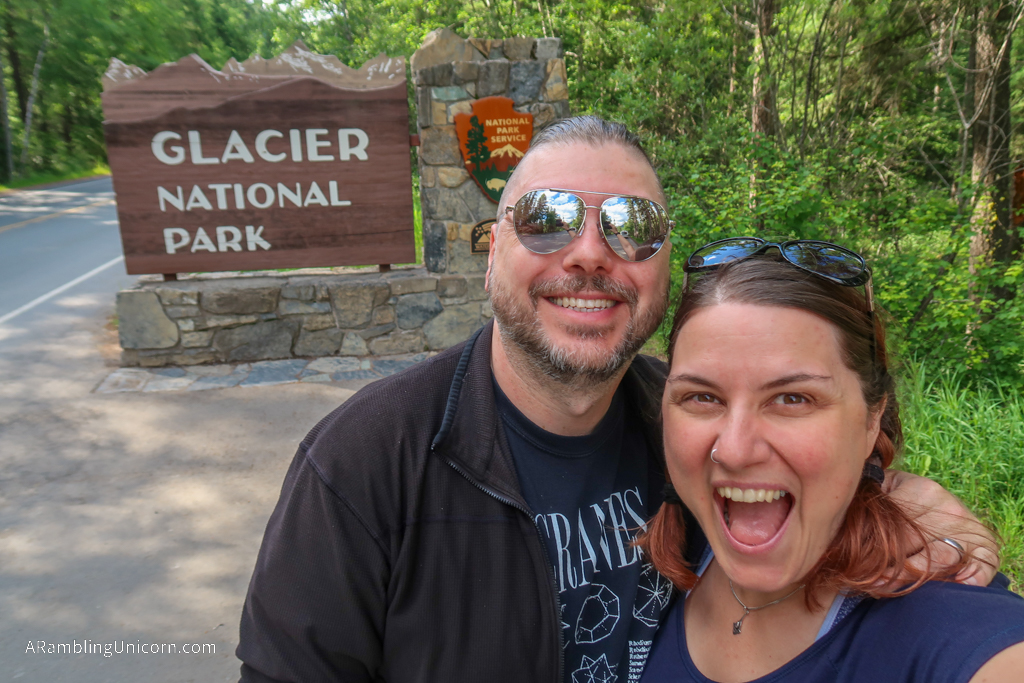 Welcome to Glacier National Park
After a late lunch, Daniel and I headed into Glacier National Park. I was a bit apprehensive at first as I had heard horror stories of long lines and massive crowds. Most of the park is currently closed, so the few areas that are open are seeing especially heavy use.
We had been warned to show up super early or else give up any hope of finding a parking spot. Even through it was the middle of the afternoon, we decided to give it a shot anyway. I shouldn't have worried. Yes, it was a little crowded, but it really wasn't that bad. We drove around the park for a few hours and had no problem parking the Rialta at several scenic overlooks.
Going-to-the-Sun Road
One of the highlights of Glacier National Park is driving along the Going-to-the-Sun road. It connects the west end of the park to the eastern half over a spectacular mountain pass. Sadly, most of the road is currently closed as crews are still removing snow and other debris from the mountain pass. But 16 miles of the road are open along Lake McDonald up to Avalanche Creek.
So Daniel and I spent the afternoon driving along the Going-to-the-Sun road, taking in the sights and snapping photos. It's too bad we can't see the rest of the road, because if the first portion is any indication, it must be absolutely spectacular.
*News Flash* after I wrote this post I learned that the National Park Service plans to open Going-to-the-Sun Road on Monday! That's the day we were planning to leave. So, if all goes well, hopefully we'll get to drive the road after all!
Polebridge
A couple of days later, we decided to visit Polebridge. Polebridge is a small town on the outskirts of Glacier National Park near the Canadian border. This trip wasn't originally on our agenda…but after FIVE separate recommendations, we figured we had to go.
We didn't know anything about Polebridge before heading out, except for one thing: we had to try the huckleberry bear claws. These were available for sale at the Polebride Mercantile and were apparently very popular. So off we went.
Daniel and I arrived at Polebridge an hour later, with the realization that we'd made a tactical error. We had no idea that the majority of the drive would be along unpaved bumpy roads. This would have been fine in most vehicles, but our poor Rialta motorhome jiggled and clattered the entire way. Oops.
I'm glad we went though. With only a general store and a saloon, Polebridge is more trading post than town. It is incredibly remote and disconnected from the outside world. I wished we had more time to spend there … and an appropriate vehicle to explore the area. Oh well, some other time.
And yes, the bear claws are amazing.
Transboundary Flathead River Interpretive Trail
The Transboundary Flathead River Interpretive Trail is located right next to the Polebridge parking area and provides amazing views of the surrounding countryside. Daniel and I took a little stroll along the trail before heading back to our campground in West Glacier.
Glacier Campground
I got a better look at our campground today. Glacier Campground is located just outside the west entrance to Glacier National Park. I didn't have super high expectations, given its size and proximity to the park, but I was happily surprised.
Glacier Campground is privately owned and is located in a forested setting. Although one site is super close to ours, the rest are far enough away that we don't feel crowded. Our neighbor was gone by the time I got up this morning so we had plenty of privacy today.
The campground has all the usual amenities, such as showers and bathrooms and a dump station. But my favorite feature, so far, is the cafe. The restaurant is a rustic affair with a limited menu and features a spacious covered seating area with no walls. So I didn't feel too worried about COVID. And it also has wifi!
We will be staying here for the next 3 nights and I couldn't be happier about it. I think we really lucked out, especially since I only made the reservations a couple of weeks ago.
Where are we now?
Date: Friday July 10, 2020
Great American Road Trip Status: Day 5
Location: Glacier Campground, MT
Miles Today: 36
Total Trip Mileage: 666
For more details on our Great America (Socially Distanced) Road Trip, see my previous posts: