One of my favorite things about Joshua Tree is the fact that rocks are everywhere. Not just any old rocks – mounds of smooth boulders that are seemingly strewn across the landscape at random.
While these picturesque rocks can be found throughout most of the park, the highest concentration is found in the Wonderland of Rocks area. Hiking Willow Hole Joshua Tree is a great way to get an up-close and personal look at Joshua Tree's Wonderland of Rocks and to visit a hidden oasis at the same time.
Please note: This trail is not suitable for wheelchairs or strollers. Dogs are not allowed.
Joshua Tree's Wonderland of Rocks
Located in the northern part of Joshua Tree National Park, the Wonderland of Rocks is comprised of 12 square miles of jumbled massive boulders. This granite maze is home to secret oases and groves of Joshua Trees as well as some of the park's Bighorn Sheep population.
The sheep rely on the drinking water in these hidden pools but are very shy. As a result, overnight camping in the Wonderland of Rocks is prohibited to provide them unobstructed access to water.
Day hikes in Wonderland of Rocks are permitted, however, and there are several ways to get a close look at this rugged area. The easiest way is by hiking the Barker Dam Nature Trail. A favorite with both rock climbers and hikers, this easy 1.2-mile hike skirts the southern boundary of the Wonderland of Rocks.
Another option is by hiking along the unofficial 2-mile Wonderland Wash to the Astro Dome rock formation. I haven't tried this hike, but I've heard that it's a bit hard to follow and requires some boulder-hopping as well as route-finding skills.
The only official trail to enter the Wonderland of Rocks is the Willow Hole Trail (or Willow Hole Joshua Tree). This 6.8-mile trail shares the same trailhead with the Boy Scout Trail and ventures deep into the Wonderland of Rocks, providing a fascinating view of these magnificent boulders.
Trailhead and Parking for Willow Hole Joshua Tree
The trailhead for Willow Hole Joshua Tree is located at the Keys West Backcountry Camping Registration parking area near the park's West Entrance. This is the same trailhead that is used for the Boy Scout Trail. The parking area is fairly large and I've never seen it completely filled. A vault toilet and dumpsters are available at the trailhead.
Driving directions from Highway 62: turn south onto Park Boulevard in the town of Joshua Tree. The Joshua Tree Visitor Center is located one block ahead on the right if you'd like to stop and get a map or additional information. From there continue straight, past the West Entrance, and into the park for 11 miles. Turn left at the sign for the Boy Scout Trailhead.
Preparing for a Hike in Joshua Tree
When planning your hike, remember that you are entering a desert environment and pack accordingly. There are no stores or restaurants once you enter the park, so you should come prepared with everything you need for your visit. Daytime temperatures can get really hot in Joshua Tree, especially in the summer months, so be prepared with adequate sun protection and plenty of water. Avoid hiking during the hottest part of the day if you can help it (or hike during the winter months when it is cooler). Be sure to learn proper hiking bathroom etiquette and leave no trace of your visit behind.
Hiking Gear
This list includes some of my favorite gear for day hiking. Refer to my Joshua Tree Hiking Guide for a more comprehensive list.
Hiking to Willow Hole Joshua Tree
Part 1: The First Two Miles
After passing interpretive signs near the trailhead, the hike begins by heading northeast across a typical Mojave Desert landscape with Joshua Trees and creosote bushes. Short spurs lead off of the main trail to various rock formations from time to time. These trails are used by rock climbers who frequent the area.
At 1.2 miles, the Willow Hollow Trail officially begins and branches off of the Boy Scout Trail. From this point, it is 2.25 miles to Willow Hole. The trail is relatively flat here as it heads east towards the Wonderland of Rocks.
Part 2: Entering the Wonderland of Rocks
After hiking for about two miles, the trail gradually decreases in elevation as it heads into the Wonderland of Rocks. The trail changes into a sandy wash as it winds and weaves through a maze of boulders that loom on either side of the path. The trail is clearly marked, otherwise it could be difficult to find the way through here. Note that the last mile or so is very sandy and somewhat difficult to walk through.
Part 3: Exploring Willow Hole
Eventually the path leads to a few Willow Trees at the end of a sandy wash. At first I thought the trail ended here, but after closer inspection I found a path through the tangled Willows. On the other side, I finally found Willow Hole. Normally, this secret oasis would be filled with water and wildlife, but it was completely dry on my visit due to an ongoing drought. This was a bummer, but on the bright side trails led across the bottom of where the pool used to be to the other side. I spend some time exploring the area and examining the high water mark left along the rocks.
Part 4: Making New Friends on the Return Hike
You never know when adventure will find you on a trail, and that's what happened to me I hiked the Willow Hole Trail. When I first arrived at the oasis, I had the area to myself. Eventually another hiker turned up and we struck up a conversation. We were just discussing how nice it was to meet another solo female hiker on the trail when a third hiker arrived. She was also hiking solo and soon the three of us were chatting amiably.
That's when things got interesting. We quickly realized that we all had almost exactly the same name! Between the three of us we had a Kathryn, a Kathy and a Katy. Ha! What are the chances of that!
It was such a crazy coincidence that we decided it must be a sign for us to spend the rest of the hike together. So we hiked together all the way back, chatting and getting to know each other as we went. While I enjoy hiking solo, it is really nice to hike with friends too and this experience was a real treat.
Willow Hole Joshua Tree Information and Map
Distance – 6.8 miles out & back
Elevation Gain – 246 feet
Starting Elevation – 4039 feet
Highest Elevation Point – 4160 feet
Joshua Tree National Park Fee Information
The fee to enter Joshua Tree National Park is $30 per vehicle which is good for seven days. I recommend buying the America the Beautiful Interagency Pass, however, which costs $80. This allows entry to all National Parks for an entire year, as well as most federal lands (including National Forests, Bureau of Land Management and more). Buy your pass online before arriving at the park to shorten the wait in line.
Be sure to check the Joshua Tree National Park web site for current conditions before heading to the park.
While you're in the area, don't forget to explore outside of the national park as well. There are lots of fun fun and quirky Things to Do Near Joshua Tree besides hiking and camping.
Further Reading
If you enjoyed this trail guide, be sure to check out my other articles about Joshua Tree National Park!
---
Have you hiked the Willow Hole Trail in Joshua Tree National Park? I'd love to hear from you! Share your experience in the comments below.
Like this blog post? Pin it!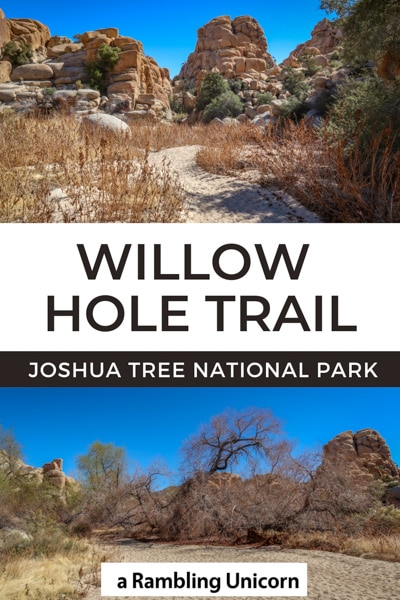 Note: This post contains affiliate links, which means I may receive a commission if you click a link and purchase something. While clicking these links won't cost you anything, they will help me to keep this site up and running!